Microbial Identification Market By Product Type (Bacterial Identification Systems, Microbial Enumeration Systems), Technology (Phenotypic, Genotypic), End User (Pharmaceutical and Biotechnology, Food and Beverage), Application (Diagnostic, Environmental, Pharmaceutical) & Region - Forecast 2017 - 2022
Microbial Identification Market - Analysis, Outlook, Growth, Trends, Forecasts
September 2017

REP-GB-5077

170 pages
Introduction
Microbiologists adopt distinct analytical strategies for examining microbial cultures and identifying pathogens in mixed microbial communities. Advancements in these techniques, which can be collectively identified as microbial identification methods, have a determinative influence on improvements in pathological treatments, preventive care, and diagnosis of infectious diseases. Future Market Insights projects that the global market for microbial identification will witness a robust expansion over the next five years.
Increasing influence of microbes in applied research is likely to propel the adoption of microbial identification systems, particularly for testing pharmaceuticals, food products, beverages, and drinking water as well. By the end of 2022, the global microbial identification market is anticipated to net revenues worth nearly US$ 1,400 million.
Adoption of Genotypic Microbial Identification Methods to Gain Traction
Genotyping is a key microbial identification method, and has incurred successful application of advanced technologies such as DNA pyrosequencing. In medical research, genotypic microbiological identification and microarray-based detection have played a pivotal role as effective technologies facilitating the investigation of viral pathogens. The report observed genotypic methods as promising technologies in the global market for microbial identification.
Over the forecast period, the adoption of genotypic microbial identification methods is anticipated to increase at a momentum which will be marginally higher compared to phenotypic microbial identification techniques. Contrarily, the latter is anticipated to exhibit higher revenue share on the global microbial identification market, and will bring in revenues worth over US$ 730 million by the end of 2022.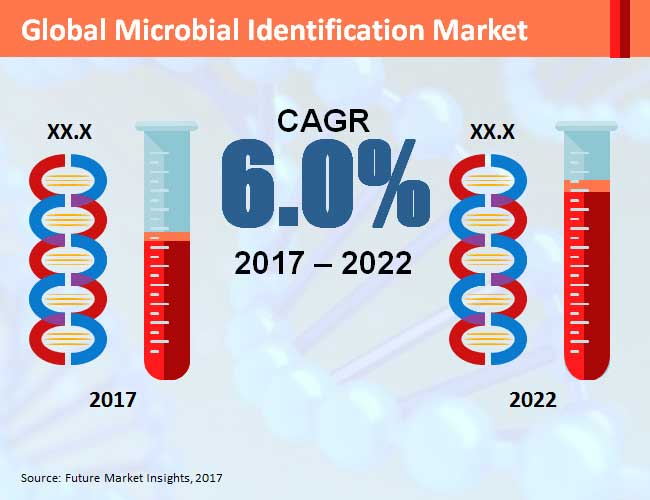 Food & Beverage Testing Applications to Register Moderate Growth
Enumeration and detection of microorganisms in edible items and drinks is an essential food safety measure that bolsters quality control for manufacturers. However, several techniques in microbial identification fail to selectively isolate the unwanted organisms from mixed populations without altering the composition of products being tested. The report foresees the adoption of microbial identification in food & beverage testing applications to decline in the near future.
Through 2022, food & beverage testing applications are anticipated to reflect moderate growth by registering a CAGR of 4.7%. To the contrary, diagnostic applications of microbial identification will gain fastest traction, and procure more than US$ 350 million revenues in the global market by the end of the forecast period.
The report has also analysed the global microbial identification market on the basis of products (types of systems), and their end-use. In 2017, pharmaceutical and biotechnology industry will be observed as the largest end-user of microbial identification. The report also anticipates a steady end-use of microbial identification systems in water and environment industry throughout the forecast period.
Independent research laboratories, in particular, will record fastest revenue growth from the end-use of microbial identification methods. As products, bacterial identification systems will remain sought-after in the global market. Although, by the end of 2022, over US$ 300 million worth of microbial enumeration systems are anticipated to be sold globally. The report also reveals that North America will register highest sales of microbial enumeration systems, primarily due to the high reliability of these systems, and their low prices.
Key Developers of Microbial Identification Systems
Advancements in medical microbiology will continue to change the manufacturing landscape in the global microbial identification market. The report observes that companies namely, Danaher Corporation, Bruker Corporation, Thermo Fisher Scientific, Inc., Siemens Healthineers, Shimadzu Corporation, QIAGEN N.V., bioMerieux S.A., Merck & Co Inc., Biolog, Inc., and Becton, Dickinson and Company will remain active in the expansion of global microbial identification market through 2022.
These manufacturers will be focusing on developing systems compatible to the existing laboratory information systems, and will also cater to the specific needs of microbiologists working on leading microbial identification projects.
World's Most Profilic Intelligence Engine
Get Access To The World's Largest Market Research Database.
Sign Up Now
Market Taxonomy
The taxonomy of global microbial identification market has been precisely illustrated in the table below:
Region
North America
Latin America
Europe
Japan
APEJ
MEA
Product Type
Bacterial Identification Systems
Microbial Enumeration Systems
Bacterial Resistance Identification Systems
Microbiology Analyzers
Parasitology Analyzers
End User
Pharmaceutical and Biotechnology Industry
Food and Beverage Industry
Water and Environment Industry
Independent Research Laboratories
Diagnostic Laboratories
Blood Banks
Application
Diagnostic Application
Environmental Application
Food and Beverages Testing
Pharmaceutical Application
Others
Technology
Phenotypic Methods
Genotypic Methods
Need specific information?
Our Clients