Introduction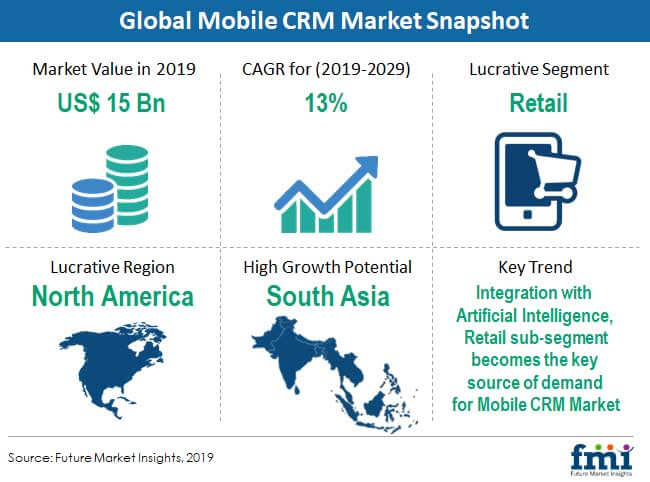 Global mobile CRM market size in 2019 – nearly US$ 15 Bn.
The mobile CRM market is expected to grow at an approximate CAGR of 13% over 2019-2029.
South Asia are expected to remain among the largest regional markets for mobile CRM

Mobile CRM software is created to serve all mobile devices such as smartphones and tablets of various screen sizes. Mobile CRM makes it easy to work on the field as well as off the field, which is, in turn, boosting the growth of the mobile CRM market in South Asia.

Continuous software upgradation in the mobile CRM market, which includes integration with artificial intelligence, are among factors that are expected to support the growth of the global mobile CRM market during the forecast period.
South Asia holds a high growth potential for the mobile CRM market

The mobile CRM market in South Asian countries, such as India and Thailand, are witnessing an increase in the penetration of the internet and the adoption of smartphones and mobile phones. The overall share of the global internet traffic from mobile devices has grown at a significant rate.
Mobile CRM Market Structure Analysis
Some of the top participants in the global mobile CRM market include IBM Corporation, Microsoft Corporation, Oracle Corporation, Salesforce.com, Inc., SAP SE, AMDOCS, Infor, Pegasystems Inc., Zoho Corporation, and SugarCRM, among other mobile CRM provides.
While most of the key players are focused on maintaining a strong market presence in the North America, Europe, and South Asian mobile CRM markets, the report underscores that technology assessment will be an important developmental strategy for companies.
Leading players in the global mobile CRM market are also concentrating on entering into partnerships and collaborations with other company providers, and this will remain a strong differentiating strategy.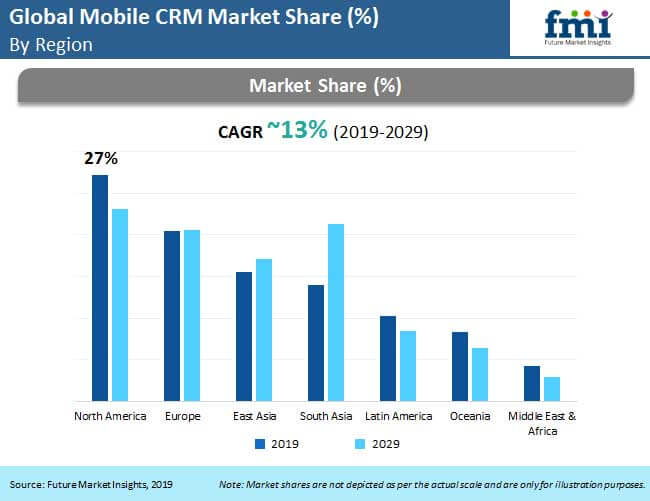 Top Factors Shaping the Mobile CRM Market
Integration of Advanced Technology in Mobile CRM Market

To gain a competitive advantage in the mobile CRM market, key providers primarily rely on updating the features and functionality of mobile CRM software. Besides partnering with other companies that are providing mobile CRM software, companies in the market are focusing on launching innovative solutions to improve their offerings for mobile CRM software and applications

For instance, in January 2019, IBM Corporation launched the Watson Ads Builder. It is a self-service advertising solution integrated with artificial intelligence (AI). It is designed to enable developers and creative agencies to help them build one-on-one engaging conversations between brands and consumers in any digital property

Helps in Empowering Customer Relationships

Due to the economic, technological, and social forces that have pushed customer relationships to become the centre of all business models, mobile CRM becomes a priority. Every business is now looking to gain customer loyalty to make a difference in the market.

Marketing teams can provide a distinctive buying experience with a unique approach that directly addresses customer preference that is specifically based on information collected and analysed through an efficient CRM strategy.
Mobile CRM: Unravelling New Paths to Refined Customer Relationships
Over the last two decades, mobile CRM has evolved as a force to reckon with amid the arena of customer relationship management, as business owners across the globe have started to understand what makes their customers tick. The ever-intensifying reliance of the sales forces on mobile CRM applications isn't surprising, given that enterprises are no longer relying on the traditional working ideologies and turning to mobile applications for enhanced and improved results.
However, challenges associated with mobile CRM do persist when compared to the web-based CRM, as data mobility comes at the cost of data losses, security breaches, privacy invasion, and compliance issues.
Mobile CRM: Unlocking Value & Productivity in Real Time
From rolodex to mobile CRM, customer relationship management solutions have come a long way. Mobile CRM has opened the gates for real-time management of customer needs and requirements, a necessity that was earlier a pipe dream for multiple enterprises.
Now that mobile CRM is making rapid inroads as one of the most convenient and constructive tools for accessing critical sales information and inputs, it won't be surprising to say that multiple businesses, regardless of their size, are ready to embrace it as a vital investment with tangible benefits. The monitoring of reliable and objective real-time information not only fuels users' capabilities of making tactical decisions but also fosters productive interactions with customers.
Market to Touch US$ 52 Bn Mark by 2029
Enterprises across developed and developing countries continue to seek mobile CRM solutions offering the broadest and deepest capabilities with utmost flexibility, to which 'CRM on demand' is the answer. As businesses vie to create unified cross-channel experiences for their customers, 'CRM on demand' is making its mark as a key trend in the mobile CRM market space.
CRM on demand helps the enterprises get smarter with contextual intelligence and real-time analytics, so that the end user organizations are all set to thrive amid the competitive market spaces. With reduced risks, lifetime value, and enhanced user experiences, CRM on-demand has gained immense recognition in terms of equipping enterprises with the right functionalities to meet their business needs.
The Broader Perspective
Businesses are actively seeking for smart mobile CRM platforms with active dashboards and instant notification alerts, which helps the end users remove the extra clutter and keep an eye on what is important. Mobile CRM systems offering timely notifications are winning favor among enterprises, both large and small, given that they ensure that the follow-ups are on time and consumer concerns are addressed immediately.
Machine learning and AI, two of the most advanced methodologies to stimulate human behaviour in the non-human entities, are also making inroads into the existing CRM prototypes. With integration of AI and machine learning, the mobile CRM systems will be able to fine-tune analytics and highlight steps required to improve processes and close more deals.
How will Layers of Growth Unfold?
Considering the overwhelming needs of business units, market partakers are pouring massive investments in R&D activities to boost their service visibility. Key vendors continue to place their bets on flexible pay-per-user pricing models over subscription models, given that end users across developed and developing economies remain relatively open toward 'pay-per-use' pricing models owing to flexibility and convenience.
Market players are also offering demo sessions and free trials to their customers, as these two are the key of value-selling and act as critical decision factors for customers. However, the mid-sized players will face significant challenges while competing with the leading players, given that the prominent players will continue ruling with the 'first-mover' advantage.
Key Segment
By Enterprise Size
Large Enterprise
Medium Enterprise
Small Enterprise
By Vertical
BFSI
Telecom
Healthcare
Retail
Automotive
Others
By Region
North America
Latin America
Europe
South Asia
East Asia
Oceania
Middle East & Africa
Need specific information?