Alteration of Enzymatic and Molecular Properties - An Imperative to Enhance Functionality
Research and investigation pertaining to the applications and benefits of modified starch have been consistent in the recent past. Over the past couple of decades, the adoption of modified starch in multiple industries has gained significant momentum owing to the findings of numerous studies and added efforts to improve the overall functionalities of modified starch. Starch is perhaps the most critical polysaccharide in the human diet. However, starches in its natural or unprocessed form lacks the desired functional properties for applications in various domains including pharmaceutical, paper, and food among others. Natural starch is thus modified in various ways in which the physical, enzymatic, molecular, and chemical properties are altered in tune with its potential applications. Furthermore, modified starch is widely used to stabilize, thicken, and improve the overall texture of food products– a factor that is likely to propel the demand for modified starch in the upcoming years.
Modified Starch Market - Key Research Findings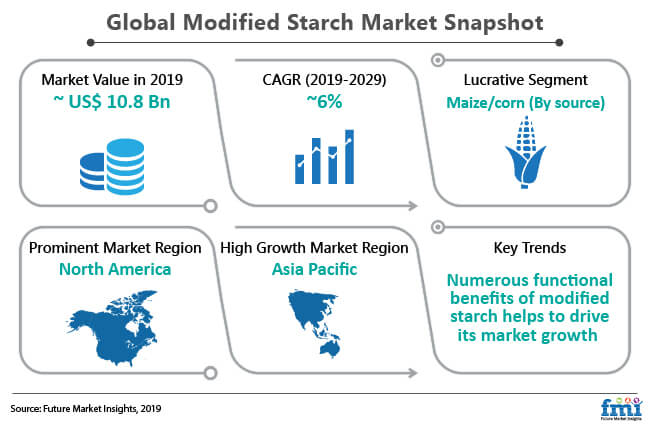 The global modified starch market value in 2019 is estimated at ~ US$ 10.8 Bn.
The modified starch market is expected to grow at a CAGR of ~ 6% during the forecast period 2019-2029.
Increasing consumption of bakery products and rising popularity of artisanal bakery products are expected to propel the demand for modified starch in the forecast period 2019-2029.

Asia Pacific is expected to account for major revenue share in the modified starch market, by the end of 2029.

Products free from animal origin are trending in the global food & beverages industry, which is in favor of products like modified starch.

In the last few years, the increased use of the internet and social media has created immense awareness about animal welfare and animal rights. This has led to a rising trend in food and beverages and cosmetic industries to opt for plant-based products that are free from animal-derived ingredients. Modified starch is used as a fat replacer in food, cosmetics, and other products, replacing regular fat that is dominantly animal-derived.
Top 3 Factors Shaping the Modified Starch Market
Numerous Functional Benefits Associated with Modified Starch

Modified starches are used in numerous food products as their functional properties are much more enhanced and improved when compared to native starches. Many physical modification processes such as heat-moisture treatment and annealing, cause physical modification of starches without damaging or gelatinizing starch granules. Also, these don't affect birefringence, sizes, and shapes. Modified starch is used in the food industry as a fat replacer, texture improver, and for encapsulated flavours, which are expected to boost the global market for the modified starch.

Growing Trend of Processed Food to Propel Demand for Modified Starch

Increasing population is driving the demand for processed and convenience food. Modified starch is an important and functional ingredient that is used in ready-to-eat food products. With the increasing demand for processed food, the demand for modified starch is also increasing, which is expected to boost the market growth. Modified starch provides functional properties such as texture, taste, and thickness in processed foods. Also, it helps to increase the shelf life of food products.

Increased Spending on Research and Development Activities for Product Innovation

The global modified starch market is driven by new and innovative product launches in food and beverages, cosmetics and personal care, and animal feed industries. Increasing expenditure by government and non-government organizations on research and development activities has resulted in the introduction of new and innovative products in the global market increasing the demand for food additives. This is resulting in new opportunities for modified starch and driving the global modified starch market.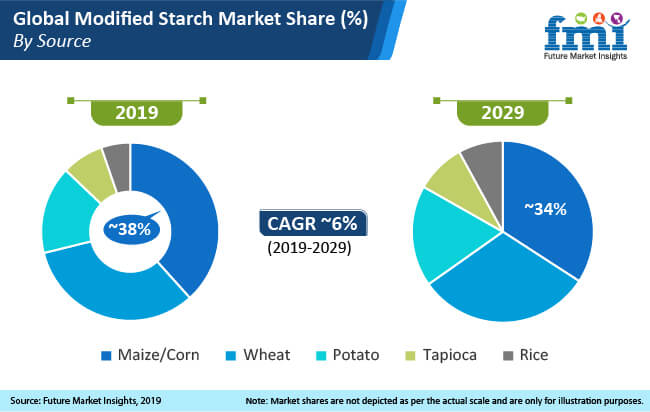 Modified Starch Market Structure Analysis
The global modified starch market represents a fairly consolidated competition landscape, where a majority of key players maintain their strategic focus on the development of solid distribution partnerships and joint ventures, targeting a firmer global footprint.
The modified starch market has been relatively moderate in size, which remains a key factor for its dynamic competitive nature.
Leading manufacturers of modified starch are currently prioritizing R&D and new product launches to resonate with the booming demand for natural ingredients in Asia pacific and Middle East and Africa.
Portfolio extension is also identified to remain one of the key developmental strategies adopted by manufacturers of modified starch.
For a stronger foothold in target markets, modified starch manufacturers will continue to rely on inorganic strategies, such as mergers and acquisitions.
Deeper understanding of the market trends and preferential shifts of end-use segments across various regions are likely to create a bottleneck for prominent players, looking forward to untapped opportunities in the modified starch market.
Modified Starch Manufacturers Going 'Sustainable'
In the current scenario, the demand for environmental sustainability across various industrial domains is scaling new heights. Further, measures to curb environmental degradation, coupled with added emphasis on food security, has compelled researchers involved in the modified starch space to lean towards the adoption of innovative modification techniques to ensure the long-term sustainability of the food sector. In addition, emergence of a multitude of cutting-edge food processing technologies is playing a vital role in redefining the process of modified starch production. Although innovative technologies, including non-thermal physical modification of starches, are gradually gaining momentum, the merits put forward by newer techniques cannot be understated.
Technological innovations play a crucial role in optimizing the consumption of energy and water – key factors that promote environmental sustainability. In addition, non-thermal physical modification of starches has exhibited promising results as far as the shelf life of modified starch is concerned, further contributing towards the efforts to enhance food security worldwide. Some of the most popular non-thermal technologies that have taken the center stage in the modified starch processes, include high hydrostatic pressure (HHP), pulsed electric field (PEF), and ultrasound (US) treatment among others.
The modifications caused by such emerging technologies tweak the textural, nutritional, and sensory properties of starch to complement desired requirements of the industry. Moreover, as these technologies do not interfere with the freshness, sensory properties, and nutritional value of modified starch, market players are focusing on leveraging the same to improve their product offerings. Furthermore, current trends suggest that the non-thermal starch modification approach could gradually replace conventional energy-consuming heating processes in the upcoming years.
Developed Economies Present an Array of Promising Opportunities
North America and Europe are expected to lead the race in terms of innovation and adoption of new starch modification techniques in the foreseeable future. In addition, rapidly evolving consumer trends and notable demand for fat-free milk and low-fat dairy products are likely to directly impact the growth prospects of the market in North America and Europe. Further, the all-round progress of the pharmaceutical industry and the paper making sector in these developed regions provides a window of opportunity to regional as well as global market players, for expanding their business operations.
Product Development Strategies In-sync with Consumer Requirements
Consumer trends continue to define the course of the food and beverage industry, and modified starch market remains one of the prominent beneficiaries. In addition, as awareness related to the benefits of modified starch consumption continues to scale new heights, manufacturers and stakeholders are focusing on leveraging emerging technologies to produce modified starch without compromising on its functional characteristics. In addition, to improve their market position and share, market players are leaning towards impactful and effective promotional activities to create awareness among consumers in rural areas. Moreover, as environmental safety remains of prime importance within the manufacturing industry, the adoption of sustainable starch modification techniques is likely to gather pace in upcoming years.
Corn expected to retain lead
Wheat likely to gain pace
Adoption of acetylated starch high
Physically modified starch to garner momentum
Food and beverage applications highly lucrative
Usage in animal feed on rise
How Growth will Unfold
Although the growth of the modified starch market will largely hinge on the growing demand for modified starch from the food sector, the demand from cosmetic and personal care industry is also expected to provide an impetus to the production of modified starch in the upcoming years. The consumption for men's cosmetics and personal care products is anticipated to remain more prominent owing to the critical role of modified starches in minimizing the greasiness of products. In addition, the growing focus on formulating cutting-edge modification techniques to improve the functional properties of modified starch, including heat and sheer stress, is expected to gain noteworthy attention in the foreseeable future.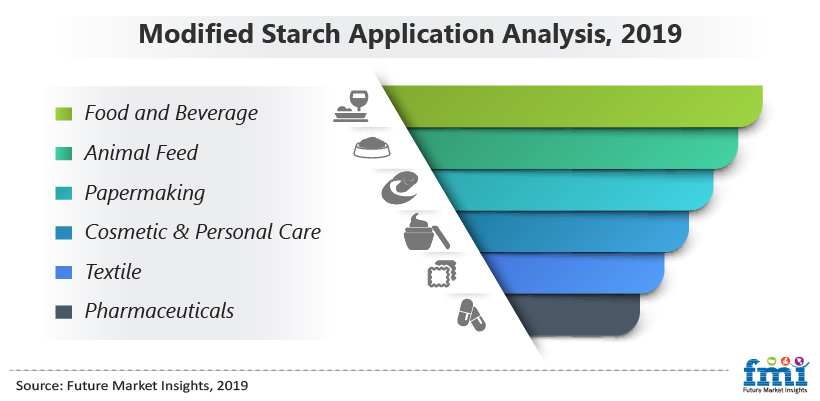 * This data is only a representation. Actual data may vary and will be available in report.
Click Here To Know How The Growth Will Unfold
Custom Market Research Services
FMI offers custom market research services that help clients to get information on their business scenario required where syndicated solutions are not enough.
Overview
Modified Starch Market Analysis 2019-2029
A recent market study published by Future Market Insights "Modified Starch Market: Global Industry Analysis 2014-2018 & Forecast 2019-2029" offers a comprehensive assessment of the most important market dynamics. After conducting thorough research on the historical, as well as current growth parameters of the modified starch market, the growth prospects of the market are obtained with maximum precision.
Modified Starch Market Taxonomy
The global modified starch market is segmented in detail to cover every aspect of the market and present complete market intelligence to the reader.
Source
Maize/ Corn
Wheat
Potato
Rice
Product Type
Acetylated Starch
Physically Modified Starch
Enzyme Modified Starch

Anionic Starch
Cationic Starch
Dextrin
Oxidized Starch
Thinned Starch
Pre-Gelatinized Starch
Others
Grade
Food and Beverage

Bakery Products
Dairy Products
Meat & Poultry
Convenience Food
Others

Animal Feed
Cosmetic and Personal Care
Papermaking
Textile
Pharmaceuticals
Others
Region
North America
Latin America
Europe
APAC
MEA
How the research was conducted?
Primary Research
C - Level Executives
Marketing Directors
Sales Heads
Production Managers
Distributors Heads
Sales Executives
Product Manufacturers
Distributors
Traders
Industry Experts
End Users
Current Market Dynamics and Challenges
Market Characteristics
Market Performance and Growth Quadrants
Competition Structure and Market Structure
Strategic Growth Initiatives
Near-term and Long-term Market Growth Prospects
Market Segment Splits and Authenticity
Opinions on Market Projections and Validity Of Assumptions
Secondary Research
Industry Publications

Industrial Week
Industrial Product Review
Industrial Magazine
American Lung Association
Confederation of European Community

Company Press Releases
Annual Reports and Investor Presentations
Research Papers
Government Websites and Publications
Trade Websites
Primary Interview Splits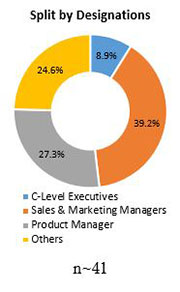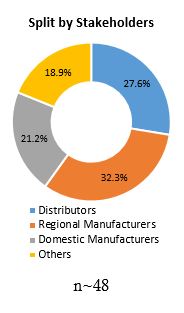 To Learn More About our Comprehensive Perspective on Modified Starch Market,
Get in touch
COVID -19 : Impact Analysis
Request the coronavirus impact analysis across industries and markets
Request Covid -19 Impact
CASE STUDIES
See how our work makes an impact.
At FMI, we design strategies that are adaptive, impactful, and implementable.