Ophthalmic Lasers Market by Product (Excimer Lasers, Femtosecond Lasers), Application (Refractive Surgery, Cataract Surgery, Capsulotomy, Trabeculoplasty, Diagnostics), End User (Hospitals, Ophthalmology Clinics, Ambulatory Surgical Centers) & Region - Forecast to 2020 – 2030
Ophthalmic Lasers Market - Analysis, Outlook, Growth, Trends, Forecasts
August 2020

REP-GB-1529

300 pages
Ophthalmic Lasers Market- Outlook and Key Findings
Ophthalmic lasers market is likely to be valued at US$ 1.3 Bn by 2030-end, expanding at a CAGR of 5%
Development of advanced lasers with a wider spectrum and range of light to provide major stimulus to market growth
Amalgamation of excimer and femtosecond lasers is being explored as an important breakthrough to offer enhanced laser surgeries to patients
Cataract surgeries are slated to tower over other procedures, due to their high incidence across countries
Ophthalmology clinics to register maximum uptake of ophthalmic lasers during the forecast period
North America to pivot market growth, capturing over 1/3rd of the revenue pie
Rising penetration of automation and cloud computing to generate white spaces for ophthalmic lasers market players
Increasing Cataract Surgeries will Drive Demand
The National Center for Biotechnology Research (NCBI) establishes that at least 5 million people globally suffer from cataract induced blindness. It is estimated that approximately 100 million eyes with cataract result in a visual acuity less than six out of sixty, with the figure anticipated to double in 2 decades.
Nearly 10 million cataract operations are performed annually across the world, with rates fluctuating from 100 to 6000 operations per million population per year. This increase in cataract surgery rates (CSR) is primarily attributed to a rapidly expanding geriatric population in the wake of enhanced life expectancies.
Furthermore, cataract induced blindness is avoidable with timely surgical intervention, effectively restoring visual impairment. Based on these aforementioned factors, the demand for cataract based ophthalmic laser surgeries is expected to register a major ascent during the 2020-2030 forecast period.
Players such as Johnson & Johnson and Novartis AG's Alcon are at the forefront of cataract ophthalmic laser surgical devices. The former markets the CATALYS Precision Laser System, delivering complete capsulotomies, while the latter markets the LENSX Laser Anterior Segment Cataract Surgical Device.
Need for High Precision and Shortened Surgical Procedures Uplifts Femtosecond Laser Surgeries
Over the years, the popularity of femtosecond ophthalmic laser devices has experienced an upward sloping curve, attributed to its high-degree precision. Femtosecond laser assisted cataract surgeries substitute many of the steps during the cataract surgery requiring a blade. The surgery softens the cataract, allowing for easier and smoother removal.
The procedure also corrects mild astigmatism by relaxing the cornea at a precise depth, length and orientation more precisely compared to hand-made or manual incisions. Furthermore, femtosecond procedures are known to reduce visual aberrations and expands the visual range of astigmatism-correcting lens implants.
Femtosecond laser surgeries also offer the benefits of standardized corneal incisions, round capsulorhexis and less nucleus fragmentation, particularly for patients with hard cataracts. Its high degree precision is attributed to the incorporation of real time optical coherence tomography software, covering the whole anterior segment, up to the posterior capsule.
Excimer Lasers Touted as a Potential Breakthrough in Ophthalmologic Procedures
Excimer laser procedures are gathering significant momentum in ophthalmic surgeries. Excimer lasers have ultraviolet wavelengths which are used to ablate tissue through photodecomposition. The most commonly used excimer laser is the Argon Fluoride (ArF) laser. Its sufficient photon energy and penetration precision makes it highly suitable for ophthalmic procedures.
Players such as ZEISS International have been contributing significantly to advance the application of excimer laser treatment surgeries. The company offers the MEL 80 Excimer Laser, designed to make the correction of vision defects. It is highly patient friendly and aids surgeons in delivering optimum treatment to patients.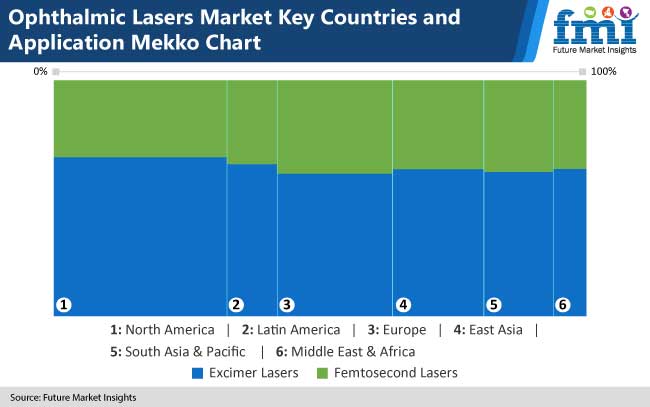 Penetration of Internet of Things (IoT) to Revolutionize Ophthalmic Laser Care in the Future
As the 21st century progresses, it is unsurprising to witness prolific technological advancements across the healthcare industry. Since 2015, nearly 5 million people have been using mobile health services to help their doctors monitor a variety of conditions. These solutions have proven to generate significant opportunities in vitreoretinal care.
As more patients seek treatment for macular degeneration and other visual impairments, the need for smart treatment solutions is heightening. DigiSight Technologies, a prominent market player, has doled out a visual acuity test mobile application for a variety of iOS and Android devices.
Bausch & Lomb has effectively leveraged IBM's Watson IoT cloud services to streamline workflow and surgical operations of ophthalmologists worldwide. Using these services, the company has developed a surgical dashboard solution that captures, stores and analyzes device-specific data. Also, its eyeTELLIGENCE applications expedite technical support and synchronize operations.
US Largest Market, Europe & Asia Offer Lucrative Growth Prospects
The North American ophthalmic lasers market is likely to register a towering share, accounting for ~34% of the total revenue from 2020-2030. The high degree of ophthalmic disorder prevalence is acting as a major growth stimulant. As of 2020, 8 out of 10 North Americans suffer from macular degeneration and cataract disorders respectively.
Consequently, the FDA is accelerating regulatory approvals of critical treatments. For instance, in August 2020, it approved Genetech's Enspryng drug as a potential treatment for neuromyelitis optica spectrum disorder. The drug is anticipated to inhibit the receptor said to induce blindness in the eye.
Trailing behind are Europe and Asia, poised to jointly account for over 51% of the revenue share, with primary markets being Germany, India and China. Presence of a large geriatric population base with age-related ophthalmic disorders is the principal growth driver.
Manufacturers are increasingly scrambling to acquire a firm footing in the Asian markets. Besides a surge in ophthalmic surgeries amongst the local population, medical tourism in these countries is increasing due to heightened healthcare costs across developed regions. Therefore, patients from Europe and North America are travelling to Asian countries to avail more affordable treatment.
Impact of COVID-19 on the Ophthalmic Lasers Market
The novel coronavirus pandemic will have a significantly high impact on the ophthalmic lasers market. As lockdowns and curbs continue to remain enforced, the number of footfalls across ophthalmology clinics and hospitals have declined considerably. Patient care has diminished by nearly 60%, with only emergency surgeries being permitted.
With in-patient visits becoming next to impossible, ophthalmologists are resorting to telemedicine with regards to consultation and advice to patients. A slump is anticipated in refractive and premium lens surgeries across developing economies in the long-run, attributed to cash crunches experienced by individual households due to the prolonged lockdowns.
At the same time, several countries are enforcing strict social distancing protocols and hygiene practices, keeping demand for ophthalmic laser surgeries sustained. For instance, ophthalmologists in Germany have made it a protocol to test patients requiring intravitreal injections and other procedures for COVID-19. If positive, they are redirected to emergency departments, reducing chances of infection.
Thus, while economically strong countries will register a positively sloping growth curve, a V-shaped trajectory is predicted for the developing nations, causing a slump in the near-term forecast and then eventually rebounding in the latter half of 2021.
Product Launches, Collaborations and Forays into Emerging Economies to Augment Market Share of Prominent Players
Prominent vendors in the ophthalmic lasers market include are ZEISS International, Nidek Inc., Bausch & Lomb Inc., Abbot Laboratories Inc., SCHWIND Eye-Tech Solutions, Ziemer Ophthalmic Systems AG, Novartis AG (Alcon), LENSAR LLC., iVIS Technologies and NKT Photonics A/S. New product launches and collaborations have helped these players acquire firm footing.
Most of these players are focusing on attracting customers from emerging economies such as India, China and Brazil as the proportion of population suffering from ophthalmic disorders is the maximum in these regions. Furthermore, rising disposable incomes have rendered it affordable for consumers to opt for expensive laser surgeries.
In 2018, ZEISS International rolled out its VISUFIT 1000 digital 3D centration data determination and consultation platform, offering a three-dimensional facial reconstruction which enables ophthalmologists perform precise centration processes on patients. More recently, in July 2020, the company launched its IOLMaster 700 software update 1.9 with central topography.
In July 2020, SCHWIND Eye-Tech acquired CE approval for its SCHWIND ATOS femtosecond laser, permitting eye surgeons to incorporate the technology in their SmartSight refractive surgery procedures. This pioneering laser system provides precise centering of the patient's eye along the visual axis, ensuring maximum safety and predictable treatment outcomes.
In 2019, Ziemer Ophthalmic Systems AG presented its AQUARIUZ ablation laser system at the 37th Congress of the European Society of Cataract & Refractive Surgeons (ESCRS). The systems contains the latest ablation laser technology and is easily integrated into its unique femtosecond lasers and diagnostic devices to create a comprehensive refractive suite.
That same year, LENSAR LLC received FDA clearance to perform micro radial incisions for ensuring optimal outcomes of refractive cataract procedures. The technology is based on femtosecond laser technology for refractive surgery. It received the 510(k) clearance from the FDA. This approval has expanded the platform's treatment of additional post-cataract corneal treatment capacities.
In 2015, Topcon Corporation redesigned the Next Generation Pattern Scanning Laser, PASCAL Synthesis which includes an automatic table helping achieve efficiency and space saving. In 2020, the company also successfully acquired the Henson Perimeter Business from Elektron Eye Technology, a UK-based ophthalmic device company.
World's Most Profilic Intelligence Engine
Get Access To The World's Largest Market Research Database.
Sign Up Now
Key Segment
Product Type
Excimer Lasers
Femtosecond Lasers
Application
Refractive Surgery
Cataract Surgery
Capsulotomy
Trabeculoplasty
Diagnostics
End User
Hospitals
Ophthalmology Clinics
Ambulatory Surgical Centers
Region
North America
Latin America
Europe
Middle East & Africa (MEA)
East Asia
South Asia
Oceania
Need specific information?
Our Clients