An Incisive, In-depth Analysis on the Veterinary Lasers Market
This study offers a comprehensive, 360 degree analysis on the Veterinary Lasers market, bringing to fore insights that can help stakeholders identify the opportunities as well as challenges. It tracks the global Veterinary Lasers market across key regions, and offers in-depth commentary and accurate quantitative insights. The study also includes incisive competitive landscape analysis, and provides key recommendations to market players on winning imperatives and successful strategies.
According to the latest research, the US$ 123.2 Mn global veterinary lasers market is apprehended to reach beyond US$ 336 Mn by the end of 2028. The market for veterinary lasers is foreseen to witness robust growth over a 10-year projection period 2018-2028, at a CAGR of 9.7%. Primarily driven by growing pet ownership, the market will also gain traction due to growing demand for laser therapies in both surgical and therapeutic procedures.
North America to Remain at the Forefront; Latin America to Emerge Most Attractive Market
The regional analysis of the global market for veterinary lasers highlights continued dominance of North America, followed by Latin America. North America registered a market value share of more than 26% in 2017, which is expected to stay dominant throughout the forecast period. In terms of growth, North America's market is anticipated to thrive at the fastest CAGR of 10.8% between 2018 and 2028. Increasing pet ownership and soaring awareness about maintaining pet healthcare will collectively fuel the sales of veterinary lasers in North America. This regional market will continue to be led by the US throughout the forecast period.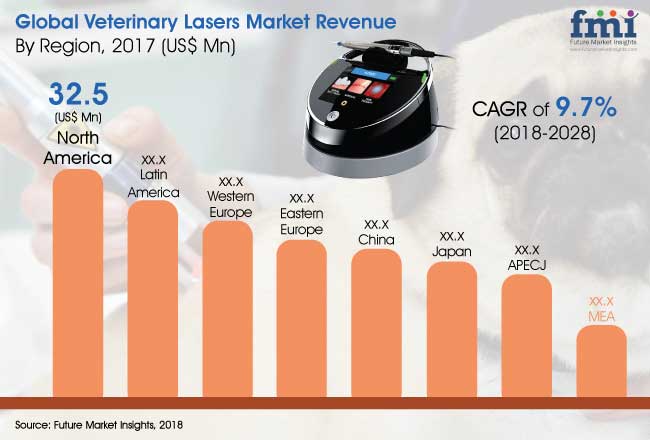 Latin America, the second largest market for veterinary lasers, will also remain the second fastest growing region with a robust CAGR of 10.2% over the assessment period. By product type, therapeutic laser segment is expected to stay dominant, while by laser type, class 3 segment is presumed to be dominant. By end-user, clinics are anticipated to account for the largest value share of the total revenues in 2028. Increasing prevalence of acute and chronic ailments in animals, followed by decent rise in adoption of imaging devices and equipment, is likely to spur the demand for veterinary lasers in the Latin American region. Owing to earlier and higher penetration of pet care, the pet care market in Latin America is expected to present the most attractive investment opportunities to leading animal healthcare device manufacturers. Moreover, significantly growing demand for non-invasive procedures, growing number of veterinary healthcare facilities, and impressively flourishing markets in Brazil and Mexico will also provide a major thrust to market growth in this region.
Europe is expected to experience a CAGR of over 9% during 2018-2028, whereas developing regions (other than Latin America) will reportedly see CAGRs of above 8%. In a nutshell, all the regional markets across the globe are likely to witness healthy growth over the forecast period.
Therapeutic Laser to Lead by Product Type, Class 3 Laser to Dominate by Laser Type, and Hospitals to Top by End-user
By product type, therapeutic laser segment registered dominance in the global veterinary lasers market in terms of revenue in 2017, and the trend is projected to continue throughout the forecast period. By 2028 end, therapeutic laser segment is estimated to cross a value worth US$ 140 Mn, followed by surgical laser segment - the second key segment in the veterinary laser market. Therapeutic and surgical (combined) will be the most attractive segment estimated to thrive at 10.5% CAGR over the forecast period. Based on laser type, class 3 segment has been dominant over class 2 and class 4 segments. In terms of volume, consumption of class 3 lasers will possibly exceed 20,000 units by the end of 2028. The assessment period is expected to observe robust growth of class 4 laser segment at a CAGR of over 10%. On the basis of end-user, adoption of veterinary lasers by hospitals has been the highest over the years but the next few years are likely to see maximum adoption of veterinary lasers by clinics, in terms of end-user.
Veterinary lasers are used to speed up the tissue repair and resolve inflammation and offers pain relieving solutions. Rising demand for technologically advanced veterinary lasers, being a non-surgical alternative for pet owners, is expected to drive the revenue generation in global veterinary lasers market. Treatments done by veterinary technicians using laser technology require less time and offer one-time cost benefits with long-term returns. Some of the limiting factors hampering growth of veterinary lasers market include lack of skilled manpower and technicians.
Future Market Insights examines the global market for veterinary lasers and provides valuable insights to cope with the market pace over the next decade. The report discusses key factors governing the performance of the market during 2018 to 2028 and offers in-depth information about the market conditions estimated through thorough research.
The report is an exhaustive analysis of the global market for veterinary lasers. It covers in-depth assessment of:
Market Segments

Market Dynamics

Market Size

Supply & Demand

Current Trends/Issues/Challenges

Competition & Companies involved

Technology

Pricing

Value Chain
The report also covers analyses of key geographical regions, including:
North America (U.S., Canada)

Latin America (Mexico. Brazil)

Western Europe (Germany, Italy, France, U.K, Spain)

Eastern Europe (Poland, Russia)

China

Japan

Asia Pacific excluding China and Japan (APECJ)

Middle East and Africa (GCC Countries, S. Africa, Northern Africa)
In the beginning, the report provides an exhaustive analysis of the healthcare market outlook for each regional market, which later helps to grasp the overall parent market scenario and identify the real-time scope for each of the geographical regions during the assessment period. This section is followed by key macroeconomic factors, which influence the market growth directly or indirectly.
Veterinary Lasers: Market Dynamics
The report is a compilation of first-hand information, qualitative and quantitative assessment by industry analysts, inputs from industry experts and industry participants across the value chain. The report provides in-depth analysis of market drivers and restraints, recent market trends, upcoming growth opportunities, macroeconomic indicators, and governing factors along with market attractiveness as per segments. The report also maps the qualitative impact of various market factors on market segments and geographies.
Key Highlights of Report:
Detailed overview of parent market

Market introduction and executive summary

Changing market dynamics in the industry

In-depth market segmentation

Historical, current and projected market size in terms of volume and value

Recent industry trends and developments

Competitive landscape

Strategies of key players and products offered

Potential and niche segments, geographical regions exhibiting promising growth

A neutral perspective on market performance

Profitable insights for market players to sustain and enhance their market footprint
The report in its final section provides extensive profiling of some of the key players participating in the market competition. Detailed vendor analysis includes key developments, revenue shares, and strategic collaborative activities.
COVID -19 : Impact Analysis
Request the coronavirus impact analysis across industries and markets
Request Covid -19 Impact
CASE STUDIES
See how our work makes an impact.
At FMI, we design strategies that are adaptive, impactful, and implementable.