Introduction
The veterinary laser systems are expected to witness significant growth during the forecast period. As laser therapy helps in reducing the pain, increased metabolic and vascular activities, healing the wound faster, etc., the adoption of laser treatment may increase. Also, increased spending by pet owners for providing care to their pets is also the key growth prospect.
Major players in the market include VBS Direct Limited, Excel Lasers, K-Laser USA, Erchonia Corporation, Laserex, Pivotal Health Solutions, SpectraVET Inc., Aspen Laser Systems, Multi Radiance Medical, Cutting Edge Laser Technologies, Respond Systems, ASAlaser, Summus Laser, etc. The key players in the veterinary laser industry are focussing on research, development, technological advancements, and innovations for developing new and latest methods for animal safety. Some recent developments are mentioned below.
UQ VETS Small Animal Hospital in July 2020 introduced the laser lithotripsy procedure for animals which is capable of breaking down stones using fiber blasting light pulses. The laser is also designed to correct congenital defects in the urinary tracts of dogs called ectopic ureters. With endoscopy, the stone breaks up in the bladder with the help of laser energy, and the body gets rid of these stones with its natural passages. As pain scores for the pets are lower, their recovery takes less time. The laser technique is mostly applied to dogs suffering from the issue.
Summus Laser in October 2020 announced the launch of the first Class IV therapy laser system, Horizon Veterinary Laser System designed for the veterinary industry. The horizon veterinary laser system having 28 watts of power comes with the capability of combining four different wavelengths which can be controlled independently. The technique helps in delivering the dose in less time due to its dynamic combination of power, wavelength, and pulsing. The system offers an interactive app, a live motion real-time camera, and a rechargeable luxating cart design.
According to the latest research, the US$ 123.2 Mn global veterinary lasers market is apprehended to reach beyond US$ 336 Mn by the end of 2028. The market for veterinary lasers is foreseen to witness robust growth over a 10-year projection period 2018-2028, at a CAGR of 9.7%. Primarily driven by growing pet ownership, the market will also gain traction due to the growing demand for laser therapies in both surgical and therapeutic procedures.
North America to Remain at the Forefront; Latin America to Emerge Most Attractive Market
The regional analysis of the global market for veterinary lasers highlights the continued dominance of North America, followed by Latin America. North America registered a market value share of more than 26% in 2017, which is expected to stay dominant throughout the forecast period. In terms of growth, North America's market is anticipated to thrive at the fastest CAGR of 10.8% between 2018 and 2028. Increasing pet ownership and soaring awareness about maintaining pet healthcare will collectively fuel the sales of veterinary lasers in North America. This regional market will continue to be led by the US throughout the forecast period.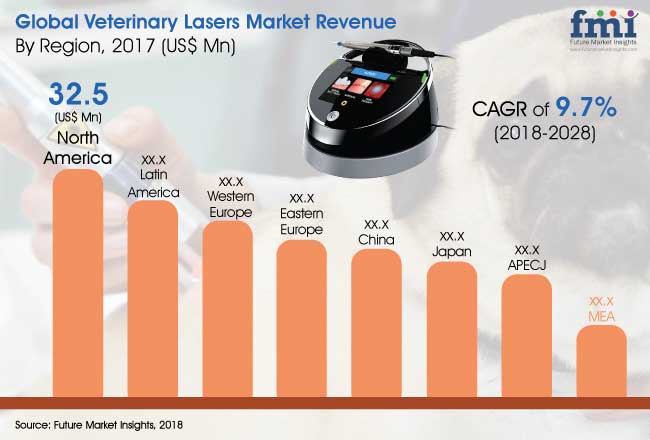 Latin America, the second-largest market for veterinary lasers, will also remain the second-fastest-growing region with a robust CAGR of 10.2% over the assessment period. By product type, the therapeutic laser segment is expected to stay dominant, while by laser type, the class 3 segment is presumed to be dominant. By end-user, clinics are anticipated to account for the largest value share of the total revenues in 2028. The increasing prevalence of acute and chronic ailments in animals, followed by a decent rise in the adoption of imaging devices and equipment, is likely to spur the demand for veterinary lasers in the Latin American region.
Owing to earlier and higher penetration of pet care, the pet care market in Latin America is expected to present the most attractive investment opportunities to leading animal healthcare device manufacturers. Moreover, significantly growing demand for non-invasive procedures, a growing number of veterinary healthcare facilities, and impressively flourishing markets in Brazil and Mexico will also provide a major thrust to market growth in this region.
Europe is expected to experience a CAGR of over 9% during 2018-2028, whereas developing regions (other than Latin America) will reportedly see CAGRs of above 8%. In a nutshell, all the regional markets across the globe are likely to witness healthy growth over the forecast period.
Therapeutic Laser to Lead by Product Type, Class 3 Laser to Dominate by Laser Type, and Hospitals to Top by End-user
By product type, therapeutic laser segment registered dominance in the global veterinary lasers market in terms of revenue in 2017, and the trend is projected to continue throughout the forecast period. By 2028 end, therapeutic laser segment is estimated to cross a value worth US$ 140 Mn, followed by surgical laser segment - the second key segment in the veterinary laser market.
Therapeutic and surgical (combined) will be the most attractive segment estimated to thrive at 10.5% CAGR over the forecast period. Based on laser type, class 3 segment has been dominant over class 2 and class 4 segments. In terms of volume, consumption of class 3 lasers will possibly exceed 20,000 units by the end of 2028.
The assessment period is expected to observe robust growth of class 4 laser segment at a CAGR of over 10%. On the basis of end-user, adoption of veterinary lasers by hospitals has been the highest over the years but the next few years are likely to see maximum adoption of veterinary lasers by clinics, in terms of end-user.
Key Segment
By Product Type
Therapeutic Lasers
Surgical Lasers
Therapeutic and surgical Lasers
By Country
Germany
Italy
France
Spain
U.K.
Rest of Western Europe
By Laser Type
By End User
Need specific information?