Vacuum Mixing Devices Market By Product (Vertical Vacuum-Mixing Devices, Rotational Vacuum-Mixing Devices), End User (Ambulatory Surgical Centers, Hospitals, Specialty Clinics), Modality ( Bench Top Devices, Portable Devices) & Region Forecast to 2019 - 2029
Vacuum Mixing Devices Market - Analysis, Outlook, Growth, Trends, Forecasts
August 2019

REP-GB-7515

199 pages
Vacuum-Mixing Devices Market - Key Research Findings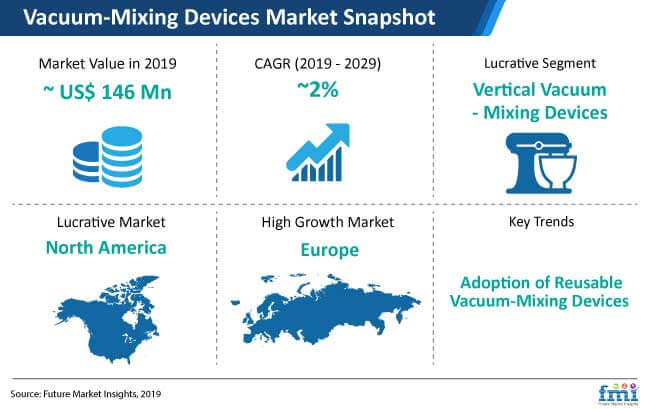 Global vacuum-mixing devices market size in 2018 ~ US$ 140 Mn.
The vacuum-mixing devices market value is anticipated to grow at a CAGR of ~ 2% over 2019-2029.
North America is the prominent regional market for vacuum-mixing devices.

Rise in the number of traumatic cases and dental cases, which require the use of vacuum-mixing devices, is among the main factors driving the growth of the vacuum-mixing devices market in the region.
Presence of market leaders with premium pricing for their vacuum-mixing devices.

In developing countries, end users tend to prefer products from local or regional manufacturers over branded products from international players.
Adoption of reusable vacuum-mixing devices is comparably more in developing regions.
Ambulatory surgical centres are among the prominent end-user segments of the vacuum-mixing devices market due to the transition to outpatient orthopaedic procedures.
The global prevalence of traumatic dental injuries in either dentition (primary and permanent) is around 20%.
Key Factors Shaping the Vacuum-Mixing Devices Market
Vertical supply chain specialization is advised to the manufacturers for vacuum-mixing devices
Manufacturers operating in a vertically-integrated chain wield more power. Hence, they can extend their market reach and drive profits. However, there are risks present in such chains, such as procurement power, employee strength, and cash inflows. Hence, adequate analysis is required in order to operate effectively in such a structure.
Vacuum-mixing device manufacturers present in a vertical supply chain are providing portable products for bone cement mixing, which is primarily used in orthopedic applications. The cost adjustment is very well in control by the manufacturers in terms of investment and return.
Clinical benefits associated with the use vacuum-mixing devices
The clinical benefits of using vacuum-mixing devices helps in the expansion of the market, as it is in relation to its growth in the adoption rate among professionals. There are benefits associated with the advanced form of bone cement mixing devices, vacuum-mixing devices in general provide a suitable environment for mixing bone cement.
Vacuum-mixing devices help improve the mechanical properties of bone cement. As per clinical research, vacuum mixing reduces monomer evaporation and exposure in the operating room. Monomer exposure from the mixing of cement releases toxic and organic solvents that are critical, in in contact.
Companies involved in the vacuum-mixing devices market should take this product difference to manipulate their business strategy in order to increase their consumer pool. Clinical difference that omit such harmful conditions play a significant role in the expansion for their product line in terms of sales.
Highly fragmented market space interrupts the overall revenue collection
The vacuum-mixing devices market is a highly fragmented market. The top players contribute a significant share to the market due to their presence in most of the developed and developing economies, as well as the premium cost of the products offered by them and the comparably high adoption rate. The vacuum-mixing devices market consists of several small- to medium-sized companies that compete with each other, and only a few large enterprises.
It is not a direct restraint for the market, but surely limits the market expansion as there is no single company influencing the industry to a particular direction. Companies need to find the approach suiting their capability in order to significantly grow their businesses in this market.
Add-ons in terms of features that can be added to increase the sales volume
The market growth for vacuum-mixing devices is comparatively low as compared to 10 years ago. The year-on-year sales differ in each company, a tier 1 company is experiencing a worse growth rate as compared to a tier 3 player. The return on investment for smaller companies is adjusted with time, but it surely affects the structure for that period, and things are still better for financially strong companies.
The vacuum-mixing devices market value gets affected because of the drop in volume, though it is analysed through KOLs that the pricing for each product is not significantly decreasing but staying at a same level with minimal difference.
Key opinion leaders from respective vacuum-mixing devices companies are in favor of introducing new feature such as automation, digital feeding, and scanners to their product offerings. Then there are inorganic business strategies present to increase the vacuum-mixing devices market share for each company, such as arranging strategic collaborations with key players in the industry, sales channels, creating customer centric business models, and affordable pricing for maximum reach.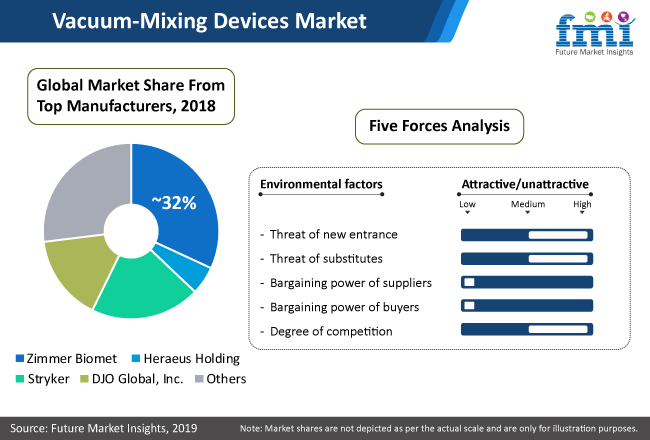 Vacuum-Mixing Devices Market Structure Analysis
Globally, the vacuum-mixing devices market is fragmented in nature due to the presence of a large number of regional players with direct sales channels.
The top four players operating in the vacuum-mixing devices market contribute ~ 70% of the market value.
Key players in the vacuum-mixing devices market include Zimmer Biomet, Heraeus Holding, Stryker, and DJO Global, Inc.
The remaining portion of the market belongs to manufacturers with a local and partial international presence.
End users in developing regions tend to prefer local manufacturers for purchasing vacuum-mixing devices.
For a better return, companies need to expand their portfolio with technically different products.
Targeting economies with least pressure in terms of regulations is valuable.
Vacuum Mixing Devices: Cracking the 'Efficient Mixing' Code
Vacuum mixing of bone cement has been practiced as a key step in orthopedic and trauma procedures for more than two decades now. Multiple studies backing the efficacy of vacuum mixing of bone cement mixers have further pushed its relevance in the global healthcare scene, thereby paving new avenues of adoption for vacuum mixing devices.
Apart from the positive contribution of vacuum mixing devices toward the mechanical properties of bone cement, their role in fine-tuning other aspects such as cement homogeneity and quality have also gained prominence over the years.
Until the 1980s, preparation of bone cement was carried out as per the standards introduced by the English Surgeon John Charnley, who pioneered the use of bone cement in Orthopedics. Post 1908s, special focus was directed toward investigation of viable techniques that would help enhance cement strength.
Though closed mixing under 'vacuum' conditions was initially aimed at environmental reasons, its benefits in terms of reinvigorating mechanical properties of bone cement, improving the cementing techniques, and securing the operating room environments became highly evident. Such particulars are likely to add new certainties to the near-term outlook of vacuum mixing devices market.
Vacuum Mixing Devices: Warding off Porosity and Safeguarding Fatigue Strength
Porosity in bone cement remains of the key challenges eroding the mechanical strength and fatigue life of the bone cement. Bone cement, to successfully survive in vivo, must be capable of withstanding loads of varying intensities it endures.
The fatigue property of bone cement, which is directly proportional to porosity, remains a key determinant of the long-term survival of joint replacements such as hio and knee replacements. Thus, effective reduction of bone cement porosity helps in boosting its fatigue strength, and this, in turn, is effectively met by the process of vacuum mixing.
Fatigue failure in case of bone cement is a common resultant of defects in the cement mantle. Presence of big-sized voids in the bone cement cause rapid propagation of fracture, which can be a possible scenario both in vivo as well as vitro.
Vacuum mixing devices play a vital role in enhancing the mechanical life properties of bone cement, largely as a consequence of their abilities to reduce micro- and macro-pores. This, in turn, staves off the chances of bone cement porosity and nourishes its fatigue strength, thereby boosting the final outcomes of orthopedic procedures.
North America: Models of 'Value-Based' Healthcare Offering Tailwinds
The North America healthcare sector spectated significant shifts over the past few years, as the regional healthcare systems have jumped onto the 'value-based' bandwagon. In alignment with the aforementioned trend, value-based care has become one among the top priorities of the orthopedic professionals in North America.
One of the key principles of these new healthcare models is ensuring efficiency and care, wherein the healthcare professionals focus on standardization around 'clinically-proven' practices and care pathways that would not only redefine care but also bring down outcome disparities. Vacuum mixing is carving its place as a process holding utmost importance in orthopedic procedures, which is providing the much-needed impetus to the region's lucrativeness for vacuum mixing device suppliers to invest in.
The Broader Perspective
Manufacturers in the vacuum mixing devices are focusing on increased production of portable formats, sensing the switch from 'bench-top' to 'portable'. Competitive pricing remains a focal point for manufacturers to beat their rivalry, and accordingly they are paying particular attention to exhaustive sessions of price benchmarking. The market players are also endeavoring launch of reusable vacuum mixing devices to successfully lift up their profit pools.
In addition, market players are also shifting their focus toward development of vacuum mixing devices offering high computability with samples of varying viscosities. This move will not only have a profound contribution to the relevance of their portfolios but will also give these players an edge over their potential competitors.
Market penetration through various sales channels will also remain a prominent strategy, wherein manufacturers will resort to 'influential marketing' to turn consumer decisions to their favor. Large-scale promotion of their products through press conferences and advertising campaigns will also be prioritized by the market players to sustain revenue growth.
Meeting the Challenges of Regulations
The vacuum mixing devices market remains a 'regulation-driven' landscape, wherein multiple regulations have been put in place for manufacturers to take into utmost consideration. Regulations make it harder for newer models of vacuum mixing devices to make their way onto the market shelves in lesser time, thereby increasing the 'time-to-market' factor for those pipe-lined devices.
Regulations also have a substantial impact on other crucial factors, with some of them being licensing, franchising, pricing and standard settings. Varying sets of regulations across different regions pose hurdles for the market players with respect to business expansion, making it no less than a restraining factor to cope with.
World's Most Profilic Intelligence Engine
Get Access To The World's Largest Market Research Database.
Sign Up Now
Key Segment
By Product Type
Vertical Vacuum-Mixing Devices
Rotational Vacuum-Mixing Devices
Vertical+Twisting Vacuum-Mixing Devices
By End User
Ambulatory Surgical Centers
Hospitals
Specialty Clinics
By Modality
Bench Top Devices
Portable Devices
By Region
North America
Latin America
Europe
South Asia
East Asia
Oceania
MEA
Need specific information?
Our Clients