An Incisive, In-depth Analysis on the Vehicle Analytics Market
This study offers a comprehensive, 360 degree analysis on the Vehicle Analytics market, bringing to fore insights that can help stakeholders identify the opportunities as well as challenges. It tracks the global Vehicle Analytics market across key regions, and offers in-depth commentary and accurate quantitative insights. The study also includes incisive competitive landscape analysis, and provides key recommendations to market players on winning imperatives and successful strategies.
Greater travel convenience, especially within urban settlements has been instrumental in boosting the adoption of advanced vehicular technologies including vehicle analytics. Moreover, growing need for more effective transport service technologies that can address traffic and rout mapping issues is creating broader scope of application of vehicle analytics. Transport service providers are aiming to leverage vehicle analytics for fleet management, service enhancement and business expansion. A recent report published by Future Market Insights (FMI) reveals that the global vehicle analytics market is set to exhibit a CAGR of 15.5% during the forecast period (2017-2022). Rising concerns over traffic congestion, safety and travel duration is expected to reflect favorably on the global vehicle analytic market in the forthcoming years. Also, infrastructural development and rapid urbanization are some of the other additional factors likely to drive the adoption of vehicle analytics.
Growing demand for smoother mobility and improving transportation system in emerging countries such as Brazil, China and India is expected to create new business opportunities or market player during the forecast period. At the same time, rising vehicle parc across the globe is making vehicle analytics highly significant. Importance of vehicle analytics is also likely to increase due to greater need for fleet monitoring, automation and mobility management. Integration of advanced vehicular technology is allowing transport service providers to improve operational efficiency, deliver better customer service as well as achieve sustainability. Vehicle analytics facilitates advanced analytics and aids in streamlining various operational procedures. The focus is now shifting towards incorporating machine learning, predictive analysis and artificial intelligence (AI) in vehicle and transport technology. The above mentioned factors are anticipated to further propel the popularity of vehicle analytics over the next couple of years.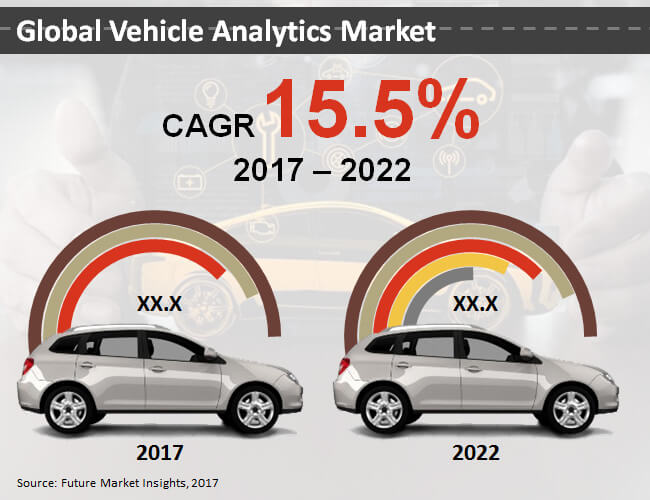 Widespread Utilization of Vehicle Analytics Software Platform
On the basis of component, the vehicle analytics software platform is expected to remain highly lucrative over the assessment period. Vehicle analytics software platforms are being increasingly utilized by automotive companies and transport service providers to improve their product and services offerings. The vehicle analytics software platforms segment is anticipated to account for more than 64% share of the market by 2022 end, reflecting an impressive CAGR of 17.6%.
Automotive OEM will continue to be the Leading End-User of Vehicle Analytics
Automotive OEM are using vehicle analytics in order to enhance their product efficiency, making them more relevant to the current requirements. In terms of revenue, the automotive OEM end-user segment currently makes the highest contribution to the global vehicle analytics market. Towards the end of 2022, market is estimated to gain over US$ 1,100 Mn from the automotive OEM segment.
Application of Vehicle Analytics in Driver Behaviour Analysis Will remain High Over 2022
Increasing incidences of road mishaps and concerns over distracted driving is creating opportunities of greater application of vehicle analytics in driver behaviour analysis. By the end of 2017, driver behaviour analysis application segment is expected to command for one-fourth revenue share of the global market.
North America to Spearhead the Global Vehicle Analytical Market Over 2022
Among regions, North America is expected to retain its dominant position over the projection period, exhibiting an above average growth rate. In terms of revenue, the region's market will remain highly lucrative in 2017 and beyond. This is primarily attribute to factors such as presence of leading market players and existence of an established automotive industry in North America.
Competitive Dashboard
Leading companies functioning in the global vehicle analytics market include Genetec Inc., Microsoft Corp., INQUIRON LTD, IBM Corporation, SAS Institute Inc., Agnik Llc, Acerta Systems Analytics Inc., Amodo Ltd., Automotive Rentals, Inc., and SAP SE. Many of these companies are concentrating on innovation and further development of technology in order to meet the current and future market requirements.
Future Market Insights (FMI)'s latest report titled "Vehicle Analytics Market: Global Industry Analysis (2012 -2016) and Opportunity Assessment (2017 – 2022)" delivers crucial information about the global market for vehicle analytics. Valuable figures pertaining to market's revenue growth analysis characterizes the significance of this report. Out team of highly proficient analysts, while compiling the report has covered product mapping, expert validation, company financial and key segment analysis. The market share analysis of leading players reveals information pertaining market position of major companies offering vehicle analytics based on their product offerings and revenue. The market share analysis is subject to instability owing to factors such as expansion, mergers & acquisitions and divestments of companies operating in the market.
Global Market for Vehicle Analytics Value Share Analysis
The data provided in the report has undergone various levels of validation process that also included primary inputs from domain experts, company executives and market watchers. The product mapping of market participants in their respective business segment has been carried out to offer a vivid picture of the market share of each companies to the readers. The report also provides information regarding the major offerings of companies that operate in the global market for vehicle analytics, at the same time, the reader will also come across information related to annual revenue for each major market players. Measuring and analyzing the annual revenue share of key companies was done for the years 2016, which was based on secondary research and annual reports.
Forecast Projection and market sizing
When determining the future prospects of the market, the current scenario of the market was taken into account and was considered as the basis for projecting on who the market is likely to perform in during the next five years. The report covers elements such as key drivers and restraints that are expected to influence the growth of the market during the forecast period. Factors such as shifting trends and changing automobile technology were also examined and added to the report to equip the reader with valuable insights of the market that can provision better decision making. The report also talks about the macroeconomic factors that are directly or indirectly affecting the growth of the vehicle analytics market.
The market is categorically segmented on the basis component, end-user, application and region.
The market values for all segments are measured in US$ Mn.
Market Segmentation
| Region | Component | End-User | Application |
| --- | --- | --- | --- |
| | Vehicle Analytics Software Platform | | |
| | Professional & Consulting Services | | |
| | | | |
| | | | |
| | | | |
| | | | |
| | | | |
Research Methodology
We have utilized a systematic and foolproof research methodology while compiling this report. A comprehensive research approach was used to reach certain conclusions on market size, major companies and industry leaders. In order to conduct primary interviews, a detailed discussion guide was created. The obtained information is validated using a triangulation method, in which secondary and primary analysis upshots where resourced.
COVID -19 : Impact Analysis
Request the coronavirus impact analysis across industries and markets
Request Covid -19 Impact
CASE STUDIES
See how our work makes an impact.
At FMI, we design strategies that are adaptive, impactful, and implementable.