Yellow pea Protein Market Outlook & Key Findings
Global yellow pea protein market to rise at a CAGR of 6.1% between 2020 and 2030
Organic yellow pea protein ingredients segment is expected to have CAGR 7.1% in the forecast period
Amongst yellow pea protein end use segment, the demand from food processing sector is estimated to lead market share with 50.4% share in 2020
The market for food processing segment is valued at US$ 861.4 Mn in year 2020 which is expected to be valued at US$ 1,492.3 Mn by the end of 2030
In the processing type segment, wet processing is expected to grow at a CAGR 6.8%
North America is anticipated to have largest market share of yellow pea protein industry with a value share of 32.8% in the year 2020
Growth in Yield of Dried Peas - Pushing Suppliers for New Avenues
The most prevalent grain after chickpeas and dry beans is dry peas. North America region accounts for the major share in the global dry pea production with 5.3 million tons followed by Europe with nearly 4.4 million tons. The Asia continent accounts for approximately 3.3 million tons and MEA with almost 1 million tons. The global dry pea production has been increasing drastically from 16.1 million tons in 2016 to 17.7 million tons in 2017.
In 2017 to 2018, per capita availability of dry peas is expected to be nearly 1.2 kg. However, with expectation of export activities in 2018/2019, a smaller production in the out-year is accessible for domestic consumption, which will result in lower per capita availability of dry peas. The sufficient availability of raw material for the yellow pea protein is likely to propel market growth in the forecast period.
Social Media is a Huge Influence on Decision Making for Consumers
The rising trend of veganism is promoting the meat substitute market at a higher level. The rising trend of meat alternatives is also being promoted by social media influencers and these people have millions of followers. Athletes are among the influencers who have started to push the performance benefits of plant-based protein diets and how reduction of meat can be beneficial.
Cultural influencers are moving the conversation from being about animal ethnics alone into a mainstream dialogue about health benefits and sustainability. Aspirational influencers are making this conversation cool and creating followers.
The alternative protein conversation is gaining momentum and becoming mass market and the manufacturers of the plant-based alternative market are only being benefitted by this as their marketing strategy is revolving around these influencers. Beyond Meat, in 2017, announced the addition of Leonardo DiCaprio as an investor and advocate of the company which earned popularity within a fortnight.
Use of Yellow Pea Protein is rising in Food Products due to Health & Nutritional Benefits
Consumers are becoming cautious of the raw material and source of raw material used in food products, due to which consumer prefer healthy and nutritious food products. Yellow pea protein is beneficial for blood sugar regulations, weight management, and maintaining cholesterol level. Yellow pea proteins are rich in antioxidants, such as flavonoids and phenolic compounds and anti-inflammatory compounds, which support the health of blood vessels.
Due to health benefits and nutritional properties the use of yellow pea protein by food manufacturers is rising in the most consumed foods, including bakery, confectionery, ice-creams and desserts, sauces, soups, and snacks. The plant based protein trend started in food and beverage industry owing to its functional benefits and increasing number of consumers shifting towards vegan and flexitarian diet.
The working women are rapidly moving towards the concept like strong is the new skin and therefore indulged in workouts and exercising. With the more women consumers encouraged to exercise the beauty brands are now focusing on formulating products to help them in pursuing health and fitness goals. As a result, the cosmetic and personal experts suggest the use plant based protein to flourish in beauty boosting supplements and products.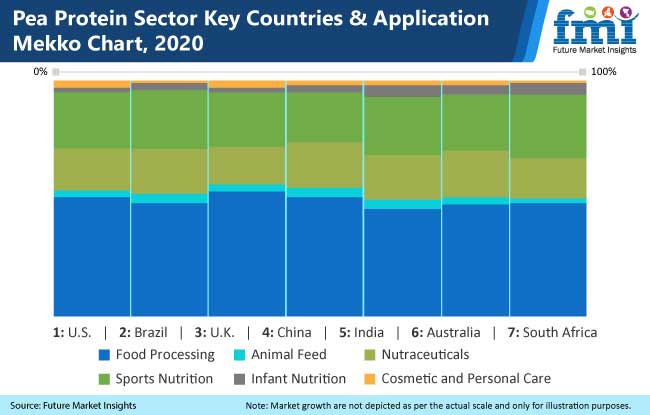 Focus of Prominent Manufacturers on Backward Integration
Prominent manufacturers, such as Puris Proteins, LLC, are focused on increasing their productivity through backward integration. They offer seeds (mainly non-GMO) to manufacturers to get quality raw material for their products. In 2018, David Henstrom, who is a vice president of Cargill, said that Puris is a game- changer in terms of taste and vertical integration in pea co-products.
By executing this backward integration strategy, the company can gain more control over their value chain, which will increase efficiency and help gain direct access to the raw material that they need. Besides, companies can stay ahead of their competitors by gaining access to specific resources and markets, including patents and technologies.
Shift in Plant Based Diet is Rather Gradual than Abrupt
The shift towards plant-based diet was gradual but in the past few years an increasing number of consumers are adopting either the vegan, part-vegan or flexitarian lifestyle. Once the consumer has shifted to a plant-based diet from animal origin, it is unlikely for them to go back to how it was. Also, options available in the plant-based market in recent times is way more than that offered by the meat products, which is more attractive than the taste, mainly for the millennial and Gen Z consumers.
The people of the previous age groups are less likely to adopt this lifestyle as compared to the millennials and Gen Z population. Most of consumers surveyed intended to decrease their meat consumption in the next 3 years. This goes the same for the dairy consumers. The availability of choice makes it even more possible for the consumers to plan on reducing meat and dairy consumption.
Side-effects of Yellow Pea Can Hinder Market Growth
The high price of yellow pea protein as compare to other alternatives such as lentils, kidney beans, and chickpeas are expected to hamper market growth, primarily in Asian countries. The protein content of lentils, kidney beans, and chickpeas are nearly 1.2% less than that of the pea. However, many manufacturers are choosing alternative products at a lower cost. The cost of yellow pea protein is profoundly influencing market growth in Asian countries.
Increasing adoption of quinoa, broccoli, chickpeas, and lentils proteins is hampering market growth of yellow pea protein significantly. Moreover, health factors associated with yellow pea protein are nearly the same as that of other alternatives. Hence, manufacturers prefer to choose other alternatives rather than yellow pea protein. However, demand for yellow pea protein in supplement products is expected to show significant growth, as demand for protein-dense additives is rising expressively.
Top Yellow Pea Protein Brands
Substantially low trade and export of the yellow pea protein has affected the penetration of the manufacturers. While players have been increasing their presence in foreign regions, the concentration of the manufacturers has been on the established markets for yellow pea protein. Various alternative protein products are being manufactured and sold commercially for the consumers in supermarket and grocery stores.
Even though they are available only in selected regions, they are expected to gain traction in the upcoming years. Manufacturers of yellow pea protein are expected to receive funding from various food companies, venture capitalists and other investors which is aiding in the fast development of the market.
Technological innovations have also changed the dynamics of the alternative proteins market which includes yellow pea protein as the development of cultured meat, mycoprotein and impossible burgers couldn't have been possible otherwise.
FMI profiles some of the leading companies in the market. These include:
Americas
Cargill Inc.
DuPont de Nemours, Inc.
The Scoular Company
Axiom Foods, Inc.
Europe
Glanbia Plc
Roquette Frères
Kerry Group PLC
Asia Pacific & Middle East & Africa
Bata Food
Shandong Jianyuan Group
*The list is not exhaustive, and only for representational purposes. Full competitive intelligence with SWOT analysis available in the report
Yellow Pea Protein Market: Region Wise Analysis
The awareness of healthy lifestyle and nutritious food is rising rapidly in North America due to which use of plant-based protein ingredients is rising in food, infant nutrition, sports nutrition and nutraceutical industry. Canada leads in the production of both green and yellow peas with the statistics touching over 4.6 million tons followed by the Russian Federation at about 3.2 million tons. Among manufacturers, Canada has been the prime location for sourcing yellow peas for processing and this trend is anticipated to continue.
East Asia is anticipated to have the highest growth of 8.4% by 2030. China is the largest exporter of yellow pea protein as the government here is focused on reducing meat consumption and enforce the consumption of plant based protein or other alternative proteins. The Chinese Government revised its Healthy Eating Guidelines in 2016 and generated this Food Guide Pagoda graphic to provide Chinese people with guidance to maintain a healthy lifestyle and avoid disease.
Yellow Pea Protein: The Way Forward
The quick service restaurants and café are offering plant based protein and more meat free options. In the developed countries of North America and Europe yellow pea protein is starting to sit beside real meat in the grocery aisle. The distribution of the yellow pea protein products is niche and therefore the key players are pushing hard to expand distribution while creating awareness among consumers.
Mainstream adoption and the rising demand among the millennial for wellness in their eating patterns has reshaped the food and beverage industry and as a result the demand for alternative proteins especially, the plant-based products, is rising. This proves the consumers demand for reducing meat and rise in demand from other plant based sources such as yellow pea protein.
With the change in consumers eating patterns, the food service industry is indicating that if the manufacturers increase their production capacity with the increase in consumer demand, in no time they are willing to shift their menus and offers alternative products. The US food industry (including grocery and dining) believe there is increasing consumer demand for alternative proteins and it is only a matter of time before they achieve mass production, wider distribution and more competitive pricing.
Key Segments
Nature
End- Use
Food Processing

Meat Alternatives
Bakery Products
Confectionery
Snacks & Cereals
Meat-Based Products
Others

Animal Feed

Livestock
Pet Food
Aqua feed

Nutraceuticals
Sports Nutrition
Infant Nutrition
Cosmetic & Personal Care
Product Type
Protein Concentrates
Protein Isolates
Textured Protein
Hydrolyzed Protein
Process Type
Dry Processing
Wet Processing
Global
North America
Latin America
Europe
East Asia
South Asia
Oceania
MEA
Need specific information?
Talk Show:
The Rise of Intelligent Packaging
Personalized, Connected and Sustainable
November 18, 2021
11:00-11:45 AM PST (USA & Canada)
This is a LIVE session