AUTOMOTIVE PUMPS MARKET: KEY INSIGHTS
The global automotive pumps market surpassed US$ 50 Bn in 2019.
Expanding on-road vehicle fleet and rise in private vehicle ownership are factors primarily driving market growth.
Fuel supply pumps hold leading revenue share; fuel injection pumps to gain momentum.
Electric automotive pumps continue to stay in-demand, owing to their enhanced pressure regulation capacity and reduced power consumption.
Adoption of automotive pumps would be prominent in passenger cars, while that in LCVs and HCVs to drop in the near term.
Asia Pacific excluding Japan (APEJ) remains hub of value-capture opportunities; Western Europe to generate relevant returns.
KEY FACTORS SHAPING AUTOMOTIVE PUMP MARKET
Mid-size Cars Segment Holds Significant Revenue Potential
Increasing per capita income of the ever-growing middle class, exclusively in emerging countries such as China and India, is influencing automakers to focus on the compact and mid-size segments. Premium or special features such as cabin comfort systems, anti-lock braking systems, power steering, and automatic transmission systems are no longer limited to luxury, premium, and executive cars.
With increasing rivalry among automotive manufactures and changing consumer lifestyles, most of the premium features are being introduced in the compact or mid-size car segment on a greater scale. These developments in cars are well expected by consumers, and are further prompting automotive manufactures to increase the scale of implementation of these innovations in the aforementioned car segments.
Gasoline Turbochargers to Create Substantial Demand for Vacuum Pumps Manufacturers are inclining towards advanced fuel injection systems such as gasoline turbocharged direct injection (GTDI), to fulfil rising consumer demand for fuel efficiency. This factor is expected to act as a major stimulus for the sales of automotive vacuum pumps. The trend is anticipated to support sustainable market growth of passenger and light commercial vehicles in the automotive pumps market, in regions such as APEJ and Western Europe.
Utilization of Advanced Automotive Pumps to Curb Vehicular Emissions
Car manufactures are focusing on reducing carbon emissions of vehicles in order to adhere to ever-developing emission norms, globally. Various car manufactures have set targets to lower emission levels in the next few years. Even small tweaks and improvements introduced by them can reduce carbon emissions. As claimed by Continental - a global automotive component company - using electric fuel pumps, which have high pressure in automotive vehicles, can help in reducing carbon emissions by 1.5-2 g per km for 1.8-litre diesel or gasoline engines. The above-mentioned factors are likely to increase the usage of advanced automotive pumps by car manufacturers in the coming years.
Automotive Pumps Market in APEJ to Remain Dominant throughout Forecast Period
The APEJ automotive pumps market is expected to hold nearly half of the market share by the end of 2030, on the back of huge automotive production in China and India. China is likely to offer the most lucrative opportunities for revenue generation in automotive pumps market during the forecast period.
The coronavirus (COVID-19) pandemic continues to spread across continents, creating humanitarian tragedy, and straining automotive production. China – the origin of the outbreak – is the manufacturing hub of automotive components. Various automotive pump manufacturers in developed regions have established assembly facilities in China. As governments are imposing bans on import-export activities and public gatherings, this has substantially disturbed the supply chain in the automotive pumps market.
AUTOMOTIVE PUMPS MARKET: STRUCTURE ANALYSIS
The global automotive pumps market is fairly fragmented, with the presence of various international as well as regional players.
Over the last few years, a surge in the number of acquisitions has been witnessed in the automotive pumps market. Key market players are actively pursuing partnerships with local suppliers and expansions in production capacities to cater to the growing demand for automotive pumps.
Prominent players in the automotive pumps market, such as Robert Bosch GmbH, Aisin Seiki, Magna International, Denso Corporation, KSPG AG, and Continental AG, are focusing on new product development to enhance their product portfolios.
Base Year - 2019
Historical Period - 2014-2018
Forecast Period - 2019-2029
Market Value in 2019 - US$ 50.8 Bn
Segments Covered - Pump Type, Technology, Sales Channel, Vehicle Type, and Region
Regions Covered - North America, Latin America, Europe, South Asia, East Asia, Oceania, and the Middle East and Africa
Key Companies - Robert Bosch GmbH, Aisin Seiki, Magna International, Denso Corporation, KSPG AG, and Continental AG.
Growth Drivers

Mounting production of automobiles
Rising adoption of electric vehicles (EVs)
Integration of advanced features in automobiles
Increasing sales of high-performance vehicles
Electric Technology to Outperform Mechanical Technology
Mechanical automotive pumps have been the conventional equipment for transferring fluids, and account for around half of total market revenue. However, with regulatory framework coming into the picture, automakers are replacing the traditional vehicle fleet with the electric iterations. By 2021, electric automotive pumps will outpace their mechanical counterparts in terms of revenue share. As efficiency and performance are becoming paramount, this growth trend is likely to increase at a healthy pace in the coming years.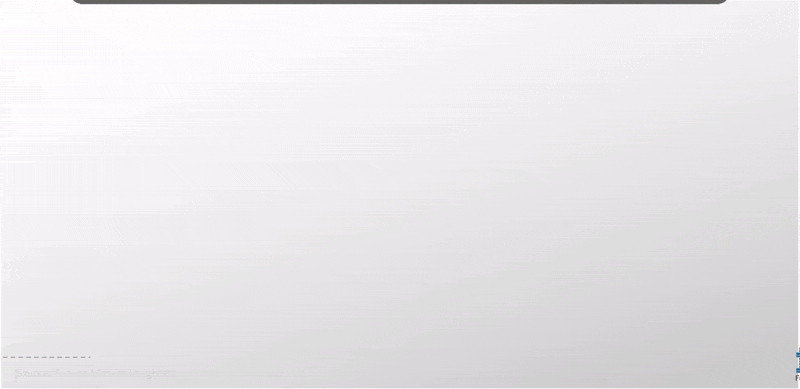 Market Players Eye APEJ for Broader Footprint
Players in the automotive pumps market will continue to reap worthwhile margins from Asia Pacific excluding Japan (APEJ) throughout the forecast period. Accounting for over 40% share of total adoption, market growth in the developing region is predominantly supported by swelling automotive production, particularly compact and heavy-commercial vehicles (HCVs). Although China's automotive industry has observed a slight dip in the recent past, the country will remain at the forefront of the automotive pumps market, globally.
Targeting Compact and Mid-size Cars for Sustainable Profits
High-end features such as automotive anti-lock braking systems (ABS) and electronic stability control (ESC) have been commonplace in premium and luxury cars. As market competition becomes more intense to cater to evolving consumer preferences, automakers are introducing most of these premium features in compact and mid-size cars on a larger scale. These improvements in vehicles are receiving a positive response from customers, especially in developing regions. Automotive pumps manufacturers, thus, should keep a sharp focus on this vehicle category.
How Growth will Unfold
Fuel supply systems continue to carve out a bigger slice of the market revenue against other pump types - windshield washer and coolant - despite the emerging trend of vehicle electrification. In 2023, the application of fuel feed pumps will surpass US$ 25 Bn, and the figure is likely to increase at a steady CAGR. However, as the need for fuel-efficient and high-performance components is defying gravity in the automotive industry, fuel injection systems are expected to witness faster adoption over the years.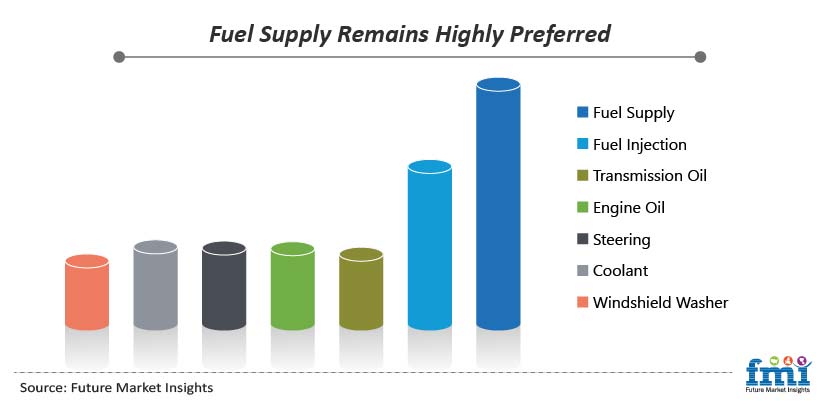 AUTOMOTIVE PUMPS MARKET TAXONOMY
The global automotive pumps market is segmented in detail to cover every aspect of the market and present a complete market intelligence approach to the readers.
Pump Type
Fuel Supply
Fuel Injection
Transmission Oil
Engine Oil
Steering
Coolant
Windshield Washer
Vacuum
Technology
Sales Channel
Vehicle Type
Passenger Cars
LCVs
HCVs
Two Wheelers
Region
North America
Latin America
Western Europe
Eastern Europe
Japan
APEJ
Middle East & Africa
Need specific information?