Automotive Window Regulator Market Snapshot
[250 Pages Report] Demand in the automotive window regulator market is projected to increase at a robust 4.5% CAGR between 2021 and 2031. Future Market Insights (FMI) forecasts the market value to top US$ 13.7 Billion in 2021.
| | |
| --- | --- |
| Attribute | Details |
| Automotive Window Regulator Market Size 2021 | US$ 13.7 Billion |
| Automotive Window Regulator Estimated Market Size 2031 | US$ 21.2 Billion |
| Value CAGR (2021 to 2031) | 4.5% |
The rising vehicle production and sales, along with introduction of new technologies to improve efficiency of vehicle windows will continue pushing demand for automotive window regulators. Considering this, Future Market Insights has forecast the global automotive window regulator market value to reach US$ 21.2 Billion in 2031.
Don't pay for what you don't need
Customize your report by selecting specific countries or regions and save 30%!
How The Market Progressed Till June 2022?
| | |
| --- | --- |
| Market Statistics | Details |
| H1,2021 (A) | 4.1% |
| H1,2022 Projected (P) | 4.1% |
| H1,2022 Outlook (O) | 3.8% |
| BPS Change : H1,2022 (O) - H1,2022 (P) | (-) 38 ↓ |
| BPS Change : H1,2022 (O) - H1,2021 (A) | (-) 20 ↓ |
Future Market Insights represents a half-yearly comparison and insightful analysis of the automotive window regulator market growth outlook. The necessity for automotive window regulators will continue to increase as a result of increased vehicle production and sales as well as the development of new technologies to increase the effectiveness of car windows.
The market for automotive window regulators is primarily driven by the rising demand for passenger cars. Also, customers are more prepared to spend money on high-tech car fittings like window regulators due to rising disposable incomes.
The global sales for the Automotive window regulator witnessed a Y-O-Y rate of 3.8% over the first half of 2022. Low durability and a lack of qualified operators are two factors predicted to restrain the automotive window regulator market over the period. To successfully implement the deployment of this technology, trained staff is needed; nevertheless, its absence is anticipated to limit the use of automobile window regulators.
Therefore, it is anticipated that a skilled labor shortage will limit the growth of some of the regional automotive window regulator market. Additionally, the automatic window regulator system's higher price may have a detrimental effect on the market's expansion. Resultantly, the market is projected to lose negative 20 bps between 2021 and 2022.
Shortly, sales of automated vehicle components are anticipated to pick up, offering potential prospects for the automotive window regulator market.
The use of manual window regulators is decreasing as more and more modern cars come equipped with automatic or electric window systems and cutting-edge automotive electronics features like one-touch comfort functions, and IoT. These factors are increasing the opportunity for automotive window regulators.
Automotive Window Regulator Market 2021-2031 Outlook Compared to Growth Recorded in 2016-2020
Sales of automotive window regulator increased at a CAGR of 0.4% between 2016 and 2020. The slow growth recorded from 2016 to 2020 is due to the impact of COVID-19 in 2020, however from 2016 to 2019 the market was growing steadily.
Key factors driving the automotive window regulator market include increasing demand for passenger vehicles. Due to the growing population and their increasing disposable income, customers are more willing to spend on advanced vehicle fittings such as window regulators.
Sales of automated component for vehicles are expected to pick up pace in the near future, creating growth opportunities for the automotive window regulator market.
The evolution of window regulator technology has increased the vehicle comfort and convenience for passengers. This new technology has accelerated the sales of window regulators via aftermarket.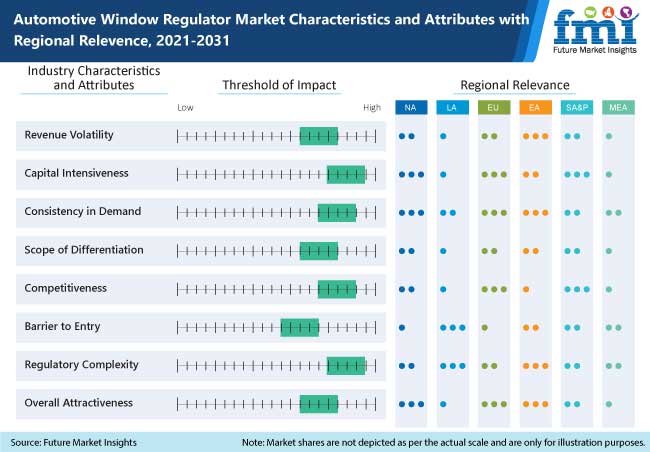 Use of manual window regulators is declining as modern vehicles have automated or electric window systems installed along with many advanced automotive electronics features like one – touch comfort function and others. These factors are contributing to the increase in demand for window regulators.
Leading manufacturers are focusing on increasing the online sales of window regulators by making them available on many E-commerce websites for customers to browse and select according to their car model. Increase in online sales of window regulator parts is surging growth in the aftermarket segment as well.
The automotive window regulator market is estimated to grow at 4.5% CAGR between 2021 and 2031.
What is the Impact of COVID-19 Crisis on Automotive Window Regulator Market?
The impact of COVID- 19 on automotive industry has been massive due to many factors. Maximum number of manufacturing units were compelled to shutdown causing disruptions in supply chains. Concerns regarding shortage of raw materials due to large scale interruptions in manufacturing across regions like Europe and North America had adverse impact on the market.
The automotive industry has been hit with triple risks: closure of factories, supply chain disruption, and a collapse in demand. The COVID- 19 outbreak had many negative effects on the economy in countries like Canada, China, Germany, India, Japan, and Mexico among others. Several small and medium sized companies have also been affected severely due to suspension of operations in the automotive industry.
Automotive Window Regulator Market - Country-wise Insights
Is Germany Automotive Window Regulator Market Lucrative?
The Germany market is predicted to remain one of the most remunerative pockets within Europe during the forecast period. According to the study, Germany is expected to account for over 30% of automotive window regulator sales in the Europe market through 2031.
The automotive sector is the backbone of Germany's economy, positioning it as one of the strongest countries in the world. Availability of technologically advanced automotive products makes Germany Europe's top automotive market in terms of production and sales.
European manufacturers invest heavily in research & development (R&D) for automotive components to maintain competiveness. Increasing demand for luxury and high end vehicles is driving the sales of automotive window regulator in Germany.
Brose, who is a German manufacturer of different electric window regulators, is one of the key market players in the country. Brose also engages in advertising to promote their power window regulators in various parts of the world. Increasing online sales of manufacturers is also an important factor contributing to the rising demand for window regulators in the market.
What is the China Automotive Window Regulator Market Outlook?
Demand in the China market is expected to rise at nearly 5.4% CAGR over the forecast period. The China automotive market has grown exponentially over the years which is generally fueled by GDP gains and increasing disposable income of buyers.
Chinese manufacturers focus on strategic partnerships with other major players or joint ventures with local companies. China is promoting use of electric vehicles to reduce damage to the environment and drive China towards clean technology which is increasing the demand for window regulators in the Chinese market. Manufacturers are focusing on expanding their business overseas by increasing their production capacities and setting up manufacturing facilities.
Many companies supply window regulators that use standardized designs to provide best window structure for each customer. Companies operating in China provide different types of window regulators to customers that are low cost and lightweight, which is a major factor contributing to the increasing sales of window regulators in the country.
What is Driving Window Regulators Sales ASEAN Market?
ASEAN accounts for nearly 48% of the market share in South Asia & Pacific in 2021. ASEAN market offers impressive opportunity for automotive and component manufacturers. Increasing disposable income of the middle class population are fuelling the demand for passenger cars in the region.
Many window regulator manufacturers are opening manufacturing facilities in countries like Indonesia, Taiwan, and Malaysia to increase revenue in these countries for the product. Manufacturers are focusing on providing reliable parts that have high quality for their customers. These factors are fueling the demand for window regulators in the market.
What is the Japan Automotive Window Regulator Market Outlook?
In 2021, Japan will account for over 25% sales in East Asia market. Japan boasts the presence of several leading players manufacturing window regulators. Some of the big names in the country are Hi- Lex Corporation, Imasen Electric Industrial Co. Ltd and others.
An increasing number of component manufacturers in Japan are expected to focus on developing a wide variety of products in response to the ever- evolving needs of automobiles. They target high quality production of window regulators that are lightweight and improve overall fuel efficiency of the vehicle.
Manufacturers like Tokai Rika are integrating the outer mirror switch into power window switch to save space. This multiplex communication switch contributes towards improving vehicle installation characteristics as well as reduction in electric wire used for power window switch in a vehicle.
Automotive Window Regulator Market - Category-wise Insights
Which Is The Top-Selling Window Regulator Type?
Based on product type, the automated product type is the leading category, accounting for nearly 87.0% of the market in 2021. Automated or electric window systems are electrically controlled systems that roll the car window up or down with just a button.
Automatic window regulators work when the ignition of the vehicle is turned on and exhibit features like automatic up and down of windows with a button. Modern vehicles use advanced technologies in window regulators that are equipped with multiple powered components like power doors and power rear view mirrors.
Automated window regulator manufacturers are focusing on providing upgraded window regulators with comfort features like "one touch operation" and "central opening/closing" of the windows. These technological advanced windows includes sensor technology that detects any kinds of obstacles and immediately lowers the window when needed.
Which Construction Type is Favored in Automotive Window Regulator Market?
Window regulators have two types of designs, vis-à-vis, cable type and arm type. Arm type design is an older design that is generally found in older vehicle models. Arm type regulators are also called as "Scissor Type" regulators and fails when the cables or arm wear out causing the glass to tilt inside the door or break inside the door panel.
Cable type designs are used by manufacturers because their lighter weight decreases the overall weight of the vehicle as well as increases the fuel economy of the vehicle. Replacement of cable type window regulator is done when it is broken which causes the window to jam or fall inside the door. This factor is one of the reason increasing the sales of aftermarket.
The cable type segment will comprise of more than 70% in 2031 due to high use of cable type construction in high end vehicles. Manufacturers are focusing on using double rail cable types as they are more popular because of their compact size that provides more room inside the door panel for safety beams and airbags.
Which Vehicle Type Accounts for Maximum Automotive Window Regulator Sales?
Window regulators are located in the door panel of vehicles where it moves the window up and down through manual lever or though electric switch that supplies power to the electric motor installed in the door panel of the car.
Each door in a vehicle has a window regulator installed. They are an important part of the vehicle that prevents outside objects from entering the vehicle, reducing the risk of any type for the passenger as well as the driver.
The passenger car segment will comprise of more than 80% of sales by 2031 due to increasing demand and production of passenger cars in the global market. Increasing number of on- road passenger cars in regions like North America, Europe and Asia is fuelling the demand of window regulators in the forecast period.
Get the data you need at a Fraction of the cost
Personalize your report by choosing insights you need
and save 40%!
Automotive Window Regulator Market Competitive Landscape
Companies operating in automotive window regulator market are aiming at manufacturing a variety of products using latest technologies. They are also using strategic partnership and collaboration strategies to expand their business further and increase their global presence across regions.
For instance,
In May 2021, Imasen Electric Industrial Co. Ltd announced that it has started operations of its second technical center in Hiroshima, Japan. The company is aiming for expansion of the product line by increasing production in line with a rise in demand for automotive components.
In June 2021, Valeo SA released its window regulator catalogue for the independent aftermarket, consisting of 1600 types for passenger cars, light commercial vehicles and trucks.
In July 2019, Continental AG introduced an intelligent glass control system that connects car windows with the on- board computer where the car window becomes a digital interface for a range of functions.
Scope of Report
Attribute
Details
Forecast Period
2021 to 2031
Historical Data Available for
2016 to 2020
Market Analysis
USD Million for Value and '000 Units for Volume
Key Regions Covered
North America, Latin America, Europe, East Asia, South Asia & Pacific, and the Middle East & Africa
Key Countries Covered
USA, Canada, Mexico, Brazil, Germany, UK, France, Italy, Spain, Russia, BENELUX, China, Japan, South Korea, India, ASEAN, New Zealand & Australia, GCC Countries, Turkey and South Africa
Key Segments Covered
Product Type, Construction Type, Vehicle Type, By Sales Channel, and Region
Key Companies Profiled

Hi- Lex Corporation
Imasen Electric Industrial Co. Ltd
Valeo SA
Magna International
Shiroki Corporation
Continental AG
Robert Bosch GmbH
Kongsberg Automotive
Castellon Automotive
Inteva Products
Johnan Manufacturing
Kuster Holding GmbH
IFB Automotive Pvt. Ltd
Tokai Rika
Aditya Auto Products and Engineering Pvt. Ltd

Report Coverage
Market Forecast, Company Share Analysis, Competition Intelligence, DROT Analysis, Market Dynamics and Challenges, and Strategic Growth Initiatives
Customization & Pricing
Available upon Request
Automotive Window Regulator Market by Category
Product Type:
Construction Type:
Vehicle Type:
Passenger Cars
Light Commercial Vehicles
Heavy Commercial Vehicles
Sales Channel:
Region:
North America
Latin America
Europe
East Asia
South Asia & Pacific
Middle East & Africa
Frequently Asked Questions
The global automotive window regulator market is projected to reach a valuation of US$ 21.2 billion by 2031.
The automotive window regulator market is likely to record a CAGR of 4.5% through 2031.
By vehicle type, the market is categorized into passenger cars, light commercial vehicles, and heavy commercial vehicles, with passenger cars dominating the market.
The China automotive window regulator market is expected to grow at a CAGR of 5.4% through 2031, driven by the country's flourishing economy.
North America is experiencing substantial demand for automotive window regulators due to its considerable vehicle ownership.
Germany is projected to hold a share of over 30% in automotive window regulator sales within Europe through 2031.
Cable type is preferred due to its prevalent use in upscale vehicle constructions, making it poised to account for over 70% of the market through 2031.