Dental Laboratories (Lab) Market Outlook (2022 to 2032)
[107 Pages Report] The global dental laboratories market is set to witness substantial growth at a CAGR of about 5.6% from 2022 to 2032. The dental lab market size reached a valuation of around US$ 29.24 Billion in 2021.
In terms of equipment type, the systems and parts segment will lead the global dental laboratories devices market and hold a share of around 35.1% in 2021.
Market Outlook:
| | |
| --- | --- |
| Data Points | Market Insights |
| Dental Laboratories Market Value 2021 | US$ 29.24 Billion |
| Dental Laboratories Market Size 2022 | US$ 31.13 Billion |
| Market Value 2032 | US$ 53.74 Billion |
| CAGR 2022 to 2032 | 5.6% |
| Market Share of Top 5 Countries | 50.7% |
Advent automation and data interchange have made their way into the field of dentistry, increasing the dental laboratories market demand over the forecast period (2022 to 2032). Rapid advancements in the field of dentistry have had a substantial impact on the global dental laboratories market growth.
Don't pay for what you don't need
Customize your report by selecting specific countries or regions and save 30%!
Sales Analysis Of Dental Laboratories From 2017 To 2021 Vs Market Outlook For 2022 To 2032
The market value for dental laboratories held nearly 12.7% of the overall ~US$ 230.0 Billion clinical laboratory market in 2021, according to Future Market Insights (FMI). Over the last five years, the dental laboratories market demand witnessed fluctuations following the unprecedented outbreak of COVID-19.
However, with the emergence of automation, globally, the demand in the market is projected to surge over the coming years. The rapid development of digitally integrated technologies across the healthcare industry will also boost the dental laboratories market.
Due to the advent of digitization within the traditional dental workflow, dental laboratories have seen an upward trend in terms of market value. In cases of surgery and orthodontia, digital platforms such as unified digital simulations and virtual planning for dentistry operations provide numerous treatment steps and workflow with software intimation.
Through reduced manual interventions, dental laboratories and systems can effectively manage the spread of infectious diseases. This is achieved by lowering the number of procedures that are likely responsible for generating aerosols and instigating environmental contamination.
The presence of digital impression techniques in dental laboratories aids in improved patient compliance and minimizes the risk of infection. This is typically used for older people with respiratory issues, such as chronic or acute mucosa diseases.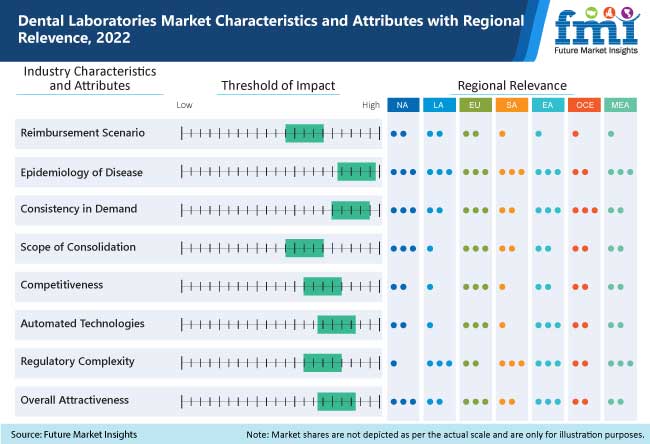 Additionally, the trend of full-lab automation is gaining immense traction across the globe. Also, a significant rise in 3D printing technology within dentistry will aid the dental laboratory's market demand.
3D printing technology enables the capability of dental laboratories to provide their patients with the fully-automated fabrication of customized plans. With the use of these plans, it can be used for treatment and presented with personalized dental devices and dental aids.
The development of automated inventory management systems promotes the efficiency of production within dental laboratories. This is expected to provide lucrative growth opportunities for the dental laboratories market.
On the back of this, the market for dental laboratories is expected to expand at a CAGR of 5.6% and offer an absolute $ opportunity of US$ 2.02 Billion between 2022 and 2023.
What Are The Key Opportunities For Prominent Players In Dental Laboratories Market?
The global dental laboratories market is set to observe a significant growth trend over the forecast period owing to the advancements in the oral care industry. The development of computer-aided design and computer-aided manufacturing (CAD/CAM) is utilized in the development of various restorative dental procedures, such as implant dentistry, intraoral imaging, digital radiography, and caries diagnosis.
The availability of software-assisted modeling and digital designing of prostheses will promote the dental laboratory's market demand over the forecast period. Hence, prominent players in the dental laboratories market are incorporating the Internet of Things (IoT) to facilitate dentistry equipment networking connectivity and sensors.
Which Are The Factors Limiting The Growth In Dental Laboratories Market?
One of the major factors restraining the growth of the dental laboratories market is the advent of data encryption and safety. With a growing patient pool for dental-associated ailments, the development of digital and automated systems for patient data is increasing the risk of data theft.
A vast array of cyber security protocols need to be incorporated within the digital dental workflows and informational bases. The absence of required closed and encrypted patient databases proposes a hindrance to the overall growth of the dental laboratories market.
Country-Wise Insights
What is the Dental Laboratories Market Size in the USA?
Rising Incidence of Oral Diseases to Boost the USA Dental Lab Market
The USA dominated the North American dental lab market with a total market share of about 86.8% in 2021. Growth within the region is influenced by high patient volumes associated with a large prevalence of oral diseases.
The presence of government-funded industrial automation and increasing efforts within the country to spread awareness regarding oral and dental hygiene are factors set to promote the dental laboratories market in North America over the next ten years.
Why is Germany Considered a Lucrative Market for Dental Laboratories in Europe?
Presence of Prominent Players in the German Dental Laboratories Market to Boost Sales
Germany held a market share value of 22.6% in the Europe dental laboratories market in 2021 and is set to project lucrative growth opportunities throughout the forecast period. Growth in the German dental laboratories market is propelled by the presence of a high number of physicians and professionals in the dental healthcare space. A set structure of dental workflows with established EU guidelines will further drive the dental laboratories market in Germany.
What Makes China an Emerging Market for Dental Laboratories?
China Dental Lab Market Size to Expand at Significant Pace Amid Rising Incidence of Oral Diseases
China held a 33.6% share in the East Asia market in 2021 and is anticipated to increase in terms of value during the forecast period. China is one of the major countries in East Asia, according to Future Market Insights (FMI).
Implementation of full-laboratory automation in production, manufacturing, and supply chain processes has been implemented for several industrial and medical domains. Key players in the dental laboratories market have displayed the utilization of automated systems for smooth laboratory processes. This is expected to create a conducive environment for China dental laboratories market players.
The high prevalence of oral diseases as well as the high consumption of tobacco in the country will propel the dental laboratories market growth.
Get the data you need at a Fraction of the cost
Personalize your report by choosing insights you need
and save 40%!
Category-Wise Insights
Which is the Most Preferred Dental Laboratories Equipment?
Systems and Parts to Remain Highly Sought-After Equipment Among Prominent Players in Dental Laboratories Market
Based on equipment, the systems and parts segment will project lucrative growth during the forecast period, with a current market share of over 35% in 2021. All laboratory processes that facilitate a streamlined flow of procedures are included in the systems and parts of dental laboratory equipment.
Automated inventory management solutions, for example, can help dental laboratories enhance their production efficiency. Electrostatic ventilation systems are used to manage and preserve dental laboratory equipment against dust and aerosols, in addition to laboratory and workflow management systems.
Why is Demand for Implants Surging in the Market for Dental Laboratories?
Implants to Account for Lion's Share in Dental Laboratories Market
Implants possess a high market share growth of about 28.3% in 2021. When developing and fabricating implant-supported restorations, most dental laboratories need specific collaboration patterns and processes between dentists and dental laboratories.
According to FMI, the most prevalent component of dental prosthesis implant. Due to the availability of methods for automatic and non-contact preparation of dental implant cavities utilizing a robot directing an ultra-short pulse laser, implants are likely to maintain a strong market share growth.
Dental Laboratories Market- Competitive Landscape
The dental laboratories industry is highly fragmented, and growth within the market is expected to be aided by notable acquisitions and mergers involving private equity firms and large dental service organizations working together.
Market consolidation is expected as a result of these acquisitions and mergers, allowing major businesses to benefit from the profits associated with white space acquisitions.
For instance:
Dentsply Sirona unveiled upgrades on its CEREC system in February 2021, which offers improved processes in terms of materials, the convenience of use, and performance.
In September 2021, Planmeca Group announced plans to purchase the KaVo Treatment Unit & Instrument Company, bolstering its position as a leading provider of advanced dental solutions.
Report Scope As Per Dental Laboratories Industry Analysis
Attributes
Details
Forecast Period
2022 to 2032
Historical Data Available for
2017 to 2021
Market Analysis
US$ Million for Value
Key Regions Covered
North America, Latin America, Europe, South Asia, East Asia, Oceania, and Middle East & Africa
Key Countries Covered
USA, Canada, Brazil, Mexico, Argentina, Germany, UK, France, Italy, Spain, Russia, BENELUX, China, Japan, South Korea, India, Thailand, Indonesia, Malaysia, Australia, New Zealand, GCC Countries, Turkey, and South Africa
Key Market Segments Covered
Equipment, Product, and Region
Pricing
Available upon Request
Key Market Players

Envista Holdings Corporation
Dentsply Sirona
A-dec Inc.
Straumann AG
Danaher Corporation
Zimmer Biomet Holdings, Inc.
Ultradent Products, Inc.
GC Corporation
Mitsui Chemicals, Inc.
Planmeca OY
Bego GmbH & Co. Kg
Septodont Holding
Ivoclar Vivadent AG
Henry Schein, Inc.
Champlain Dental Laboratory, Inc.
Knight dental design
National Dentex Corporation
3M Health Care
Key Market Segments Covered In Dental Laboratories Industry Research
By Equipment:
Dental Radiology Equipment
Dental Lasers
Systems & Parts
Laboratory Machines
Hygiene Maintenance Device
Others
By Product:
Restorative
Orthodontic
Endodontic
Implant
Oral Care
By Region:
North America
Latin America
Europe
South Asia
East Asia
Oceania
Middle East and Africa (MEA)
Frequently Asked Questions
The global dental laboratories market is expected to reach US$ 29.24 Billion in 2022, and is set to expand by 1.7X over the next ten years.
The dental laboratories market is expected to reach US$ 53.74 Billion by the end of 2032, with sales revenue expected to register a 5.6% CAGR.
Some of the significant dental laboratories market trends are increasing developments in laboratory automation systems and a rise in the global rate of occurrence of dental disorders.
The USA, Germany, UK, France and China are expected to drive demand for dental laboratories products.
North America is one of the key markets for dental laboratories, with the USA accounting for about 86.8% of North America market during the forecast period.