Fish Protein Market By Form (Powder, Liquid), Product Type (Fish Protein Concentrate, Fish Protein Isolate, Fish Protein Hydrolysate), Application (Food & Beverages, Cosmetics and Personal Care, Sports Nutrition & Dietary Supplement, Pharmaceuticals) & Region - Forecast to 2021 - 2031
Fish Protein Market - Analysis, Outlook, Growth, Trends, Forecasts
May 2021

REP-GB-13121

250 pages
About the Fish Protein Report
Fish protein has a variety of health benefits. Being high in minerals and vitamins makes it a highly consumed product, derived from seafood. Fish protein products are nutritionally-enriched and are used for animal as well as human consumption. It is generally derived from fish, fish waste, or fish meal. Some other products available in the fish protein market are fish protein isolate, fish protein concentrate, and fish protein hydrolysate.
Fish protein has been traditionally used as feed ingredients in animal nutrition. It has a wide range of application in industries such as pharmaceuticals, cosmetics and personal care, sports nutrition, infant formula, food and beverages and dietary supplements. The consumption of fish protein helps to maintain good heart and brain health because it is rich in omega 3, 6 and 9 fatty acids as well as several antioxidant.
In its new study, ESOMAR-certified market research and consulting firm Future Market Insights (FMI) offers insights about key factors driving demand for taurine. The report tracks the global sales of taurine in 20+ high-growth markets, along with analysing the impact COVID-19 has had on the food and beverage industry in general, and taurine in particular.
How Historical and Future Outlook for Fish Protein Market Match Up?
Fish has been considered as a staple diet in many cultures. Its consumption has increased over the years, thanks to increasing focus on health and wellness among consumers. As a result of growing health awareness, consumers have realized the importance of protein in diet.
As protein is considered to be the building block of the body, many converted their carbohydrate based diets to protein diets. Food brands are therefore launching innovative fish protein products, which taste better and are made with quality ingredients in order to gain positive brand image. According to FMI's analysis, fish protein market sales have grown at 5.6% CAGR between 2016 and 2020.
Growing health awareness and growing preference among consumers for organic food are factors expected to prompt food & beverage manufacturers to review current marketing strategies and introduce new techniques to increase their revenue share. Factors including rapid urbanization, changing lifestyles, and eating habits among consumers are expected to drive the market.
Manufacturers have even started focusing on sales of fish protein supplements, which are available in different flavours such as chocolate, coffee, and strawberry. Consumption of supplements containing fish protein is becoming increasingly common in Western Europe, and is significantly high among consumers in developed countries such as the U.S. and Canada.
Fish protein is widely used in dietary supplements in order to overcome the lack of protein intake in the body. This will remain one of the key growth drivers. All of the key markets for fish protein have been affected by COVID-19. The inability of companies to continue regular operations amid lockdown imposed, could affect the market.
But the situation is expected to improve in the coming years. FMI expects global fish protein market to grow at 7.2% CAGR through 2021- 2031.
Will Increase in Affinity of Buyers toward Organic/Natural Animal Feed Affect Fish Protein Sales?
Consumer awareness is critical in decision-making regarding buying organic food. It is important how customers viewed organic food products as this will decide their intention to purchase and consume the items. This will later contribute to their actual buying actions. In response to concerns regarding traditional agricultural methods, food protection, public health issues, animal welfare considerations, and environmental concerns, interest in organically grown foods is rising all over the world.
Globally, the demand for organic food items is growing significantly as the population becomes more affluent and more informed about health and wellness problems, which is contributing to a greater understanding of food choices. As animal feed request is rising, buyers are choosing to give the most ideal nourishment to their pets just as consumption of natural and organic food will help the pet to fight any kind of allergies.
Natural ingredients help a pet's resistant framework to fight a wide range of diseases. Due to these benefits, consumers prefer to buy organic fish protein for their pets which will help in combating all sorts of health issue and especially digestive problems.
What is the Impact of Increasing Consumption of Seafood?
Growing consumption of seafood has contributed to an increase in demand for fish by-products. These by-products were originally discarded but have now found a home in fish feed processing. The proportion of fish by-products has gone up in the composition of the fishmeal. The use of fish by-products instead of whole fish is becoming more and more common and is also proving cost-effective.
Consumer preference for fish protein concentrate-based products is expected to increase over the next couple of years. Due to the increasing demand of fish protein consumption, many key manufacturers are utilizing its application in industrial and biotechnology thus the fish protein market has lucrative growth opportunities in the forecast period.
How is Increasing Dietary Supplements Sales Affecting Fish Protein Market?
As cardiovascular problems are rising at an alarming rate due to sedentary lifestyle, consumers are increasingly adopting dietary supplements which will help them stay fit and healthy in the long- run. Sea food has fatty acids and oils which are extremely required to maintain healthy cholesterol levels. Good cholesterol can only be enhanced when the lipid profile of an individual is correct.
Fish protein is a great source for maintaining positive lipid profiles. Consumers who do not consume non-vegetarian foods and especially sea food lack these nutrients in body. Thus to overcome these deficiencies doctors recommend them these dietary supplements which ensure all the body requirements are fulfilled Moreover, consuming sea food on daily basis at times is not possible thus consumers are preferring these dietary supplements which will fill their daily nutrition intake.
Country-wise Insights
How large is the Opportunity in the United States?
The U.S. fish protein market holds a leading share in North America as a variety of fishes are easily available in the country, which also leads to increasing consumption. FMI has forecast the U.S. fish protein market to rise considerably over the forecast period forecast period. One of the key reasons for rise in the U.S. is increase in protein based diet.
Consumers are shifting towards sea food consumption as sea food helps to maintain the ideal body weight, as well as helps in reduction of fat. An increasing number of Americans are facing weight issues and they likely to adopt healthy living style to manage weight, which is linked to many other sever health problems like joint pains, inflammation, and diabetes and heart issues.
As protein consumption can aid in weight control, consumers in the U.S. are willing to pay for good quality fishes. This is projected to be a positive factor enabling growth in the fish protein market.
How is India's Consumers Responding to Fish Protein Products?
India's coast line, including places such as Goa, Konkan, and Ratnagiri is dominant in sea food consumption. As fish protein is a very good source for maintaining good bone health, fitness enthusiasts in India are adopting fish protein in form of dietary supplements like protein shakes, capsules of omega fatty acids and collagen powders.
Fish protein is gaining traction in sports nutrition in India. Sports nutrition requires ideal food items that ensure muscle gain and fat reduction. Fish protein gives the appropriate nutrients to the body of a sports person. Another major factor for the rise of the fish protein market is the increasing lifestyle diseases which the country's population is facing such as blood pressure, several chronic diseases like arthritis and cholesterol.
Fish protein contains oils which are very beneficial for treating join pain as its helps in reducing inflammation in the joints due to the oil present in the fish protein. India's fish protein market is expected to grow at 5.8% CAGR in the forecast period.
Why is Australia Considered the Leading Fish Protein Market in Oceania?
Australia is leading in Oceania as fish protein market. Fish protein is formulated in collagen powder, which is being adopted by Australian consumers in great numbers due to the healing properties of collagen, which also ensure a healthy and glowing skin.
Skin tissues contain certain collagen which reduces with age and pollution, so to keep the skin young and wrinkle free many consumers are opting for fish protein. Fish heals the skin from within and help's in restoring the moisture of the skin. Therefore Australia is leading country in Fish protein market in Oceania as rising demand of fish protein in skin and hair care. Thus the fish protein market is rising at an alarming rate in Australia. It is expected to hold 80.6% market share in 2021.
How Did Covid-19 Impact Fish Protein Market in South Africa?
South Africa is highly impacted by COVID-19 due to the outbreak of the new variant. The country is still under lockdown due to the rise in COVID-19 cases, which is affecting the production of fish protein market. The virus has become double mutant now which is causing crucial crisis in the region, subsequently hampering the normal functioning of the region. Eventually when the COVID-19 situation is under control the fish protein market is expected to steadily grow in South Africa.
Will South Korea's Fish Protein Market Continue Expanding?
As South Koreans consume fish as a part of their daily meal, they have now started to adopt it even in form of nutritional supplements and cosmetics and personal care. Fish protein is used in various skin care products besides dietary supplements. It gives the skin the needed elasticity and thickness. South Korean's also try various authentic dishes of fish, which provides a conducive environment for the growth of the market.
Category-wise Insights
Which Form of Fish Protein is Gaining Traction?
The form which is gaining traction in fish protein market is powder form as it's easy to blend with any mixtures and can be utilised as a pharmaceutical ingredient for the treatment of various diseases. Powder formulation of fish protein can be stored in cans, tins and bottles. Powder form has longer shelf life and it ensures easier transportation compared to the liquid form.
Powder form is good in taste and has enormous health benefits. Powder form has the highest market share of 95.4% compared to the other type of form.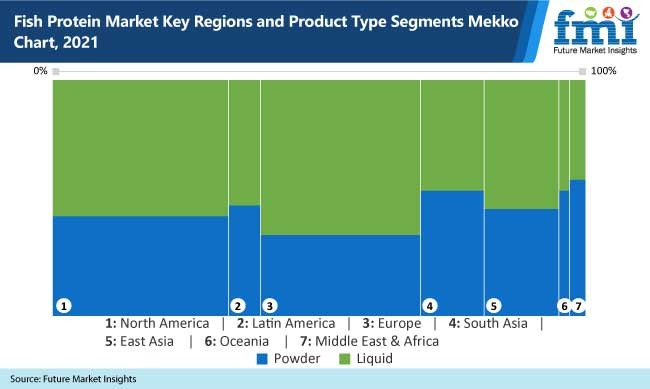 Which is the Preferred Type of Fish Protein?
Fish protein isolate is in demand as it contains 90% pure protein and it can be fortified with omega-3, dietary fibres, and salt substitutes. It is considered to be absolutely safe for human and animal consumption. According to manufacturing techniques fish protein isolate can be adopted with less than o.3% fat or oil content. Fish protein isolate is considered to be very effective for combating several health issues which the population is facing in general due to hectic and stressful life. This product type holds 46.0% market share in 2021.
Which is the Key Application of Fish Protein?
The food and beverages industry is expected to hold 42.5% market share in 2031 and it is expected to grow at 7.3% CAGR in the forecast period. Fish protein used in making sauces, dressings & condiments, flavoured oil, bakery & confectionery, snacks & savoury products, dairy products, soups, salads, dressing & sauces, and other food items. The sports nutrition and dietary segments are also exhibiting rapid growth.
Competitive Landscape
There are various seafood companies that are acquiring the companies that are specifically to into the fish protein market. They are adopting various expansion strategies to improve their product portfolio as well as geographic footprint.
For instance,
In 2020, Paine and partners, LLC, announced that it has signed a deal to purchase Scan bio Marine group.
In 2020, Scan Bio has invested in a new generation of feeder vessels that will be the most advanced in the industry. It will be joining Fleet in 2020 and 2021.
Some of the leading companies in the Fish Protein Market are:-
Omega Proteins
Colpex International Inc.
Mukka Seafood Industries Limited
ScanBio Marine Group AS
Ingredients Inc.
Peterlabs Holdings
Siam Industries International
Apelsa Guadalajara S.A. de C.V.
Bio Phoenix Formulations
Qingdao Future Group
*The list is not exhaustive, and only for representational purposes. Full competitive intelligence with SWOT analysis available in the report.
Scope of the Fish Protein Market Report
Attribute

Details

Forecast Period

2021-2031

Historical Data Available for

2016-2020

Lactose Market Analysis

USD Million for value and '000 MT for Volume

Key Regions Covered

North America, Latin America, Europe, East Asia, South Asia, Oceania, and MEA

Key Countries Covered

US, Canada, Mexico, Brazil, Ecuador, Peru, Rest of Latin America, Germany, Italy, France, U.K., Spain, Benelux, Nordic, Russia, Poland, Rest of Europe, China, Japan, South Korea, India, Thailand, Indonesia, Malaysia, Singapore, Rest of South Asia, Australia, New Zealand, GCC Countries, South Africa, Rest Of MEA,

Key Segments Covered

Form, Product type, Application, and Region

Key Companies Profiled

Omega Proteins
Bio-Oregon Protein
Colpex International Inc.
Mukka Seafood Industries Limited
Aroma NZ
ScanBio Marine Group AS
Ingredients Inc.
Peterlabs Holdings
Siam Industries International
Apelsa Guadalajara S.A. de C.V.
Bio Phoenix Formulations
Qingdao Future Group

Report Coverage

Fish Protein Market Forecast, brand share analysis, competition intelligence, DROT analysis, Lactose Market Dynamics and Challenges, Strategic Growth Initiatives

Customization & Pricing
World's Most Profilic Intelligence Engine
Get Access To The World's Largest Market Research Database.
Sign Up Now
Fish Protein Market by Category
Form
Product Type
Fish Protein Concentrate
Fish Protein Isolate
Fish Protein Hydrolysate
Application
Food & Beverages
Cosmetics and Personal Care
Sports Nutrition & Dietary Supplement
Pharmaceuticals
Others
Region
North America
Latin America
Europe
East Asia
South Asia
Oceania
MEA
Key Questions Answered in the Report
Which is the most lucrative market for fish protein?
North America currently leads the global market for fish protein. Within North America, the U.S. will emerge as the leading market for fish protein.
Which is the top-selling type of fish protein?
Fish protein isolate is expected to be the preferred product type in the global fish protein market with a market share of more than three quarter.
Who is the key end user of fish protein?
Food and beverage industry holds the highest share in the fish protein market in terms of application. It is expected to grow at a CAGR of 7.3 between 2021 and 2031.
Who are some of the leading companies offering fish protein?
Some of the leading companies offering fish protein are Omega Protein corporation, Bio-Oregon Protein, Colpex International Inc., Mukka Seafood Industries Limited, Scanbio Marine Group, Peterlabs Holdings, Apelsa Guadalajara, Aroma NZ, Ingredients Inc., Siam Industries International, Bio Phoenix Formulations, Qingdao Future Group and others.
Need specific information?
Our Clients