Fish Protein Isolate Market By Product Type (Soy Protein, Wheat Protein, Pea Protein), Form (Isolates, Concentrates), Nature (Organic, Conventional), Application (Nutritional Products, Bakery, Animal Feed) & Region - Forecast to 2020 - 2030
Fish Protein Isolate Market - Analysis, Outlook, Growth, Trends, Forecasts
June 2020

REP-GB-11663

200 pages
Fish Protein Isolate Market Outlook & Key Findings
The global fish protein isolate market slated to surpass US$ 565 Mn in 2020
Future Market Insights (FMI) forecasts the market to register growth above 7.3% (CAGR) between 2020 and 2030
Fish protein isolate are available at a lesser price point against meat protein, and also extended shelf life – thus a hit among functional food and supplement formulators
More than three fourth of fish protein isolate is produced from by-products discarded by fish processing industry using isoelectric solubilization/precipitation process
According to FMI, the upsurge in demand for dietary supplements among sports person, athletes, and fitness enthusiasts will catalyze the use of fish protein isolate in sports nutrition
Fish Protein Isolate, a Wonderful Source of Protein for Low Cost Functional Food
Fish protein isolate (FPI) is a wonderful source of protein and has a great amino acid profile. While the industry may tout it as high end ingredient, carefully conducted market research by FMI confirms that fish protein isolate is definitely not high priced and is better accessible.
FPI derived from whole gutted tout using isoelectric solubilization is not only high in protein but considered suitable for human consumption. The surging interest in incorporating omega 3 fatty acids in food and simultaneous reduction in the sodium content will give tailwinds to the application of fish protein isolates.
Due to various health benefits of fish protein isolates, they are considered ideal for producing pocket-friendly nutraceutical and functional food for human consumption.
There is immense scope for developing novel omega-3 rich functional food and sports nutrition from inexpensive sources such as fish protein isolate (FPI). It is derived at a low cost from the byproducts of fish processing.
Search for Novel Base Protein Ingredient Accessible to All Could End with Fish Protein Isolate
Fish protein isolate is an excellent source of protein and can be easily blended with healthy food products such as cereal and energy bars in order to enhance nutrient content. In the coming years, an increasing number of food producing companies are likely to consider fish protein isolate as a key ingredient.
Surfacing evidences from researches conducted on the potential effects of lean fish consumption reveal that protein obtained from fish has several beneficial properties. Even the waste material, usually discarded by the fish industry, has high protein content.
Use of fish protein isolate unleashed a plethora of option to functional food formulators, as they can develop high-protein based food that is accessible to very large customer cluster.
FMI projects the use of fish protein isolate as a base ingredient to surge in the food industry, resultantly an incremental opportunity of US$ 582 Mn is likely to be created between 2020 and 2030.
FPI's Low Price Point and High Nutrient Profile Makes it an Ideal Candidate for Replacing Whey Protein
Fish protein isolate's nutrient profile is very consistent with human digestion cycle, which makes it ideal for use in dietary supplements and sports nutrition.
Due to its low price, FPI is preferred in underdeveloped countries looking for affordable sources of protein for human consumption. It contains several essential micronutrients considered necessary to curb the prevalence of malnutrition.
The same attribute fuels the demand for fish protein isolate in sports nutrition. The unique blend of micronutrients found in FPI, coupled with its lower price point, makes it an ideal candidate to replace costly whey protein in supplements.
With the demand from pharmaceutical, cosmetic and personal care industries rising, FMI foresees strong growth on cards for the market.
Increasing Demand from Diverse Industries Renders Food Protein Isolate Market Competitive
With leading companies focusing on better positioning their products in the market, search for ideal protein sources will gain pace. In response to this, the fish protein isolate sales in food and beverage, cosmetic and personal care, dietary supplements and pharmaceuticals industries is increasing.
The rising demand for pocket-friendly protein has rendered the market highly competitive. Key players are therefore focusing on strategic collaborations and acquisitions to gain competitive strength.
For instance, in April 2017, Pacific Seafood purchased another facility that is located in Newport, Pacific Bio Products (PBP). PBP processes Pacific Whiting and traditional fishmeal. This facility operates seasonally and has increased the company's volume and production capability of fish protein isolate.
In September 2014, the company completed the acquisition of the entire stock of Bioriginal Food & Science Corp., a leading supplier of essential fatty acids and marine and plant-based specialty oils. The acquisition helped the company to expand its human nutrition segment.
Investments in R&D is growing as a result of increasing competition between players at both global and regional levels. The speed at which technological advancements are affecting the food sector has made it necessary for manufacturers to increase their scale of R&D efforts.
Fish Protein Isolate Consumption Pattern: Strategically Introducing with Clean Label Certification will Induce Demand
Consumers are trying to counter-balance their hectic lifestyle with healthy food and better nutrition. They are increasingly preferring food products whose label confirms they are salt-free, gluten-free, sugar-free, and protein rich.
Fish protein isolate contains high amount of vitamins, proteins and other essential amino acids that is encouraging its application in the food and beverage and nutraceutical industries.
It is not only rich in essential nutrients but offers a price efficient base protein ingredient. Manufacturers are therefore launching unique fish protein isolate based products such as energy bars, cereal bars and energy drinks and others to keep pace with dynamic consumer preference.
Their inclination towards products with clean label certification will further augment the use of fish protein isolate across diverse industries.
High Transportation Cost and Bitter Taste of Fish Protein Isolate Could Dissuade Sales
While extracting fish protein isolate is not expensive, its transportation and storage remain costly affairs. Besides this, market players are reeling under decelerating consumer interest.
There is growing reluctance in purchasing seafood and spending on animal protein. With more consumers seeking a vegan lifestyle, competition posed by vegan protein brands may rise.
Isolates extracted from fish trimmings also have a bitter taste which is a big hurdle, dissuading human consumption. However, recent studies have found perfect solution to mitigate this concern.
Protease enzyme, which is available commercially can be added to salmon-based trimmings to create non-bitter tasting hydrolysate without affecting its nutritional value.
Fish Protein Isolate: Region-wise Analysis
North America and Europe has early movers advantage and some of the most renowned companies in the fish protein isolate market are based out in these regional pockets.
According to FMI, North America and Europe will continue holding the lion's share in the global market.
Market maturity, competition and sourcing challenges are compelling companies to shift their focus towards no-conventional markets such as Peru, Argentina, Chile, and Brazil.
These countries have reported considerable shift in consumption patterns wherein people are moving away from carbonated foods such as grain, cereals and rice to protein-based foods such as chicken, pork and fish.
Several nations across the Middle East & Africa and Asia Pacific rely on the imports of fish, fish byproducts and their feed. The rising demand for meat products and the subsequently expanding animal feed industry, will create lucrative potential for FPI sales across these nations.
Among other factors, pricing is one of the key determinants of the market's growth. The chart below depicts the variance in pricing of fish protein isolate in powder and liquid form between regions.
Despite the variance, it is interesting to note similarity in pricing of powder and liquid FPI between regions. For instance, in both North America and Europe the price of powder FPI is steeper than its liquid counterpart.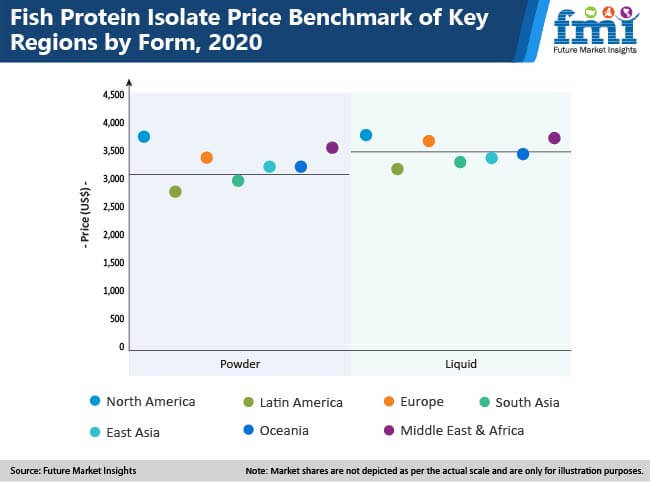 Leading suppliers in Fish Protein Isolate Market
Tier one companies are focusing on research and development to increase their product offerings. They are also aiming at acquisition and mergers to strengthen their supply chain and expand their geographical presence. Some of the key players in the fish protein isolate market are,
Omega Protein Corporation
Peterlabs Holdings Barhad
A. Costantino & C. s.p.a
Sopropeche S.A.
Mukka Sea Food Industries Private Limited
Bio-Oregon Protein Inc.
FF Skagen AS
Diana Aqua
TripleNine Group A/S
*The list is not exhaustive, and only for representational purposes. Full competitive intelligence with SWOT analysis available in the report
Fish Protein Isolate Market: The Way Forward
Future Market Insights predicts the global fish protein isolate market to surpass US$ 1.1 Bn by 2030. Through proper funding at each point of production companies are seeking to spread awareness about health benefits of fish protein isolate.
Supporting their endeavors are positive clinical trial outcomes. Overall, the sales of fish protein isolate will continue to rise at a steady pace through the report's forecast period.
Advances in membrane technology over the past few years entail that lower cost protein from fish is available to food companies. Fish protein isolate not only has the potential of replacing whey protein in some applications, but will offer a pocket-friendly base protein ingredient for dietary supplements.
World's Most Profilic Intelligence Engine
Get Access To The World's Largest Market Research Database.
Sign Up Now
Plant-Based Protein Market by Category
By Product Type:
By Form:
Isolates
Concentrates
Hydrolysates
By Nature:
By Application:
Nutritional Products

Sports Nutrition
Medical Nutrition
Infant Nutrition

Bakery
Snacks & Cereals
Dairy
Confectionary and Dessert
Beverages
Animal Feed
Others
By Region:
North America
Latin America
East Asia
Europe
South Asia
Oceania
Middle East and Africa (MEA)
Need specific information?
Our Clients