An Incisive, In-depth Analysis on the Molecular Imaging Market
This study offers a comprehensive, 360 degree analysis on the Molecular Imaging market, bringing to fore insights that can help stakeholders identify the opportunities as well as challenges. It tracks the global Molecular Imaging market across key regions, and offers in-depth commentary and accurate quantitative insights. The study also includes incisive competitive landscape analysis, and provides key recommendations to market players on winning imperatives and successful strategies.
Siemens AG and Hitachi Medical Corporation are among top 10 key players holding more than 55% revenue share in the global molecular imaging market
The top 10 key players contributed approximately 58% revenue share to the global molecular imaging market in 2016. The remaining players contributed approximately 42% revenue share to the global molecular imaging market in 2016. The top seven key players in the market contributed more than US$ 1,600 Mn, while other player's contribution in the global molecular imaging market in 2016 was more than US$ 1,200 Mn. Around 52%, and 28% revenue is contributed by tier1 and tier 2 players respectively, while, 20% revenue is contributed by tier 3 players which are local/regional manufacturers.
With more than 11% CAGR, PET-MR segment by modality type is ahead of all other segments in terms of CAGR
SPECT segment dominated the global molecular imaging market in revenue terms in 2016, and the trend is projected to continue throughout the forecast period. PET-CT segment is expected to be the most lucrative among all modality, with attractiveness index of 2.2. SPECT segment is expected to be the second largest market for molecular imaging market, with market share Index of 1.5. MR spectroscopy and software segments remain third-largest market and represents market share Index of 1.0.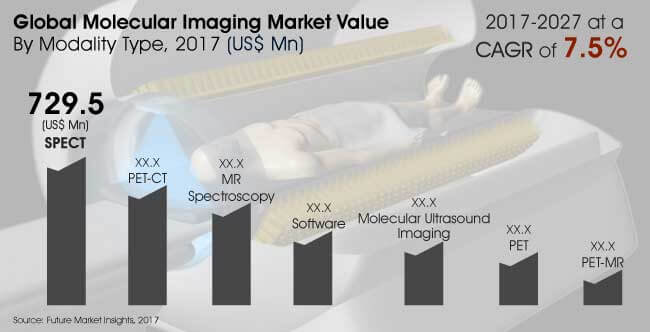 Insufficient supply of molecular isotopes likely to hamper the growth of the North America molecular imaging market
The lesser availability and insufficient supply of molecular isotopes, which is required for molecular imaging devices, may restrain the growth of the global molecular imaging market in North America region over forecast period. For instance, technetium and molybdenum that support majority of SPECT procedures in cardiology, have been facing several disruptions in supply since last few years. The reactors from Canada which supply the molecular isotopes got permanently shut down in 2016 due to safety concerns.
Inadequate reimbursement policies expected to create a negative impact on the APEJ market for molecular imaging
Molecular imaging devices are expensive in APEJ region and therefore diagnosis cost is also unaffordable. Absence of health insurance and limited government support policies that cover diagnosis with high end technology devices, such as PET-CT and PET-MR in developing countries, such as India and China are adding to the woes in the present situation. The absence of social health insurance along with exclusionary provision of private health insurance schemes is a major factor limiting the growth of the molecular imaging market.
Product recalls and safety concerns are the major hindrances in the Western Europe molecular imaging market
Adverse events associated with the use of molecular imaging devices in evaluation, diagnosis, staging, restaging and follow up on lesions, diseases and organ dysfunctions, such as cancer, cardiovascular disease and brain dysfunction, may hamper the demand for devices and restrain the growth of the Western Europe market. For instance, in 2014, the GE Healthcare recalled CT and PET-CT devices to address safety concerns under FDA class-II regulation's service manuals for a number of CT and PET CT scanners to update an incorrect torque value.
Japan market for molecular imaging likely to face obstacle due to short life of radiopharmaceuticals
Imaging and diagnostic devices, such as SPECT and PET utilize radioisotope tracers in order to achieve better imaging capabilities and give more specific information about organ function and dysfunction. Fluoro-deoxy glucose (FDG) is incorporated with fluorine-18 and acts as the most commonly used tracer in PET imaging. The radiotracer has a half-life of just about two hours, which limits its utility in the diagnostic imaging industry. This has led to a decrease in the utilization of FDG, which has affected the PET based imaging market. Also, limited availability of the radiotracer FDG would also contribute towards the declining growth of the molecular imaging market in the region.
In a recent publication titled "Molecular Imaging Market: Global Industry Analysis (2012 –2016) and Opportunity Assessment (2017 – 2027)," we have considered the weighted average pricing for different molecular imagingdevices. This has been done on the basis of information gathered from reliable secondarysources validated through marketplace discussions and private company databases. We have also observed that pricing values of molecular imaging devices have been counter validated with market experts through primary research along with regional variations in price levels. It is very necessary to note that this pricing analysis does not include margins analysis from the manufacturers end. Currency fluctuations have not been taken into account and the analysis is static in nature. It also rules out impact of extreme events in specific countries. Weighted averaging of high-end and low-end pricing has been done to rule out effect of extreme values and brand weightages. A demand-supply gap analysis has been performed involving both marketplace discussion and desk research to determine pricing premiums.
Report Structure
This report begins with the market definition, followed by definitions of the different molecular imaging devices. The market dynamics section includes Future Market Insights' analysis on key trends, drivers, restraints, opportunities and macro-economic factors that are influencing the growth of the global molecular imaging market and key regulations for medical devices. Also, the pricing analysis of different products in the segment is mentioned for upcoming molecular imaging products. The report analyses the market on the basis of application and presents forecast by value for the next 10 years. The global molecular imaging market segments such as modality type, application, end-user and region, have been analysed on Basis Point Share (BPS) to understand the individual segment's respective contributions to market growth. This detailed level of information is important for identifying various key trends in the global molecular imaging market.
At the end of the report, list of key players have been provided who are engaged in the market for global molecular imaging. This section is preferably designed to provide clients with an aim and detailed comparative assessment of key providers specific to the market segment in the global molecular imaging market and the potential players. In addition, this section includes company details, company overview, key developments and market strategies of the profiled key player active in the global molecular imaging market. Detailed profiles of molecular imaging devices manufacturers are also included in the scope of the report to evaluate their strategies in a bid to sustain in this competitive market.
Global Molecular Imaging Market: Segmentation
Modality Type

End User

Application

Region

PET

PET-CT

PET-MR

SPECT

MR Spectroscopy

Molecular Ultrasound Imaging

Software

On Premise Solutions

Cloud Based Solutions

Hospitals

500+ Beds

200-499 Beds

Less than 200 Beds

Ambulatory Surgical Centers

Diagnostic Imaging Centers

Cardiology

Oncology

Gastrointestinal Disorders

Neurology Disorders

Others

North America

Western Europe

Eastern Europe

APEJ

Japan

Latin America

MEA
Research Methodology
Macro-economic indicators such as molecular imaging market outlook, gross domestic product and others has been considered to arrive at the indicated market numbers. Bottom-up approach has been used to assess market numbers, while top-down approach has been used to counter-validate the reached numbers for molecular imaging Market numbers. The analysts of Future Market Insights have performed systematic exhaustive secondary research to analyse the required data points to arrive at the overall market numbers. Our analysts have developed questionnaires for each node in the value chain to extract the required market information through primary research interviews. While conducting interviews we have used distinguished essential resources. Data is validated by triangulation method, wherein secondary, primary and Future Market Insight's analysis have contributed to the final data.
COVID -19 : Impact Analysis
Request the coronavirus impact analysis across industries and markets
Request Covid -19 Impact
CASE STUDIES
See how our work makes an impact.
At FMI, we design strategies that are adaptive, impactful, and implementable.