About the Report
Molecular imaging is a diagnostic imaging technique that provides details of what is going on inside the body at the molecular and cellular level compared to other diagnostic imaging devices. It has great potential to impact medicine by detecting diseases in early stages, determining the severity of the disease, selecting personalized medicine, using specific therapies or targeted therapies, and evaluating specific cell-specific treatment effects.
Current clinical molecular imaging approaches primarily use Positron Emission Tomography (PET) or Single Photon Emission Computed Tomography (SPECT) -based techniques. Nuclear medicine provides diagnostics, prognostics, and predictive and intermediate endpoint biomarkers in oncology, cardiology, neurology, and infectious and inflammatory disorders. The molecular imaging market has grown exponentially over time, due to the growing need for the detection and monitoring of diseases such as cancer, neurology, and other rare genetic disorders.
With the increasing prevalence of cancer and other chronic diseases due to unhealthy lifestyles and often increasing geriatric population the need for efficient and accurate imaging systems will rise to find personalized treatment plans. Along with it the advancement in technologies such as PET/CT and SPECT is the principal growth driver of the molecular imaging market. Besides, the growing adoption of Molecular Imaging in emerging economies such as China, India, and others, will create new opportunities for the molecular imaging market.
Molecular imaging provides accuracy and precision, safety, speed, and ease-of-use in the diagnostic process. In its revised study, FMI offers insights into key factors driving demand across regions. This latest report tracks global sales of molecular imaging in 25 high-growth markets, where major traction is being witnessed in North America, followed by Europe. This edition (2021-2031) brings readers up-to-date with key developments in the market, providing analysis on how manufacturers and other stakeholders are reacting to change.
How the Historical and Future Outlook of Molecular Imaging Market Match Up?
Technological advances have increased the diversity of molecular imaging applications. Molecular imaging has evolved as a promising tool for early detection of cancers and cardiac diseases, providing a more complete picture of the tumour genome, as well as monitoring tumour emergence during disease. Molecular imaging provides the ability to accurately assess biological responses to the treatment of individual patients over time, opening the door to personalized medicine strategies guided by molecular imaging reporters.
Initiatives by governments for better regulatory measures and investments in research and development (R&D) and healthcare are expected to push demand. These investments are intended to aid the development of better and non-invasive techniques for early detection of cardiology or oncology-specific diseases. It is expected that in the years to come machine learning-based approaches for image classification will have a profound impact on the process and will lead to automation. Especially in paediatric oncology, minimal fluid biopsy attacks show a good way to identify the genomic features of a DNA tumour.
Increasing advancements in technology, product launches, mergers & acquisitions, and strategic collaborations by leading market players will lead to higher adoption of molecular imaging and will create opportunities for product developments. For instance, in 2019, Bruker Corporation launched a bench top magnetic resonance spectrometer with a high-field 9.4 Tesla small animal MRI system with integrated in-line PET.
According to FMI's analysis, the molecular imaging market will expand at an impressive CAGR of around 11.3% from 2021 to 2031.
How is Need for Better Accuracy and Precision in Diagnostic Imaging Affecting Demand?
Innovative techniques and products are constantly being developed within the healthcare sector to increase patient safety, which is an important factor driving growth. Molecular imaging gives scientists the ability to detect, visualize, and quantify cellular and molecular events in situ, creating a myriad of possibilities to advance the understanding of biological systems.
Cardiovascular diseases remain the leading cause of death in the West. Hence delivering more personalized and cost-effective treatment of atherosclerotic disease has been fuelling the demand for molecular imaging. It offers non-invasive and real-time visualization of biological processes in the living organism at a cellular and molecular level, providing practical information for the development of diagnostic, therapeutic, drug, and performance evaluation. Molecular imaging plays an important role in early detection of health concerns, accurate diagnosis, and drug development and discovery. In recent years, molecular imaging technology has seen some progress in the early detection, disease monitoring, drug development, gene therapy, and other fields
Advanced diagnostic devices with high precision and accuracy are gaining popularity in the oncology and cardiology segment. Along with that, regulatory bodies are continuously trying to create favourable scenarios for the development and commercialization of molecular imaging, owing to producing precise and non-invasive diagnostic imaging for cancers and other chronic diseases. The increasing geriatric population and unhealthy lifestyles have led to a rising incidence of chronic diseases, which is expected to significantly boost demand for molecular imaging. The rapid expansion of molecular imaging applications shows a promising prospect.
Why is PET-CT leading the Market?
There has been significant healthcare expenditure towards developing and improvising infrastructure in developing regions. About 90% of Positron Emission Tomography-Computed Tomography (PET-CT) procedures apply for cancer diagnostics and monitoring, but the imminent commercial release of novel radiotracers are intended to help diagnose common neurodegenerative conditions such as Alzheimer's disease. This has encouraged r acceptance of PET-CT in neurology.
PET-CT is increasingly utilized in cardiology for myocardial perfusion imaging. The increasing cancer population globally is propelling the PET-CT segment of molecular imaging technology. The demand for PET in radiation oncology is growing, and manufacturers are responding by introducing larger PET / CT scanners that are tailored to the specific needs of radiation therapy users. For example, Philips introduced a "Big Bore" version of its Gemini TF PET/CT that features an 85cm-diameter bore, which can accommodate radiotherapy positioning devices.
Clinical innovations, financial incentives, and improved healthcare infrastructure will increase the growth of genetic diagnostic labs for molecular imaging with precise and non-invasive methods of diagnostic assays.
What are the Key Challenges Faced by Manufacturers?
The lack of skilled professionals required to operate instruments is a major factor that can restrain the growth of the market for molecular imaging. Molecular imaging is a sensitive technique, and negligence in operation or lack of skill can ruin the process. Such techniques require highly qualified and trained professionals who understand the technology and mechanism.
Another restraint is product recalls. Adverse events associated with the use of molecular imaging devices in evaluation, diagnosis, staging, restaging, and follow-up on lesions, diseases, and organ dysfunctions, such as cancer, cardiovascular disease, and brain dysfunction may restrict the manufacturers.
Country-wise Insights
Why is the U.S. Considered a Leading Market for Molecular Imaging?
Future Market Insights (FMI) has projected the U.S. to remain the most lucrative market throughout the forecast period. One of the key factors supporting market expansion is the presence of advanced healthcare infrastructure in the U.S., making it a lucrative market for molecular imaging.
According to the American Cancer Society, prostate, lung and bronchus, and colorectal cancers account for 42% of all cases in men. Whereas, breast, lung, and colorectal cancers account for 30% of all cancers in women. As per the National Cancer Institute, cancer incidence is 442.4 per 100,000 men and women per year, with a mortality rate of 158.3 per 100,000. This high rate of cancer in the U.S. is complementing demand, and the market is expected to expand at a significant CAGR of over 9% during the forecast period.
What is the Market Scope in Germany for Molecular Imaging?
Germany is one of the largest countries in Europe exhibiting a cancer incidence of 313.1 per 100,000 people. The most common cancers in Germany are breast, prostate, colorectal, lung, and bladder. These five types accounted for about 57% of all new cancer cases in Germany in 2012. In Germany, it is estimated that 51% of men and 43% of women will develop cancer during their lifetime.
The federal health department launched the German National Cancer Plan, the Nationaler Krebsplan, in 2008 and a partnership was established with the German Cancer Society (Deutsche Krebsgesellschaft), German Cancer Aid (Deutsche Krebshilfe), and the Association of German Inflammatory Centres. The program includes four broad areas of assessment; improving oncological care facilities and quality assurance; to ensure that cancer treatment is effective, and developing a more patient-centered approach. The Krebsfrüherkennungs- und -registergesetz (KFRG), which came into effect in April 2013, and proved to be a milestone in the implementation of this program, which stated the law of early detection of cancer.
The stage in which a person is diagnosed has a significant impact on the challenges they face after a phase of intensive treatment. Thus, molecular imaging supports this plan of the organization to offer early and precise diagnosis of cancer for its prompt treatment, thereby increasing the survival rate of cancer patients.
According to International Agency for Research on Cancer, cancer cases are expected to increase by 12% by 2030, making the leading cause of death in Europe. These factors are supporting expansion in Germany.
Why is France Considered a Lucrative Market for Molecular Imaging?
France has been witnessing surging cases of cancer. Prostate, breast, lung, and colorectal cancer account for more than 47% of all cases. Besides this, according to the World Health Organization (WHO), the prevalence rate of strokes in France is 1445 per 100,000 of population. Also according to DALY's 2016 report, the prevalence of neurological disorders has been 2349 per 100,000 population.
Public health policies are actively involved in aiding cancer prevention and detection plans in France. The French National Cancer Institute is a health and science agency dedicated to cancer. The Institute covers the whole spectrum of the fight against cancer, with plans to detect cancer at the initial stage, to plan better and sustainable treatment for patients.
Why is Demand for Molecular Imaging Increasing in China?
There has been a significant rise in the number of domestic manufacturers and distributors in past few years in China. According to a report on cancer statistics in China and GLOBCAN, there were 4.3 million new cancer cases and 2.9 million deaths in China in 2018. China has a higher mortality rate due to cancer as compared to countries such as the U.S. and the U.K. Rising geriatric population and chronic diseases in China are expected to boost the demand for advanced technologies for disease diagnosis, creating opportunities for molecular imaging devices manufacturing.
How is India Faring in the Molecular Imaging Market?
The Indian Council of Medical Research (ICMR) has predicted that by the year 2020, India will see more than 1.7 million new cancer cases, and more than 880,000 Indians will die as a result. Unfortunately, most patients come to know about their cancer at an advanced stage of the disease. According to the neurological society of India, the prevalence rate of neurological disorders in India has been 2394 per 100000 population in 2014. According to which approximately 30 million people suffer from neurological disorders in India. The need of the hour is to have better and efficient detection techniques. Late detection is mainly due to a shortage of diagnostic centres at primary levels.
Among women, breast cancer is rising, with more than 21% among all cancer cases. While among males, mouth and lung cancer are the highest with 18.3% of all cancers. India is witnessing a high rate of cancer-related mortality due to the unavailability of precise diagnosis, and as such, lack of precise treatment. This means that there is huge scope for molecular imaging manufacturers in the country.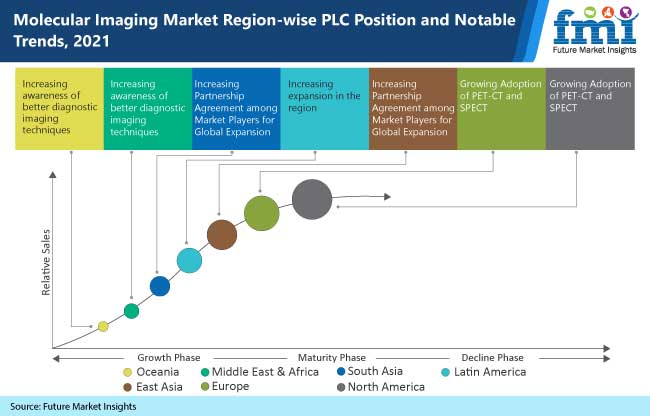 Category-wise Insights
Why is PET-CT Highly Sought-after?
PET-CT is projected to account for approximately 34.3% of the global share among modality types through the forecast period. This is due to the high sensitivity and limitless depth of penetration, and quantitative capabilities PET-CT has become a powerful tool for clinical diagnosis and basic research including neurology, cardiology, and particularly oncology. In the clinic, PET is crucial for cancer detection and staging, as well as evaluation of response to therapy. It is reported that whole-body PET/CT improves the accuracy of cancer diagnosis and staging.
Why Does the Oncology Segment Hold Leading Share among Applications?
Cancer ranks as a leading cause of death and a key barrier to increasing life expectancy in every country of the world. According to estimates from the World Health Organization in 2019, cancer is one of the leading causes of death before the age of 70 years in 112 of 183 countries and ranks third or fourth in a further 23 countries. Revenue from oncology is expected to increase at a CAGR of more than 11% over the forecasted period. The increasing cancer population globally will lead to the growth of the molecular imaging market for efficient diagnosis and treatment, during the forecast period.
Why are Hospitals Considered Leading End Users of Molecular Imaging?
Hospitals hold the largest market share and are expected to increase at a CAGR of more than 12% during the forecasted period. Growing geriatric population and cancer-related mortality will allow increased use of molecular imaging in hospital set-ups. This will in turn fuel the demand diagnostic imaging equipment as hospitals adopt measures to accommodate increasing footfall of patients.
Competitive Landscape
Leading market players are focusing on expanding their product portfolios and global footprint, along with attracting investments through mergers, acquisitions, and strategic collaborations. For instance, In September 2020, Bruker Corporation announced the acquisition of Canopy Biosciences, LLC. This acquisition enhances Bruker's offering in targeted multi-omics and fluorescence-based imaging techniques.
Some of the leading companies operating in the market are:
Hermes Medical Solutions
Bruker Corporation
GE Company
Fujifilm Holdings Corp.
Siemens AG
Koninklijke Philips N.V.
Toshiba Medical System Corp.
*Full competitive intelligence with SWOT analysis available in the report.
Scope of Report
Attribute

Details

Forecast Period

2021-2031

Historical Data Available for

2016-2020

Market Analysis

USD Million for Value and Volume in Units

Key Regions Covered

North America, Latin America, Europe, East Asia, South Asia, Oceania, and MEA

Key Countries Covered

U.S., Canada, Brazil, U.K., Mexico, Germany, France, Italy, Spain, BENELUX, Russia, Japan, India, China, Japan, South Korea, Thailand, Malaysia, Indonesia, Australia, New Zealand, GCC, and South Africa

Key Segments Covered

Modality, Application, End User, Region

Key Companies Profiled

Hermes Medical Solutions
Bruker Corporation
GE Company
Fujifilm Holdings Corp.
Koninklijke Philips N.V.
Siemens AG
Toshiba Medical System Corp.
Mirada Medical Limited
Carestream Health, Inc.
Esaote SpA
Positron Corporation
Medisco Ltd.
Hitachi Medical Corp.
MIM Software Inc.

Report Coverage

Market Forecast, Competition Intelligence, DROT Analysis, Market Dynamics and Challenges, and Strategic Growth Initiatives

Customization & Pricing
Key Questions Answered in Report
Which is the most lucrative market for molecular imaging?

North America has the highest market share in the global molecular imaging market. Increasing pool of cancer patient along with a large number of R&D centres is creating high growth opportunities within the region. The U.S. currently leads the global market.

Which modality remains dominant in the molecular imaging market?

PET-CT is expected to be the most lucrative among the modality, with increasing demand for highly sensitive and high-precision diagnostic techniques. The segment is expected to continue to expand at a CAGR of more than 16% over the forecast period.

Which are some of the leading companies offering molecular imaging?

Some of the leading companies in this landscape are Bruker Corporation, GE Company, Fujifilm Holdings Corp., Koninklijke Philips N.V., Siemens AG, and Toshiba Medical System Corp.

Which application is driving molecular imaging uptake?

Oncology is expected to dominate the market over the forecast period, generating revenue of 4703.8 Mn by 2031. On the other hand, research will experience significant growth at a CAGR of approximately 11.2% through 2031.

Which is the leading end user of molecular imaging?

Hospitals are expected to dominate the market as leading end users between 2021 and 2031.
Molecular Imaging Market by Category
Modality
Positron Emission Tomography (PET)
Positron Emission Tomography- Computed Tomography (PET-CT)
Positron Emission Tomography- Magnetic Resonance (PET-MR)
Single Photon Emission Computed Tomography (SPECT)
Software

On Premises Solutions
Cloud Based Solutions

Magnetic Resonance
Molecular Ultrasound Imaging
Application
Cardiology
Oncology
Gastrointestinal Disorders
Neurology Disorders
Others
End User
Hospitals

500+ Beds
200-499 Beds
Less than 200 Beds

Ambulatory Surgical Centres
Diagnostic Centres
Region
North America
Latin America
Europe
East Asia
South Asia
Oceania
MEA
Need specific information?
Talk Show:
The Rise of Intelligent Packaging
Personalized, Connected and Sustainable
November 18, 2021
11:00-11:45 AM PST (USA & Canada)
This is a LIVE session