Multi-depth Corrugated Boxes Market Outlook (2022-2031)
[198 Pages Report] The global multi-depth corrugated boxes market is bound to create decent strides at a CAGR of 6.4% between 2022 and 2031, reaching US$ 1,614.2 Mn by the year 2031.
| | |
| --- | --- |
| Attribute | Details |
| Multi-depth Corrugated Boxes Market Size (2022) | US$ 882.5 million |
| Projected Market Value (2031) | US$ 1,614.2 million |
| Global Market Growth Rate (2022-2031) | 6.4% CAGR |
| Collective Value Share: Top 5 Companies (2022E) | 12% |
Increasing transport and packaging services and trading activities are anticipated to bolster the sales for multi-depth corrugated boxes.
Multi-depth corrugated boxes are expected to gain traction in the forecast period due to increasing demands from FMCG, automotive and electronics vertical. The demand for convenient, better quality and heavy-duty packaging from the consumers is driving the market for multi-depth corrugated boxes.
E-commerce is further pushing multi-depth corrugated boxes in the market for shipping and transportation of goods, which is projected to surge in the upcoming period. However, governments' policies and import duties are bound to create a disparaging situation for multi-depth corrugated boxes market.
Don't pay for what you don't need
Customize your report by selecting specific countries or regions and save 30%!
How The Market Progressed Till June 2022?
| | |
| --- | --- |
| Particulars | Details |
| H1 2021 | 1.6% |
| H1 2022 Projected | 3.0% |
| H1 2022 Expected | 3.3% |
| BPS Change - H1, 2022 (O) – H1, 2022 (P) | (+) 30 ↑ |
| BPS Change – H1, 2022 (O) – H1, 2021 | (+) 170 ↑ |
Future Market Insights predict a comparison and review analysis for the dynamics of the multi-depth corrugated boxes market, which is principally subjected to an array of industry factors along with a few definite influences concerning increasing usage of advanced plastic packaging boxes having higher load-bearing capacity, are biodegradable and recyclable is expected to hinder the market growth.
Some new advances that have taken place in the market include the usage of high-speed production with wood pulp material. In June 2022, Smurfit Kappa expanded its fully integrated corrugated plant in Mexico.
The market for multi-depth corrugated boxes is anticipated to surge by 170 basis share points (BPS) in H1-2022 (O) against comparison with H1-2021, according to an FMI analysis. However, when comparing the H1-2022 projected and H1-2022 outlook period, a rise in BPS change by 30 BPS has been noticed. The main reasons for this change in growth rate are light weight, durability, flexibility, and significant cost benefits for buyers.
Despite these prospects, multi-depth corrugated boxes are being increasingly used in the secondary packaging of goods, across various industries.
Multi-Depth Corrugated Boxes Demand Analysis (2015 to 2021) Vs Market Outlook (2022 to 2031)
Corrugated sheet's origin could be traced to England in 1950's. Initially this sheet was used as a liner for hats and then in 1980's people started using corrugated material as a support during shipping activities. After 1980, concept of corrugated boxes as a packaging format got established. In the late 1940s, corrugated boxes were used to pack glass and pottery containers and later to ship fruits and vegetables from farms to local markets.
However, these boxes were having limitations in terms of loading capacity and strength. To overcome these limitations, a concept of specialty corrugated boxes packaging is evolved. For the same, manufacturers did two fold investment in material and product level innovations.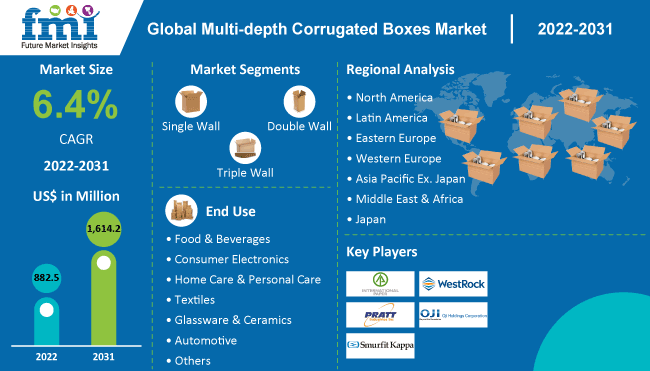 Multi-depth corrugated packaging boxes are considered as a specialty packaging format. These boxes consist of slots for adjusting height of the boxes as per the inside product. These types of boxes are gaining significant traction among the end users such as food, beverage, electrical, electronics, and many other consumer goods manufacturing industries.
Attributing to high tensile strength and ease of customization, the consumption of multi-depth corrugated boxes is expected to increase manifold in the upcoming period.
According to FMI's analysis, multi-depth corrugated boxes sales witnessed 3.1% CAGR between 2015 and 2021
The usage of corrugated boxes has increased since then and they are widely utilized in many sectors. Multi-depth corrugated boxes can be recycled as well as re-used for shipping and storage. Besides, growing e-Commerce platforms are creating an additional force for boosting sales of the target product. For instance, online shoppers in the US are expected to increase by 2.8% in 2021, as compared to the number in 2019.
Factors like hassle-free transactions, cash on delivery, return policies, choice of variety, and time saving are the factors responsible for customers switching to the online mode of shopping. Growth in e-Commerce is attributed to tremendous growth in the packaging sector, as shipping of goods shopped online requires substantial packaging, and most of it is corrugate boxes.
Multi-level corrugated boxes make it easy to ship goods from one place to another without any damage to packed goods. FMI expects global multi-depth corrugated boxes market to grow at 6.4% CAGR through 2030.
What's with Customization?
"Customization to Play a Vital Key in Driving the Demand"
e-Commerce has given rise to customization and fit-to-product (FtP) systems, which enable the primary packaging to be exactly equal to the secondary packaging or the size of the product packed inside it. This avoids the unnecessary usage of bulky boxes to pack small items and also to pack irregularly shaped objects properly.
Customized packaging is the key trend in the packaging market where corrugated boxes could be tailor-made according to customer demands. Also, printed multi-depth corrugated boxes are set to capture the market in the forecast period. This is expected to boost multi-depth corrugated boxes since they could be customized according to product dimensions.
Is Sustenance the Need of Hour?
"Nothing Sustains like Sustenance"
According to the U.S. Environmental Protection Agency (EPA), sustenance is an important aspect and it exists when humans and nature exist in a harmony to fulfil social, economic, and development needs for present and future generations. Corrugated boards are becoming popular in the packaging industry as sustenance becomes a major factor in the growth of shipping and transportation.
Recycling corrugated boxes is much easier than recycling plastic and the other materials. Corrugated boxes are easily biodegradable and could also be re-used easily. Importance of lightweight packaging has always been a priority in the transportation sector and corrugated boxes provide this to the manufacturers.
They are eco-friendly, lightweight and cost-effective, which makes them extremely popular in the packaging market. These qualities have given rise to multi-depth corrugated boxes over other types of packaging alternatives.
Get the data you need at a Fraction of the cost
Personalize your report by choosing insights you need
and save 40%!
How about Recycling?
"Recycling - a Solution to Cost Reduction"
The corrugated packaging market is growing at rapid speed. Changing consumer lifestyle focuses on eco-friendly packaging solutions. This factor is driving the demand for corrugated box packaging. Increasing demand for recycling and reuse is further expected to create growth opportunities for the target market.
Corrugated material has some diverse advantages over the other packaging material. Manufacturers and consumers are looking for solutions that are cost-effective as well as help in keeping the environment safe. Recycling corrugated material helps the manufacturers in reducing the cost of the business.
Market Consolidation through Extensive Research?
Digital printing industry has matured but not in the corrugated sector. Technologies are now developed to address the appearance of multi-depth corrugated boxes by improving printing and labelling processes.
The 'personalization' factor has taken over and is forcing the major brands to get their boxes tailor-made. Individuals are now demanding packaging with their name, colour palette, shapes, and design to suit their requirements. Shopping has been made an experience rather than just a one-time buy situation.
Creators want customers to share their experience with the world on social media, which also gives them free testimonial and a mark of trust from new users. This is also a perfect growth opportunity for digital printers and converters. Hence, there is continuous development in packaging to keep buyers interested in the packaging and sustain brand loyalty.
Impact of Regulations on Global Sales?
"Eco-friendliness to be pressed Upon"
Indian Standard for corrugated fibreboard boxes for packing and transportation has specified two types of material specifications, namely Type A and Type B.
Type A boxes are made from 60% pulp containing materials bamboo, hardwood, softwood and reed. Type B boxes are made from 100% waste paper or agricultural waste.
Many other regulatory bodies across the globe have insisted companies and customers to shift to eco-friendly packaging instead of hazardous packaging. This has boosted sales of multi-depth corrugated boxes across the globe.
Country-wise Insights
North America is slated to remain a lucrative market for multi-depth corrugated boxes throughout the forecast period. The reasons for growth in the region include its high customer spending and standard of living. It is expected to witness a CAGR of 4.5% in the forecast period.
A survey by PYMNTS concluded that almost 36% of U.S. shoppers are now buying retail goods online, as compared to 29% doing the same in mid-April when most physical retail stores were closed. This is a triumph signal for multi-depth corrugated boxes.
Retail and transport markets are constantly growing in North America and have large opportunities for corrugate box manufacturers. The online shift in retail sector is already providing a push to corrugate boxes in the retail space.
The expansion of e-commerce into grocery sector has expanded the retail e-commerce market. Corrugated boxes are further used to ship raw materials from manufacturers and also to deliver finished goods to distributors or retailers.
Brazil is the small scale business sociable region with no minimum capital requirement. Multi-depth corrugated boxes are the type of customized boxes primarily manufactured in small-scale industries.
So, the huge amount of manufacturing of multi-depth corrugated boxes drives the market of Brazil. Therefore, niche offerings are getting significant success in this region. e-Commerce is the booming industry in Latin America, which leads to the growth of multi-depth corrugated box market. Multi-depth corrugated boxes are also widely used in export industry for the transportation of goods.
The major export products from Brazil include automobile, computers, televisions, electronics, LCD's, and oil & gas products that require safe transportation provided with the help of multi-depth corrugated boxes.
India is a fast-growing market for e-Commerce and retail trade. According to India Brand Equity Foundation, government's initiatives like Digital India, Make in India, Start-up India, and Innovation Funds have played a major role in shaping Indian customers and manufacturers since 2014. The impact of e-Commerce has directly impacted the growth of micro, small, and medium enterprises (MSME) in India, not only resulting in GDP growth but also technological advancements.
Technological innovations like digital payments, analytic customer engagements and digital packaging are likely to support the growth of e-commerce and eventually multi-layer corrugated boxes market in the country.
Corrugated material remains the most commonly used packaging material in the European region. All the manufactured goods and the other farmed products have been packaged in the multi-depth corrugated boxes for the transportation of the products. The growing food industry in France is continuously demanding innovations in packaging and transportation.
Corrugated material is a versatile material that can be used for packaging a wide range of food & beverages, groceries, and the other manufactured products. Material that used in multi-depth corrugated boxes meets the requirement of flexibility and efficiency.
These boxes can be rapidly tailored to fulfil the rapidly changing demands of the supply chain. Multi-depth corrugated boxes are being used once and then recycled, which is feasible for both - retailer and customer.
The growth in usage of the internet for online shopping through smartphones and tablets has increased significantly in China. Flourishing technology-driven and tech-savvy generation has contributed to this in the country.
Large corporate and varied uses of multi-layer corrugated boxes have led to an increase in its adoption in China. Usage of multi-layer corrugated boxes in aerospace has subsequently increased in the present times and is a relatively new concept. However, increasing costs of raw material and COVID-19 restrictions are expected to hinder the growth of multi-layer corrugated boxes in China.
Category wise Analysis
Food & beverage segment holds the largest market share in the end-use segment due to its vast variety of offerings. Beverage packaging has been using corrugated boxes for a long time and with increasing demand for the same, it continues to contribute to the segment.
Boost in e-Commerce with a rise in sustainable packaging has boosted the food & beverage sector globally. Food & Beverage segment is expected to hold 42.1% of market share in the end-use segment by the end of forecast period.
Accounting for more than 60% market share throughout the forecast period, multi-depth corrugated boxes up to 80 lbs. continue to witness an upsurge in the market. Growth in this segment is dedicated to its wide usage in almost all end-use divisions. The primary aim of multi-depth corrugated boxes is to store and transport goods from place to place without any damage.
Food and beverage industry in the end-use segment holds the highest market share among all others. The expansion of US e-Commerce markets into the food and beverage sector has led to the growth of digital food shoppers in the US. The introduction of organic and superfoods has also led to an increase in sales of food and beverage in the US. The US food and beverage industry held a market share of nearly 39.1% in the year 2021.
Furthermore, the food and beverage sector is expected to attain a CAGR of 7.2% in Western Europe. This could have resulted from immense production and consumption of food and beverages in the region.
According to FMI, the demand for multi-depth corrugated boxes will always be high for FMCG Sector going forward. While the e-Commerce has already boosted the retail sector, digital printing is set to bring innovations and further growth in the multi-depth corrugated packaging market.
Competitive Landscape
Companies operating in the multi-depth corrugated boxes market are aiming at strategic collaborations with software and digital printing service providers to address the requirements of an expanding packaging market. Presence of more number of competitors means a large number of players are competing for the same customer base and resources, therefore keeping up the momentum.
Thus, the rivalry among existing competitors is significantly high.
On May 2nd 2019, WestRock Company acquired UBS Printing Group, Inc. to intensify its ability to support beauty and personal care industry.
On 15th April 2019, WestRock Company was honoured with Innovator Award for its work in improving the recyclability of foodservice packaging by Sustainable Packaging Coalition (SPC).
On January 27, 2021, Georgia-Pacific LLC expanded its Hummingbird® digital operations through the purchase of HP PageWide T1190 Press for corrugated packaging printing solutions. HP PageWide T1190 Press is set to deliver 305 meters (1000 feet) of corrugated liner per minute and up to 100 million corrugated boxes per year.
On January 14, 2021, DS Smith Packaging Ltd. installed an EFI™ Nozomi C18000 Plus digital printer in its plant based out of Lisbon. This digital printer allows customizing the corrugated packaging with good quality print and lesser delivery time.
Multi-Depth Corrugated Boxes Industry Report Scope
Attribute
Details
Forecast Period
2022-2031
Historical Data Available for
2015-2021
Market Analysis
USD Million for value and Units for Volume
Key Regions Covered
North America, Latin America, Eastern Europe, Western Europe, Asia Pacific Excluding Japan, Middle East & Africa, and Japan
Key Countries Covered
USA, Canada, Germany, UK, France, Italy, Spain, Poland, Russia, China, South Korea, India, Thailand, Malaysia, Vietnam, Indonesia, Australia, New Zealand, GCC Countries, Northern Africa, South Africa
Key Segments Covered
Capacity Type, Board Type, Strength, End Use, and Region
Key Companies Profiled

International Paper
DS Smith Packaging Limited
Oji Holdings Corporation
Pratt Industries, Inc.
Acme Corrugated Box Co. Inc.
Great Little Box Company Ltd.
A.D. Inc. of Milwaukee
WestRock Company,
Smurfit Kappa Group Plc
Uline, Inc.
Shillington Box Co., LLC.

Report Coverage
Market Forecast, brand share analysis, competition intelligence, DROT analysis, Market Dynamics and Challenges, Strategic Growth Initiatives
Customization & Pricing
Available upon Request
Key Segments Covered in Multi-Depth Corrugated Boxes Industry Research
Multi-Depth Corrugated Boxes Market by Capacity Type:
Up to 80 lbs
80 to 180 lbs
180 to 300 lbs
Above 300 lbs
Multi-Depth Corrugated Boxes Market by Board Type:
Multi-Depth Corrugated Boxes Market by Strength:
Normal (Below 32 ECT)
Standard (32 ECT)
Heavy Duty (44 ECT)
Heavy Duty Double Wall (48 ECT)
Multi-Depth Corrugated Boxes Market by End Use:
Food & Beverages
Consumer Electronics
Home Care & Personal Care
Textiles
Glassware & Ceramics
Automotive
Others
Multi-Depth Corrugated Boxes Market by Region:
North America
Latin America
Europe
East Asia
South Asia
Middle East and Africa (MEA)
Oceania
Frequently Asked Questions
The global Multi-Depth Corrugated Boxes market is expected to be worth US$ 882.5 Mn by the year 2022.
The market for Multi-Depth Corrugated Boxes is expected to reach US$ 1,614.2 Mn by 2031, expanding at a CAGR of 6.4%.
For 2015-2021, Multi-Depth Corrugated Boxes' sales expanded at the rate of ~5%.
Georgia-Pacific LLC, International Paper, DS Smith Packaging Limited, Oji Holdings Corporation, Pratt Industries, Inc., Acme Corrugated Box Co. Inc., Great Little Box Company Ltd., A.D. Inc. of Milwaukee, WestRock Company, Smurfit Kappa Group Plc, Uline, Inc., and Shillington Box Co., LLC.
North America holds more than 30% of the market share.