Oxalic Acid Market to Touch US$ 1.2 Bn by 2029
The global oxalic acid market will represent a multimillion-dollar opportunity during the latter half of forecast period (2019-2029), ensuring stable returns to stakeholders. Growth engine will primarily be driven by end-use applications such as industrial, institutional, and domestic cleaning chemicals. Upsurge in industrial output, worldwide, and increasing concerns regarding water treatment are also propelling margin growth. FMI's study further underlines that the global revenue pool of the oxalic acid market will expand nearly 1.5x over 2019-2029.
Key Factors Shaping Oxalic Acid Market
Exponential Growth in Pharmaceutical and Rare Earths Industries - Major Contributor to Growth of Oxalic Acid Market
Oxalic acid is used for the production of a wide range of medicines, including borneol, terramcyin, tetracycline, and others. The global pharmaceutical industry was pegged at US$ 1.2 trillion in 2018, and is expected to reach US$ 1.6 trillion in 2025. The digital revolution and availability of newer and improved technologies are anticipated to propel the growth of the pharmaceutical industry over the forecast period. Moreover, oxalic acid is also used in the leaching of rare earth metals from ore bodies. Growth of the rare earth metals industry is attributed to growth in the electrical and electronics industry. Thus, growth in pharmaceutical and rare earth industries is expected to push the demand for oxalic acid in the foreseeable future.
Rising Concerns Regarding Sterilization in Pharmaceutical Industry to Propel Demand for Oxalic Acid
Sterilization is the process of killing all microorganisms (viral, bacterial, and fungal) with the use of either physical or chemical agents. Disinfectants like oxalic acid kill microorganisms on inanimate objects such as tables and surgical instruments. Growing concerns related to health hygiene make sterilization an important aspect in the pharmaceutical industry, thereby fuelling the growth of the oxalic acid market. Moreover, technological advancements and use of increasing number of medical instruments are further expected to propel the growth of the global oxalic acid market over the coming years.
Use of Oxalic Acid for Bleaching & Cleaning Purposes for Various Industrial/Household Applications Boosting Growth
Industrial cleaning is another primary application area for oxalic acid, which is used for cleaning applications across a diverse set of industries, including manufacturing and metal working, amongst others. Demand for oxalic acid for use in dry cleaning, metal cleaning, and vapour degreasing applications is growing in most developing countries such as China and India, owing to intense end-use concentration, which is expected to bolster the demand for oxalic acid over the forecast period. On the back of lack of regulations in Asia Pacific as compared to those in North America and Europe, the application of oxalic acid for various cleaning processes is increasing at a significant rate. The industrial cleaning chemicals market is expected to witness steady single-digit growth over the forecast period. Oxalic acid accounts for a considerable share in the overall industrial, institutional, and domestic cleaning chemicals market. These factors are expected to contribute to the growth of the oxalic acid market in the coming years.
East Asian Market Hit by COVID-19 Impact
In terms of value, the oxalic acid market in East Asia led the global market in 2018. The oxalic acid market in China is projected to offer the most lucrative opportunities for revenue generation over the forecast period. The market in East Asia is also expected to record the highest growth rate over the forecast period, owing to the high demand for oxalic acid from petrochemical industries in the region.
The potential impact of the novel COVID-19 pandemic on East Asia's oxalic acid market is complicated as China is the manufacturing hub of raw materials. However, with the number of confirmed coronavirus cases in China seeing a significant drop recently, China's chemical industry is recommencing the production. However, deficient labor, uncertainty regarding raw material supplies, and declining demand will continue to restrict the efforts to achieve full production efficiency in near term. Furthermore, key petrochemical units in China have resumed their production, achieving operating rates of 40-70%, which is expected to increase further.
Oxalic Acid Market: Structure Analysis
Collaboration with and acquisition of niche players is one of the key strategies followed by leading oxalic acid manufacturers in the market.
Mudanjiang Fengda Chemical Co., Ltd., Oxaquim, Merck KGaA, UBE Industries Ltd., Clariant International Limited, Indian Oxalate Limited, Shijiazhuang Taihe Chemical Co., Ltd., Spectrum Chemical Manufacturing Corp., Shandong Fengyuan Chemical Co., Ltd., and Penta s.r.o. are the largest and most experienced in the global oxalic acid market.
High market concentration ratio suggests that, there is intense ongoing competition in the global oxalic acid market. Thus, market competitors are deploying cost-effective solutions in order to maintain or enhance their market shares.
| | |
| --- | --- |
| Report Metrics | Details |
| Base Year Considered | 2019 |
| Actual Estimates/Historical Data | 2014 - 2018 |
| Forecast Period | 2019 - 2029 |
| Market Value (2019) | US$ 840 Mn |
| Segments Covered | Grade, Application, End Use, and Region |
| Regions Covered | North America, Latin America, Europe, South Asia, East Asia, Oceania, and MEA |
| Key Players | Mudanjiang Fengda Chemical Co., Ltd., Oxaquim, Merck KGaA, UBE Industries Ltd., Clariant International Limited, Indian Oxalate Limited, Shijiazhuang Taihe Chemical Co., Ltd., Spectrum Chemical Manufacturing Corp., Shandong Fengyuan Chemical Co., Ltd., and Penta s.r.o. |
| Report Coverage | Revenue Forecasts, Company Share, Competitive Landscape, Growth Factors, and Trends |
Standard Grade Oxalic Acid Remains Highly Preferable
Manufacturers continue to capitalize on standard grade oxalic acid (purity 96%-99%), which procures over 40% of overall market value. However, this study highlights that, the standard grade will lose its share to technical/pharma grade oxalic acid (purity 99%-99.9%) in due course of time. Rising concerns regarding the need for sterilization of pharmaceutical equipment are responsible for this transition. Furthermore, both, standard and technical/pharma grade oxalic acid are likely to attain a valuation of around US$ 1 Bn in 2029.
East Asia Continues to Engage Stakeholders
Procuring a significant chunk of total market stack, East Asia would maintain its supremacy in the oxalic acid market. Surging growth of the industrial sector and lax government regulations regarding the usage of oxalic acid are boosting regional market growth. Demand upheaval from applications such as dry cleaning, metal cleaning, and vapor degreasing in countries such as China is likely to garner huge attention of stakeholders. Furthermore, market players are forming strategic mergers and acquisitions to maintain their global presence.
Stakeholders Tapping White Spaces in Pharmaceutical Industry
Oxalic acid is utilized for developing myriads of medicines, such as borneol, terramcyin, and tetracycline. In addition, this organic chemical is finding use as a disinfectant chemical in eliminating microorganisms from surgical instruments (sterilization). Such use cases are offering white spaces to oxalic acid market players. As tech-enabled advancements as well as the count of medical equipment surge, manufacturers must re-align their business models in order to maintain their positive trend in oxalic acid market.
Standard grade (purity 96%-99%) holds leading revenue share
Technical/ pharma grade (purity 99%-99.9%) to show noteworthy CAGR
High usage as bleaching & purifying agent
Application as reducing agent to rise
Surging adoption in petrochemical industry
Consumption in pharmaceutical industry to grow
How Growth will Unfold
The petrochemical industry would remain the immediate consumer of oxalic acid throughout the foreseeable timeframe. Capturing over one-fifth of total market revenue, manufacturers will continue to reap substantial returns from this end-use industry. While opportunities are hovering around water treatment chemicals, the pharmaceutical sector is also offering fertile ground to manufacturers, owing to the increasing need for sterilization to enhance the hygiene of medical facilities. Further, metallurgy and textiles & leather industries share equal divide in the market value.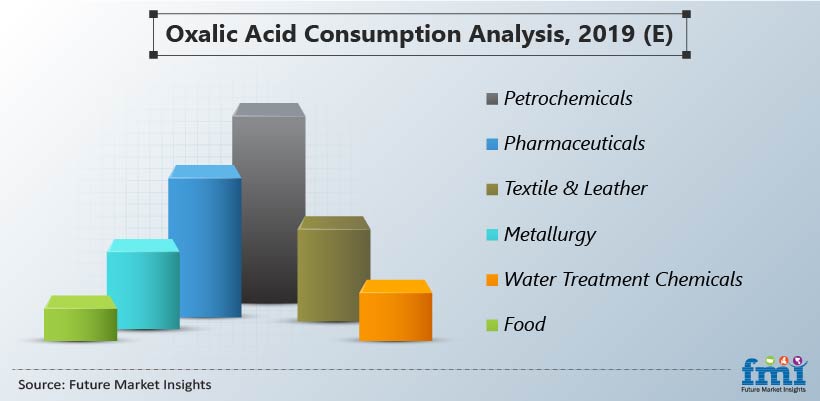 * This data is only a representation. Actual data may vary and will be available in report.
Click Here To Know How The Growth Will Unfold
Custom Market Research Services
FMI offers custom market research services that help clients to get information on their business scenario required where syndicated solutions are not enough.
Overview
A recent market study published by Future Market Insights (FMI) on the oxalic acid market includes global industry analysis of 2014-2018 and opportunity assessment for 2019-2029, and delivers a comprehensive assessment of the most important market dynamics. Our analysts conduct thorough research on the historical as well as current growth parameters of the market to obtain growth prospects with maximum precision.
Oxalic Acid Market Taxonomy
Grade
Standard Grade (Purity 96%-99%)
Technical/ Pharma Grade (Purity 99%-99.9%)
Electronic/ Food Grade (Purity 99.9%-99.999%)
Application
Bleaching & Purifying Agents
Reducing Agents
Stain & Rust Removers
Miticide
Precipitation Agents
Others
End Use
Petrochemicals
Water Treatment Chemicals
Metallurgy
Textiles & Leather
Pharmaceuticals
Electronics & Semiconductors
Food
Wood Pulp
Bee-hiving
Region
North America
Latin America
Europe
East Asia
South Asia
Oceania
Middle East & Africa
How the research was conducted?
Primary Research
C - Level Executives
Marketing Directors
Product Managers
Business Development Officers
Production Managers
Procurement Heads
Sales Executives
Distributors
Traders
Raw Material Suppliers
Industry Experts
End Uses
Current market dynamics and challenges
Yesteryear trends
Market characteristics
Market performance and growth quadrants
Competition structure and market structure
Strategic growth initiatives
Near-term and long-term market growth prospects
Market segment splits and authenticity
Opinions on market projections and validity of assumptions
Secondary Research
Industry Publications

Industry Associations
OICA

International Trade Association
Factiva
Company Press Releases
Annual Reports and Investor Presentations
Research Papers
Government Websites and Publications
Trade Websites
Primary Interview Splits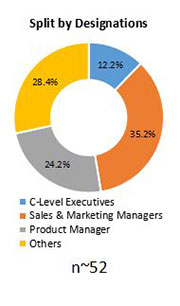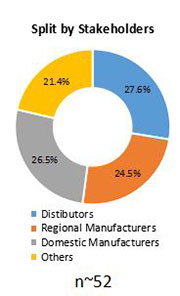 To Learn More About our Comprehensive Perspective on Oxalic Acid Market,
Get in touch
COVID -19 : Impact Analysis
Request the coronavirus impact analysis across industries and markets
Request Covid -19 Impact
CASE STUDIES
See how our work makes an impact.
At FMI, we design strategies that are adaptive, impactful, and implementable.