Oxalic Acid Market By Grade (Standard Grade, Technical/ Pharma Grade, Electronic/ Food Grade), Application (Bleaching & Purifying Agents, Reducing Agents, Stain & Rust Removers, Miticide, Precipitation Agents), End Use (Petrochemicals, Water Treatment Chemicals, Metallurgy, Textiles & Leather) & Region - Forecast 2019 - 2029
Oxalic Acid Market - Analysis, Outlook, Growth, Trends, Forecasts
April 2020

REP-GB-1267

240 pages
Standard Grade Oxalic Acid Remains Highly Preferable
[240 pages Report] global oxalic acid market is expected to reach the valuation of US$ 1.1 Bn by 2029. Manufacturers continue to capitalize on standard grade oxalic acid (purity 96%-99%), which procures over 40% of overall market value.
However, this study highlights that, the standard grade will lose its share to technical/pharma grade oxalic acid (purity 99%-99.9%) in due course of time. Rising concerns regarding the need for sterilization of pharmaceutical equipment are responsible for this transition. Furthermore, both, standard and technical/pharma grade oxalic acid are likely to attain a valuation of around US$ 1 Bn in 2029.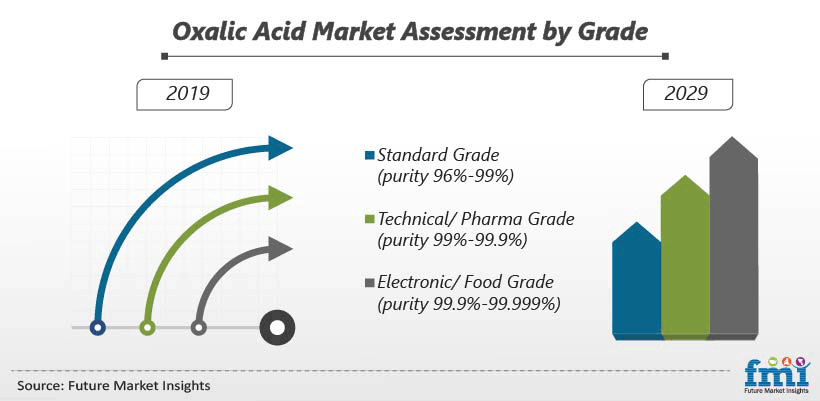 East Asia Oxalic Acid Market Continues to Engage Stakeholders
Procuring a significant chunk of total market stack, East Asia would maintain its supremacy in the oxalic acid market. Surging growth of the industrial sector and lax government regulations regarding the usage of oxalic acid are boosting regional market growth.
Demand upheaval from applications such as dry cleaning, metal cleaning, and vapor degreasing in countries such as China is likely to garner huge attention of stakeholders. Furthermore, oxalic acid market players are forming strategic mergers and acquisitions to maintain their global presence.
Stakeholders Tapping White Spaces in Pharmaceutical Industry
Oxalic acid is utilized for developing myriads of medicines, such as borneol, terramcyin, and tetracycline. In addition, this organic chemical is finding use as a disinfectant chemical in eliminating microorganisms from surgical instruments (sterilization).
Such use cases are offering white spaces to oxalic acid market players. As tech-enabled advancements as well as the count of medical equipment surge, manufacturers must re-align their business models in order to maintain their positive trend in oxalic acid market.
How Growth will Unfold
The petrochemical industry would remain the immediate consumer of oxalic acid throughout the foreseeable timeframe. Capturing over one-fifth of total oxalic acid markett revenue, manufacturers will continue to reap substantial returns from this end-use industry.
While opportunities are hovering around water treatment chemicals, the pharmaceutical sector is also offering fertile ground to manufacturers, owing to the increasing need for sterilization to enhance the hygiene of medical facilities. Further, metallurgy and textiles & leather industries share equal divide in the oxalic acid markett value.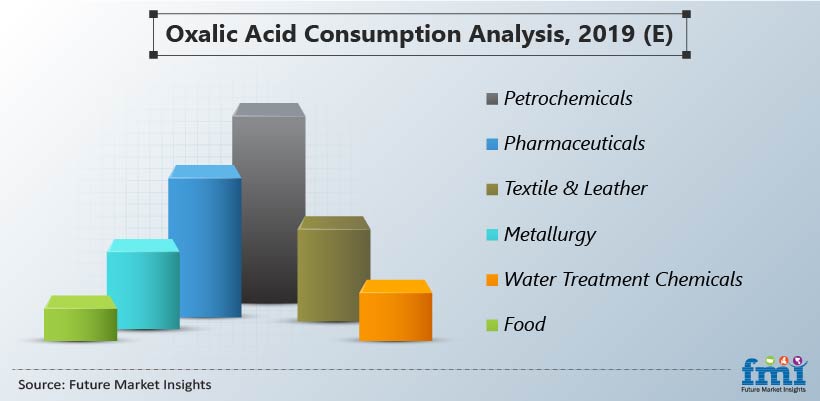 World's Most Profilic Intelligence Engine
Get Access To The World's Largest Market Research Database.
Sign Up Now
Oxalic Acid Market Taxonomy
By Grade
Standard Grade (Purity 96%-99%)
Technical/ Pharma Grade (Purity 99%-99.9%)
Electronic/ Food Grade (Purity 99.9%-99.999%)
By Application
Bleaching & Purifying Agents
Reducing Agents
Stain & Rust Removers
Miticide
Precipitation Agents
Others
By End Use
Petrochemicals
Water Treatment Chemicals
Metallurgy
Textiles & Leather
Pharmaceuticals
Electronics & Semiconductors
Food
Wood Pulp
Bee-hiving
By Region
North America
Latin America
Europe
East Asia
South Asia
Oceania
Middle East & Africa
Need specific information?
Our Clients