Manufacturers eyeing emerging economies to attain high growth
In 2020, total sales of plastic tubes saw a sharp decline due to the Covid-19 crisis as the lockdown was implemented and all the factorial units were closed, which resulted in the manufacturing companies losing a lot. Now by 2021, global manufacturers are giving full attention to improving their sales and profitability through product innovation and improvement.
Recognized corporations are adopting business strategies such as sales contracts, strategic alliances, acquiring technical expertise, product approvals, patents and events, joint ventures, partnership agreements, collaborations, digital marketing, mergers and acquisitions, capacity utilisations, technological advancements etc to lead the global market for plastic tubes with largest market share. The corporations like Essel Propack Limited, VisiPak, Sonoco Products Company, ALBEA, Clariant, Montebello Packaging, Huhtamaki OYJ, Unette Corporation, Romaco Group, Hoffmann Neopac AG and others are making high investments in the establishment of research institutes in different regions to come up with improvements in their offerings.
For instance, in April 2020, Essel Propack Limited, a leading player in the plastic tube packaging market, announced the launch of a suitable solution to meet the packaging needs of germicidal hand sanitizers during the coronavirus pandemic. The company introduced a range of packaging solutions and packs to cater to sanitizer formulations and usages. The company's R&D teams have worked with different manufacturers to make sure that the products are fresh and safe till the end. In addition to this, Essel Propack Ltd. announced the acquisition of Creative Stylo Packs Ltd. which is a manufacturer of corrugated boxes, laminated tubes, plastic co-ex tubes and caps-primarily serving personal care, cosmetic, pharmaceuticals and so on.
North America is expected to lead the global market for plastic tubes through 2030 owing to a strong personal care and healthcare industry in the region. Presence of leading manufacturing companies that are focusing on innovation and new product development is driving the market in other key regions like Asia Pacific without Japan, Europe, Japan, MEA and Latin America.
According to Future Market Insights, the global market for plastic tubes is expected to display robust growth during the period of forecast. The global plastic tubes market has been witnessing stable growth since 2012. According to this research, the global market for plastic tubes is expected to grow at a high CAGR of 5.6% throughout the 2017-2027 timeline. The global market, in 2017 is valued at around US$ 928 Mn and is estimated to reach around US$ 1.5 Bn by the end of 2027.
The high growth is due to factors such as incorporation of printing and design technology by plastic tube manufacturers enhancing the supply capabilities, strong economic prospects fuelling the consumption of end use applications of plastic tubes and various benefits associated with plastic tubes such as ease of use, portability and convenience.
High potential in emerging economies providing huge growth opportunities for plastic tube consumption
Emerging markets such as India, China, North Africa etc., provide huge growth potential for care and beauty products. Africa is expected to showcase second fastest growth rate in terms of consumption for personal care market after Asia Pacific. The region is also witnessing inflow of foreign investment in manufacturing of personal care and cosmetics products.
North Africa region is anticipated to pick up in terms of income level further supporting strong economic prospects. Multinational as well as domestic players are expected to enter the markets using various entry strategies including export, sales agents, and manufacturing. Domestic manufacturers and multinational players of APEJ and MEA regions are targeting cash strapped consumers in the region seeking value added products.
Emerging countries represent huge marketing opportunities for cosmetic, personal care and pharmaceutical products. Further the APEJ and MEA region consists of young population with an average age below 20 years. Young median age and growing middle class is expected to fuel the demand for end use products packed in plastic tubes.
Polyethylene to be the most used material for plastic tubes
Material type category is one of the segmentations of the global plastic tubes market. Several benefits associated with polyethylene, such as increased service life, increased fatigue resistance, adaptability and increased corrosion resistance have led to increased consumption of polyethylene. The polyethylene segment in the material type category is projected to grow at the highest rate and register a robust value CAGR of 6.0% throughout the period of forecast, 2017-2027.
In 2017, the polyethylene segment is estimated at around US$ 500 Mn and is expected to touch a valuation of more than US$ 900 Mn by the end of the year of assessment. This segment is expected to lead the global market in the coming years.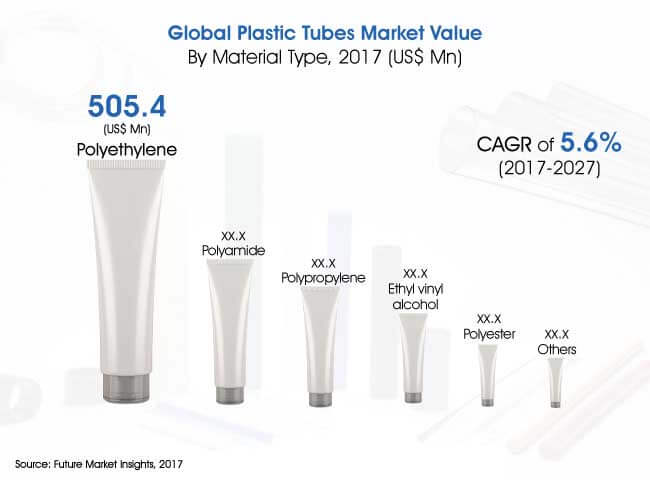 Regional outlook
The global plastic tubes market is soaring across key regions of North America, Western Europe and Asia Pacific excluding Japan (APEJ) regions during the said period. The polyethylene segment in North America is expected to grow at a 5.7% value CAGR and is estimated at US$ 111.9 Mn in 2017.
However, in Asia Pacific excluding Japan (APEJ) region, this segment reflected a high estimation of about US$ 140 Mn followed by Western Europe where it is expected to grow at a high value CAGR and is estimated at around US$ 127 Mn in 2017.
Market segmentation
With a view to cover all aspects, a weighted five level segmentation of the global plastic tubes market is carried out.
By Material Type
Polyethylene (PE)
Polypropylene (PP)
Polyamide (PA)
Ethyl Vinyl Alcohol Polymer (EVOH)
Polyester (PET)
Other Materials
By Capacity Type
Less Than 50 ml
50 to 100 ml
100 to 150 ml
Above 150 ml
By Closure Type
Stand Up Cap
Nozzle Cap
Fez Cap
Flip Top Cap
Other Caps
By Application
Dental Market
Cosmetic Market

Hair Care
Skin Care
Others

Pharmaceutical Market
Food Market
Commercial and Processing Applications

Sealants and Adhesives
Lubricants
Other Commercial Purpose

Others
By Region
North America
Latin America
Western Europe
Eastern Europe
Asia Pacific excluding Japan (APEJ)
Japan
Middle East and Africa (MEA)
Need specific information?
Talk Show:
The Rise of Intelligent Packaging
Personalized, Connected and Sustainable
November 18, 2021
11:00-11:45 AM PST (USA & Canada)
This is a LIVE session