An Incisive, In-depth Analysis on the Tinea Pedis Treatment Market
This study offers a comprehensive, 360 degree analysis on the Tinea Pedis Treatment market, bringing to fore insights that can help stakeholders identify the opportunities as well as challenges. It tracks the global Tinea Pedis Treatment market across key regions, and offers in-depth commentary and accurate quantitative insights. The study also includes incisive competitive landscape analysis, and provides key recommendations to market players on winning imperatives and successful strategies.
Focus of government on prevention of diseases to curb healthcare costs; entry into untapped markets to present opportunities for growth
Tinea infections are fungal infections caused by T rubrum, Trichophyton mentagrophytes and Epidermophyton floccosum. This dermatophyte fungus thrives in humid conditions. The clinical features of tinea pedis include patchy and dry scaling on foot and presence of blisters or pustules on feet and between toes. Various countries are focusing on prevention of microbial and fungal diseases to reduce their healthcare costs, which in turn, is expected to result in high demand for advanced treatment options and diagnostic processes from local governments and third-party payers.
Moreover, increasing research and development activities to develop highly specific antifungal products are also expected to create new growth opportunities for manufacturers operating in tinea pedis treatment market. Currently, several countries are still unaware about fungal treatment. In several low income countries, physicians depend on antibacterial treatment and steroids for the treatment process. Awareness about effective treatment procedures in these countries is very low. However, these countries have a large patient pool and hence, various companies are trying to enter into these markets by offering better quality and affordable antifungal products.
Insights on the global tinea pedis treatment market
Future Market Insights in its research report on the global tinea pedis treatment market has described a complete market scenario and has presented forecast insights on the global market for tinea pedis treatment for a period of 10 years. According to Future Market Insights, the global tinea pedis treatment market is expected to grow at a moderate rate to register a CAGR of 4.8% throughout the period of forecast, 2017-2027. The estimation value of global tinea pedis treatment market is bit more than US$ 1 Bn in 2017 and is anticipated to touch a value more than US$ 1700 Mn by the end of 2027. The growth of the global tinea pedis treatment market can be attributed towards increasing geriatric population, rising consumer inclination towards maintaining aesthetic appearance, increasing product innovation and rising per capita healthcare expenditure.
Increasing occurrence of interdigital tinea pedis to augment the demand for the treatment of the disease in the coming years
Typically, tinea pedis occurs in the form of interdigital spaces. The occurrence of interdigital tinea pedis is higher than other type of tinea pedis diseases. This has led to an increased focus on the treatment of interdigital tinea pedis. The interdigital tinea pedis segment in the disease type category is the largest segment owing to higher prevalence of the disease. The interdigital tinea pedis segment is expected to grow at a CAGR of 4.5% throughout the period of forecast and is expected to generate a value of more than US$ 1.1 Bn by the end of 2027. In 2017, it is valued at less than US$ 750 Mn. This segment is expected to dominate the global market by disease type.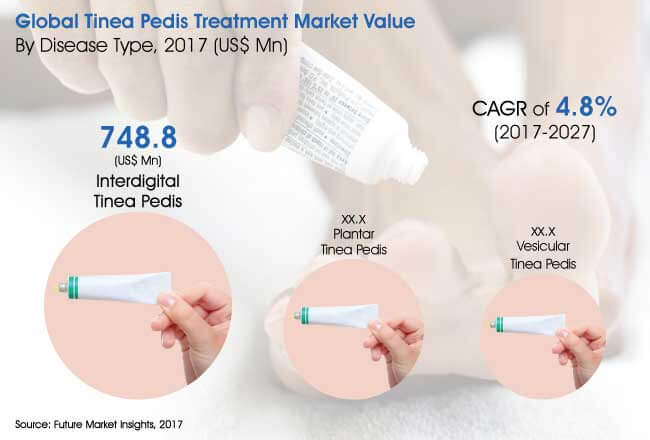 Plantar tinea pedis, also known as moccasin foot, occurs on the side of the foot. The plantar tinea pedis segment is anticipated to grow at a significant rate to reach an estimation of around US$ 320 Mn by the end of the year of assessment. This is the second largest segment in terms of value as well as growth rate. It is projected to register a CAGR of 5.1% during the period of forecast, 2017-2027.
Description of the research supporting your decision in investing in the report
The extensive research report titled "Tinea Pedis Treatment Market: Global Industry Analysis (2012-2016) and Opportunity Assessment (2017-2027)" crafted by Future Market Insights assists the reader in compiling and slating key growth strategies with a view to maintain correct growth rhythm in spite of the changing market dynamics in the current as well as in the future. Analysis on each segment of the market is included and assessment of these segments across key region in the globe is presented in a methodical format in the report.
The research reflects the global market view in a nutshell
The research report on tinea pedis treatment market covers various trends, opportunities, developments, drivers and restraints influencing the growth of the global market. These aspects are studied across key regional markets and their intensity is assessed from which the current and future market scenario is gauged. The statistics and data supporting these predictions are arranged in an orderly manner convenient for the reader to use. All the statistics are obtained keeping an unbiased view into consideration thus emphasizing on the authenticity of the research report. Moreover, deep diving in the segments along with a strong data mining process enables to sketch the possible future market direction and a complete scenario of the global tinea pedis treatment market with valuable acumen to offer need based solutions. The research on the global tinea pedis treatment market is carried out keeping a predefined purpose having clarity about the market, and involves appropriate statistical data based on a clear market definition.
The research follows a strong research methodology
Primary research and secondary research are used to glean relevant insights of the global tinea pedis treatment market. The research process includes several funnels of validation of the data to take the numbers to almost 100 percent accuracy. The data point associated with each segment is cross verified during every level of the primary research. Additionally, opinions from subject matter experts and market observers is also collated and with the help of triangulation method, data pertaining to respective market segments is obtained that radiates high precision.
In-depth five level market segmentation
The research report on global tinea pedis treatment market covers an in-depth market segmentation that covers every angle of the market.
By Disease Type

By Drug Class

By Route of Administration

By Distribution Channel

By Region

Interdigital Tinea Pedis

Plantar Tinea Pedis

Vesicular Tinea Pedis

Antifungals

Steroids and Anti-Infective Combinations

Topical

Gel

Cream

Spray

Lotion

Powder

Oral

Hospital Pharmacies

Retail Pharmacies

Drug Stores

Online Pharmacies

North America

Latin America

Western Europe

Eastern Europe

Asia Pacific excluding Japan (APEJ)

Japan

Middle East and Africa (MEA)
The report covers weighted analysis of the competition scenario
The research report also includes a separate section focusing on the key players within the market. This section, called competitive analysis, uncovers all the major facts about the key companies involved in the activities pertaining to the global tinea pedis treatment market. Their product portfolio analysis, pricing strategies, marketing strategies, promotion tactics, expansion plans, regional spread, major developments and key innovations, mergers and acquisitions, important strategies, revenue, market shares, key personnel, other key financials etc., is included in this report that can give the reader a broad idea about the activities in the market based on which next moves can be planned. The companies included in this section are those which have enormous hold on the market and studying their tactics can definitely help the upcoming players to move up the ladder accomplishing their respective milestones.
COVID -19 : Impact Analysis
Request the coronavirus impact analysis across industries and markets
Request Covid -19 Impact
CASE STUDIES
See how our work makes an impact.
At FMI, we design strategies that are adaptive, impactful, and implementable.