Wear Plate Market By Material Type (Mild Steel, Austenitic Stainless Steel, Alloys, Bronze, Carbon Graphite), End-Use (Mining, Power Generation, Cement & Refractories, Sugar, Off-Road Construction & Earthmoving Equipment), Plate Thickness & Region - Forecast 2021 – 2031
Wear Plate Market - Analysis, Outlook, Growth, Trends, Forecasts
January 2022

REP-GB-12792

291 pages
Global Wear Plate Market Outlook – 2021-2031
[291 Pages] The global wear plate market is expected to register year-on-year growth of 5.1% in 2021, reaching US$ 6.9 Bn by the end of 2021. Wear plates are used in a variety of end-use sectors to assure the long-term safety of the equipment.
| | |
| --- | --- |
| Global Wear Plate Market Analysis (2020A) | US$ 6,619.4 Mn |
| Global Wear Plate Market Analysis Estimated Year Value (2021E) | US$ 6,956.8 Mn |
| Global Wear Plate Market Analysis Projected Year Value (2031F) | US$ 12,828.0Mn |
| Value CAGR (2021-2031) | 6.3% |
| Collective Value Share: Top 3 Countries (2021E) | 25.7% |
It also saves money on maintenance as it lasts longer than any other steel. Wear-resistant steel plates reduces the weight of the equipment by 30-40%. On account of this, the global wear plates is anticipated to exhibit growth at a CAGR of 6.3% between 2021 and 2031.
Regionally, North America is projected to remain a key wear plate market over the forecast period owing to increasing demand from end-use applications. Sales in North America are expected to surge at a CAGR of 7.0% through 2031.
2016-2020 Global Wear Plate Market Outlook Compared to 2021-2031 Forecast
According to Future Market Insights (FMI), the wear plates market is likely to witness robust growth in the near future, on the back of expansion of end-use industries and applications in manufacturing.
On account of growing applications in waste management, pulp & paper, chemicals, and other industries, demand in wear plate market is expected to increase over the forecast period. Subsequently, growing research and development activities will accelerate the growth in the wear plate market.
Historically, the wear plate market grew at 2.0% CAGR between 2016 and 2020. Increasing material cost and lack of professional labour hampered the demand for wear plates in various end-use sectors, severely impacting the growth.
As per FMI, the sales in the wear plate market are likely to increase at a CAGR of 5.8%, in terms of volume over the assessment period of 2021-2031. Growth in the market is attributable to increasing applications in mining, power generation, steel & aluminium mills, and others.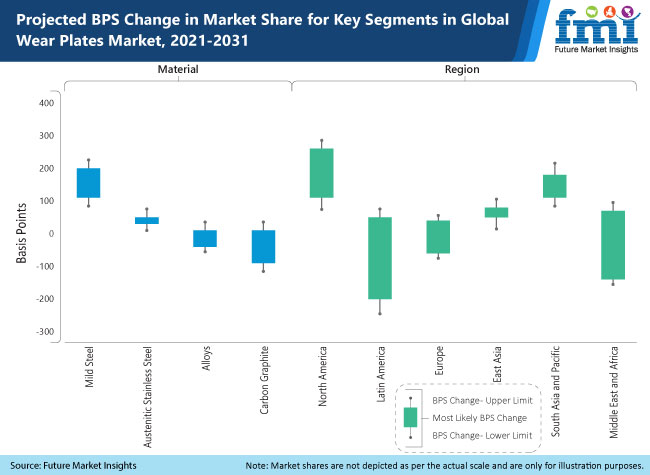 Will Increasing Application in End-Use Industries Propel the Sales of Wear Plates?
Wear plates protect the equipment by coating it with a protective layer. It aids in the prevention of damage and ensures proper usage, extending the usable life of each piece of equipment.
Every movement creates abrasion as the mechanical pieces, which are usually made of metal, grinding against each other. If it breaks, the replacement cost and the cost of unwanted downtime, will be inefficient.
Protecting the most vulnerable parts of the equipment with protective covers is one way to prevent harm. Hence, end users are providing safe and secure communication between suppliers and customers to protect the machinery.
As a result, demand for high-precision wear plate demand is expected to propel the growth in the wear plate Market over the forecast period.
What are the Factors Restraining the Wear Plate Market Demand?
Lack of raw material is one of the major factor dampening the sales of wear plates, especially in underdeveloped regions. With increasing need for wear plates and rising raw material costs, the market players are expected to witness decline in sales.
New trade and tax rules are putting pressure on producers to satisfy demand, resulting in the spike of raw material prices. This is expected to have a ripple effect across all end-use industries.
Across several countries, strict government actions and the shortage of plate are expected to have a negative impact on the wear plate market.
Country-wise Insights
Why are Wear Plates Manufacturers Eyeing the U.S. Market?
In 2021, the U.S. wear plate market is expected to register 5.4% year-on-year growth in terms of volume, opines Future Market Insights. Growing industrialization and increased demand for equipment protection materials are boosting sales in the U.S.
Key manufacturers are developing cutting edge technology and sustainable products with longer operational life, improving the demand in the U.S. wear plate market. Also, the development of new industrial technologies and machinery has necessitated the use of wear plates.
With the expansion of the manufacturing machinery and automotive sectors in the country, the wear plate market is predicted to expand at a robust pace. As per FMI, the U.S. is expected to hold lion's share in the North America wear plate market.
How Big is the Opportunity for Wear Plates Market in Germany?
According to FMI, Germany is expected to be the leading producer of wear plates, contributing significantly to the expansion of Europe wear plate Market. Growth in the country is attributable to the expansion of chemical and medical industries along with consumer and service industries.
As machinery and automotive is the fastest-growing, demand for wear plates in these aforementioned industries is expected to increase exponentially. Germany is estimated to register growth at a staggering 8.1% CAGR over the forecast period.
Will China be Considered as the Most Lucrative Pocket in East Asia Wear Plate Market?
China is expected to continue to dominate the global wear plate market in terms of production and growth. As per FMI, China is expected to hold a substantial market share owing to the increasing application in iron and steel market.
China is considered to be the global leader in mining and ore processing, processed petroleum, cement, coal, chemicals, metals, and fertilizer production. Expansion of these industries will aid the wear plate demand over the coming decade.
As per the study, demand in China wear plate market is expected to increase at a CAGR of 7.3% throughout the forecast period.
Category-wise Insights
Which is Demand for Austenitic Stainless Steel Increasing in the Wear Plate Market?
FMI predicts, the austenitic stainless steel segment will create an absolute dollar opportunity of more than US$ 21.5 Mn between 2021 and 2031. Wear plates made of the duplex have been employed to extend the life of the asset.
This saves money on replacement parts while also reducing downtime and unscheduled maintenance. As a result, demand for austenitic stainless steel is expected to increase in the future.
How will Increasing Application in Mining Propel Demand for Wear Plates?
In terms of application, demand for wear plates in mining industry is projected to create an absolute dollar opportunity of more than US$ 1,448 Mn during the period of 2021 to 2031.
When ore is dumped or slid along the wear plates, they are abraded as a result of continual loading and unloading. Wear plates are developed in mining operations to protect equipment from wear and tear.
Hence, need for wear plate in the mining industry is expected to increase with expansion of mining operations. Subsequently, need for advanced equipment and precision is improving the demand for wear plates.
Competitive Landscape
Over the past few years, numerous acquisitions and expansion activities has been witnessed to improve the supply of the wear plate market. Several key players are also focusing on improving the efficiency of products for various applications.
Meanwhile, some of the manufacturers are establishing their manufacturing facilities for the untapped potential and to strengthen their global presence, especially in U.S., India, Germany, and China.
For Instance,
In 2021, ArcelorMittal has announced that its Sestao steel facility in Spain will be the first full-scale zero-carbon steel plant in the world. The Sestao facility will produce zero carbon emissions by using green hydrogen and renewable electricity. the Sestao facility - which produces flat steel products for the automotive and construction industries as well as general industry.
In 2021, Bennes Vincent was the first tipper body manufacturer in France to introduce a new Hardox 500 Tuf steel-only product range. Bennes Vincent's revolutionary "Multi-Blocs" rear tippers have taken the market by storm a year after their launch, promising end-users decreased tare weight, more payload and hence improved profitability.
In 2020, ASGCO is expanding and relocating its headquarters to a new facility in Nazareth, Pennsylvania. ASGCO has purchased 19 acres in eastern Pennsylvania and is now constructing a new facility to fulfill the increased demand for their products and services.
Scope of Report
Attribute

Details

Forecast Period

2021-2031

Historical Data Available for

2016-2020

Market Analysis

USD Million for Value and Tons for Volume

Key Regions Covered

North America, Latin America, Europe, South Asia and Pacific, East Asia, Middle East & Africa (MEA)

Key Countries Covered

US, Canada, Brazil, Mexico, Germany, Italy, France, U.K., Spain, BENELUX, Russia, Poland, India, Bangladesh, ASEAN, Oceania, China, Japan, South Korea, GCC Counties Turkey Israel South Africa

Key Segments Covered

By Material Type, By Plate thickness, By End Use and By Region

Key Companies Profiled

Arcelormittal
SSAB
Outokumpu
Nippon Steel Corporation
Thyssenkrupp
EMSCO
Ergotem USA
Brown Mc Farlane
Hoverdale
voestalpine Stahl GmbH
ASGCO
PGI Steel
Ford Steel
Kooben Technology USA, Inc.
Trimay Wear Plate Ltd.
Aviva Metals
St. Marys Carbon
Shandong Baohua Abrasion Resistant Steel Co., Ltd
Cutting Edges
Steel Clik (Shanghai) Limited
Tianjin Wodon Wear Resistant Material Co., Ltd.
Wuxi Orient Anti-Wear Co., Ltd
Enduraclad International Pty Ltd
HARDCARB TECHNOLOGIES PVT. LTD.

Report Coverage

Market Forecast, Company Share Analysis, Competition Intelligence, DROT Analysis, Market Dynamics and Challenges, and Strategic Growth Initiatives

Customization & Pricing

Available upon Request
World's Most Profilic Intelligence Engine
Get Access To The World's Largest Market Research Database.
Sign Up Now
Global Wear Plate Market by Category
By Material Type:
Mild Steel

Hardox
Abrasion Resistant Grade
Flame Hardened Grade

Austenitic Stainless Steel
Alloys

Tungsten Carbide Coated Steel
Chromium Carbide Coated Steel
Boron Carbide Coated Steel

Bronze
Carbon Graphite
By Plate Thickness:
3 to 6 mm
6 to 10 mm
10 to 15 mm
15 to 20 mm
20 to 25 mm
25 to 50 mm
60 to 120 mm
120 to 150 mm
By End Use:
Mining
Power Generation
Cement & Refractories
Sugar
Off-Road Construction & Earthmoving Equipment
Waste Management
Pulp & Paper
Chemicals
Steel & Aluminium Mills
Others
By Region:
North America
Latin America
Europe
South Asia and Pacific
East Asia
Middle East & Africa (MEA)
Key Questions Answered in the Report
What is the current size of the global wear plate market?
The global wear plate market is expected to total US$ 6.9 Bn in 2021.
At what CAGR, the demand will likely grow for the wear plate market during the forecasted period?
The demand for wear plate market is expected to increase by 6.3% CAGR during 2021-2031.
What is the total share of wear plate market players?
Arcelormittal, SSAB, Outokumpu, Nippon Steel Corporation, Thyssenkrupp, EMSCO, Ergotem USA, NeoNickel, Brown Mc Farlane, Hoverdale are the leading market players. They will, collectively, account for 30% to 35% of the global market share.
What is the market outlook of the wear plate market in China?
The demand in China is expected to increase at 7.3% CAGR between 2021 and 2031 in terms of value.
Which countries are the key consumers of the wear plate market?
China, the U.S., India, and Germany are the key consumers in the global wear plate market.
What are the key strategies shaping the global wear plate market?
Customers are increasingly drawn to items that are user-friendly and simple to operate. They are likely to consider adding protection to their gadgets as a result of the increased durability. In order to capitalize on this trend, key players are developing sustainable and advanced products with increased wear and tear endurance.
Need specific information?
Our Clients