Air Purifier Market By Technology Type (HEPA, Electrostatic Precipitator, Ion and Ozone Generators, Activated Carbon), CADR (Smoke, Dust, Pollen), End Use (Residential, Commercial, Industrial) & Region – Forecast 2021 - 2031
Air Purifier Market - Analysis, Outlook, Growth, Trends, Forecasts
December 2021

REP-GB-14224

300 pages
Air Purifier Market Snapshot
[300 pages Report] The demand in the air purifier market will grow at approximately 11.3% CAGR between 2021 and 2031. The market was valued at US$ 10 Bn in 2020 contributing nearly 1%-2% of the global consumer electronics market.
Worsening air quality in major cities across the world and resultant surge in various chronic ailments have fuelled the demand for air purifiers. Competition prevailing in the air purifier market will therefore increase in the coming years.
FMI however has forecast the top market players, including Koninklijke Philips N. V, LG Electronics, Xiaomi Corporation, Afpro Filters B.V., and Panasonic Corporation among others to account for 42% of over sales in 2021.
| | |
| --- | --- |
| Air Purifier Market Base Year Size (2020) | US$ 10 Bn |
| Air Purifier Market Value CAGR (2021-2031) | 11.3% |
| In-mold Labels Market Top Players Share (2021) | 42% |
2021-2031 Global Air Purifier Market Outlook Compared to Growth Registered in 2016-2020
The outbreak of the novel COVID-19 dampened sales prospects due to restrictions impos4ed on, which also caused disruptions in supply chains activities across various industries. Contrary to this, the unprecedented pandemic outbreak also made people more cautious about air they breathe.
The focus on disinfection and living in a hygienic environment was at its peak during COVID-19, which has helped the air purifier market to recuperate from the pandemic-induced restrictions.
In the coming years, the demand for air purifier will get stronger, especially as consumers exhibit higher willingness to maintain healthy indoor air quality. Driven by this, the global air purifier market will exhibit 11.3% CAGR between 2021 and 2031 in comparison to 8.5% CAGR exhibited in 2016-2020.
The demand for air purifier for home and offices is predicted to increase significantly over the forecast period. Increasing online penetration of leading air purifier manufacturers will also aid growth in the market.
High installation of air purifiers in schools, hospitals, and other institutions is likely to remain a chief growth driver. The demand from commercial sector will rise as well. More than 80% of the overall revenue from air purifiers is expected to come from the commercial sector. This is owing to manufacturers' growing efforts to diversify their economies and develop innovative products.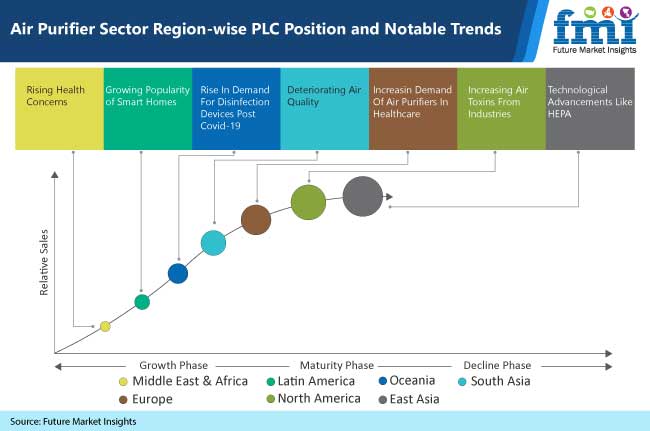 Is Energy-efficiency a Key Determinant for Air Purifier Sales?
Energy consumption is rising global. The soaring energy demand in response to growing population has put unprecedented pressure on fuel sources such as coal and oil. However, carbon emission from energy derived from coal is significantly high.
To counter soaring emission concerns governments have imposed stringent laws. Consumer goods manufacturers are compelled as well to manufacturing electronic goods that score high on energy efficiency.
Guidelines implemented to ensure energy efficiency in home electronics have become stricter. Consumer electronics are nowadays certified with ratings indicating electricity-saving. For example, fridges, warming and cooling apparatuses, kitchen machines, gadgets, and others represent over 81% of energy utilization. ENERGY STAR guaranteed air purifiers are practically 27% more energy-effective than standard models, saving buyers on service bills.
This trend has made inroad in the air purifier market as well. Customers are looking for popular energy ratings to make their final purchase decision. Higher the rating, greater is the scope for sales. Therefore, manufacturers are compelled to offer latest technologies and keep upgrading their features to offer energy-efficient air purifier
How is Advent of Smart Technologies Affecting Air Purifier Market Growth?
A smart air purifier is a more advanced version of a regular air purifier that is used to purify the air automatically at multiple points. Smart air purifiers can be controlled remotely by a smartphone app, which is connected via Wi-Fi and Bluetooth.
The main advantage of smart air purifiers over traditional ones is that users can monitor and check indoor air quality as well as adjust basic settings using their cellphones. Furthermore, as people become more conscious about negative consequences of dirty air on their health, demand for innovative and smart air purifiers will rise.
Smart air purifiers are commonly employed in metropolitan regions for residential applications as a result of increasing construction activity and fast urbanization. Small business units and the automobile industry, on the other hand, are the most common places where smart air purifiers are installed and used.
What are the Factors Causing Hindrances in Air Purifier Market?
Despite the staggering Air Quality Index values recorded in the national capital, Delhi, air purifiers market has been struggling to realize their full potential. One reason for this is that Indian consumers are skeptical about purchasing air purifiers.
Air purifiers are inexpensive to buy, and they're even more expensive to run, as they often require filter changes once or twice a year and should be left on all the time. When you factor in the cost of energy and filter maintenance, the long-term cost of air purifiers becomes a little more complicated.
Because the health advantages of utilizing air purifiers differ from person to person and rely on the sorts of pollutants present.
The energy expenses have been sorted thanks to energy-efficient air purifiers, but the filter replacement costs are yet to be addressed. Although there is no industry standard for filter replacement frequency, some users may find the concealed carbon filter expenses exorbitant. A HEPA filter (for particle removal) and a carbon filter is included in a majority of air purifiers in the market (for gas removal). Carbon filters, on the other hand, require significantly more frequent replacement.
GCC air purifier's expansion is projected to be hampered by increased installation and maintenance costs. Furthermore, the initial cost of air purifiers and even greater maintenance costs act as a limitation on the air purifier market
Air Purifier Market Country-wise Insights
Why is the Demand Rising in the U.S. Air Purifiers Market?
The global air purifier market is expected to be dominated by North America. The demand for air purifier is high in the U.S. due to the rising prevalence of airborne ailments in the country. Air purifiers are becoming more popular among Americans as a way to maintain good indoor air quality.
Furthermore, there is an increase in product demand from healthcare facilities looking for technologies to prevent the spread of the novel coronavirus, which mostly passes from person to person. Due to rising pollution level caused by industrialization, urbanization, and rapid population expansion, the market in the United States is expected to rise significantly.
Will UK Continue Exhibiting High Demand for Air Purifier?
Due to factors such as urbanization, increasing construction activities in metropolitan areas, the spread of air-borne diseases and industrial/vehicle carbon emissions has increased in the U.K.
To manage this, the government has imposed stringent regulations. Installation of air purifiers is encouraged for residential, commercial, and industrial applications to improve the overall indoor air quality.
Coupled with this, advancements in consumer electronics and overall high demand for smart home appliances have created a conducive environment for sales of air purifiers in the U.K.
How Will the Air Purifier Market Expand Across India?
During the assessment period, the air purifier market in East Asia is expected to grow at a CAGR of 5.4 %. The sales of air purifiers in India are driven by factors such as an increase in airborne infections and a rise in consumer health consciousness.
Despite technological advancements, air purifiers have long been seen as a luxury item in India, notably in the residential sectors. This high cost of air purifiers and their expensive maintenance requirements might restrict their sales in India.
Air Purifier Market Category-wise Insights
Which is the Preferred Air Purifier Technology?
Based on technology, HEPA filters account for the leading share in the air purifier market. HEPA filters are considered good at removing larger particulate matter like pollen, pet dander, and dust mites. Besides this, increasing availability of HEPA air purifiers in the market have played a significant role in stimulating sales.
Who is the Leading End User of Air Purifiers?
As per FMI's analysis, the commercial sector is expected to remain dominant in forecast period. Hospitals, offices, hotels, educational institutions, movie theatres, retail malls, conference centers, and other recreational facilities are some places where air purifiers are used commercially. In hotels and restaurants, air purifiers with activated carbon and HEPA are used to remove airborne particles, smoke, and odor in order to improve the air quality.
Why is the Demand for Ion & Ozone Generators High?
The concept of smart home is gaining significance across different regions. People today increasingly desire smart homes with smart devices and technologies that ensure more efficiency, security, safety, and ease in daily lifestyle. This changing consumer preferences is expected to drive adoption of ion & ozone generators devices in the coming years.
According to the analysis of FMI, the ion & ozone generator device category holds one fourth market share.
Which is the Preferred Sales Channel in Air Purifier Market?
In terms of sales channels, online retailers will hold a notable share in 2021-2031. Increasing product availability in online platforms enabling comparison between products in terms of pricing, product designs, and features will push sales via online platforms.
Online platforms also offer safe transaction/payment and doorstep delivery. Policies for refund and exchange are kept consumer-friendly. Considering this, the sales of air purifiers via online channels will increase in the coming years.
Air Purifier Market Competitive Landscape
Leading players operating in the global air purifier market are focusing on intensive research and development for launching innovative products and services in the market. Brand consciousness and aggressive marketing by top players however make it challenging for new entrants in this market. For instance:
In October 2020, Koninklijke Philips N. V. announced "The Urban Living Series," a new line of air purifiers in India. These air purifiers feature VitaShield and AeraSense Intelligent technologies for superior indoor pollutant class filtration.
In September 2020, LG Corporation held the first-ever virtual exhibition to demonstrate how LG appliances may be utilised to improve home living. This virtual exhibition has aided the company in showcasing its brand offering to a bigger audience at the same time.
Scope of Report
Attribute

Details

Forecast Period

2021-2031

Historical Data Available for

2016-2020

Market Analysis

USD Million for Value

Key Regions Covered

North America, Latin America, Europe, East Asia, South Asia, Oceania, Middle East & Africa

Key Countries Covered

US, Canada, Brazil, Mexico, Germany, Italy, France, UK, Spain, BENELUX, Russia, China, Japan, South Korea, India, Indonesia, Malaysia, Thailand, Australia, New Zealand, GCC Countries, North Africa and South Africa

Key Segments Covered

Product Type, Charger Type, Feature, End User, Sales Channel and Region.

Key Companies Profiled

LG Electronics Inc.
Xiaomi Corporation
Dyson Ltd.
Godrej Appliances
Condair Group AG
Daikin Industries, Ltd.
Whirlpool Corporation
Japan Air Filter Malaysia Sdn. Bhd.
Hitachi Limited
Dyson Technology Ltd
Panasonic Corporation

Report Coverage

Market Forecast, Company Share Analysis, Competition Intelligence, DROT Analysis, Market Dynamics and Challenges, and Strategic Growth Initiatives

Customization & Pricing

Available upon Request
World's Most Profilic Intelligence Engine
Get Access To The World's Largest Market Research Database.
Sign Up Now
Global Air Purifier Market by Category
By Technology Type:
HEPA
Electrostatic Precipitator
Ion and Ozone Generators
Activated Carbon
Other Technologies
By End Use:
Residential
Commercial
Industrial
By CADR:
By Coverage Area:
Below 250 Sq. Ft.
250-400 Sq. Ft.
401-700 Sq. Ft.
Above 700 Sq. Ft.
By Sales Channel:
Direct Sales
Indirect Sales

Hypermarkets/Supermarkets
Discount Stores
Specialty Stores
Online Retail
By Region:
North America
Latin America
Europe
East Asia
South Asia
Oceania
Middle East and Africa
Key Questions Answered in the Report
What is the air purifier market size?
The global air purifier market reached a valuation of US$ 10 Bn in 2021.
At what rate did the global air purifier market grow between 2016 and 2020?
The global air purifier market grew at 8.5% CAGR between 2016 and 2020.
What are the key trends driving air purifier sales?
Launch of smartphone connected air purifiers, product innovation, coupled with expansion of global and regional footprints by market players are driving sales of air purifier in the market.
Who are the leading players in the global air purifier market?
Leading players operating in the global air purifier market comprise Koninklijke Philips N. V, LG Electronics, Xiaomi Corporation, Afpro Filters B.V., Panasonic Corporation.
What is the market share of the leading players operating in the air purifier market?
Leading players in the global air purifier market are estimated to account for approximately 42.0% of the total market share.
What is the North America air purifier market demand outlook?
The North America air purifier market is projected to grow at a 4.3% CAGR over the forecast period.
What Europe air purifier market demand outlook?
The air purifier market in Europe is anticipated to expand at 5.2% CAGR over the forecast period.
Need specific information?
Our Clients