Gypsum Board Losing Market Share to Spray Foam
Spray foam that holds more than 20% share in the market has been among the preferred air barriers. Plywood and oriented strand board (OSB) collectively account for more than a third of the total sales. Despite being a low-cost air barrier preference, gypsum board will most likely lose its market value share in the following years, which is attributed to its lesser durability and relative incompatibility for curved-surface application.
In addition to offering improved structural integrity, spray foam is environmentally sustainable and allows for 50% savings on energy costs in both residential and commercial constructions. Towards the end of forecast period, it will capture over a fourth of market value share.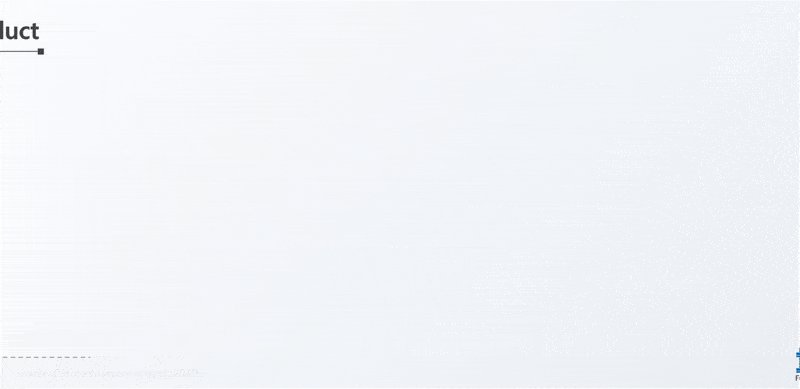 North America Remains in Frontline
Predominantly driven by the private building sector that holds up to 70% share in the region's construction industry, North America will continue to lead the pack in global air barrier market over 2019 - 2029. While residential sector will continue to spearhead, the expanse of commercial sector will also contribute heavily to the demand for air barrier sales.
Industrial and commercial facilities will collectively account for more than 45% demand in this region projected by 2029 end. On the other side, the market is set for spectacular growth in South Asia-East Asia-Oceania cluster.
Increasing Role of Building Code and Regulations
The consistently growing need for energy and operational efficiency is moulding the adoption pattern of air barriers on a global level. Environmental policymakers are enforcing stringent regulatory framework and building codes to meet sustainability demands. Increasing stringency of these codes and regulations will pose a positive impact on the long-term growth of air barrier market.
The latest International Energy Conservation Code (IECG 2015) compels up to 30% increase in insulation investments, which indicates a massive opportunity for air barrier manufacturers in the near future.
How Growth will Unfold
Residential, commercial, and industrial will be the key end use areas of air barriers during the projection period. However, market growth will be more prominent within residential sector that currently accounts for nearly 1/3rd of total demand. Commercial and industrial facilities also hold more than 45% share, collectively, in the global air barrier market.
Besides more opportunities emerging in commercial sector, some non-traditional end-use areas such as car parks and basements, and military buildings and bunkers will exhibit considerably high opportunistic potential for market growth in the following years.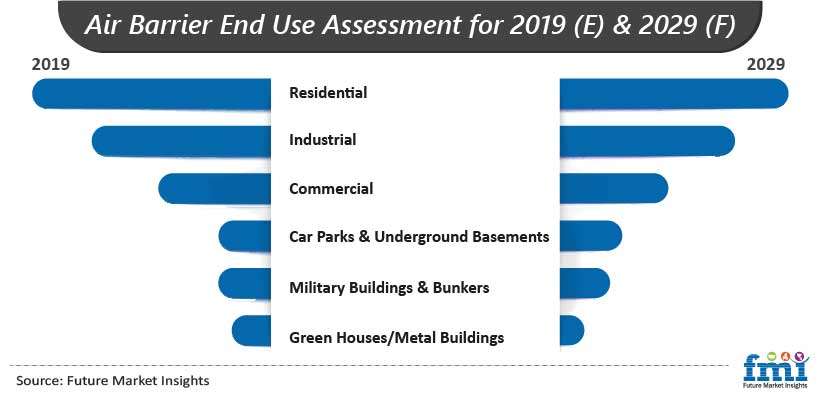 Air Barrier Market Analysis 2019-2029
A recent market study published by FMI on the air barrier market includes global industry analysis 2014-2018 & opportunity assessment 2019-2029, and delivers a comprehensive assessment of the market dynamics. After a thorough research on the historical as well as current growth parameters of the air barrier market, the growth prospects of the market are obtained with maximum precision.
Product

Gypsum Board
Drywall
Plywood
OSB
Spray Foam
Fiberglass/
Rockwool
Cellulose
Others?

Type

Membranes

Sheet
Fluid
Peel & Stick
Films

Coatings

Liquid
Aersonal/Spray based

Stacking & Filling

Site

External

Roofing
Walling
Ventilation & Ducks

Internal

Ceiling
Flooring
Walls and Panels
Doors and Windows
Ventilation & Ducks
End Use

Commercial

Hospitals
Hotels
Office Buildings
Airports
Others

Industrial Facilities
Car Parks & Underground basements
Military Buildings & Bunkers
Green Houses/ Metal Buildings

Application

Corrosion Resistance
Material Packaging & Stacking
Microbial & Fungal Resistance
Insulation

Air Insulation
Sound Insulation
Thermal Insulation
Need specific information?