Automotive Composites Market By Material (Glass Fiber Composite, Natural Fiber Composite, Carbon Fiber Composite, Aramid Fiber Composite), Resin (Thermoplastic, Thermoset), Application (Interior, Exterior, Underbody, Chassis, Power Train, Engine Components), Vehicle Type (Passenger Cars, LCVs, HCVs, Agricultural) & Region - Forecast to 2019 - 2029
Automotive Composites Market - Analysis, Outlook, Growth, Trends, Forecasts
January 2020

REP-GB-1216

363 pages
Glass Fiber Composite Accounts for 50% Share
[363 Pages Report] Automotive Composites market has been witnessing a decline in growth due to negatively impacted automobile sector in 2020. The shutdown of plants, production, supply impacted the automobile sector in a harsh way. Although, first quarter of 2021 witnessed a little surge in the sales, 2021 is expected to be better as compared to 2020 and prominent players in the sector such as Toray Industries Inc. (Japan), SGL Carbon (Germany), Teijin Limited (Japan), UFP Technologies Ltd. (US), Hexcel Corporation (US), Mitsubishi Chemical Holding Corporation (Japan), Solvay SA (Belgium), Gurit (Switzerland), Huntsman Corporation (US), Hexion (US), Plasan Carbon Composites, TPI Composites, Johns ,Manville, Formaplex, Owens Corning, GMS Composites, IDI Composites International, Revchem Composites, etc. are working on research and developments for developing customer friendly products and maintain their leading position.
Due to the increase in demand of lightweight and fuel efficient vehicles, Teijin Group in October 2020 partnered with AZL Partner Network for Lightweight Production Technology involving nine institutes and some 80 lightweight production companies. The company launched many joint projects to develop and manufacture multi material battery enclosures for electric vehicles. Both the companies share the idea of developing lightweight materials and components for the next generation vehicles. Also, with the partnership, Teijin Group aims to escalate its automotive composites expertise.
SGL Carbon in August 2020 in a joint project "AeroFurnace" which was funded by German Federal Ministry of Economic Affairs and Energy including Bavarian Center for Applied Energy Research and FCT systeme, the furnace manufacturer have succeeded in improving the thermal material up to 120% as compared to the traditionally/popularly available felt based carbon materials. The innovation may enable the composite applications to switch towards more energy efficient solutions and towards new quality thermal insulation in high temperature industrial applications. The company claims that with the thermal insulation material, 40% of the required energy can be saved.
Huntsman Corporation has acquired CVC thermostat specialities, a North American Specialty chemical manufacturer. In May 2020, the company invested in the latter for its highly specialised toughening, curing and other additives used in a wide range of applications. The acquisition brings technology to Huntsman's advanced materials portfolio and with the durability, flexibility and impact resistance of the products of CVC thermostat its utilisation in aircraft, infrastructure, and electronics makes the product lighter, stronger and provide more life span.
Owing to its cost-efficient and high structural strength, glass fiber composite continues to account for greater preference as compared to other automotive composites such as natural and aramid fiber composites. However, carbon fiber composite is also gaining increasing share of the global market revenue, as it ticks the boxes of lightweight and high electrical conductivity potential. Further, natural fiber composite is also finding application in the designing and manufacturing of seat backs, door panels, and automotive load floors.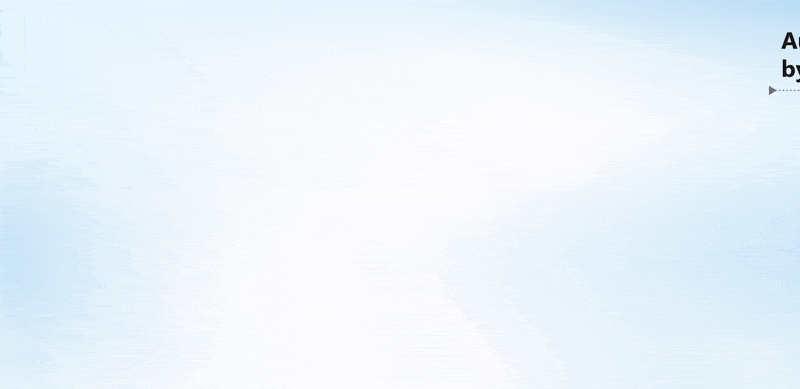 Developed Regional Markets Continue to Engage Stakeholders
The booming automotive industry would be the key factor shaping the automotive composites market, in both, developed and developing regions, throughout the period of projection. The markets in North America and Western Europe are supported by increasing production of mid-size cars, luxury cars, and SUVs. China leads the automotive industry when it comes to the production of compact and heavy commercial vehicles (HCVs), which is also attracting significant stakeholder investments in the region. However, the recent slowdown in auto sales in the country is anticipated to pose as a possible threat for automotive composites market players.
Considering Agricultural Sector for Potential Sales Opportunities
The agricultural sector accounts for a major contribution to a country's gross domestic product (GDP). Governments, in order to improve agricultural productivity, are honing in on high-performance tractors and threshers that are efficient in terms of time and fuel. Market players should explore white spaces in the agricultural sector, despite their meager share in the revenue of the automotive composites market.
How Growth will Unfold
Accounting for nearly 3/5 of total sales, thermoset resins will remain the top-selling category in the automotive composites market, primarily owing to their cost effectiveness and high mechanical properties. In 2022, thermostat resins worth around US$ 5 Bn will be sold, globally. However, as the recycling of thermostat resins is extremely difficult, they are likely to lose their market share to thermoplastic resins.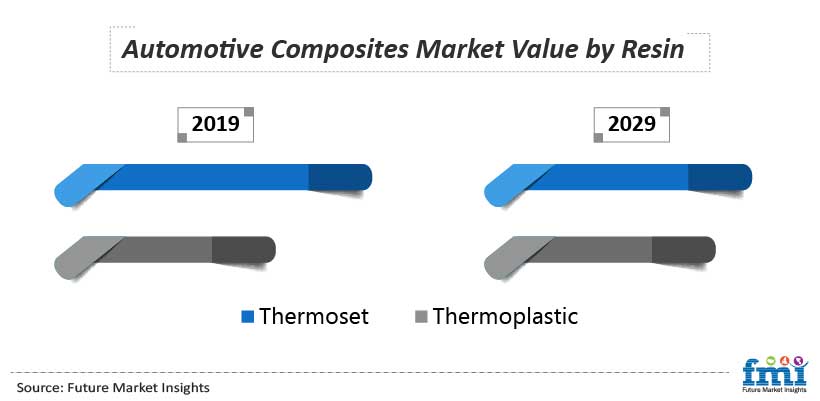 FREQUENTLY ASKED QUESTIONS ABOUT GLOBAL AUTOMOTIVE COMPOSITES MARKET
How will the automotive composites market progress in the future?
Composite parts and components weigh a lot less than their metallic counterparts; hence, their implementation in the construction of a vehicle leads to weight reduction, which is beneficial as it reduces fuel consumption, and thereby, emissions. These factors are expected to increase the usage of advanced automotive composites by carmakers in the foreseeable future, in order to ensure compliance with stringent emission norms, globally.
Will increase in material procurement and processing of composite material affect the future trajectory of the market?
Yes, with increasing technical complexity and increasing demand for high-quality composite parts, the cost of raw material and manufacturing process of automotive composite parts will remain high in comparison to metal-based parts. Five areas incur major costs from the perspective of automotive composites - fiber, resin, consumables, machining costs, and labor. A slightest increase in these prices directly affects the growth of the automotive composite market.
Which material type holds potential growth opportunities for market players?
The most preferred and dominant material in the current scenario is glass fiber, which will remain in that position in the coming years. Preference of manufacturers for glass fiber will hold an attractive prospect for both, OEMs and aftermarket players.
What is the degree of competition in the automotive composites market?
The global automotive composites market is fairly competitive, with numerous organized players operating in the landscape. Entry of organized and well-established players in the market can lead to profitability, owing to improved products and growing demand placed by automotive OEMs for lighter parts. Tier-II and III players in the market occupy almost 60% market share.
Which region will lead the global sales of automotive composites?
North America and Western Europe hold nearly 40% of the overall global automotive composite market. However, strong growth in the automotive composites market is expected in developing countries, especially in China and India, due to the presence of large automotive manufactures in these regions.
World's Most Profilic Intelligence Engine
Get Access To The World's Largest Market Research Database.
Sign Up Now
AUTOMOTIVE COMPOSITES MARKET TAXONOMY
The global automotive composites market is segmented into five segments in detail to cover every aspect of the market and present a complete market intelligence approach in front of the reader.
Material
Glass Fiber Composite
Natural Fiber Composite
Carbon Fiber Composite
Aramid Fiber Composite
Others
Resin
Application
Interior
Exterior
Underbody
Chassis
Power Train
Engine Components
Vehicle Type
Passenger Cars

Compact
Mid-size
Luxury
SUVs

LCVs
HCVs

Straight Trucks
Dump Trucks/Garbage Trucks
Semi-trailers
Fire Trucks
Others

Agricultural

Tractors
Tillers
Rotavators
Harvesters
Threshers
Agricultural
Region
North America
Latin America
Western Europe
Eastern Europe
South East Asia & Pacific
MEA
China
Japan
India
Need specific information?
Our Clients