Automotive Control Cable Market By Product (Door Cable, Hood Cable, Transmission Cable), Coating Material (PCV cables, Polyethylene), Vehicle (Compact, Mid-size), Sales Channel (OEM, Aftermarket) & Region Forecast to 2019 - 2029
Automotive Control Cable Market - Analysis, Outlook, Growth, Trends, Forecasts
July 2019

REP-GB-1696

275 pages
Automotive Control Cable Market - Key Research Findings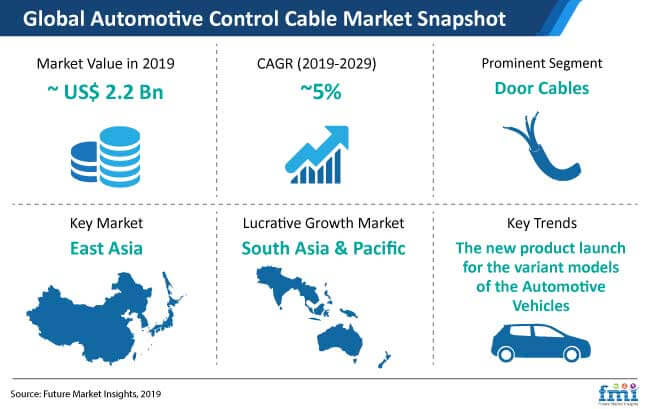 The global automotive control cable market size in 2018 was valued at US$ 2.1 Bn.
The automotive control cable market is anticipated to grow at a CAGR of ~5% during the forecast period of 2019-2029.
The door cable segment is expected to remain as the most preferred product type segment in the automotive control cable market.

The growth of this particular segment can be primarily attributed to the global growth of the automotive control cable market.

Collectively, East Asia and Europe are likely to account for more than half of the revenue shares in the automotive control cable industry by the end of 2029.

The East Asia market will continue to be a prominent regional market for automotive control cable manufacturers due to the increasing production and demand for passenger cars.

The compact car segment is likely to continue as the prominent vehicle type, which creates significant growth opportunities for automotive control cable market players.

The automotive industry has witnessed significant growth over the recent past. The increasing disposable income of the middle class population increases the demand for passenger cars, which in turn, is expected to propel the demand for control cables.
Noteworthy application potential of automotive control cable has been identified to enhance safety features of the vehicle.
Key Factors Shaping the Automotive Control Cable Market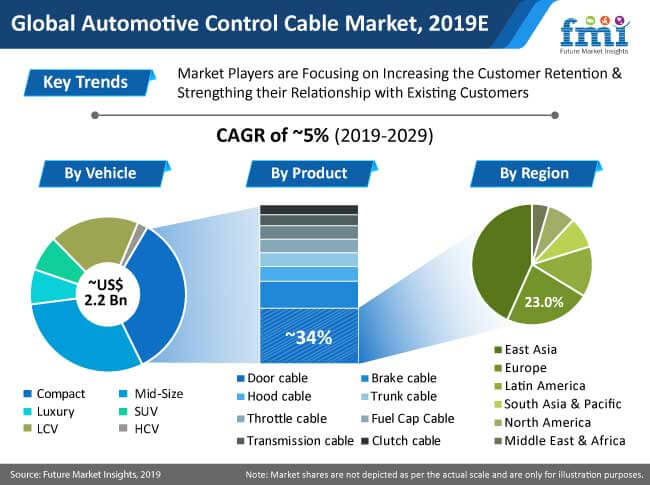 Introduction of New Automotive Control Cables for Different Models of the Car

Fast growing economies such as China, India, Brazil, Mexico, Indonesia, Turkey, and GCC countries have witnessed the launch of the new model of the automotive vehicle. OEM car manufactures are launching a variety of car models to satisfy its substantial customer base, which increases the demand for different automotive control cables in the market and to fulfil these demand, the company introduces new automotive control cables as per the model of the car.

Short Life Cycle of OEM Products Provide Growth Opportunities to Automotive Control Cable Manufacturers

Automotive control cables are the most frequently used spare parts in vehicles due to their cost advantage. The demand for automotive control cables is expected to continue to grow steadily in the upcoming years, unless any advanced technology arises. The life cycle of OEM products is getting shorter, which could provide cable manufacturers an added advantage as there will always be a requirement for a new cable. This is anticipated to provide continuous growth opportunities to several manufacturers in the aftermarket.

Increasing Disposable Income of the Middle Class Population

Increasing disposable income of the middle class population in developing countries propel the demand for passenger cars. The increase in sales and production of new passenger cars is estimated to fuel the sales of automotive control cables in the forecast period.

Rising Young and Technically Savvy Generation

The young and technically savvy generation is expected to be a significant driver for the development of more sustainable and convenient mobility solutions in the upcoming years. It supports car manufacturers to launch new models of vehicles, which is a key factor affecting the global automotive control cable market.

Strategic Partnerships between OEMs & Car Manufacturers

Companies are focusing on collaborations with several car manufactures to provide automotive control cables. These strategic partnerships help OEM companies to have direct sales of automotive control cables. It also facilitates car manufactures to price advantage in automotive control cables.
Automotive Control Cable Market Structure Analysis
The global automotive control cable market is an extremely fragmented market. Tier-1 players hold approximately ~35-45% share in the market. Most of the key players sustain strategic focus on the development of new products and expansion of business in new regions and setup of the distribution network. Significant investments in developing new and durable products by companies are expected to exploit the automotive control cable market growth prospects.
Key players in the automotive control cable market such as Scottish Leather Group Limited, Suprajit Engineering Ltd, Minda Corporation Limited, Dura Automotive Systems, Kongsberg Automotive ASA., HI-LEX Corporation, Thai Steel Cable Public Co., Ltd, Ficosa Internacional SA, and Grand Rapids Controls Company LLC, are developing new products and focusing on product innovations to sustain their positions in the market. International and regional market players have an extensive marketing network of branch, regional, and global offices across tier 1 and tier 2 cities, providing support to its customers.
Automotive Control Cable: Criticality to Meet End User Specifications
As the automotive industry heads toward a future wherein functionality holds the key to growth, new beginnings can be anticipated for various types of automotive control cable. Automotive control cable finds a wide range of applications in components responsible for controlling functions in automobiles, such as doors, brakes, gears, clutch, and others.
Though control cable remains an imperative across multiple industries, including robotics, construction, power & distribution, and others, a majority of its demand will continue to be from the automotive industry. However, chances of wear & tear along with limited life span remain two of the key drawbacks creating challenges for the manufacturers to reap significant profits.
As these cables remain the backbone of effective automobile performances, manufacturers active in the automotive control cable landscape are expecting profitable opportunities, through the next decade. Market players need to withdraw from the traditional manufacturing of automotive control cables, and switch to innovations instead, to be in sync with the latest end user specifications. Consistent innovations will remain the key to strong market position of brands in the global industry space.
Electromobility – A Double-edged Sword
Electromobility, the development of electric vehicles (EVs) and PHEVs have enabled dramatic transformation of the global automotive industry at a significant rate, and will continue to leave imprints in this turbulent market space. With the trend of electromobility growing at a breakneck pace, the sales volume of automotive control cables is expected to rise manifold, as EVs consume ~3X control cables, compared to conventional automobiles.
However, amongst automotive cables and wires; automotive control cable remains among the key elements that directly as well as indirectly bore the brunt of 'e-mobility' revolution. With EVs making their headway to the mainstream, some of the top selling categories in automotive control cable market are most likely to encounter severe challenges in terms of sales in the near future.
Brake cables, transmission cables, and hood cables, will eventually witness diminishing need, equivalent to a dip by significant margins. On a similar line, the rapidly popularizing concept of shared mobility will also decelerate automobile sales to a certain extent, reflecting the future hurdles for manufacturers of automotive control cables.
Extending Portfolios - Emphasizing Strength & Endurance
Considering the harshest of environments, durability and strength of automotive control cable continues to be a significant end user consideration. Automakers seek control cables that can survive the high-temperature conditions and oil-contaminated vehicle environments, where they are exposed to repeated flexing and abrasion.
Manufacturers active in the automotive control cable market are broadening their portfolio, covering both, shielded and un-shielded cables, in an effort to cater to a diverse end user needs. In addition, manufacturers are utilizing a host of insulation formulations, which are typically developed in-house, and specifically tailored to offer optimal performance.
Safety Mandates Opening Doors to New Growth Opportunities
As passenger safety continues to be the paramount, government initiatives to improvise the overall safety of modern automobiles are increasing unprecedentedly. The incorporation of effective anti-lock braking systems is being made mandatory for automobiles across several countries, including India, China, and Brazil, among others, is establishing a firm ground for installation of advanced automotive control cable types.
The mandates on automotive anti-lock braking systems (ABS) are likely to result in end-to-end upgradation of engine components, such as exhaust after-treatment systems, fuel injection systems, and braking systems, which is further expected to create new revenue streams for the key participants active within the automotive control cable market.
How Growth Will Unfold?
Brands operating in the automotive control cables market remain highly focused on use of advanced technologies and high quality raw materials, to set their products apart from that of the competitors. Manufacturers are centering on building rich portfolios with control cables of varying designs, sizes, and dimensions, suitable for broad-range clientele requirements.
Leading players active in the automotive control cable market are shifting their focus on employing 'state-of-the-art' manufacturing techniques, which will further help them in nourishing and maintaining the product quality. Brands are offering comprehensive handling guidelines along with their products, and are employing a dedicated technical support team, prompt to address the technical queries put forth by their clients.
World's Most Profilic Intelligence Engine
Get Access To The World's Largest Market Research Database.
Sign Up Now
Key Segment
By Product Type
Door Cable
Hood Cable
Transmission Cable
Trunk Cable
Brake Cable
Clutch Cable
Throttle Cable
Fuel Cap Cable
By Coating Material
By Vehicle Type
Compact
Mid-size
Luxury
SUV
LCV
HCV
By Sales Channel
By Region
North America
Latin America
Europe
East Asia
South Asia & Pacific
Middle East & Africa
Need specific information?
Our Clients