Automotive Coolant Aftermarket By Product Type (Organic, Inorganic, Hybrid), Vehicle Type (On-Road Vehicles, Off Road Vehicles), Sales Channel (Vehicle Service Stations, Independent Garages, Authorized Dealers/ Franchise, Multi-brand Dealers, Online Sales) & Region - Forecast to 2020 – 2030
Automotive Coolant AfterMarket - Analysis, Outlook, Growth, Trends, Forecasts
June 2020

REP-GB-11693

250 pages
Automotive Coolant Aftermarket Outlook & Key Findings
Automotive coolant aftermarket is projected to exhibit a CAGR of 4.0% through the forecast period 2020-2030
Sales through independent garages continue to account for a significant chunk of overall revenues
The pervasiveness of car rental businesses is accelerating maintenance and coolant replacement/ top up, creating new growth avenues
Brand awareness activities through event sponsorships, licensing agreements, and tele-commercials key marketing strategy
Automotive Coolant Aftermarket Analysis
The aftermarket for automotive coolants is witnessing high growth in North America with leading coolant manufacturers like BASF undertaking huge capital investments at production sites in the region. For instance, BASF's plant in Cincinnati manufactures coolant for on-road as well as off-road vehicles.
For the aftermarket, BASF is also partnering with Old World Industries (OWI), a top coolant supplier in North America in order to leverage its distribution channels.
Automotive Coolant Aftermarket Trends
Coolant manufacturers are trying to keep up with the latest developments and changing preferences of end-users. From being cost-effective, to getting the most optimal results, companies are now paying close attention to the quality of coolants being manufactured. Some key focus areas for manufacturers are,
Reduction of greenhouse emissions and carbon footprint will be the key imperative
Higher production of coolants with lower oil content and more synthetic additives
Extremely low pricing is proving to be detrimental to the overall automotive coolant aftermarket as it incurs huge losses in terms of high value equipment
Reusability of the coolant for maximum ROI is being explored
Customization is an upcoming trend in the coolant aftermarket. This is more so after the proliferation of trends in EVs and specialty vehicles
For instance, GS Saltex, a South Korean oil refiner has technical auditors who regularly check on the quality of coolants being manufactured for high performance and overall efficiency. Similarly, Lube Technologies in India has converted many of its erstwhile coolant products to a water soluble technology. This has helped the company significantly lower its costs.
Organic and Inorganic Coolant Formulations Remain Highly Preferred
Organic and inorganic coolants account for an equal share in terms of sales in the global automotive aftermarket. Elongated drain cycles and few incidences of top-up are usually preferred from an end-user perspective.
For older cars, usually inorganic additive technology based coolants are utilized which have shorter drain cycles when compared with hybrid or organic acid based technology coolants. These coolants are green and usually comprise of ethylene glycol with phosphates and silicates to prevent corrosion. These rank lower in terms of efficiency.
Organic acid technology coolants are made from propylene glycol and are orange coloured. They are designed for the newer models of cars such as Saab, VW and GM. Usually they have additives to give extra protection to car parts.
Hybrid technology which is gaining popularity among European cars is a combination of organic and inorganic technologies. They are usually available in a range of colours.
Off-Road Vehicle Fleets to Account for One-Fifth Demand for Automotive Coolant
The extended operation cycles, heavy duty mode of work and vehicle performance of off-road vehicles is largely dependent on consumables such as fuel, oil, coolants and other lubricants.
Single time flush-out or top-up requirement in such vehicles is large when compared to other vehicles. Customers for these vehicle segment are price-sensitive as most of the replacement takes place at independent garages.
In countries such as North America and Europe, the trend of cross-country driving is boosting the uptake of off-road vehicles such as heavy-duty trucks, jeeps and SUVs. Rough terrain also causes engine over-heating problems.
For off-road vehicles, traditional water-based coolants create excessive steam and often lead to engine over-heating. Special waterless coolants eliminate problems associated with water-based coolants and increase reliability and engine life. Owing to this factor, coolants for off-road vehicles account for nearly one-fifth demand in the overall market.
Automotive Coolant Aftermarket – Record Rise in Car Sales in BRICS to Drive Demand for Coolants
Brazil, Russia, India, China, and South Africa (BRICS) account for one-third of global car sales annually. Over the last decade (2009-2019), global passenger car sales witnessed a compound average growth of about 2.6% whereas BRICS witnessing a CAGR of 5.6% for the same period.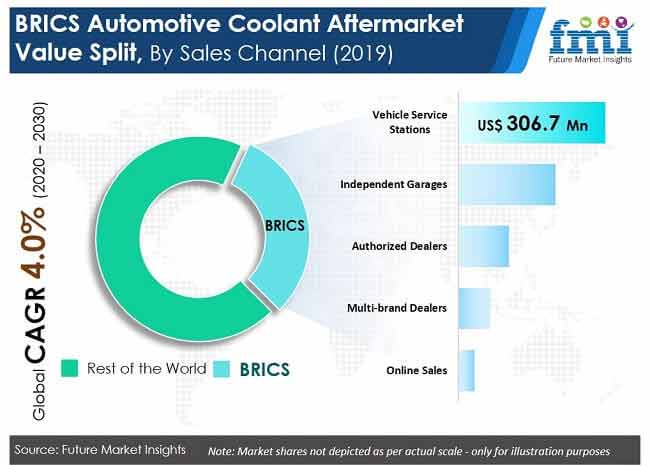 The automotive aftermarket in BRICS is largely dependent upon company-owned or company-franchised service stations. The launch of vehicle specific and function specific coolants, makes BRICS a highly conducive region for the coolant market.
In India and China, coolant technology is proliferating as these regions are key automotive hubs. In India, S-CCI, a regional powerhouse is planning to set up two new plants in Gujrat and Tamil Nadu in collaboration with Specialty Chemicals for production of engine coolants and brake fluids. S-CCI continues to be a major supplier of coolant to Hindustan Motors, Ford and Renault.
Following BRICS is the North American aftermarket for coolants. The high production of extended cabs with large capacity engines is one of the primal factors boosting market growth. The consumer base in North America is largely inclined towards the use of off-road vehicles such as SUVs and trucks for their capabilities and tractions in adversarial weather conditions.
In North America, BASF has recently launched its pioneering coolant technology Glysantin with three-fold engine protection such as rust, heating and frost. BASF will primarily focus on supplying OEMs.
Automotive Coolant Aftermarket Manufacturers – Budget, High Performance and Sustainability to Remain Players' USP
High performance and low-budget coolants are here to stay. Sales of coolant variants are also dependent on the region in which they operate. For instance, cars manufactured in Asia have heat transfer issues. Thus coolants with phosphates and carboxylates are playing a big role in anti-corrosive technology. These top brands are introducing coolants for different types of vehicles:
EVANS high performance waterless engine coolant helps to drastically cut corrosion thus reducing overall cost on vehicle maintenance. The coolant is changed less frequently and is ideal for heavy duty vehicles vintage V8 engines and four cylinder vehicles
ProLine's antifreeze coolant provides excellent value proposition as it is highly concentrated and users have to make it using one-part water and one part solution. This also makes the coolant relatively more inexpensive
Recochem's OEM pink antifreeze has been specially designed for car fleets belonging to Toyota and Lexus. Whilst it is more expensive than other coolants, it's an affordable aftermarket coolant for Scion and Lexus models. The OAT-certified coolant has a life of 5 years or 150,000 miles
Zerex's green antifreeze coolant ranks high on the sustainability index as it is an inorganic, additive green coloured coolant. It protects car parts from rust and is highly suitable for vintage and older vehicles
Automotive Coolant Aftermarket – Reciprocal Licensing and Nanofluids to Forge a Strategic Path Ahead
Very recently, the automotive coolant aftermarket has generated profound interest in the use of glycerin and 1,3 propanediol (PDO) as fluids for the base of the coolant. Glycerin, a by-product of biodiesel is being considered for usage in coolants. Whether it will compete with ethylene glycol remains to be seen.
Since its viscosity index is high, its usage is subject to speculation as it may require prior dilution. PDO is an isomer of propylene glycol. As its sourcing is natural, it is likely to give some competition to propylene glycol in terms of pricing. Environmentally, PDO has less toxicity, better anti-corrosive properties and improved heat stability thus making it highly suitable for trucks and off-road vehicles.
Other than this, the future outlook for automotive coolant aftermarket looks huge with manufacturers entering into mutually beneficial licensing agreements. This will allow them to reciprocally use each other's coolant technology and coming out with state-of-the-art coolant technology that can be a part of the global product portfolio.
Research is also being carried out on ethylene glycol based nanofluids comprising of titanium dioxide, copper oxide and aluminum oxide. Purported to enhance thermophysical properties of the coolant, nanofluids have immense potential in a wide range of applications such as computers cooling, vehicle cooling, electronics cooling and transformer cooling.
The use of nanofluids would pave way for better positioned and smaller sized radiators leading to a reduction of 10% in the frontal area of the radiators. This would lead to fuel savings upto 5% and a substantial reduction in emissions.
World's Most Profilic Intelligence Engine
Get Access To The World's Largest Market Research Database.
Sign Up Now
Automotive Coolant Aftermarket - Market Taxonomy
Product Type
Vehicle Type
On-Road Vehicles

Passenger Cars
Commercial Vehicles
Motorcycles & Scooters

Off Road Vehicles

Tractors
Construction Based Vehicles (Loaders, Excavators, Bulldozers, Road Rollers, Mobile Cranes)
Industrial Vehicles (Towing Tractors, Fork Lift Trucks, UTV Carriers)
Sales Channel
Vehicle Service Stations
Independent Garages
Authorized Dealers/ Franchise
Multi-brand Dealers
Online Sales
Region
North America
Latin America
Europe
East Asia
South Asia Pacific
Middle East & Africa (MEA)
Need specific information?
Our Clients