Automotive Head-Up Display (HUD) Market Snapshot
As per recently updated report by Future Market Insights (FMI), the automotive HUD market valuation is forecast to reach US$ 563 Mn by the end of 2021. The global automotive HUD market is expected to exhibit an impressive 11.5% y-o-y growth owing to high demand for modern safety system and increase in sales of electric vehicle.
The sales of automotive HUD in Europe are anticipated to grow at 12.8% CAGR owing to presence of leadings HUD original equipment manufacturers (OEM) in the region. The demand for automotive HUD product will accelerate with top market players holding 63% of automotive HUD market in 2021.
Key Points Covered
Market estimates and forecast 2015-2031
Key drivers and restraints impacting market growth
Segment-wise, Country-wise, and Region-wise Analysis
Competition Mapping and Benchmarking
Brand share and Market Share Analysis
Key Product Innovations and Regulatory Climate
COVID-19 Impact on Automotive HUD Market and How to Navigate
Recommendation on Key Winning Strategies
Market Outlook for Automotive Head-Up Displays Looks Brighter than Past Trends
Driven by increasing efforts towards reducing accident related fatalities and increasing awareness regarding vehicle and passenger safety among consumers, the automotive head up display (HUD) market will grow at 14.4% CAGR during the forecast period of 2021 and 2031.
The automotive HUD industry is experiencing impressive growth owing to the increasing demand of luxury and electric vehicles across the globe. As per the FMI's study, the automotive HUD market reached the valuation of US$ 563 Mn in 2021.
World Health Organization reports that, road traffic related injuries are responsible for 1.3 million deaths annually. More than 90% of these deaths occur in low and middle income countries. Rising motorization and lack of proper actions will lead to catastrophic results in next ten years.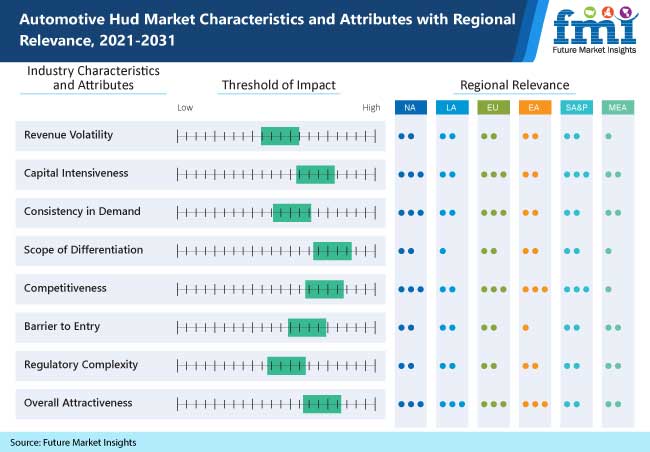 These fatalities can be avoided by replacing the in-vehicle displays by head-up displays. These HUD are paced in the line of sight and is capable of providing all the critical information on the windshield. This will eliminate the constant readjustment of vision while reading instrument clusters and navigating the road. These benefits will fuel the demand for automotive head-up displays.
Prominent manufacturers are investing in research & development activities for the development of advanced HUD system to maximize the revenue and provide the HUD in economic and midsize vehicles.
In January 2021, Panasonic Automotive launched its latest augmented-reality HUD capable of displaying lane edges, objects in the road, and other information important to drivers. The HUD runs in artificial intelligence and shares information with the driver. The new HUD can determine on itself whether the barrier is a vehicle, pedestrian, or a trash can.
In September 2020, DigiLens unveiled its Ultra-Compact CrystalClear™ AR HUD compatible with any auto dashboard. The CrystalClear™ AR HUD has around 15° x 5° field-of-view and is expected to open the gateway for holographic assisted navigation to any vehicle.
Imposition of strict regulation regarding the safety of passenger will boost the adoption of automotive HUDs across developing and developed regions.
How Will Focus on Technological Improvements Drive Automotive HUD Market?
Automobile manufacturers and HUD market players are working towards improving the present head up display system. Present HUDs are equipped with geological positioning system (GPS), can display warning and error messages on the windshield.
Technological advancement is making HUD cheaper to manufacturers without compromising the quality of display. Integrating of micro mirror-based devices based on electromechanical systems with automation and augmented reality based techniques resulted in the development of ultra-thin augmented reality HUD system which displays bright and vivid images on the windshield.
Development of holographic projection techniques and HUD products for automated vehicles and electric cars will aid in creating brighter displays with the usage of more colors. These factors are expected to drive the head up display market.
HUDs were generally available in luxury cars however; OEMs are focusing on introducing HUDs in economy cars. Toyota recently launched Toyota Camry equipped with the largest windshield HUD available in the market. The vehicle is equipped with a 10-inch HUD and is considered to be the best windshield HUDs in the world.
What are New Challenges Posing Threat to Automotive Head up Display Market?
Advanced HUDs with modern features like augmented reality functions are expensive and are only available in premium and luxury automobiles. Market players are finding it difficult to introduce the latest HUDs in economy and mid-segment vehicles as the integration of new display system with augmented reality features increases the overall cost of the vehicle.
Regulatory authorities are pushing towards making these systems a standard feature in next few years. Thus OEMs are focusing towards reducing the cost of these products to overcome the cost barrier. Reduced demand of premium vehicles and decline in new vehicle sales due to pandemic will stop OEMs from utilizing expensive automotive systems in the vehicles. These factors will hinder the demand for HUDs.
The windshield HUDs consumes considerable amount of automotive cockpit space. This requires redesigning of automotive cockpit by OEMs. Ultra-thin HUD is compact, requires less space, and provides sharper and better image with all the relevant information. It helps in making driving safe and comfortable by superimposing relevant images in front of the vehicles.
The large space required for embedding a windshield head-up display in the automotive cockpit and high cost of ultra thin HUD are a key restraints for the automotive HUD market growth.
Country-wise Analysis
How Will the Automotive Head up Display (HUD) Market Expand in U.S.?
The automotive HUD market in U.S. is expected to expand during the forecast period due to rising use of HUD in pick-up-trucks and growing awareness regarding the driver and passenger safety. Increasing cases of car accidents is fueling the adoption of head up display in the U.S. automotive industry.
As per the United States Department of Transportation, more than 36,096 motor vehicle crash related deaths were registered in 2019. This resulted in 11 deaths per 100,000 people. As such, the need for safety devices is ever-increasing for preventing such fatal car accidents and related death rate.
Automotive manufacturers are advocating for using head up display in pick-up trucks, as they are more effective in providing safety to the driver than in midsize cars. Utilization of HUD in pickup trucks will provide detailed navigation details, important information regarding route change, road closure, and nearest pit-stop location. These features will assist in reducing driver distraction.
Increasing sales of pickup trucks and development in HUD technology will propel the market growth in the upcoming years.
What will Support Automotive HUD Market Expansion in China?
As per the report by China Association of Automobile Manufacturers (CAAM), around 1.56 million units of passenger cars and 440,000 units of commercial vehicles were sold in the June 2021. China is considered to be the biggest auto market as it houses more than17% of world population.
Chinese OEMs are offering premium technology in entry level and mid level vehicle segments to compete with German OEMs. This is possible for Chinese OEMs due to its strong in-sourcing of products and technologies.
In July 2021, New Vision Automotive Electronics entered into a strategic collaborated with Sunny Optical for developing modern head up display products and offer better driving experience to automotive user.
Many OEMs like Haval and BAIC are following similar strategy and are offering premium services in all their trims as standard models to get ahead of the competition in terms of technological advancement and adoption rate.
Increasing research and development towards optimizing HUDs and developing cheaper augmented reality (AR) HUD will positively influence the market growth in China.
How is the Automotive HUD Market Expected to Grow in Germany?
German Association of the Automotive Industry reported that, in 2019 luxury cars production in Germany reached around 224,009 units while 227,466 units were produced in 2018. Increasing production of luxury cars and presence of top HUD manufacturers in Germany is expected to drive the demand of HUD in the country.
Implementation of strict safety regulations by government coupled with increasing sales of luxury cars, the adoption of HUD in the luxury vehicles is on the rise as a part of driver and passenger safety system.
BMW offers HUD in its 15 models and all the head up displays are controlled by BMW iDrive Controller. BMW i-Drive system projects image on the windshield with the help of system of projectors and mirrors.
As per the report of Federal Motor Transport Authority (KBA), in 2020 nearly 394,940 electric vehicles were registered in Germany. Rising popularity of electric vehicles and increasing demand of modern vehicles with advance driver-assistance systems and automation will boost the growth of automotive head up display market over the forecast period.
How big is the Opportunity of Automotive HUD Sales in India?
Increased consumer spending on luxury cars due to rise in per capita income and growing emphasis on safety will boost the automotive HUD market growth in India throughout the assessment period.
Automotive head up display market is in its infancy phase as it is considered as an ultra premium feature. Most mid and high end cars are not equipped with HUD and is only found in high end, imported, and luxury vehicles in India.
Favorable foreign direct investment policies are attracting many original equipment manufacturers to launch new technologies in automotive HUD. These policies are also promoting the luxury car manufacturers like Mercedes, BMW and AUDI to setup their manufacturing and assembly plants in India. This could emerge as an important growth driver for automotive HUD market in India.
In November 2020, Mercedes-Benz announced to boost its car assembly rate in India as a part of Make-In-India initiative, to benefit from lower tax rates and improve sales of luxury vehicles.
Growing emphasis on driver safety and increasing demand for driver assistance features is expected to promote the Indian car manufacturing giants like Tata and Mahindra to provide HUD systems in their high end models over the forecast period.
Category-wise Insights
How is Increasing Luxury Vehicle Sales Driving Automotive HUD Market Growth?
By vehicle type, luxury vehicles will lead the automotive HUD market over the forecast period. Artificial reality head-up-display are introduced in luxury cars as they experience limited price fluctuations and offers higher profit. Many automakers are offering HUD as a default feature in high end models.
Car enthusiasts are willing to pay additional amount for HUD and other safety features thus, boosting the demand in luxury car segment. High demand of luxury vehicles with modern safety features and increasing production of such vehicles in Germany and other European countries will positively influence the market growth of this segment.
Why are 3D Automotive Head-Up-Display the Most Preferred?
Owing to its compactness and independence from eye tracking, 3-D head-up-display technology is gaining popularity across the globe. They provide deep field of view and projects image few meters ahead of the windshield causing less distraction.
The modern artificial intelligence integrated 3-D head-up-displays are capable of adjusting the projection distance of display information depending upon the driving speed.
With the help of micro mirror sensors, any object in the pathway can be detected alerting the driver to take control of the vehicle. Many market players are investing towards developing 3D HUDs to cater the rising demand.
Recent launches in this category will also aid the overall growth. For instance, in August 2019, Bosch announced that it is developing new 3D display systems for vehicle dashboards which will project the images from instrument cluster into user's line of sight when needed. These factors will drive the growth of the 3-D head-up-display segment.
Which Type of Automotive HUD will Exhibit High Demand?
By product type, windshield HUD is forecast to grow at an impressive rate throughout the forecast period. Windshield HUD offers superior safety and plethora of new features like lane departure warning system, blind spot detection, and navigation metrics to make the experience luxurious and safe. These features are set in driver's field of view to avoid distraction and enhance focus.
Rapid technological development towards making windshield HUD cost effective and integrating it with advanced driver assistance systems and autonomous vehicles will boost the market growth.
Which is the Preferred Automotive HUD Technology?
On the basis of technology, augmented reality head-up-display are anticipated to grow at highest rate due to increasing research and development and rising necessity of advance safety systems. It is risky for driver to monitor multiple functions while simultaneously driving and may lead to accident and fatality.
The augmented reality based head-up-display makes driving safer by reducing distraction and by providing real time traffic assistance on the windshield within the driver's eyesight. Easy access to driver information and attention management services of AR will further accelerate the market growth.
What Are The Growth Potentials In The Original Equipment Manufacturers (OEMs) Domain?
OEM segment is expected to offer lucrative growth opportunities throughout the forecast period. Growing emphasis on developing cost effective head-up-display (HUD) and increasing collaboration between the HUD manufacturers and automakers will boost the sales across the OEM segment.
Increasing demand of midsize vehicles, high vehicle production rate, and rising focus on driver safety will promote market players to release advance virtual reality and 3D head-up-display to cater such demand. Hence, OEM segment is expected to grow significantly over the assessment period.
Automotive HUD Market – Competitive Landscape
As per the FMI's market analysis, the global automotive HUD market is consolidated with top market players accounting for more than 63% market share. The top market players include Continental AG, Nippon Seiki Co., Ltd., and Visteon Corporation.
Market players are focusing on new product development and introducing new technologies to expand their product portfolio and explore the untapped opportunities offered by this relatively new market.
For instance, in 2021, Audi announced to introduce its latest reality (AR) heads-up-display (HUD) in Audi Q4 e-tron electric vehicle. The generated virtual image will appear to float in space about ten meters ahead of the driver. The company claims that the overlaid image will assist in conveying information at a rapid pace and without confusion.
Nippon Seiki delivered its first artificial reality (AR) heads-up-display (HUD) created using "digital micro mirror device (DMD) method" technology to the new "Mercedes-Benz S-Class" of Mercedes Benz AG in September 2020. This new AR-HUD installed in the luxury car will project a 77-inch size display about 10 m ahead from the driver's point of view. The displayed information is superimposed on the actual field view to reduce the difference between the display distance and the driver's viewing distance.
Automotive HUD Market- Report Scope
Attribute

Details

Forecast Period

2021-2031

Historical Data Available for

2015-2020

Market Analysis

US$ Mn for Value & '000 tons for Volume

Key Regions Covered

North America, Latin America, Europe, East Asia, South Asia and Pacific, and Middle East & Africa

Key Countries Covered

U.S., Canada, Brazil, Mexico, Argentina, Rest of Latin America, EU-5, BENELUX (Belgium, Netherlands, Luxembourg), NORDIC (Denmark, Finland, Iceland, Norway, Sweden), Poland, Russia, Rest of Europe, China, India, Japan, GCC Countries, South Africa, Israel, Turkey, Iran, Rest of Middle East & Africa, Australia, New Zealand, South Korea, the Philippines, Malaysia, and Thailand

Key Segments Covered

By Sales Channel, By Dimension, By Vehicle Type, By Technology, By Product Type, By Region

Key Companies Profiled

Denso Corporation
Visteon Corporation
Delphi Automotive LLP
Garmin Ltd.
MicroVision, Inc.
LG Display Co., Ltd.
Hyundai Mobis
KYOCERA Corporation
Harman International
Panasonic Corporation
Robert Bosch GmbH
Valeo
JVCKENWOOD Corporation
Others.

Report Coverage

Market Overview, Market Background, Market Forecast, Segmental Analysis, Regional Profiling and Competition Analysis

Customization & Pricing

Available upon Request
Key Questions Answered in the Report
What is the expected valuation of automotive HUD market?

The global automotive HUD market is forecast reach the market valuation of around US$ 563 Mn in 2021 with a CAGR of 14.4%.

What will be the trend for sales of automotive HUD market?

Sales of automotive HUD are expected to grow by more than 14.3% in terms of volume over the forecast period.

What was the last 5 year automotive HUD market CAGR?

Automotive HUD market recorded CAGR of around 5.0% in terms of unit volume from 2016 until 2020.

What are the key trends prevailing in automotive HUD market?

Growing adoption of ultra-thin augmented reality head-up displays, increasing emphasis on passengers and driver safety, and rising demand for combiner HUD owing to its low price are the key trends prevailing in the market.

What are the key factors fuelling the demand for automotive HUD?

High demand for superior safety and navigation equipments in automotives along with integration of HUD with electric and autonomous vehicles are the key factors driving the demand of automotive HUD.

What are the top five players in automotive HUD market?

Top 5 market players operating in automotive HUD market are Nippon Seiki, Continental AG, Visteon Corporation, Denso Corporation, and Robert Bosch Gmbh.

What is the market share of top players in automotive HUD market?

The top companies dominate the automotive HUD market and they hold around 63% of the global market share in 2021.

What is the North America automotive HUD market outlook?

The market for automotive HUD in North America is anticipated to expand at a healthy pace on the back of rising demand for electric vehicles and increased awareness regarding driver and passenger safety. The North America market will exhibit 13.6% CAGR between 2021 and 2031 in terms of value.

At what percentage is automotive HUD going to register growth in Europe?

The Europe market is projected to register an average growth of 12.8% per annum during the forecast period

What are the key statistics for automotive HUD market in South Korea and Japan?

South Korea and Japan cumulatively held around 13% of the overall automotive HUD market in 2021.
Key Segments Covered
By Product Type:
By Technology:
Augmented Reality
Conventional
By Vehicle Type:
Midsize
Luxury
Sports Utility Vehicle
Commercial Vehicle
By Dimension:
By Sales Channel:
Original Equipment Manufacturers (OEM)
Aftermarket
Key Regions Covered:
North America
Latin America
Europe
South Asia and Pacific
East Asia
Middle East & Africa (MEA)
Need specific information?
Talk Show:
The Rise of Intelligent Packaging
Personalized, Connected and Sustainable
November 18, 2021
11:00-11:45 AM PST (USA & Canada)
This is a LIVE session