Automotive HUD Market - Key Research Findings
Global automotive head-up display (HUD) market size is likely to near US$ 590 Mn in revenues, by 2019 end.
The sales of combiner HUD are expected to grow at a CAGR of ~19% over 2019-2029.
Europe and North America are expected to remain prominent regional markets for automotive HUD.

Europe and North America are found to be the prominent regions in the automotive HUD market, owing to the comparatively high adoption rate in Germany, the U.S., etc. driving the growth of the automotive head-up display market in these regions.

Long term supply contracts with major automakers/OEMs are trending in market.

Long-term supply contracts with major automaker OEMs are of the substantial interest for automotive head-up display manufacturers.

The windshield HUD is projected to remain the most preferred product type segment of the automotive head-up display market.

Windshield HUD is growing, owing to the reason that it provides enhanced image with all the relevant information on the windshield of the vehicle.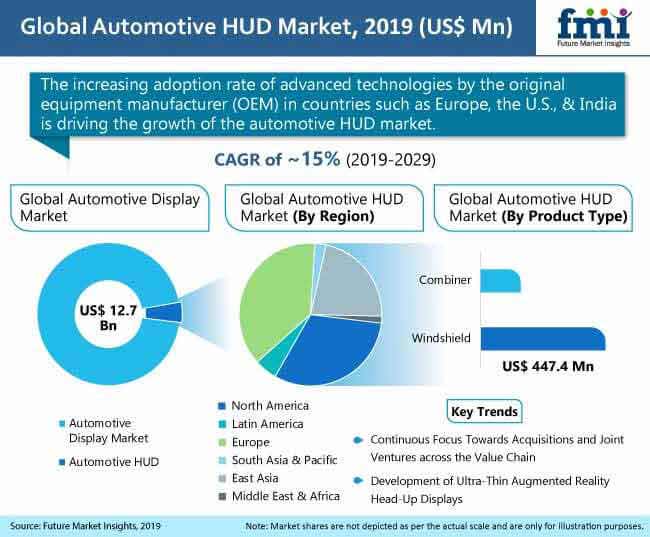 Top 3 Factors Shaping the Automotive HUD Market
Growing emphasis on passenger and driver safety

Globally, organizations such as NHTSA (National Highway Traffic Safety Administration), Commercial Vehicle Safety Alliance, Federal Motor Carrier Safety Administration, and others are paying more attention on passengers and driver's safety in the vehicle, which is propelling the automotive HUD market.

Development of ultra-thin augmented reality (AR) HUD

Ultra-thin HUD is small in size, and thus needs less space and at the same time, provides larger image with all the relevant information. This has been a significant focus area for all prominent manufacturers in order to increase the market share.

Growing adoption rate of advance driver assistance system (ADAS)

Advance driver-assistance systems developed to automate, adapt, and enhance vehicle systems for better driving and safety. Increasing number of modern vehicles, equipped with advanced driver-assistance systems such as anti lock braking and electronic stability control system, head-up displays, and others gives a whole new experience to the driver and passengers.

The automated system provided by ADAS to the vehicle is proven to reduce road fatality, which occurs due to human errors. ADAS is driving the demand for modern vehicles and as a result, the automotive HUD market is growing. In addition, growing concerns towards automotive active safety along with pedestrian protection is leading to incerasing adoption of HUD in automobiles.
Automotive HUD Market Structure Analysis
The global automotive HUD market is a consolidated market with a number of big market players holding a significant share across the globe. Some of the top manufacturers contribute significant revenue share in the global automotive HUD market such as
Nippon Seiki Co., Ltd.
Continental AG
Visteon Corporation
Key market players such as Continental AG, Nippon Seiki Co., Ltd., and Visteon Corporation are constantly focusing on development of product through joint venture activities. For instance,
In June 2017, Continental AG collaborated with Digilens Inc. for the development of ultra-thin augmented reality head-up display.
In October 2017, Denso Corporation developed a thin-film transistor, liquid-crystal head-up display to project critical driving information on the windshield of the car.
Other small and regional market players are continuously focusing on the product development and innovation their horizon of products for application in the automobile industry. Most of the key players maintain a strong focus on introducing new technology and long-term contracts with automotive OEMs.
Key Segment
Based on product type
basis of technology
augmented reality
augmented conventional
basis of vehicle type
midsize
luxury
SUV
commercial vehicle
basis of dimension
By Sales Channel
Need specific information?