Automotive Load Floor Market By Material Type (Hardboard, Fluted Polypropylene, Honeycomb Polyprolene, Composites), Operation (Fixed, Sliding), Application (Interior Systems, Cargo Systems, Load Floor Systems), Vehicle Type (Compact, Mid-Size, Luxury, SUV, LCV, Mini-Bus, Van) & Region - Forecast to 2020 - 2030
Automotive Load Floor Market - Analysis, Outlook, Growth, Trends, Forecasts
July 2020

REP-GB-7658

250 pages
Automotive Load Floor Market Outlook & Key Findings
The automotive load floor market is projected to grow at 4.5% CAGR over the forecast period (2020-2030)
Composites to remain material of choice among manufacturers
Compact vehicle segment will witness highest adoption of automotive load floors
Load floor systems are expected to capture leading revenue share, tantamount to 44% of automotive load floor market value
East Asia continues to offer opportunities of growth and profitability, owing to presence of automobile manufacturing hubs
Automotive Load Floor Market Analysis – Sustainability Trend to Boost Adoption of Polypropylene
Global concerns hovering around climate changes are triggering the optimization of internal combustion (IC) engines and the development of substitute sources of propulsion in the automotive sector. Lightweight construction is a vital factor in both the cases.
Given its lightweight and durability attributes, market players are turning their sights to sustainable polymers such as honeycomb polypropylene (PP) from wood for manufacturing automotive load floors.
Adoption of honeycomb PP is expected to surge at a healthy pace over the following decade. Further, the material shares nearly identical revenue portion with hardboard and fluted PP in the global automotive load floor market value.
Case in point, DS Smith develops automotive load floors that incorporate extruded PP bubble-structure (AkyBoard®) as a raw material provides umpteen advantages such as straightforward formation and cutting, non-skid surfaces, moisture repellency, and color adjustment.
In addition, the extruded polypropylene OEM components reduce the weight of vehicles, and fuel usage, as well as are completely recyclable after their service life, thus, delivering a better sustainable alternative.
Stringent regulatory framework to curb CO2 emissions continue to impose replacement of conventional wood, and other solid materials with PP in order to potentially impede carbon footprint.
Automotive Load Floor Market Trends – Honeycomb Technology to Curb Vehicle Weight
Automotive load floors are linearly associated with the automotive sector as vehicle manufacturers are seeking enhanced transportation capacity without affecting their capital investments.
Manufacturers are resorting to polyurethane (PU) paper honeycomb technology, where the floor surface is covered by PU material, allowing straightforward cleaning and prolonged service life.
The paper honeycomb encased by two fiberglass mats is foamed and compressed by the PU foam, reducing component weight by almost 30% while holding the same rigidity and strength.
Sandwich panels are the best-suited structure with regards to offering rigidity at low weight, certainly, load floor assemblies of several automobiles incorporate a combination of polyurethane/glass fibre composites and paper honeycomb.
Much in the same vein, EconCore and DPA Moldados have developed an innovative technology - thermoplastic composite - that curbs the weight of the Hyundai Creta's automotive load floor by 20%.
The thermoplastic composite combines a glass mat thermoplastic (GMT) composite skin and a sandwich panel of polypropylene (PP) honeycomb. The thermoplastic honeycomb is developed consistently while direct coating of the sandwich outer layers is mostly in-sync integrated in the highly automated procedure.
Given the high efficiency of the honeycomb structure, the usage of material is extremely limited. A low-density honeycomb, coupled with skin layers, offers an effective sandwich panel.
Furthermore, the manufacturing process leverages thermoplastic skin layers and thermoplastic honeycomb core that contain partially or at times completely recycled materials, and after the product's service life, the component can be easily recycled.
Manufacturers to Target Compact and Mid-sized Vehicles for Bigger Gains
Among various vehicle types, players in automotive load floor market continue to reap substantial profits from compact and mid-sized vehicles. Both the vehicle segments make for nearly three quarters of the total market stack.
While the manufacturers of compact vehicles have incurred losses over the last few years, there was a lot of activity in the compact category in 2019, with stalwarts including, Honda and Toyota, leading the pack.
Manufacturers of automotive load floors are also viewing light commercial vehicles (LCV) for relevant returns. That said, the vehicle category will see steady adoption of automotive load floors through 2030.
The quest for durable and lightweight automobile components in commercial vehicles for shipment transportation is amplifying, and is poised to transform the automotive load floor market in the coming years.
Regulatory bodies such as the European Union (EU) has specified emission targets for passenger vehicles (PV) and LCVs for 2025 and 2030.
The decided targets will require new PVs to curb their CO2 emission by 15% in 2025 and by 37.5% in 2030, both with respect to the 2021 levels.
In addition, LCVs will be required to follow the same by 15% in 2025 and 31% in 2030.
Automotive Load Floor Market Regional Analysis – East Asia Maintains its Supremacy
Automotive load floor suppliers continue to bank on polypropylene and composites for lightweighting vehicles, influenced by fuel economy and emission norms:
China's Corporate Average Fuel Consumption (CAFC) has set a fleet target of 20 km/L by 2020
Current US Corporate Average Fuel Economy (CAFE) norms mandate a fleet average of 54.5 mpg (23.2 km/L) by 2025
EU emission standards mandate a paltry 95 g/km of CO2 by 2021, with additional 15% drop by 2025, and in 2030, a further 30% decline from 2021
At-scale production of PVs and rising trend of vehicle electrification are strengthening East Asia's supremacy in the global automotive load floor market, with South Asia & Pacific showing material progress. While automotive sales in China bounced back up 5.6% in May 2020, sales in India is seeing recovery in both PVs and LCVs.
In Europe, about 6 out of 10 automotive load floors are made from either fluted polypropylene or honeycomb polypropylene. Moreover, substantial sales of automotive load floors come from countries such as Germany and Spain, capturing around 35% of the exports collectively.
Capturing slightly over 80% revenue share, the US remains at the forefront of the North America's automotive load floor market. However, the regional market is slated to experience sluggish growth in the coming years due to notable decline in automotive sales. Automobile heavyweights such as Audi, BMW/Mini, and Ford have witnessed sales decline of around 30-40% each due to the COVID-19 pandemic.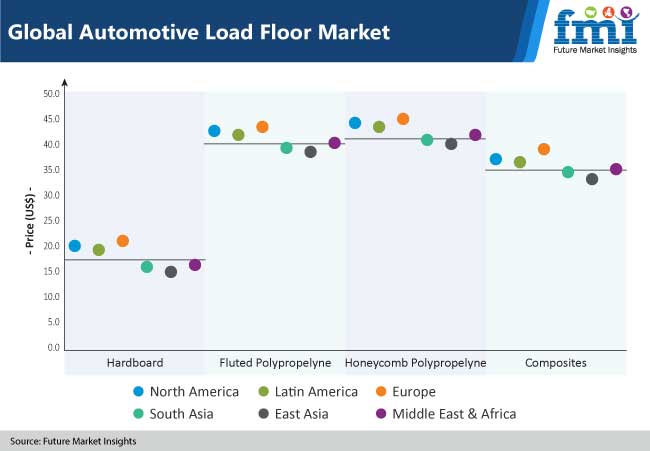 Automotive Load Floor Manufacturers – Players Rush to Expand Revenue Pool with Distinctive Tactics
The automotive load floor market is highly competitive, with presence of several large, medium, and small-scale players, as well as service providers.
Employment of backward integration approach by auto makers to manufacture automotive load floors is posing a threat to the existing manufacturers, as these manufacturers offer similar products at competitive prices, thus, leading to cut-throat competition in the global market and hitting profit margins across the value chain.
Established and emerging market players are unlocking new revenue streams in target countries such as China, and Indonesia by forming long-term agreements with OEMs. Key differentiating strategies by market players include:
Including virtual seat system to monitor the comfort of the seats before prototyping by estimate position and pressure distribution of passengers
Rolling out integrated connection points to prevent drilling of chassis during installation
Adding accessories such as load safety nets, and lash traps for simple and fast loading of shipment and freight
Introducing double load floor to boost the load carrying capacity, which directly results in reduced toll and fuel expenses
Going forward, leading market players, for instance, Nagase America Corporation, are investing in proprietary technology - fabric laminated plastic lite (FLP lite) technology - that delivers rigid, lightweight, high-quality and customizable automotive load floors and spare tire covers.
The technology product portfolio contains 2 product offerings that offer a wide array of solutions as per various end-user requirements.
Automotive Load Floor Market Future Outlook – Grabbing Window of Opportunities in e-Mobility
While the EV market is still in its early days, long-term projections accent rapid growth worldwide. Auto makers are laying greater emphasis on production of hybrid and zero-emission EVs that will buoy the demand for the PP-based automotive load floors in the through the period of projection.
As per the International Energy Agency (IEA), the number of EVs will grow to 125 million in 2030, up from a meagre 3.1 million in 2017.
This upsurge will have a significant impact on energy usage and pave the way for new growth avenues for automotive load floor market players that are looking for innovative approaches to gain a competitive edge and grow.
In China and partially in India, electric vehicles (EVs) are excluded from registration taxes, and government incentives such as road toll exemptions, and preferential parking access are motivating customers to switch to EVs.
Furthermore, regulatory bodies in the ASEAN countries including, Indonesia, are incentivizing EV purchasers in the form of tax abatement to between 0-30%. This will further augur well for lightweight automotive load floors for handling bulk baggage and shipments.
World's Most Profilic Intelligence Engine
Get Access To The World's Largest Market Research Database.
Sign Up Now
Key Segment
By Material Type
Hardboard
Fluted Polypropylene
Honeycomb Polyprolene
Composites
By Operation
By Application
Interior Systems
Cargo Systems
Load Floor Systems
By Vehicle Type
Compact
Mid-Size
Luxury
SUV
LCV
Mini-Bus
Van
By Region
North America
Latin America
Europe
South Asia & Pacific
East Asia
Middle East & Africa
Need specific information?
Our Clients