Carrying Shipment with New-Age Technology despite Diluted Automobile Production
Automotive load floor is directly related to the automobile vehicles market as car makers are looking for improved transportation capacity of shipment without affecting the capital investment. Manufacturers are banking on polyurethane paper honeycomb technology, where the floor surface is covered by polyurethane, enabling easy cleaning and extended lifespan. The paper honeycomb enveloped by two fiberglass mats is foamed and pressed by polyurethane foam, decreasing component weight by almost a third while possessing the same strength and rigidity.
However, slight tumbling in the global production of automotive vehicles in recent years appears to affect the sales of automotive load floors. Regions, such as Europe, witnessed production drop by 1.8% to about 22 million units last year. Furthermore, the ambiguity around the Brexit delay is compelling car manufacturers to lower the yield of light commercial and passenger vehicles (PVs).
Automotive Load Floor Market - Key Research Insights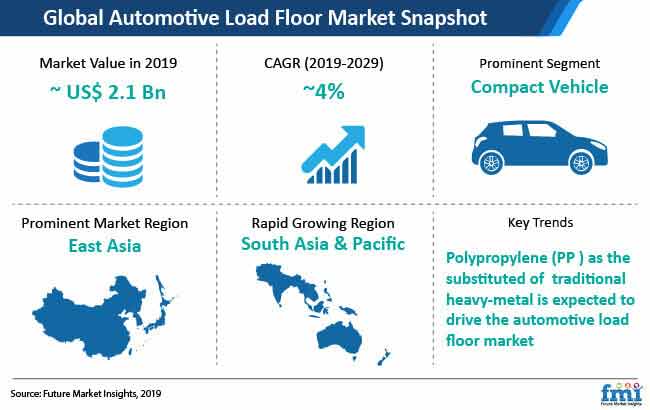 The global automotive load floor market size in 2018 was valued at ~US$ 2Bn.
The automotive load floor market is projected to have CAGR of ~4% over the forecast period of 2019-2029.
The hardboard material type segment is expected to be excessively consumed material type in the automotive industry over the forecast period of 2019-2029.

The development of this hardboard material type can mainly contribute to the global development of the automotive load floor market.
By the end of 2029, regions such as Europe and East Asia, are anticipated to hold more than half of the revenue share of the automotive load floor market.
The East Asia market is estimated to be a prominent regional market for automotive load floor manufacturers due to the increasing demand for the automotive vehicles and its production in the region.

The compact vehicle type segment is estimated to have prominent shares over the forecast period, which is likely to create noteworthy opportunities for automotive load floor manufacturers.

The automotive industry has perceived significant development over the past five years. The increasing per capita income of the middle class population upsurges the demand for passenger cars, which in turn, is estimated to drive the demand for automotive load floor.
Significant application of the automotive load floor has been identified to increase the cargo capacity and interior looks of the vehicle.
Key Factors Shaping the Automotive Load Floor Market
Strict Rules and Regulations Expected to Drive the Polypropylene Material Type over the Forecast Period

The government's strict rules and regulation to reduce CO2 emission by end of the next decade, is a compelling factor for the replacement of traditional wood, metal, and other heavy materials for the automotive load floor with lightweight materials such as Expanded Polypropylene (EPP).

Multiple Features of Automotive Load Floor Estimated to Create Traction in the Market

With multiple application of the automotive load floor in vehicle such as interior systems, cargo systems, and load floor systems is project to propel demand for the automotive load floor market globally. Furthermore, the increasing global automobile fleet and continuous innovation by manufacturers moreover government rules and regulations to reduce the automotive vehicle weight is expected to drive the polypropylene material type automotive load floor over the Forecasted Period.

Polypropylene (PP), a Substituted of Traditional Heavy-metal is likely to drive the Automotive Load Floor Market

In recent years, the environmental adaptability of polypropylene (PP) has drawn significant attraction of manufactures. Therefore, it is expected that polypropylene (PP) consumption will continue to increase in the automotive components over the forecast year. Furthermore, improvements in PP material such as greater rigidity, impact strength, fluidity, and crystallization, is estimated to increase the use of this material in the automotive components and automotive load floor.

Joint Ventures, Acquisitions, and Collaborations to Penetrate into the Overseas Market

The automotive load floor market is a fragmented market and several players are limited to their countries and territories. However, mergers, acquisitions, and collaborations are some of the key strategies followed by market players to penetrate into the overseas market and increase their global presence. To meet the high volume requirements, currently hampered by high material costs, long production cycles, and lack of automation and industrializing manufacturing to meet emission regulations, Tier 1 suppliers and OEMs have adopted different strategies to allow vertical integration of the value chain.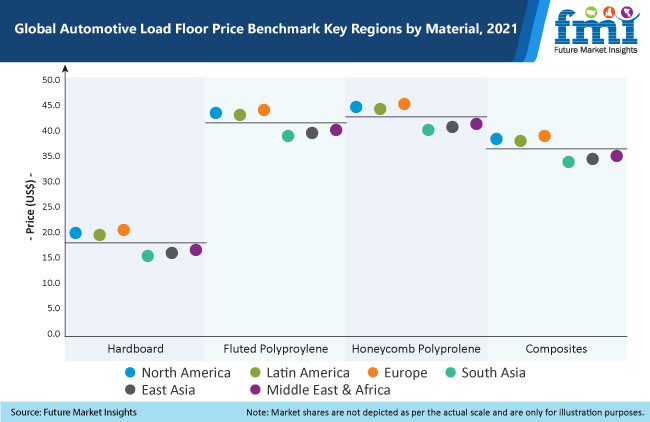 Automotive Load Floor Market Structure Analysis
The global automotive load floor market is considered to be a fragmented market due to the presence of several local as well as international players in the automotive load floor market. Tier-1 players hold ~20-25% share in the automotive load floor market.
Most of the key players sustain strategic focus on acquisitions, joint ventures, collaborations, and others, to establish their foot print across the globe.
Substantial investments in evolving new and durable products by companies are expected to exploit the automotive load floor market growth prospects.

Key participants in the automotive load floor market such as DS Smith, Nagase America Corporation., IDEAL Automotive GmbH, Huntsman International LLC, CIE Automotive, SA Automotive, and Gemini Group, Inc., focus on acquisitions and joint ventures with local players to increase their distribution network across the globe.

International and local market participants have established the marketing network of global, regional, and branch offices across tier 1 and tier 2 cities, provide customer support service to have the competitive advantage.
Leveraging 'Recyclable' Polymers for Better Efficacy
Product makers are shifting to sustainable polymers, such as polypropylene (PP), from wood for manufacturing automotive load floors owing to its light weight and durability. Automotive load floors containing extruded polypropylene bubble-structure as a starting material offers multiple benefits, including moisture repellency, non-skid surfaces, straightforward formation and cutting, and color adjustment. Furthermore, extruded polypropylene OEM components decrease the weight of the vehicle, and fuel consumption, as well as completely recyclable post its shelf-life, delivering a better sustainable alternative.
Stringent government policies to check CO2 emissions continue to mandate substitution of traditional wood, and other heavy materials with polypropylene, to potentially reduce the carbon footprint. Policy makers are directing automobile manufacturers to broaden the electric vehicle (EV) fleet, which is likely to propel the demand for lightweight parts to help offset the weight of heavier batteries.
Market Players Tapping White Spaces in East Asia
Ever-increasing production of passenger vehicles and rising vehicle electrification are solidifying East Asia's primacy in the global market, with South Asia & Pacific displaying significant progress. Automotive production in China and India is estimated to grow at a healthy rate of 6-7% within the next decade, where a majority of shares is brought about by the compact and mid-size vehicles.
Electric vehicles (EVs) are exempted from registration taxes in China and partly in India, and government norms, including preferential access to priority parking, road toll exemptions, among others, are encouraging the urban demographic to turn to EVs. Further, governing bodies in ASEAN countries, such as Indonesia, are offering incentives to EV owners in the form of tax reduction to between 0-30%, which is likely to fuel the demand for lightweight automotive load floors for handling heavy shipments and baggage.
Innovation in Accessories to Define Strategic Moves that Target Enhanced Load Capacity
Prominent market players, including Huntsman International LLC, DS Smith and Nagase America Corporation, are currently dominating the automotive load floor market, with each company accounting for more than US$ 50 Mn product revenue. Emerging market participants are incorporating virtual seat system to evaluate the comfort of the seat before prototyping by calculating position and pressure distribution of the passengers. Mature market players are introducing integrated connection points to avoid drilling of chassis during installation. Manufacturers are incorporating accessories, for instance lash traps, and load safety nets for easy and quick loading of freight and shipment. To double the load carrying capacity, market actors are launching double load floor, which directly corresponds to decreased toll and fuel costs. Furthermore, legacy and emerging business runners are opening window of opportunities in target countries, such as China, Indonesia, and others, by entering into long-term agreements with OEMs.
Hardboard to remain in-demand
Sales of fluted polypropylene gathering pace
Demand in load floor systems significantly high
Demand in shipment systems gradually increasing
Use in fixed operation remain at top
Use in sliding operation escalating
Use in compact vehicles witness rapid growth
Adoption in mid-size showing progress
How Growth will Unfold
The quest for lightweight and durable automobile parts in commercial vehicles for shipment transportation is intensifying, and likely to transmute the automotive load floor landscape at a promising rate. As per the global environmental amendments, new PVs will require to reverse their CO2 emission by 37.5% on an average from the 2021 levels, while utility vehicles will need to reduce the same by 31%. Furthermore, car makers are focusing on production of hybrid and zero-emission EVs, which will gear the demand for the polypropylene material type automotive load floor in the foreseen timeframe.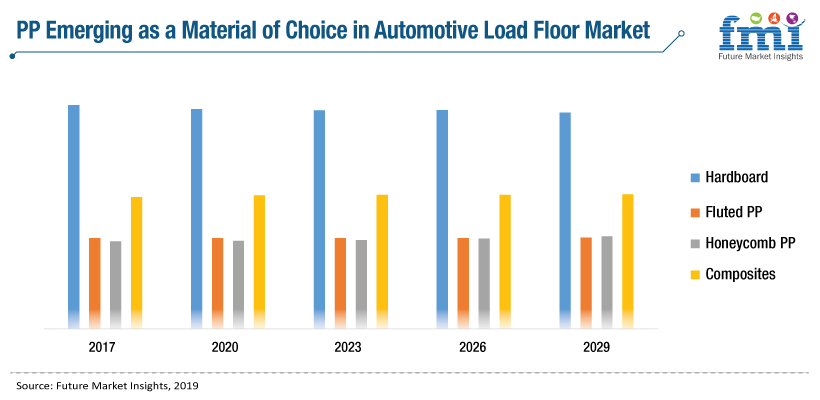 * This data is only a representation. Actual data may vary and will be available in report.
Click Here To Know How The Growth Will Unfold
Custom Market Research Services
FMI offers custom market research services that help clients to get information on their business scenario required where syndicated solutions are not enough.
Overview
Automotive Load Floor Market Analysis 2019-2029
Future Market Insight published its recent report on the global automotive load floor market, which comprises of the global industry analysis 2014-2018 & opportunity assessment 2019-2029. It includes a comprehensive assessment of the relevant and related market dynamics. After conducting a complete analysis on the historic as well as current growth prospective of the automotive load floor market, the growth predictions of the market are obtained with maximum accuracy.
Automotive Load Floor Market Competition Analysis Taxonomy
The global automotive load floor market is segmented in detail to cover every aspect of the market and present a complete market intelligence approach in front of the reader.
By Material Type
Hardboard
Fluted Polypropylene
Honeycomb Polyprolene
Composites
By Application
Interior Systems
Cargo Systems
Load Floor Systems
By Vehicle Type
Compact
Mid-Size
Luxury
SUV
LCV
By Region
North America
Latin America
Europe
South Asia & Pacific
East Asia
Middle East & Africa
How the research was conducted?
Primary Research
Primary research interviews with key opinion leaders and other participants were conducted for data collection and validation of the below information:
Adoption of Automotive Load Floor
Average Selling Price (US$) and Market Growth
Key Developments
Key Trends and Opportunities
Regional wise Dynamics
Market Share Information
Key Brands
Competition & Key Vendor Strategies
Secondary Research
Company Press Release
Published Trade Data
Quarterly Financial Statements, 10-K & 10-Q Filings, Factiva, Morning Star
Annual Reports/SEC filings/Investor Presentations/Earning Call Transcript
Industry Journals
Press Information and Data Released by Exhibitions Conducted By Associations, etc.
OICA
ACMA
Primary Interview Splits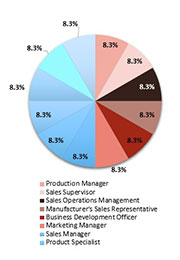 To Learn More About our Comprehensive Perspective on Automotive Load Floor Market Competition Analysis,
Get in touch
COVID -19 : Impact Analysis
Request the coronavirus impact analysis across industries and markets
Request Covid -19 Impact
CASE STUDIES
See how our work makes an impact.
At FMI, we design strategies that are adaptive, impactful, and implementable.