Di-electric Gases Market By Gas Type (SF6 Di-Electric Gases, Dry Air Di-Electric Gases, Nitrogen Di-Electric Gases), Application (Medium Voltage, High Voltage, Extra & Ultra High Voltage), End Use (Heavy Metals, Mining, Transportation) & Region - Forecast to 2021- 2031
Di-electric Gases Market - Analysis, Outlook, Growth, Trends, Forecasts
April 2021

REP-GB-8514

245 pages
About the Report
[245 Pages Report] The di-electric gases market is estimated to grow at a substantial rate over the forthcoming years due to its rising demand from several application industries such as, chemicals & petrochemicals, heavy metals, mining, transportation, and others. Growth registered in the segment of SF6 is expected to aid expansion of the overall market. The rising installations of gas insulated switchgear and adoption of gas based transmission are some of key factors enabling growth in the di-electric Gases market.
ESOMAR-certified market analysis and consulting company Future Market Insights (FMI) provides insights driving Di-electric Gases market demand in latest report. Additionally, to find the effect of COVID-19 on the Di-electric Gases market in general, the study monitor global Di-electric Gases sales in 20+ high-growth markets and addresses their end-user in particular.
How the Historical and Future Outlook of the Di-electric Gases Market Match Up?
Di-electric gases market has been growing at a significant pace in Europe, Asia Pacific, and North America. The development of new and alternative products for SF6 and technology innovations will drive sales in the market. These gases are commonly used as insulating medium in high voltage transmission units such as transformers, switchgears, and gas insulated lines. The gas is used as an insulating media that consists of good dielectric strength, chemical inertness, non-flammability, high thermal stability, and low boiling point.
Various industries are demanding more efficient and economic products for their usage. There also is increase in demand from other industries, including the railway sector. Increasing operations of bullet trains and high-energy transportation have created significant opportunities for the growth of gas-based transmission grids.
Also, there are a number of existing & emerging trends that are shaping the market. This includes development of alternative technologies, growing adoption of gas based transmission units globally, development of light-weight gas filled transformers and development of SF6 technology alternatives. According to FMI's analysis, di-electric gases sales have grown at 7.6% CAGR between 2016 and 2020.
SF6 and dry air are significantly used in power industry and transportation, which will aid the overall expansion. Owing to the COVID-19 impact, there are cancellation of projects, investment cuts, employee furloughs & lack of cash flow, which are estimated to lead in substantial plunge in the construction industry & global economy. Moreover, the supply chain of Di-electric gases market is anticipated to result in a drastic plunge. In order to control this situation, the global key players in the market are strongly focusing on providing better solutions in the supply chain which is anticipated to be constant business continuity in the assessment period.
The pandemic COVID-19 has hit the global health and economic institutions. The growth of the Di-electric Gases market is also anticipated to be affected by this pandemic crisis and is also expected to see a significant drop in growth of dielectric market in the assessment period.
What is the Application of Di-electric Gases in Power Utilities?
Dielectric gases are also called as insulation gases, this are dielectric materials that are present in the gaseous state. These gases are used as an insulating media in power industry which consist of low boiling point, good dielectric strength, high thermal stability, chemical inertness and non-flammability. The most common gases used across the globe for insulation purpose in dielectric gases are Nitrogen, dry air, SF6, fluoronitrile (FN), fluoroketones (FK), and others. As a result, di-electric gases have captured significant share in power utilities, chemicals and petrochemicals industry which is expected to boost the market demand in the forecast period.
What is the Regulatory Impact on Global Sales?
Over the last few years, strict environmental regulations and global climate change have increased the adoption of energy efficient transmission systems. As SF6 segment is considered to be a major greenhouse effect causing gas, there are a number of regulations pertaining to the leakage of gas from circuit breakers. Health and safety organizations, including Occupational Safety and Health Organization (OSHA), The National Institute for Occupational safety and Health (NIOSH), have also issued warnings regarding the formation of toxic compounds from the electrical discharge of SF6 gas. As a result, there has been growing penetration of vacuum based and alternative gas bas transmission products in the market.
Opportunities in Di-electric Gases market
According to FMI, various market players are engaged in the manufacturing of existing products, such as SF6, dry air, and nitrogen, while others are engaged in the development of alternatives of SF6 gas type. SF6 plays a major role in the dielectric gases market and is also one of the major greenhouse gases.
Hence, in order to replace the SF6 technology, alternative products must be developed. Currently, only 3M has developed an alternative technology, but the technology has not been commercialized yet. Therefore, there exists a golden opportunity for the new players to develop an alternative technology and create their place in the global Dielectric Gases market.
Country-wise Insights
What is the Share of China in the Di-electric Gases Market?
With rapid urbanization and industrial development in China, there is substantial growth in power transmission. This in turn has led to the increasing demand for electricity transmission infrastructure that enable reliable and safe distribution of power. Also, with rising technological advancements, various new electrical generators have been manufactured in China. This has been driving the demand for dielectric gases in China.
How is the Market Projection in Germany?
The demand for SF6 in Germany is growing day by day. It is being widely used in high-voltage power and in high-voltage power system, ultra-high-voltage power and extra high-voltage power because of its high reliability, small footprint, low maintenance cost & flexible configuration. SF6-insulated equipment includes gas-insulated transformers (GIT), gas-insulated lines (GIL), cubicle-type gas-insulated switchgear (C-GIS), gas-insulated circuit breakers (GCB), and others are commonly used in power utilities with the advancement of technology. Henceforth, Global dielectric gases market has a great opportunity in Germany to grow at a significant rate.
Will the U.S. Continue Dominating Global Di-electric Gases Market?
The U.S. accounts for a maximum share in the global market of di-electric gases. The switchgear segment holds the leading share in the country owing to the presence of a significant number of leading players within the power industry. Also the strong growth in chemical sector within the country will continue supporting growth.
Moreover, dielectric gases are used in electrical insulators in high voltage applications such as transformer, Switchgear, Gas Insulated Lines and circuit breakers in U.S. which is driving the demand for power industry and it also prevent electric discharge, due to this application the demand of Di-electric Gases is also expected to grow in the U.S. during the forecast period.
What is the Di-electric Gases Market Scenario in the India?
The dielectric gases market is the fastest growing market in South Asia pacific during the assessment period and is expected to grow at the same rate in the upcoming years owing to increasing demand for energy industry in India which adversely increase the demand of power utilities in this industry. Particularly, consumption of dielectric gases is increasing in India due to accelerating demand from industries such as power utilities for energy generation applications.
Is Demand for Di-electric Gases Increasing in Japan?
In Japan, various large plants were constructed over the last few years, including 15 petrochemical complexes. Meanwhile, Japan is improving their standard of living and continuous increase in demand for processed chemical products has led to the emergence of new fine-chemical key players which was expected to grow Nitrogen, Fluoronitrile (FN), Fluroketones (FK) segments in Japan.
Category-wise Insights
Why Has Power Utility Industry Emerged as Chief End User?
Accounting almost half of the overall market share, the power utility industry is expected to drive the global di-electric gases market. There has been noticeable growth in power consumption in East Asia. Growing demand for power has led to demand for establishing power transmission and distribution lines.
This, in turn, has been driving the demand for gas based transmission products, especially from medium and high voltage applications. Growing adoption of technologically advanced products and long-term investments are anticipated to propel the demand for gas based transmission grids in power industry and hence, will uplift the growth of Dielectric Gases market during the forecast period.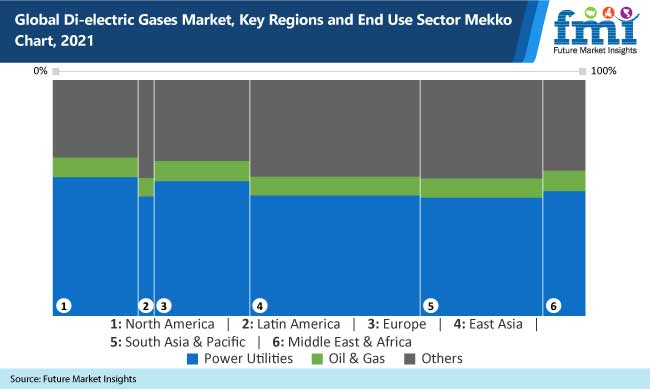 How Big Is SF6 Segment in Di-electric Gases Market?
The SF6 segment is estimated to account 83% of global market share in gas type segment, and is further expected to grow in the coming years benefiting the di-electric gases market, as Di-electric Gases is used as insulating medium in high voltage transmission units, such as switchgears, transformers, gas insulated lines, etc. The gas used as an insulating media must have good dielectric strength, chemical inertness, high thermal stability, non-flammability and low boiling point. As a result, the demand for Di-electric Gases is expected to witness substantial growth in near future.
What's the Market Share of Switchgear?
The switchgear segment are also expected to account half of the global share among end use equipment type over the forecast period. The switchgear Di-electric Gases segment is composed of electrical disconnect switches, fuses or circuit breakers used to control, protect and isolate electrical equipment. Switchgear is used both to de-energize equipment to allow work to be done and to clear faults downstream.
Competitive Landscape
Key players in the di-electric gases market are continuously searching for ways to provide higher quality products, lower costs, and stable supply for long durations, which will help manufacturers to move the business segment smoothly. Most of the smaller companies are going into long-term contracts with contract manufacturers to supply customized products at cost-competitive prices for the end use applications. The Di-electric Gases market is a fragmented market in which more than half of the market value share is owned by the main players.
Some of the leading companies operating in the market are:
The 3M Company
Solvay S.A.
General Electric
The Linde Group
Matheson Tri-Gas, Inc.
Kanto Denka Kogyo Co., Ltd.
ABB Inc.
Messer Group GmbH
*The list is not exhaustive, and only for representational purposes. Full competitive intelligence with SWOT analysis available in the report.
Scope of the Report
Attribute

Details

Forecast Period

2021-2031

Historical Data Available for

2016-2020

Market Analysis

USD Million for value and Tons for Volume

Key Regions Covered

North America, Latin America, Europe, East Asia, South Asia & Pacific, Middle East & Africa

Key Countries Covered

US, Canada, Germany, U.K., France, Italy, Spain, Russia, China, Japan, South Korea, brazil, Mexico, GCC Countries, Turkey, Northern Africa, South Africa.

Key Segments Covered

Product Type, Application and Region

Key Companies Profiled

The 3M Company
Solvay S.A.
General Electric
The Linde Group
KPL International Limited
Matheson Tri-Gas, Inc.
Kanto Denka Kogyo Co., Ltd.
Showa Denko K.K.
ABB Inc.
Messer Group GmbH

Report Coverage

Market Forecast, brand share analysis, competition intelligence, DROT analysis, Market Dynamics and Challenges, Strategic Growth Initiatives

Customization & Pricing
World's Most Profilic Intelligence Engine
Get Access To The World's Largest Market Research Database.
Sign Up Now
Di-electric Gases Market by Category
Gas Type
SF6 Di-Electric Gases
Dry Air Di-Electric Gases
Nitrogen Di-Electric Gases
Fluoronitrile (FN) Di-Electric Gases
Fluroketones (FK) Di-Electric Gases
Others
By End Use Equipment
Switchgear
Transformers
Gas Insulated Lines
Application
Medium Voltage
High Voltage
Extra & Ultra High Voltage
By End Use Industry
Power Utilities
Oil & Gas
Chemicals & Petrochemicals
Heavy Metals
Mining
Transportation
Other Industrial
Region
North America
Latin America
Europe
East Asia
South Asia & Pacific
Middle East and Africa (MEA)
Key Questions Answered in the Report
Which is the Most Lucrative Market for Di-electric Gases?
China is estimated to remain one of the leading markets for Di-electric Gases owing to strong presence of various end-use industries.
Which Are The Top-Selling Di-electric Gases?
SF6 di-electric gases along with Fluoronitrile (FN) di-electric gases are top-selling products in the market. The demand for SF6 is expected to remain high in the assessment period, from 2021 to 2031, especially due to its properties such as chemically stability, non-flammability, high electronegativity, and excellent dielectric property of approximately 2.5 times more than air.
Who is the Leading End User of Di-electric Gases?
High voltage di-electric gases are widely used in the power utility industry. Their usage in chemicals and petrochemicals, and transportation sectors is rising day-by-day.
Which are some of the Leading Companies Providing Di-electric Gases?
Some of the leading companies manufacturing Di-electric Gases are the 3M Company, Solvay S.A., General Electric, The Linde Group, KPL International Limited, Matheson Tri-Gas, Inc., Kanto Denka Kogyo Co., Ltd., Showa Denko K.K., ABB Inc., Messer Group GmbH and others.
Which is Preferred End-use Equipment for Di-electric Gases?
The switchgear segment is driving sales of di-electric gases.
Need specific information?
Our Clients