Introduction
The study covers broad information about market dynamics, value (US$ Mn) and volume (Tons) projections, competition landscape and key developments regarding the dielectric gases for the forecast period 2018 - 2028.
The global dielectric gases market is projected to attain a value of US$ 214.6 Mn by the end of 2028. The global market for dielectric gases is anticipated to grow at a healthy CAGR of 7.9% between 2018 and 2028. Growing adoption of dielectric gases owing to their superior dielectric properties and the fact that they reduce the risk of fire, which is higher in case of oil-based transmission units, will drive market growth.
Moreover, weight reduction and size reduction of transmission units can also be attained by using dielectric gases as an insulating medium in products. Therefore, the overall dielectric gases market is projected to witness healthy growth during the projected time period.
Fluoronitriles & Fluoroketones to Emerge as Best Possible Alternatives for SF6
On the basis of gas type, the global dielectric gases market has been segmented into SF6, Dry air, Nitrogen, Fluoronitriles, Fluoroketones and other gases. Among all these segments, SF6 holds dominant share in the global dielectric gases market. The superior dielectric properties of SF6 is the only reason for the dominant share of SF6 gas in the market. Moreover, SF6 is one of the major greenhouse gases with global worming potential of 23500 and atmospheric life time of 3200 years.
Owing to this property of SF6, the fluoronitriles and fluoroketones segments are projected to gain significant popularity in future. These gases have similar properties and very low global worming potential. Hence, in the global dielectric gases market, fluoronitries and fluoroketones will emerge as best possible alternatives for SF6 during the projected period.
Development of SF6 Technology Alternatives Should Be the Prime Focus of Dielectric Gases Market Players
In the global market for dielectric gases, various players are engaged in the manufacturing of existing products, such as SF6, dry air, nitrogen and others, and others are engaged in the development of alternatives of the current technology i.e. SF6. SF6 plays a major role in the dielectric gases market and is also one of the major greenhouse gases. Hence, in order to replace the SF6 technology, alternative products must be developed.
Currently, only 3M has developed an alternative technology, but the technology has not been commercialized yet. Therefore, there exists a golden opportunity for the new players to develop alternative technologies and thus, create their own place in the global dielectric gases market.
Growing Demand for High Voltage Devices to Push Demand for Dielectric Gases
With rapid urbanization and industrial development in countries, such as India, China etc., significant growth in power transmission and distribution sector is being witnessed, which in turn, has led to growing demand for electricity transmission infrastructure to enable safe and reliable distribution of power. With growing technological advancements, a number of new electrical generators have been manufactured.
Operational changes in power transmission and distribution which focus on energy-efficient power transmission have led to high demand for high voltage devices. This has been driving the demand for dielectric gases due to growing penetration of gas-based transmission units across the globe. Hence, urbanization and industrial development will have a positive impact on the overall growth of the dielectric gases market across the globe.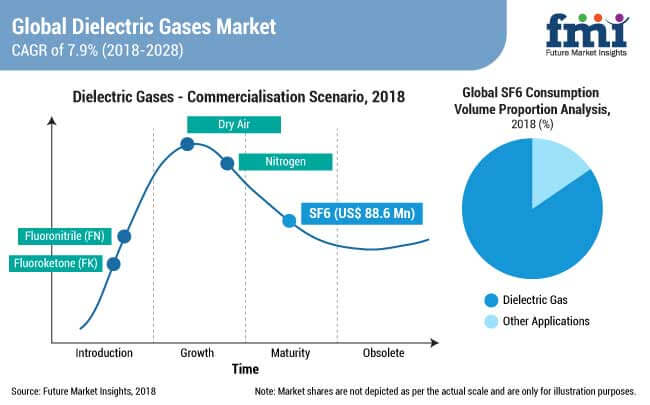 Competitive Landscape: Manufacturers are Engaged in Product Development by Technology Exchange & Collaborations
Development and commercialization of alternative technologies of SF6 has become a trend in the global market. Many alternative technologies for Dielectric Gases, such as vacuum and solid epoxy filled products, are also available in the market. These products have become commercialized only for medium voltage application products. For high voltage application products, only 3M has developed an alternative by collaborating with GE and ABB.
The collaboration of 3M with GE & ABB led to the development of g3 & AirPlus insulation gases which are manufactured using 3M's Novec™ 4710 and Novec™ 5110
Moreover, the dielectric gases market is consolidated and mainly dominated by the manufacturers of SF6 since SF6 is one of the leading dielectric gases and holds majority share in the global dielectric gases market. The dielectric gases market is currently concentrated with SF6 manufacturers and is expected to become fragmented due to growing demand for alternatives of SF6.
Some of the key players covered under this study are 3M Company, Solvay S.A., The Linde Group, Messer Group, General Electric Company, ABB Inc., SHOWA DENKO K.K., KPL International Limited, Matheson Tri-Gas, Inc. and Kanto Denka Kogyo Co., Ltd., among others.
Key Questions Answered
How has the dielectric gases market evolved in the past few years?
How is the dielectric gases market expected to grow, both in terms of value and volume, during the forecast period?
What are the key market dynamics in the global dielectric gases market?
What are the important developments in the global dielectric gases market?
How are the underlying macro-economic and industry factors impacting the overall growth of the dielectric gases market?
What are the key opportunities and challenges for dielectric gases market players?
What are the market positioning and key strategies of manufacturers as per the dielectric gases market taxonomy?
How is the competition structured in the dielectric gases market at present and how has it evolved over the past few years?
Dielectric Gases Market: Segmentation
Gas Type
SF6
Dry Air
Nitrogen
Fluoronitrile (FN)
Fluoroketone (FK)
Others
End Use Equipment
Switchgear
Transformers
Gas Insulated Lines
Application
Medium Voltage
High Voltage
Extra & Ultra High Voltage
End Use Industry
Power Utilities
Oil & Gas
Chemicals & Petrochemicals
Heavy Metals
Mining
Transportation
Other Industrial
Regions
North America
Latin America
Europe
Asia Pacific ex. Japan & China
Middle East & Africa
China
Japan
Need specific information?