Electric Toothbrush Market - Key Research Findings
Global electric toothbrush market size in 2017 – nearly US$ 3 Bn
The electric toothbrush market is expected to grow at a CAGR of 7.4% over 2019-2027
Disposable Electric Toothbrush trending in the market
According to Centers for Disease Control and Prevention (CDC)

The risk of periodontal diseases increases with age. Almost 50% of the US population (aged 30 years and above) suffers from periodontal diseases.
Adults aged 70 years and above are more likely to develop periodontal diseases with over 70% possibility.

North America and Europe are expected to remain the largest regional markets for electric toothbrush.

Growing availability of rechargeable electric toothbrush will continue to generate substantial revenue in electric toothbrush market. Among the various types of electric toothbrush, the rechargeable segment accounts for maximum revenue share of nearly US$ 2 Bn.

Asia Pacific excluding Japan (APEJ) holds high growth potential for the electric toothbrush market.

The rapidly increasing rate of periodontal diseases and increasing spending power are most likely to significantly contribute to the growth of the electric toothbrush market within APEJ, particularly in fast-progressing economies such as China and India.

By activity or head movement, rotation/oscillation electric toothbrush will remain among the most preferred electric toothbrush.

Rotating head and rotation/oscillation abilities of an electric toothbrush will continue to gather traction owing to high convenience and better reach during brushing.
Top 3 Factors Shaping the Electric Toothbrush Market
Increasing Oral Disease Prevalence to Push Sales of Oral Care Products Including Electric Toothbrush

In line with the increasing demand for oral care products that help reduce the most commonplace oral health conditions such as gingivitis, demand for a variety of electric toothbrush will also witness a rise in coming years. According to CDC, an average of over 50% of Americans aged 30 years and above suffer from oral care diseases and thus, are more likely to prefer products such as electric toothbrush for better oral care.

Superior Functional Attribute Continues to Position Electric Toothbrush Preferable over Manual Variants

Electric toothbrushes have gained popularity within a short period due to their various benefits. Unlike a manual toothbrush, an electric toothbrush provides superior technology that efficiency removes more plaque. For instance, a manual brush can complete 300 to 400 strokes per minute, whereas an electric toothbrush typically rotates from 7,000 to 30,000 strokes per minute.

Smart Electric Toothbrush Trending in Market

A few other features of electric toothbrush such as pressure sensor technology, head replacement reminder, and real-time data transfer to smart gadgets also are cited important factors pushing sales in global market. Electric toothbrush equipped with smart technologies such as Bluetooth or data transfer technology that can gather data from a user's brushing habits, is one of the most trending products in electric toothbrush market.
Moreover, an electric toothbrush has replaceable heads and alerts the user to replace them as and when needed, which is another trending feature favouring demand for electric toothbrush, particularly among savvy consumers.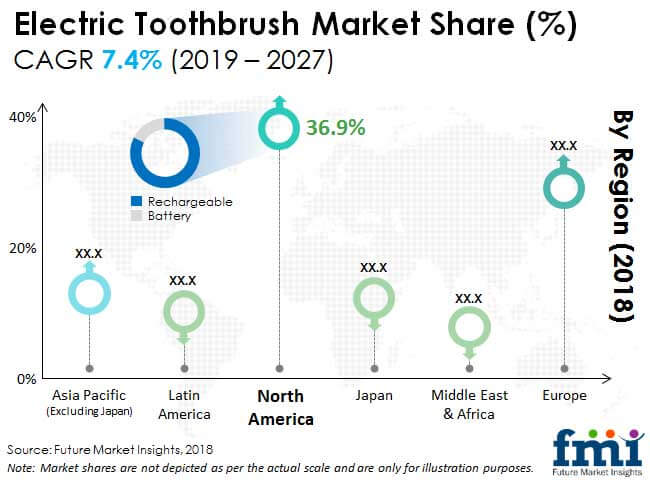 The bristles of electric toothbrush are softer compared to manual counterparts. Soft and ultra-soft bristles of electric toothbrush ensure smoother brushing than that offered by manual toothbrush and at time, patients with oral care conditions find electric toothbrush relatively more comfortable. Moreover, children tend to prefer electric toothbrush over manual variants, according to a recent survey.
Electric Toothbrush Market Structure Analysis
Growing Acceptance from All Demographics to Boost Electric Toothbrush Market

The global electric toothbrush market represents a consolidated competition landscape, wherein Tier 1 companies hold more than 42% revenue share.
While most of the key players maintain a strategic focus on the North American and European markets, the report underscores that technology assessment will be an important developmental strategy for companies partaking in the competition landscape of the electric toothbrush market.
Companies in the electric toothbrush market are also concentrating on the rising smart technology trend, whereas cost-competitiveness will remain a strong differentiation strategy.
Some of the active players in the electric toothbrush market include Brush Buddies Company, Ningbo Seago Electric Co., LTD., and Kolibree Company.
Key Segment
Based on product type
Based on Price
economy
mid-range
premium
Based on Head Movement
rotation/oscillation
sonic/side-by-side
Based on Sales Channel
hypermarkets/supermarkets
specialty stores
drug stores & pharmacies
convenience stores
online retailers
others
Need specific information?