About the Report
The automotive industry has witnessed substantial growth in the recent decades. This growth is expected to persist over the coming years owing to increasing investments for automotive exploration activities across the globe. The automotive wiring harness is a necessary component having implementation in the electrification of vehicles. Subsequently, the growth in automotive industry creates lucrative growth in demand for automotive wiring harness.
In its new study, ESOMAR-certified market research and consulting firm Future Market Insights (FMI) offers insights about key factors driving demand for automotive wiring harness. The report tracks the global sales of automotive wiring harness in 20+ high-growth markets, along with analyzing the impact COVID-19 has had on the automotive industry in general, and automotive wiring harness in particular.
Historical and Future Outlook on Automotive Wiring Harness
Complying with challenges like vibration, friction and hardware protection has always been one of the prime concerns of automotive companies. Choosing a suitable solution is critical for safety, reliability, and minimal downtime.
As the automotive industry pushes its tools to ever greater limits for exploring new applications, the need for more robust, high-performance systems is expected to surge during the coming years.The leading automotive wiring harness manufacturers are focused on developing technologically advanced merchandises, as well as quality aspects of vehicles with improved safety, reliability, and minimal downtime.
Automotive wiring harness has been consistently implemented for preventing hazards and improving system reliability and vehicles performance for the past few decades. Owing to the ongoing crisis caused by COVID-19 pandemic, the production and supply chain activities have seen a minor slump yet the consumption will improve with the economic recovery post the containment of the pandemic.
The COVID-19 pandemic has caused severe impact on the global economy at various levels and the impact is seen on automotive as well. Automotive wiring harness market growth is also projected to be affected by the COVID-19 pandemic crisis and is expected to witness a significant plunge in demand in 2020. With a number of end users affected in regions like South Asia and Pacific and Middle East and Africa, the supply and shortage in demand are expected to result in a significant drop in Y-O-Y growth yet FMI expects global automotive wiring harness market to grow at 7.9% CAGR through 2031.
Wiring Harness – The Nervous System of an Automobile
From manufacturer's side, automotive wiring harness provides certain benefits such as reduced installation time and installation of multiple wires into the vehicle system. This gives manufacturers significant reduction in installation process, saving production costs with automated systematic installation. Moreover, this also reduces the risks of incorrect wiring possibilities.
Moreover, wiring harness remains the nervous system of any automobile. Hence advancement in the technology and optimization remains key factors to harness the commercial potential at the manufacturers' end. Tie-ups with tier one OEMs and creating long-term contracts remain key strategies of market players.
How R&D Investments Impact The Future Wiring Harness?
Wiring harnesses connect all electric and electronic components in a vehicle, enabling the communication and information flow as well as their energy provision. In the past, the harness used to be a price-driven commodity product, however, autonomous driving and electrification are now inducing a paradigm shift for this industry. The harness is now not only the most expensive bought-in part in the vehicle, but also become one of the most quality critical ones, as it increasingly enables safety critical functions such as steering, braking or lane switching. Hence major automotive OEMs are focused on developing new age wiring harness with significant R&D investments. This is attributed to need of maintaining competitive footprint by the key players.
Automotive OEMs are looking at new electrical architectures to simplify harness designs so they can minimize wiring complexity and cost. In FMI's survey with stakeholders, a leading player such as Yazaki Corporation stated that they are investing a lot into R&D for developing secure and reliable systems. It also plans on switching from copper to aluminum helps save weight and trims costs.
What is the Regulatory Impact on Global Production?
Government regulation in the automotive industry directly affects the product, how their components are designed, the safety features that are included, and the overall performance of any given vehicle. As a result, these regulations also have a noteworthy effect on the automotive business by generally increasing production costs while also placing limitations on marketing. Automotive regulations against CO2 emission are designed to benefit the consumer and protect the environment which may hinder conventional car production at the same time creating opportunities for overall sales of electric vehicles.
Country-wise Insights
How Big is the Chinese Automotive Wiring Harness Market?
China has been the world's largest automotive manufacturing country since 2009. China accounted for over 30 percent of worldwide vehicle production in 2018. This capacity exceeds that of the European Union or that of the United States and Japan combined.
China also remains a leading country in the production and sales of electric vehicles. With growing electrification in conventional vehicles and increasing adoption rate of electric vehicles, the automotive wiring harness market is anticipated to witness significant growth in China during the assessment period.
Attributing to these factors, China remains one of the largest markets for automotive wiring harness in the world, which invariably makes it a lucrative pocket for automotive wiring harness manufacturers.
US Automotive Wiring Harness Sales Likely to Recover
In U.S. electronics solutions providers have said demand for electrical wiring harnesses and cable assembly is exceeding their production capacity. This can be attributed to customers who are asking alternative contract manufacturers to help meet current electrical cable design and assembly needs.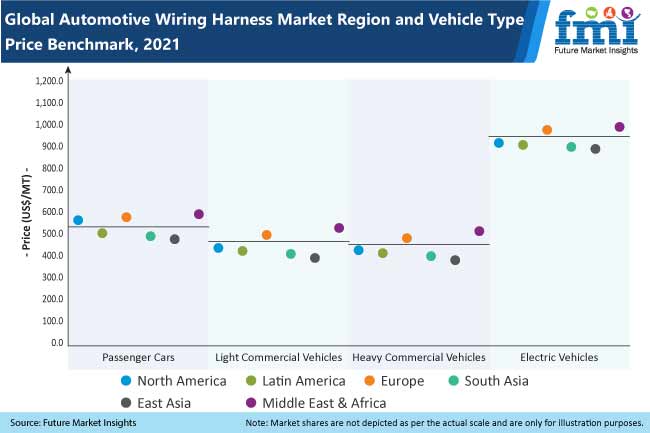 This is playing out frequently in Silicon Valley, and elsewhere, based on discussions with many providers and their customers. The growing automotive production and higher level of automation in automated vehicles is anticipated to further shape the American market.
What is the Indian Automotive Wiring Harness Scenario?
The Indian automotive industry is witnessing a phase of rapid transformation and growth, mainly driven by stable economic growth and infrastructure development. The Indian automobile industry has emerged as the seventh largest in the world, and the auto components industry is gearing up to compliment the vehicle industry's growth. India has a low-cost manufacturing base but a highly skilled manpower resource. This has attracted foreign players for partnership and linkages.
With electronic content per car increasing, usage of wiring harness, i.e. wires, connectors and terminals, running all over the vehicle for relaying power and information are expected to rise. There is an increased focus on improving the manufacturing systems and practices, both through product design initiatives like modular design to process designs initiatives like creating more visual prompts for the operators to enhance the productivity and meeting quality targets.
Outlook on German Automotive Wiring Harness Market
Within the EU, Germany is by far the largest importer of vehicle wiring harness. On the other hand, although Germany is not a low-cost labor market, several of the major harness companies have headquarters, design and testing labs, and logistical centers in Germany.
The overall vehicle wiring harness is costly in European region. The difference is attributed to the mix of car models produced, with countries such as Germany, Sweden, and the UK having a higher percentage of large and luxury class vehicles.
How Japanese Automotive Wiring Harness Manufacturers are Expanding their Footprint?
Japanese manufacturers are expanding production on a global scale. This trend offers increased opportunities for collaboration between foreign automotive parts manufacturers and Japanese automobile and automotive parts manufacturers. Japanese manufacturers are expanding overseas to expand their global bases. Yazaki's investment, amounting to MAD 462 million, consists of extending its activities in Morocco through the creation of three new factories of the group in Tangier, Kenitra and Meknes, allowing the creation of 6,300 jobs.
Sumitomo is planning the creation of its fifth factory in Casablanca in order to meet the needs of its customers FCA and CNH Global. This new investment of MAD 450 million will generate 2,000 jobs. These investments are related to the construction of new industrial units for the production of cable harnesses by the two Japanese groups Yazaki and Sumitomo.
Is the Electric Vehicle Segment Fueling Demand for Automotive Wiring Harnesses?
Vehicle OEMs with new growth products (think Tesla), are creating products that naturally have a higher electrical system content. As such, they are starting to focus on improving their wiring design methods. These products include, autonomous vehicles with spinoff options and, of course, mainstream electric vehicles and their supporting electric charging infrastructure.
Standardization of electric vehicle recharging connectors is going through growing pains for increasingly high power DC and AC connectors. They are provided by competing companies and government standards, in the U.S., Europe, and Asia. The electric vehicle segment will continue to account for over one-third of the global share during the assessment period. According to FMI, the segment is expected to hold nearly one fourth of the market, in terms of vehicle type, by the end of 2031.
Key Market Dynamics in Automotive Wiring Harness Market
The changes in vehicle electronics announced by the automotive industry will result in massive changes in cabling i.e. introduction of a more centralized computer architecture with powerful domain computers instead of dozens of distributed ECUs; increased use of sensors with correspondingly higher data volumes within the vehicle and between the vehicle and the outside world, as well as the electrification of the drive train.
Also, in automotive electrics and electronics the wiring harness in the vehicle is one of the heaviest and most expensive individual parts of a car after the engine and transmission. In addition, the vast range of variants of today's vehicle models requires a tailor-made cable system for almost every possible configuration. It is precisely the factor that will significantly increase the amount of cabling in cars.
What Opportunities will Arise for Automotive Wiring Harness Manufacturers?
According to FMI, the demand for automotive wiring harness will be higher for existing automotive wiring harness infrastructure for product development of highly efficient vehicles. Moreover, growing electric vehicle infrastructure such as charging stations in emerging economies as well governmental subsidiaries related to it is anticipated to create more opportunities. This will improve EV production with future appraisal and development activities.
Competitive Landscape
The automotive wiring harness market is a highly competitive market with leading players offering cost-competitive products. Some of the players are focusing to carve a niche for specific demography. Leading players hold more than three-fourth of market share.
Automotive wiring harness manufacturers are just as focused on developing the right manufacturing processes. By examining the full function of a wire harness - how and where it will be used, how long it will be in operation, the stresses it will endure in its lifetime - and develop a complete manufacturing methodology to address these factors, choosing from a range of materials and techniques.
Companies are aiming at strategic collaborations with end users and regional distributors to address the requirements of an expanding customer base. Suppliers adopt acquisition and regional expansion strategies to establish a foothold. Brand consciousness and aggressive marketing makes it challenging for new entrants in the automotive wiring harness market. Through these developments, companies are aiming at competitive advantage. Furthermore, advances in electric vehicle technology is also expected to create positive growth prospects for the growth in demand for automotive wiring harness.
Some of the leading companies operating in the market are:
LEONI Group
Samvardhana Motherson Group
Sumitomo Electric
Yazaki Group
Fujikura Ltd.
Lear Corporation
Furukawa Electric Co. Ltd
YURA Tech Corporation
Nexans
*The list is not exhaustive, and only for representational purposes. Full competitive intelligence with SWOT analysis available in the report.
Scope of the Report
Attribute

Details

Forecast Period

2021-2031

Historical Data Available for

2016-2020

Market Analysis

USD Million for value and Units for Volume

Key Regions Covered

North America, Latin America, Europe, East Asia, South Asia & Pacific, Middle East & Africa

Key Countries Covered

US, Canada, Germany, U.K., France, Italy, Spain, Russia, China, Japan, South Korea, India, Oceania, GCC Countries, Turkey, South Africa

Key Segments Covered

Product Type, Vehicle Type, Sales Channel and Region

Key Companies Profiled

LEONI Group,
Samvardhana Motherson Group
Sumitomo Electric
Yazaki Group
Fujikura Ltd.
Lear Corporation
Furukawa Electric Co. Ltd
YURA Tech Corporation
Nexans

Report Coverage

Market Forecast, brand share analysis, competition intelligence, DROT analysis, Market Dynamics and Challenges, Strategic Growth Initiatives

Customization & Pricing
Key Questions Answered in the Report
Which is the most lucrative market for automotive wiring harness?
China currently leads the global market for automotive wiring harness. Sales in China will be over one fifth of total demand throughout the forecast period.
Which are the top-selling automotive wiring harness?
Chassis & Safety are highly sought-after in any vehicle production. The demand for Semi-Forward Chassis is expected to remain high in the near future, especially due to its proliferated usage across electric and conventional vehicles.
Which vehicle type remains lucrative for automotive wiring harness manufacturers?
Automotive wiring harness are widely used in passenger cars. Their usage in electric cars is anticipated to remain key factor impacting the overall market growth.
Which are some of the leading companies providing automotive wiring harness?
Some of the leading companies manufacturing automotive wiring harness are LEONI Group, Samvardhana Motherson Group, Sumitomo Electric, Yazaki Group etc.
Key Segments
Product Type
Chassis & Safety

Conventional Chassis
Semi-Forward Chassis
Full Forward Chassis

Body

Roof
Door & Window
Facia
Seat
Interior

HVAC
Engine
Sensors
Vehicle Type
Passenger Cars

Compact
Mid-Sized
SUV
Luxury

Light Commercial Vehicles
Heavy Commercial Vehicles
Electric Vehicles
Sales Channel
Region
North America
Latin America
Europe
East Asia
South Asia & Pacific
Middle East and Africa (MEA)
Need specific information?
Talk Show:
The Rise of Intelligent Packaging
Personalized, Connected and Sustainable
November 18, 2021
11:00-11:45 AM PST (USA & Canada)
This is a LIVE session