Gluten-free Bakery Premix Market to surpass US$ 486 Mn by 2029
Food safety concerns regarding allergens have thrust the global Gluten-free Bakery Premix market to grow at a healthy CAGR of more than 5% between 2019 and 2029. Rising health consciousness among end consumers is anticipated to drive up demand as such products minimize the risk of conditions such as obesity, cardiac ailments and certain metabolic syndromes. Gluten-free Bakery Premix finds roles in a number of food products such as breads muffins, cakes and more.
Rising Product Sales in Bakeries Paves Way for Faster Adoption
In terms of end use applications, bakeries are projected to hold a market share of more than 72%, which can be attributed to higher sales, particularly in North America and Europe. The segment is also projected to grow faster owing to the presence of major bakery product manufacturers in these regions. A strong surge of tourism, particularly in the Asia Pacific is anticipated to bolster consumption of bakery products, which in turn will increase the demand for Gluten-free Bakery Premix.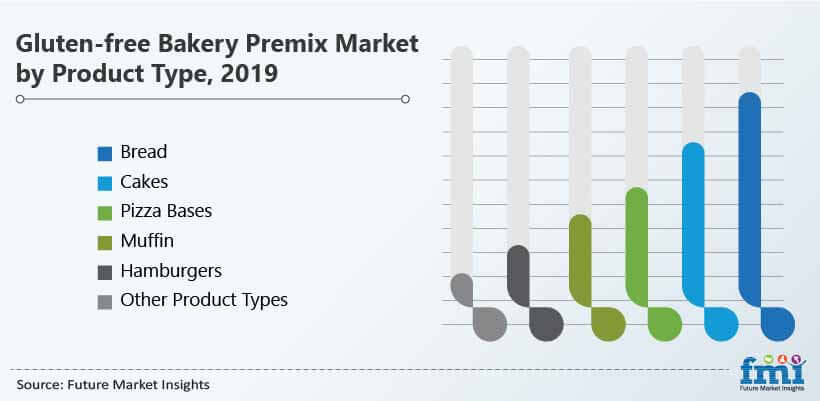 Europe and North America Leads Global Market
Europe and North America collectively account for more than 55% of market share. Rising interest of consumer towards healthy lifestyles is boosting the demand for products made from Gluten-free Bakery Premix.
The rising awareness of the side effects of gluten consumption such as celiac disease is driving demand in these regions, which in turn is expected to have a favorable impact during the forecast period. In the Asia Pacific region, the rising demand for western foods such as burgers, pizzas, and sandwiches are projected to increase the demand for Gluten-free Bakery Premix.
Breads Gain Traction as Protein Source
Breads currently account for the leading market share in the gluten free bakery premixes industry at 28.5%. This can be attributed to the rising global population, and the rising scarcity of animal based protein sources.
In turn, bread products are increasingly witnessing higher rates of consumption as a plant based source of proteins. Growing international travel is also a contributor to the consumption of bread. Cakes are also projected to hold a major market share, as manufacturers continue to focus on gluten-free premixes to keep end products fresh and healthy, which will fuel growth.
Direct Sales through Supermarkets Drive Revenue Generation
The direct sales segment holds major market share of 64.5% and includes supermarkets, convenience stores, and specialty stores and online retailers. The growth is primarily driven by the conversion of conventional grocery stores into supermarkets. Grocery stores are also expected to witness substantial growth owing to easy access for a wide range of items and the growing numbers of health food stores.
Indirect sales channels on the other hand is driven by the sales of numerous products in supermarkets, and in cafes, which account for consumption through the food service sector. Major players in the market are Myosyn Industries Pty Ltd, Melinda's Gluten-Free Goodies, Choices Gluten Free, Lesaffre et Compagnie, SA, Caremoli SPA, Bakels Group, Theodor Rietmann GmbH, Watson, Inc., and Naturally Organic.
FREQUENTLY ASKED QUESTIONS ABOUT GLUTEN-FREE BAKERY PREMIX MARKET
What drives the Gluten-free Bakery Premix market?
Application of Gluten-free Bakery Premix in minimizing the risk of celiac disease and rising health awareness among consumers drive the Gluten-free Bakery Premix market. The rising consumption of bread and protein nutrition plays a central role in mass-adoption of Gluten-free Bakery Premix.
What is the expect market valuation by the end of 2029?
The global Gluten-free Bakery Premix market is expected to cross US$ 486 Mn in market value by the end of forecast period (2029).
Which region will lead the global sales of Gluten-free Bakery Premix?
Europe will lead the global sales of Gluten-free Bakery Premix. Rising consumer health awareness, and information about the side effects of gluten in European countries is a major factor that drives growth in this region.
Which product segment is likely to witness highest growth?
The bread products segment will register the highest growth in the Gluten-free Bakery Premix market. This growth can be attributed to rising international travel and the demand for plant-based protein sources on a global scale.
Which segment based on application will record the highest growth?
Bakeries are expected to record the highest growth. The rising numbers of international travelers coupled with the popularity of western foods in the Asia Pacific region drive adoption in food service applications.
Which segment based on distribution channels will generate highest demand?
Supermarkets will maintain its share-wide dominance and prevail as the highest demand generator by the end of forecast period. Grocery store channels such and direct to consumer online sales will offer lucrative growth opportunities.
Market Segmentation
The global Gluten-free Bakery Premix market is segmented in detail to cover every aspect of the market and present complete market intelligence to readers.
Product Type
Bread
Cakes
Pizza Bases
Muffin
Hamburgers
Other Product Types
Application
Bakeries
Confectionery Shops
Restaurants
Household
Distribution Channel
Direct Sales
Indirect Sales
Region
North America
Latin America
Europe
East Asia
South Asia
Oceania
MEA
Need specific information?