Non-GMO Food Products to Garner 3X Revenues by 2029
Non-GMO products have garnered incredible consumer following since its inception. From developing countries to early adopters, consumers worldwide enquire about non-GMO and organic choices in daily food products. Growing consumer traction coupled with advancements in farming technology will propel the global Non-GMO food market to grow at a meteoric CAGR of more than 12% during the forecast period (2019 - 2029).
Manufacturers of non-GMO food products are employing creative marketing strategies that aim at developing consumer interest by attracting, engaging, and delighting consumers with product information. They are deploying bespoke packaging and smart labels to facilitate easy access to non-GMO product details.
Grains & Cereals Drive Consumer Demands
Grains and cereals are the most demanded non-GMO products in the market. This can be attributed to prevailing use of grains and cereals as a primary source of fiber and carbohydrates. Millennials, baby boomers, and geriatric population alike eat grains and cereal such as wheat, corn, and soybean for its nutritional value.
Bakery & Confectionary products are next in line with 19% market share. The rising disposable income of millennial consumers is causing an increase in expenditure on leisure food items such as cakes, pastries, and candy. Consumer are willing to pay a premium for non-GMO and organic food products.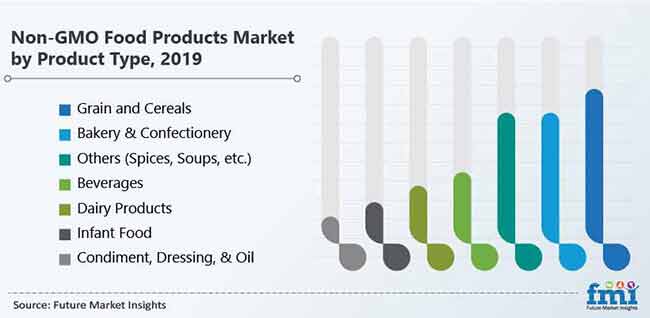 Latin America Leads; Europe Follows Closely
Latin America leads demand generation with a majority market share of over 1/4th of total market value. Emerging economies in Latin America are going through a demographic transition where consumers increasingly demand non-GMO, organic, and sustainable food products.
The prevalence of plant-based and vegan diets in North American countries positions this region as the second largest region in terms of market share. North America accounts for more than 21% of market share with a stupendous 17% CAGR. However, this is not the highest growth rate, Europe presents the most remunerative growth opportunities with a stellar 25% CAGR during the forecast period.
Strategy is Key for Gainful Future Opportunities
Market players are aiming for strategic establishment of distribution warehouses to facilitate time efficient and cost effective logistic operations. Rising population levels in developing countries is giving birth to information savvy millennial consumers that wish to eat organic and non-GMO food products.
Advancements in horticulture technology is anticipated to aid an increase in production capacities. Manufacturers of non-GMO food products are mapping future growth trajectories based on consumer income levels and penetration of plant-based or vegan diets in a country. Major market players are increasing their global footprint to leverage future opportunities in prospective countries.
Indirect Distribution Propels Revenue Generation
The market is flooded with indirect distribution channels that will maintain share-wide and growth-wise dominance throughout the forecast the period. Wholesalers, local stores, online retailers, and specialty stores are witnessing multiplying footfalls owing to increasing consumer awareness. Market players stand a chance to garner surplus demand by forging strategic partnerships with stakeholders in indirect distribution channels.
FREQUENTLY ASKED QUESTIONS ABOUT NON-GMO FOOD PRODUCTS MARKET
What drives the non-GMO food product market?
The non-GMO food products market is driven by plant-based and vegan diet trends that lays emphasis on integrating organic, non-GMO food products in daily dietary plans. Growing consumer awareness about benefits of non-GMO food products play a supporting role in development of this market.
Which factors put market players at risk?
Increasing investments from conglomerates and multinationals to venture into the non-GMO food product space poses mild restraints for dedicated market players. The lack of universal quality standards renders manufacturers to market their products based on consumer perception.
Which region will lead the global sales of non-GMO food products?
Latin America leads the global sales of non-GMO food products on the back of increasing disposable income and dietary trends. Consumers in Latin American countries are creating an ecosystem of early-adoption where non-GMO food products are one of the first things they wish to adopt.
Which product type segment offers most lucrative growth opportunities?
Grains and Cereals offer the most remunerative growth opportunities. Wheat, corn, soybean are primary source of fibre and carbohydrates for consumers worldwide. Hence, the dominance of grains and cereals is a result of that prevailing trend.
Which segment based on distribution channel will record the highest growth?
Indirect distribution channels such as online retail, supermarkets/hypermarkets, wholesalers and specialty stores will register the highest growth during the forecast period. Market players are also dedicating resource to direct B2B sales channels to establish a constant source of revenue.
Market Segmentation
The global Non- GMO food market is segmented in detail to cover every aspect of the market and present complete market intelligence to readers.
By Product
Grain and Cereals
Bakery & Confectionery

Bread
Pastry
Candy
Others

Beverages

Alcoholic Beverages
Non-Alcoholic Beverages

Dairy Products

Yogurt
Cheese
Ice Cream
Others

Infant Food
Condiment, Dressing, & Oil

Vegetable Oils
Jams, Jellies
Syrups

Others (Spices, Soups, etc.)
By Distribution Channel
Direct Sales/ B2B
Indirect Sales/ B2C

Supermarket/Hypermarket
Wholesaler
Online Retail
Specialty Stores
Other Retail Format
Region
North America
Latin America
Europe
APEJ
Japan
Oceania
Middle East & Africa
Need specific information?