An Incisive, In-depth Analysis on the Nucleic Acid Testing Market
This study offers a comprehensive, 360 degree analysis on the Nucleic Acid Testing market, bringing to fore insights that can help stakeholders identify the opportunities as well as challenges. It tracks the global Nucleic Acid Testing market across key regions, and offers in-depth commentary and accurate quantitative insights. The study also includes incisive competitive landscape analysis, and provides key recommendations to market players on winning imperatives and successful strategies.
Nucleic Acid Test Kits to Witness Resilient Growth
Nucleic acid testing is widely used to treat infectious diseases caused by virus and bacteria, forensic testing, cancerous diseases, genetically related diseases and paternity testing/HLA typing. The convenience it offers makes it one of the highly preferred testing procedures in the healthcare industry. Nucleic acid tests help in identifying the issue without any previous indications, in addition to offering an additional layer of blood screening and resolving false reactive interpretations. Furthermore, it is an early detection process and is known to provide accurate analysis - faster than any other available procedure, and helps to narrow down infectious period, i.e. window period between the time of viral exposure and the time of serological detection of a virus.
Increasing demand for nucleic acid testing form blood transfusion centers and blood banks will substantially secure the entire blood transfusion processes, which is anticipated to bolster the growth of the global nucleic acid testing market over the forecast period. The global market value is foreseen to reach beyond US$ 4,900 Mn by 2027 end. The market is lucrative, especially for nucleic acid test kits, which is dominated by high demand for polymerase chain reaction (PCR) in the global market. The PCR segment is expected to hold a market value of over US$ 2,300 Mn by the end of 2027, and a cumulative value for the nucleic acid test kits segment is estimated at over US$ 4,400 Mn by the end of forecast period.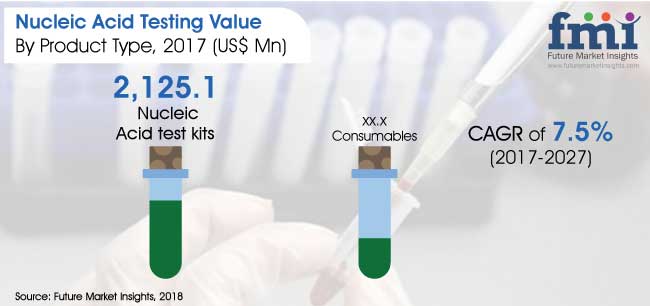 Various factors are responsible for forming a favorable market environment for nucleic acid test products
Numerous forces are driving the growth of demand for nucleic acid testing products, which majorly includes the surge in rate of technological development in the healthcare industry. Several companies with extensive product offerings have developed in-house capabilities to generate high-quality products with short turn-around times to meet varying research requirements. Increasing demand for technologically advanced methods in sample preparation, extraction, and amplification and testing for nucleic acids such as DNA and RNA, and the strategic agreements of manufacturers with leading research institutes are expected to boost research activities in the molecular biology field. There is also a broadened scope of nucleic acid testing application globally, as manufacturers of molecular diagnosis devices and kits have been developing several products with the capability to be used in both clinical diagnostics as well as research applications. The increasing demand for advanced technology-based kits in various diagnostic aspects such as infectious diseases, cancer, forensic testing, paternity testing or HLA typing, turns to be the most effective force to facilitate to growth of nucleic acid testing market.
Safety concerns remain longstanding hurdle in market growth
The nucleic acid testing market still faces some limitations in its global demand surge. One of it is the safety concerns associated with the process.The adverse events and false operative functionality associated with the nucleic acid testing kits and reagents may hamper the demand for the product and restrain the growth of the nucleic acid testing market over the forecast period. A few emerging economies lack sophisticated infrastructure required for advanced technologies like nucleic acid testing. The improper development and implementation of clinical practice guidelines and dearth of skilled professionals in most of the countries, such as those in MEA and Latin America, will possibly continue to hinder the growth of the nucleic acid testing market.
Nucleic Acid Testing Market
This is an all-inclusive research report based on the facts gathered form different sections of the market. To get the accurate assessment, there has been a keen examination of healthcare industry worldwide, technological advancements taking place in the healthcare industry and also the account of patients and businesses involved in providing healthcare services. The report also comprises preferences of patients and doctors across the globe, which helps in accessing the current as well as future demand of the nucleic acid testing market. Further, analysis of awareness about the services in different regions has proved to be a useful information to process the research on global market for nucleic acid testing market.
Global Healthcare Services Sector Outlook
There is growing consensus among healthcare providers that the current fee-for-services payment mechanism needs an overhaul. While fee-for-services is the pervasive method of billing patients, alternative processes, such as capitation and pay-for-performance are also being considered. We anticipate fee-for-services to be supplemented by capitation and pay-for-performance in the future. In addition to charging patients for screening and doctor visits, pay-for-performance can lead to higher quality of care, as other essential tasks will also be billed. It may lead to an increase in healthcare costs, with the promise that quality of care will go up.
The healthcare system is in a phase where access to capital is constantly diminishing. Big spends are rare and there is increasing uncertainty among borrowers about their ability to repay loans and funding. Healthcare institutions are either postponing large capital-intensive projects or allocating resources to specialty areas that offer a high ROI. Cash-constraints will result into an increase in mergers and acquisitions and lead to fundraising from healthcare providers. However, as only a select few will qualify for an acquisition or funding, the effects of cash-crunch will be palpable in this sector.
Healthcare providers and insurers are aware of the rapidly increasingly population and their growing healthcare needs. The impact is more palpable in the U.S. and Japan – important markets in terms of their standing in the global healthcare market. Providers and insurers are strategizing to tap into the available opportunities in this demographic. Baby boomers around the globe are actively taking charge of their health. Smartphone remains the primary source of information-seeking for this segment. With over 70,000 websites and hundreds of apps disseminating information, providers and insurers will focus on strengthening their digital presence to effectively target this demographic.
Research Methodology
FMI utilizes robust methodology and approach to arrive at market size and related projections. The research methodology for this report is based on 3 dimensional model. We conduct about 45-60 min duration detailed interviews with product manufacturers; apart from this we also collect market feedback from industry experts. To validate this data, we interact with senior panel members having more than 10 years of experience in relevant field. The panel members help in validating the findings and fill the gaps if any. In addition, we leverage on our existing pool of information, paid database and other valid information sources available in public domain. Usually industry interactions extend to more than 50+ interviews from market participants across the value chain.
Data Collection
FMI collects data from secondary sources including company annual reports, association publications, industry presentations, white papers, and company press releases apart from these we leverage over paid database subscriptions and industry magazines to collect market information and developments in exhaustive manner. After being done with desk research, detailed questionnaire and discussion guide is formulated to initiate primary research with key industry personnel; the discussion aims at collecting key insights, growth perspectives, prevalent market trends and quantitative insights including market size and competition developments. Both of these research approaches help us in arriving at base year numbers and market hypothesis.
Market Taxonomy
By Product Type

By Indication

By End User

By Region

Nucleic Acid test Kits

Transcription-mediated amplification (TMA)

Polymerase chain reaction (PCR)

Ligase chain reaction (LCR)

Whole genome sequencing

Consumables

Infectious diseases

Cancer

Forensic Testing

Others

Hospitals

Pathology laboratories

Research Institutes

Clinics

North America

Latin America

Western Europe

Eastern Europe

APECJ

China

Japan

MEA
COVID -19 : Impact Analysis
Request the coronavirus impact analysis across industries and markets
Request Covid -19 Impact
CASE STUDIES
See how our work makes an impact.
At FMI, we design strategies that are adaptive, impactful, and implementable.