Nucleic Acid Test Kits to Witness Resilient Growth
Nucleic acid testing is required for treating the communicable diseases and with the prevalence of covid-19, nucleic test kits are in high demand. As nucleic acid testing kits provide results rapidly, their use has grown prevalence. Nucleic acid test detects the nucleic acid, virus or bacteria that can cause diseases in human body. Furthermore, increased prevalence of other genetic diseases such as dengue, malaria, hepatitis and others are expected to grow the nucleic acid market.
The research team of IIT Kharagpur in April this year have developed an advanced version of COVIRAP by utilising isothermal nucleic acid testing technology for rapid diagnostics for covid-19 infections and other infectious diseases too. The kit does not require any separate facility for RNA extraction and human swab samples can be taken on the device. The kit comes with a smart phone app to facilitate accurate and clear results. COVIRAP has been granted license for use and patents have been filed in India, USA, and several other countries.
Perkin Elmer in January 2021 introduced the new Coronavirus Nucleic Acid Detection Kit, a real time RT-PCR test for the qualitative detection of nucleic acid from SARS-COV-2. This kit can help in testing and diagnosing asymptomatic as well as symptomatic citizens. The PCR kits are sensitive with the detection limit between 7.14 to 27.24 copies/ml. The kit helps in decreasing the cost as it is efficient in pooling of multiple samples. Pooling helps in reducing the cost and increase throughput in a sensitive way.
A team of scientists in Nanyang Technological University, Singapore in March 2021 developed the test, named as VaNGuard (Variant Nucleotide Guard) which can detect covid-19 even after the virus is mutated. The test uses CRISPR gene-editing technology. The test can be performed on crude patient samples in a clinical setting without requirement of RNA purification providing results in 30 minutes. The testing kit is sensitive which can catch the virus even after they change their genetic sequences. The test is affordable and rapid.
Nucleic acid testing is widely used to treat infectious diseases caused by virus and bacteria, forensic testing, cancerous diseases, genetically related diseases and paternity testing/HLA typing. The convenience it offers makes it one of the highly preferred testing procedures in the healthcare industry. Nucleic acid tests help in identifying the issue without any previous indications, in addition to offering an additional layer of blood screening and resolving false reactive interpretations.
Furthermore, it is an early detection process and is known to provide accurate analysis - faster than any other available procedure, and helps to narrow down infectious period, i.e. window period between the time of viral exposure and the time of serological detection of a virus.
Increasing demand for nucleic acid testing form blood transfusion centers and blood banks will substantially secure the entire blood transfusion processes, which is anticipated to bolster the growth of the global nucleic acid testing market over the forecast period. The global market value is foreseen to reach beyond US$ 4,900 Mn by 2027 end.
The market is lucrative, especially for nucleic acid test kits, which is dominated by high demand for polymerase chain reaction (PCR) in the global market. The PCR segment is expected to hold a market value of over US$ 2,300 Mn by the end of 2027, and a cumulative value for the nucleic acid test kits segment is estimated at over US$ 4,400 Mn by the end of forecast period.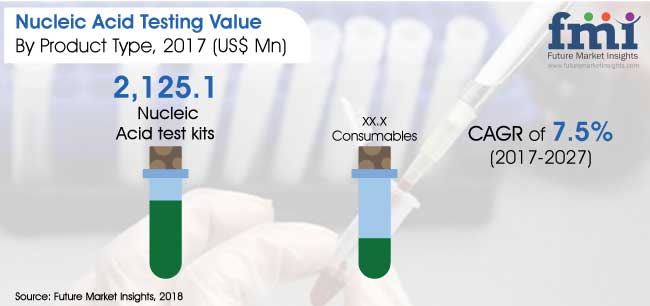 Various factors are responsible for forming a favorable market environment for nucleic acid test products
Numerous forces are driving the growth of demand for nucleic acid testing products, which majorly includes the surge in rate of technological development in the healthcare industry. Several companies with extensive product offerings have developed in-house capabilities to generate high-quality products with short turn-around times to meet varying research requirements. Increasing demand for technologically advanced methods in sample preparation, extraction, and amplification and testing for nucleic acids such as DNA and RNA, and the strategic agreements of manufacturers with leading research institutes are expected to boost research activities in the molecular biology field.
There is also a broadened scope of nucleic acid testing application globally, as manufacturers of molecular diagnosis devices and kits have been developing several products with the capability to be used in both clinical diagnostics as well as research applications. The increasing demand for advanced technology-based kits in various diagnostic aspects such as infectious diseases, cancer, forensic testing, paternity testing or HLA typing, turns to be the most effective force to facilitate to growth of nucleic acid testing market.
Safety concerns remain longstanding hurdle in market growth
The nucleic acid testing market still faces some limitations in its global demand surge. One of it is the safety concerns associated with the process.The adverse events and false operative functionality associated with the nucleic acid testing kits and reagents may hamper the demand for the product and restrain the growth of the nucleic acid testing market over the forecast period. A few emerging economies lack sophisticated infrastructure required for advanced technologies like nucleic acid testing.
The improper development and implementation of clinical practice guidelines and dearth of skilled professionals in most of the countries, such as those in MEA and Latin America, will possibly continue to hinder the growth of the nucleic acid testing market.
World's Most Profilic Intelligence Engine
Get Access To The World's Largest Market Research Database. Ngage with a revolutionary intelligence engine that scale and pricing that flexes as per your needs
Sign Up Now
Market Taxonomy
By Product Type
Nucleic Acid test Kits

Transcription-mediated amplification (TMA)
Polymerase chain reaction (PCR)
Ligase chain reaction (LCR)
Whole genome sequencing

Consumables
By Indication
Infectious diseases
Cancer
Forensic Testing
Others
By End User
Hospitals
Pathology laboratories
Research Institutes
Clinics
By Region
North America
Latin America
Western Europe
Eastern Europe
APECJ
China
Japan
MEA
Need specific information?