An Incisive, In-depth Analysis on the Structural Health Monitoring Market
This study offers a comprehensive, 360 degree analysis on the Structural Health Monitoring market, bringing to fore insights that can help stakeholders identify the opportunities as well as challenges. It tracks the global Structural Health Monitoring market across key regions, and offers in-depth commentary and accurate quantitative insights. The study also includes incisive competitive landscape analysis, and provides key recommendations to market players on winning imperatives and successful strategies.
Market introduction
Structural health monitoring is a process of implementing a strategy for damage detection and characterisation for engineering structures. It aims to provide diagnosis of the state of the constituent materials of various parts of structures such as bridges, rails, ships, energy plants and of the full assembly of these parts that constitutes the whole structure. Structural health monitoring is used in industries including civil engineering, energy and utilities, and railways. A technology is incorporated in this system for long and short-term monitoring of the structures. This technology is an integration of sensors, measuring amplifiers, data acquisition and transmission software and analysing tools. Structural health monitoring is beneficial to boost the safety of a structure, automate its maintenance, detect damage and enable response thus also saving costs and time.
Bridges & Dams segment is anticipated to be the most attractive segment in terms of CAGR, market share, and incremental $ opportunity in the global market
Of the various application segments in the global structural health monitoring market, the Bridges & Dams segment is the largest, expected to hold a market value share of more than 40% by the end of the forecast period in 2027. Buildings & Stadiums is the second largest segment in terms of market revenue share in the global structural health monitoring market, expected to hold about 25% value share of the global market by the end of 2027. The Bridges & Dams segment is anticipated to exhibit the highest CAGR in terms of value over the forecast period while the Buildings & Stadiums segment is projected to witness 3.8X growth over the forecast period.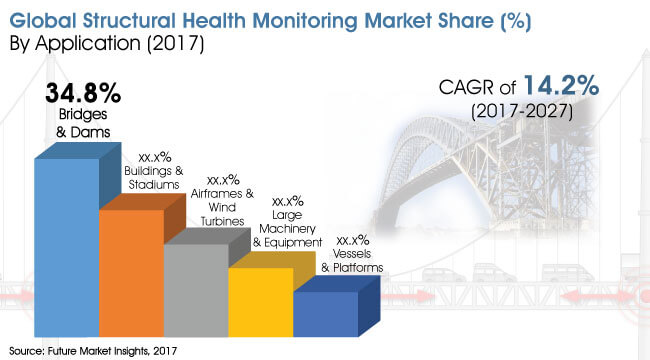 Increasing government initiatives towards public safety and structural health monitoring system standardisation expected to boost global market revenue growth
Large structures such as bridges, dams and buildings and constructions are prone to various intense loadings during their lifetime, especially during natural calamities such as earthquakes, typhoons, cyclones etc. These events can severely impact the integrity of an entire structure and lead to large-scale damage and loss of life, as well as entail social and economic complications. Adoption of structural health monitoring systems would reduce the cost of repairs and maintenance throughout a structure's life cycle. These systems are especially vital to enable monitoring and maintenance of structural integrity of buildings of high importance such as national monuments and hospitals. For example, structural health monitoring for cable supported bridges can reduce costs related to maintenance, as these systems are designed to provide prior or early warnings in the event of a possible catastrophe. Various government initiatives have been implemented to address the aforementioned challenges and this is a potential factor expected to significantly drive demand for structural health monitoring systems during the forecast period.
Complexity in implementing structural health monitoring solutions to massive structures could pose challenges to market revenue growth
Installing structural health monitoring systems in various structures is a complex and cumbersome process due to the fact that the size and shape of structures vary significantly. A single structural health monitoring system is not suited for the entire range of applications and differs based on materials, components, geometrics and damage scenarios. Sensors also need to be robust, accurate, reliable and durable, and any damage or failure to the sensor could impact the purpose of the whole system. This in turn is anticipated to hamper adoption of structural health monitoring systems across various applications.
Report Synopsis
Future Market Insights offers a 10-year forecast for the global structural health monitoring market for the period 2017 to 2027. This study demonstrates the market dynamics and trends globally across seven regions that influence the current nature and future status of the structural health monitoring market over the forecast period.
Report Description & Structure
This research report provides detailed analysis of the structural health monitoring market and offers insights on the various factors impacting market revenue growth. The report includes an extensive analysis of key industry drivers, restraints, market trends and market structure. The market study provides a comprehensive assessment of key stakeholder strategies and imperatives for succeeding in the business. The report starts with an overview of the structural health monitoring market in terms of value. In addition, this section includes an analysis of key trends, drivers and restraints from the supply, demand and economy side that are likely to influence the global structural health monitoring market.
A detailed analysis has been provided for every market segment in terms of market size analysis for the structural health monitoring market across the different assessed regions. The section provides a detailed analysis covering key trends and absolute dollar opportunity. The next section presents a detailed analysis of the global structural health monitoring market across various countries within the key regions. It provides a market outlook for 2017 – 2027 and sets the forecast within the context of the structural health monitoring market, including latest technological developments as well as offerings in the market. This study discusses key trends within countries contributing to the growth of the market, as well as analyses the degree at which drivers are influencing this market in each region. This report evaluates the present scenario and the growth prospects of the structural health monitoring market across various regions globally for the period 2017 –2027.
Research Methodology
We have considered 2016 as the base year and provided data for the trailing 12 months. In order to offer an accurate forecast, we have started by sizing the current market, which forms the basis of how the structural health monitoring market will grow in the future. Given the characteristics of the market, we have triangulated the outcome of different types of analyses based on the technology trends. In addition, it is imperative to note that in an ever-fluctuating global economy, we not only conduct forecasts in terms of CAGR, but also analyse the market on the basis of key parameters such as year-on-year (Y-o-Y) growth to understand the predictability of the market and to identify the right opportunities across the market. As previously highlighted, the global structural health monitoring market is split into a number of segments. All segments in terms of component, type, application and different regions are analysed in terms of basis point share to understand individual segments' relative contribution to overall market growth. This detailed level of information is important for identifying various key trends governing the global structural health monitoring market.
Competition Tracking
In the final section of the report, we include a competitive landscape to provide clients with a dashboard view based on categories of providers in the value chain, presence in the global structural health monitoring portfolio and key differentiators. This section is primarily designed to provide clients with an objective and detailed comparative assessment of key providers specific to a market segment in the structural health monitoring supply chain and the potential players for the same. Report audiences can gain segment-specific vendor insights to identify and evaluate key competitors based on an in-depth assessment of capabilities and success in the marketplace. Detailed profiles of providers are also included in the scope of the report to evaluate their long-term and short-term strategies, key offerings and recent developments in the global structural health monitoring market.
Key Segments Covered
By Component

Hardware

Sensors
Data Acquisition Systems
Others

Software

Design & Analysis
Parameter Identification & Tracking
Others

Services

Installation Services
Design & Consulting Services
Operation & Maintenance Services

By Type

Wired SHM System
Wireless SHM System

By Application

Bridges & Dams
Buildings & Stadiums
Vessels & Platforms
Airframes & Wind Turbines
Large Machinery & Equipment

By Region

North America
Latin America
APEJ
Japan
Western Europe
Eastern Europe
Middle East & Africa
Akshay Godge
Client Partner - Global Business Development
CASE STUDIES
See how our work makes an impact.
At FMI, we design strategies that are adaptive, impactful, and implementable.