KEY FACTORS SHAPING 3D PRINTED MEDICAL DEVICES MARKET
3D Printed Medical Devices Revolutionizing Surgical Practice
Medical uses of 3D printing technology are revolutionizing healthcare industry by providing benefits such as customizations, personalization of medical products, and increased productivity. Some studies suggest that custom surgical guides and medical models with 3D-printing technology will become standards for diverse surgical procedures such as joint replacement, cranial implants, spinal surgeries, and cardiac surgeries in next few decades.
As of now, application of 3D-printing in operating room is restricted to only few procedures, but surgeons can plan their procedure in advance resulting in minimal manual error and faster completion of surgery. Surgeons, prior to a complex surgery, study CT scan data of a patient's blood vessels, bone or other organs by converting it to a digital file with the help of 3D-printing, which can be studied and manipulated.
Through printed custom tools and guides, 3D Printed Medical Devices are the perfect fit for surgeries involving cutting and drilling such as joint replacement surgeries.
Favorable Government Initiatives
In order to accelerate innovation in 3D printing technology, government and non-profit organizations are collaborating resources and developing new standards. For instance, in March 2016, the National Additive Manufacturing Innovation Institute and ANSI (American National Standard Institute) launched AMSC (Additive Manufacturing Standardization Collaborative) a cross-sector coordinating body whose aim is to cater to consistent stakeholders' demand and facilitate growth.
Similarly, in China, government is providing funding for establishment of manufacturing facility for production of biomaterials and study of 3D printed organs and tissues. In 2013, the Ministry of Science and Technology of China announced investment of US$ 6.5 million in 3D printing research and development. Such initiatives are expected to enhance existing standards and identify gaps in the industry, which in turn is expected to boost the coordinated growth of stakeholders in the 3D printed medical devices market.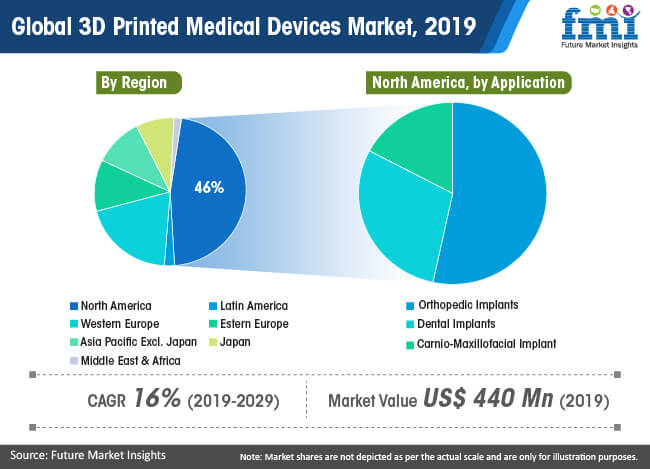 Launch of Innovative 3D Printers
Several 3D printed medical devices companies are now focusing to launch innovative high speed 3D printers. In last few years, 3D printing technology has been extensively preferred by doctors and patients to accurately plan and perform reconstructive surgery. Therefore, manufacturers of 3D printed medical devices are now increasing their reliance to launch 3D printers and devices as part of their broader manufacturing strategy.
For instance, in February 2018, 3D Systems Inc. launched a next-generation 3D printer called Next Dent 5100, powered by Figure 4 technology specifically designed for dental labs. This revolutionary device offers best in class performance and speed at an affordable price point.
3D PRINTED MEDICAL DEVICES MARKET STRUCTURE ANALYSIS
Key players are focusing on strengthening their position by establishing new facilities in North America. In order to increase their revenue share, major players in North America are entering into agreements with hospitals and academic institutes.
Various manufacturers are targeting Asia and Europe through distribution agreements with local players.
Some of the key players in the 3D printed medical devices market include 3D Systems, Inc., EnvisionTEC, and EOS GmbH Electro Optical Systems among others.
Large medical device manufacturers are increasingly gaining interest in 3D technology for manufacturing. These medical device companies are thus investing in 3D technology through acquisitions. For an instance, GE Healthcare acquired 95% of share of Arcam AB in December 2017.
Visibly Rising Inclination Towards Biomaterial Inks
Increasing adoption rate of 3D printed medical devices in various medical applications such as 3D printed orthopedic devices asl well 3D printed dental devices has been triggering innovations in the same, particularly in biomaterials that are used in their manufacturing. Offering superior efficiency, metals and alloys accounted for over 65% revenue share in market.
Manufacturers' preference for biocompatible metals and alloys is primarily attributed to the fact than metal enables immediate mobilization of patients with ultimate support and prevents complications. Bioprinting is emerging as a popular technique of manufacturing 3D printed medical devices, which is pushing preference for biomaterial inks among manufacturers.
North America Remains Goldmine of Opportunities
The growth of healthcare industry has been exploding in developed regions that are adopting a value-based business model. Of late, healthcare organizations have been undertaking a research-based approach towards improving their surgical outcomes. This is triggering the adoption of 3D printed medical devices among end users in developed regions such as North America and Europe. In 2018, both these regions accounted for over 3/4th revenue share in global market and the trend will continue through 2029.
In Sync with Personalized Medication Trend
While manufacturers are introducing improved designs of 3D printed medical devices, they now intent to sync with the latest industry trend, i.e. personalization. Customized or patient-specific 3D printed implants have been here for a while and they continue to allow the 3D printed medical devices manufacturers to boost surgical outcome.
Leading market players are intensifying their focus on devices catering to patient-specific requirements in a particular application. This would help them ride the coattails of trends in the personalized medicine landscape.
How Growth will Unfold
Increasing adoption of 3D printing technology in various surgical implants is expanding the scope for innovation. Heavy investments in orthopedic implants will continue to account for more than 60% of market revenues during the forecast period. Leading market players are increasing the use of novel additive manufacturing technique for introducing 3D printing based patient-specific orthopedic implants to leverage this trend, over the course of following years.
3D PRINTED MEDICAL DEVICES MARKET TAXONOMY
FMI's study on the 3D printed medical devices market offers information divided into five important segments - application, material type, technology, end user, and region. This report offers comprehensive data and information about the important market dynamics and growth parameters associated with these categories.
Application
Orthopedic Implants
Dental Implants
Carnio-Maxillofacial Implant
Material Type
Metals and Alloys
Biomaterial Inks
Plastics
Technology
Stereolithography (SLA) – Liquid-based 3D Printing
Selective Layer Sintering (SLS) – Powder-based 3D Printing
Digital Light Processing(DLP)
Fused Deposition Modelling (FDM)-Plastic Filament Extrusion-based
PolyJet - InkJet 3D Printing
Electronic Beam Melting (EBM)
End User
Hospitals
Ambulatory Surgical Centers
Diagnostic Centers
Region
North America
Latin America
Western Europe
Eastern Europe
APEJ
JAPAN
Middle East and Africa
Need specific information?