KEY GROWTH INFLUENCERS - AUTOMOTIVE BRAKE VALVE MARKET
Covid -19 affected the automotive industry and technological industry harshly in 2020. With the production being stopped and economy falling in various regions, the demand also remained slow. Although, with innovations, technological advancements, partnerships, the manufacturers are certain to scale the demand. Moreover, rising demand of vehicles and especially electric cars due to the concerns regarding the environmental pollution, the demand for automotive brake valves is likely to grow. Some of the developments by major players are mentioned below.
Recently in March 2021, Siemens Mobility have collaborated with VTG Rail Europe to innovate rail freight transport. The contract is made to test the innovative Brake Monitoring System for automated brake testing of freight trains to prove the system's operational capability. The brake monitoring system is an advanced step towards automated and digital freight railway. The system is built to reduce time consumption, and increase efficiency and availability. It is expected to have major market in Europe due to its cost and time savings fir rail bound freight transport.
In July 2020, BEKA announced the launch of their motorized valve for farm tractor safety. These new hydropneumatics valve can activate the trailer's brakes during the need of stopping or slowing down the tractor in dangerous situations. A CAN-BUS which is connected to the motorized valves can activate the brakes of the trailer without any brake pedal actuation. With the help of internal friction, the system can counter balance the hysteresis effect of the valve. As the motor has two pressure sensors and automotive designed torque, BEKA motorized valve reacts precisely and fast to the position which is calculated by the controller.
BASE and Alcon Components Ltd., announced the partnership in August 2020 for in which Alcon will be able to provide specialist axles which are used in defense, security, off-highway kind of tough environmental conditions. The companies also aim to work on hybrid and electric vehicle installations. The two companies make it their mission to integrate and provide with fully compliant braking solutions.
Increasingly Stringent Regulations Mandate ABS Installation in Automobiles
Manufacturers have to comply with stringent emission and safety regulations in countries such as Germany, France, Spain, Indian, and China. BS-VI norms by Ministry of Road Transport & Highways (MoRTH) has made ABS a mandatory equipment for all cars launched, especially after 2018, in India.
Unfortunately, India reports the largest number of deaths in traffic accidents across the world. ABS systems employed widely in vehicles, will play a vital role in enhancing safety features. Also, production and sales of brake valves fitted in ABS systems will rush in positive numbers by default, thereby driving demand for automotive brake valves.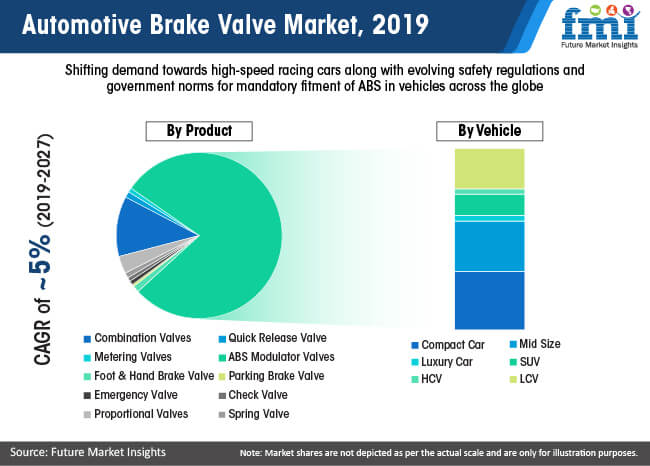 Growing Integration of Electronics in Brake Systems
With advancing brake technologies, integration of electronics into brake systems is expected to open new grounds for market growth. Companies manufacturing automotive brake valves are replacing conventional proportional valves with electronic ones. These are then integrated in braking systems to increase fuel as well as engine efficiency.
Electronic brake proportioning (EBP) helps in monitoring speed differences between front and rear wheels, and utilizes ABS systems to prevent rear wheel lock ups. With consumer interest in passenger cars equipped with novel safety technologies, and government schemes & regulations boosting deployment of advanced technologies in commercial vehicles, the integration of electronics is expected to significantly drive market growth over the forecast period.
Shifting Demand towards Premium and High-speed Vehicles
The demand for luxury and high-speed vehicles continues to grow, owing to factors such as improving lifestyles, rise in consumer spending, and improved infrastructure. This has led to proliferation in production and sales of high performing passenger cars. Furthermore, new model launches and addition of advanced features in cars has grown at a rapid pace. With this, integration of ABS systems, EBS, EBD, and other advanced features in brake systems has escalated. Increasing manufacturing of ABS systems directly affects the growth of automotive brake valves, thereby boosting production of automotive brake valves during the forecast period.
AUTOMOTIVE BRAKE VALVE MARKET STRUCTURE ANALYSIS
The global automotive brake valve market is identified to be a fairly consolidated market, where tier-2 and tier-3 market players hold majority share. Automotive brake valve market consists of a number of local and unorganized players.
Wabtec Corporation, Master Power Brakes, Parker Hannifin Corp, and MICO (a WABCO Company) are identified as some of the key manufacturers of automotive brake valves for on-road and off-road vehicle fleet.
ABS Modulator Valves Continue their Hegemony
Accounting for a voluminous share, anti-lock brake system (ABS) modulator valves remain sought-after throughout the forecast period. Benefits including, enhanced fuel efficiency, and optimized vehicle dynamics are responsible for their prominence. Manufacturers of ABS modulator valves are reaping maximum returns in East Asia and Europe. Combination valves and proportional valves are witnessing steady demand, with the sales of former expected to reach about US$ 900 Mn by 2027 end.
China and India Hold Massive Investment Potential
The automotive brake valve market in East Asia continues to offer worthwhile prospects to market players, primarily attributed to the surging production of compact passenger vehicles (PV) and heavy commercial vehicles (HCV). Sales are mainly concentrated in China, while Japan and South Korea are showcasing moderate growth. Owing to the increasing production of PVs, the market in Europe is poised to cross the US$ 2 Bn mark towards the end of 2027.
Germany represents the most lucrative regional market, while Russia is reflecting potential prospects. The growing automotive industry in India, and ASEAN countries are responsible for the growth potential of automotive brake valve market in South Asia & Pacific. Furthermore, the report reveals that the region will outpace North America by the end of the forecast period.
Market Witnessing Synergy of Electronics and Brake Systems
Electronics have been reshaping the automotive industry in the recent past. The integration of electronics with conventional brake systems is offering new growth dimensions to the automotive brake valves market.
Advanced technologies, such as, electronic brake proportioning (EBP), helps in monitoring speed differences between the front and rear wheels and utilizes ABS systems to prevent rear wheel lock ups. Customers are increasingly turning to vehicles equipped with novel safety technologies, which is further complemented by government mandates regarding the deployment of advanced solutions in automobiles.
How Growth will Unfold
Steel remains the highly preferred material among manufacturers for developing automotive brake valves in a majority of regions owing to prolonged shelf life and cost-efficiency. The demand for steel automotive brake valves is growing healthily, with sales exceeding US$ 3 Bn towards the end of the projection period. Market players are also utilizing brass and copper for manufacturing automotive brake valves. However, there are strong possibilities of automotive brake valves derived from alloy outpacing their counterparts – brass and copper – in the following years.
AUTOMOTIVE BRAKE VALVES MARKET TAXONOMY
The global automotive brake valve market is segmented in detail to cover every aspect of the market and present complete market intelligence to the reader.
Product
Combination Valves
Quick Release Valves
Metering Valves
ABS Modulator Valves
Foot & Hand Brake Valves
Parking Brake Valves
Emergency Valves
Check Valves
Spring Valves
Proportional Valves
Vehicle
Compact Cars
Mid-sized
Luxury Cars
SUVs
HCVs
LCVs
Material
Sales Channel
Region
North America
Latin America
Europe
East Asia
South Asia
Middle East & Africa
Need specific information?