KEY GROWTH INFLUENCERS - AUTOMOTIVE REFINISH COATINGS MARKET
Passenger Cars Expected to Boost Demand for Refinish Coatings
Globally increasing disposable incomes of people expected to fuel the growth of passenger cars, which in turn, is estimated to drive the growth of the automotive refinish OEM and aftermarket. Low cost and high performance refinish coatings and changing mindsets of people towards maintaining their vehicles in good conditions, in terms of appearance and performance, are leading to the growth of the refinish coatings industry.
Establishment of manufacturing facilities in economically-growing regions, increasing road accidents, and customization of vehicles are some factors that are expected to drive the refinish coatings market growth.
Moreover, lower fuel prices and increasing vehicle registrations and miles driven are estimated to drive the automotive refinish coatings market growth. Increasing disposable incomes have made it possible for many to afford luxury cars and maintain their appearance and performance on road, which is a major driving factor for automotive refinish coatings demand.
Sustained Demand from the OEM Sector to Augment Market Growth
The aftermarket segment has a higher market share in comparison to the OEM segment and increasing new vehicle registrations create a positive impact on the consumption of automotive refinish coatings & paints as new vehicle owners are more likely to invest in repairing vehicles. Increasing number of aftermarket modifications and road collisions are anticipated to be other drivers for the automotive refinish coatings market growth.
Presence of vehicle manufacturing companies such as Bombardier, Suzuki, Bugatti, Ducati, Toyota, Lamborghini, Tesla, and Volvo, among others is driving the growth of the OEM segment of automotive refinish coatings. Development of new products, advancements in technology, and increase in the production and sales of luxury, compact, and mid-size vehicles are estimated to propel the growth of the global automotive refinish coatings industry.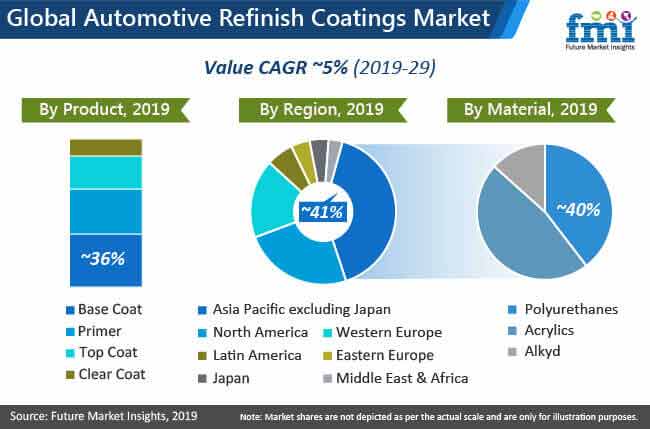 AUTOMOTIVE REFINISH COATINGS MARKET STRUCTURE ANALYSIS
The global automotive refinish coatings market is a fragmented market owing to the presence of large number players in the global market.
Manufacturers operating in the automotive refinish coatings market are focusing on business expansion through mergers, acquisitions, and joint ventures. Key market players focus on strategies such as adoption of new technologies to develop innovative products, and further enlargement of distribution channels, which will help increase sales of automotive refinish coatings.

For instance, in 2016, The Sherwin-Williams Company launched Dynamic Clear coat (CC200), creating an entirely new category in the market. Other new products include Martin Senour RustProof M/D coatings, with advanced technology that provides direct-to-metal adhesion.
In 2016, PPG Industries, Inc. acquired automotive refinish coatings company Futian Xinshi (China) from the Emerging Europe Accession Fund (EEAF) of DEUTEK S.A.

Major players in the automotive refinish coatings market are Akzo Nobel N.V., 3M, Axalta Coating Systems, The Sherwin-Williams Company, PPG Industries, The Dow Chemical Company, WEG Group, TOA Performance Coating Corporation Co., Ltd, Guangzhou Zhenroumei Chemical Coating Limited, Cresta Paint Industries Ltd., and KAPCI Coatings, among others.
Base Coat Remains Leading Revenue Generator in Market
Accounting for 36% of total sales, base coat refinish coatings continue to witness higher demand and innovation as compared primer and top coat. As using solvents for coatings or paint delivery disperses higher levels of volatile organic compounds (VOCs), manufacturers are turning to waterborne refinish coatings.
Significant progress has been made in the sector with waterborne basecoat to reduce the impact of VOCs, thereby contributing to market growth. By 2020, sales of waterborne refinish coatings will match-up to their solvent counterparts that currently account for a leading market share.
Market Witnessing Quantum Leap in Asia Pacific
Despite North America's continued primacy in global market, research reveals lucrative growth prospects of the market in Asia Pacific (APAC). Emergence of China and India as the global automotive hubs has led to realignment of stakeholders' strategies. Accounting for over 40% revenue share, APAC continues to be a promising market for automotive refinish coatings.
While the recently recorded dip in auto sales within developing countries has affected every segment of the industry, growing demand for pre-owned cars will possibly open a new window of opportunity in automotive refinish coatings market.
Manufacturers Inclining Towards Eco-friendly Products
With a surge in number of eco-conscious consumers, key players in global automotive refinish coatings market are moving ahead with new ideas and technology associated with ecologically responsible products. Waterborne UV-curable coatings are thus developed to replace conventional VOC-based coatings.
Manufacturers are however hard pressed to innovate and add environmental aspects to final product for commercial vehicles. Product premiumization is further reflecting profits through high performance and reduced environmental impact.
How Growth will Unfold
The automotive refinish coatings market continues to benefit from increasing vehicle parc and surge in sales of used/pre-owned vehicles. Adoption of automotive refinish coatings for midsize passenger cars continues to account for higher sales. Application of refinish coatings is rapidly increasing in executive and luxury cars.
In 2018, automotive refurnish coatings of around US$ 1.4 Bn were used in executive cars, and the number is set to grow by 7.5% in 2019. In commercial vehicles, application of refinish coatings remains concentrated in light commercial vehicles.
AUTOMOTIVE REFINISH COATINGS MARKET TAXONOMY
The global automotive refinish coatings market is segmented into material, product, technology, vehicle, end use, and region.
Material
Polyurethanes
Acrylics
Alkyd
Product
Primer
Base Coat
Top Coat
Clear Coat
Technology
Solvent-borne
Water-borne
UV Cure
Vehicle
Passenger Cars

Compact
Midsize
Executive
Luxury

Commercial Vehicles
End Use
Region
North America
Western Europe
Eastern Europe
Latin America
APEJ
Japan
MEA
Need specific information?