About the Report
Growing consumer preference for ready-to-eat foods, rising levels of health awareness, and the resultant changes in dietary habits are key factors that are driving consumption of yogurt products. This has especially been true with the onset of the COVID-19 pandemic. Easier access for consumers to new fruit flavored yogurts and the development of nutrient-fortified formulations are major trends that have been supporting the popularity of citrus flavored offerings in the industry.
In a new report, ESOMAR-certified market research and consulting firm, Future Market Insights (FMI) has analyzed the key factors fuelling demand between 2020 and 2028. The study takes into account demand registered across 20+ countries, with a comprehensive section on the impact of COVID-19 on the industry.
Historical Data and Future Outlook
Between 2014 and 2019, the citrus yogurt market has reflected steady growth. According to the U.S. Department of Agriculture (USDA), the global market for yogurt has largely remained fragmented unlike other dairy products such as butter or milk powder. Also, the USDA has stated that growth of the yogurt sector has particularly been strong in high income regions, with Western Europe, Japan and the United States accounting for higher per capita consumption in comparison to Middle East & Africa and Latin America.
On the other hand, FMI has forecast the global citrus yogurt market to grow at 4.5% CAGR between 2020 and 2028. The growing popularity of high protein and low carb diets, and the significant expansion of ecommerce channels of distribution are likely to aid growth in the sector through this period. For instance, as per the USDA, ecommerce for grocery has gone up by more than 15% in the U.S. between 2018 and 2019. Also, as per European Commission, more than 43% of ecommerce activities in Europe can be attributed to grocery purchases.
How are Clean Label and Nutrition Trends Impacting the Industry?
In recent years, flavored yogurt producers are increasingly focusing on the removal or reduction of artificial additives and preservatives. Also, reduction of sugar content has gained importance with higher levels of consumer health awareness. For instance, the UK government has introduced new food processing guidelines aiming to cut sugar content in packaged food products by 20% by the end of 2020.
Major flavored yogurt brands including Yeo Valley, Yoplait, and Arla, have launched clean label, free-from, and organic flavored yogurts including citrus flavors between 2018 and 2020. These trends are likely to have a positive impact on the long-term developments of the citrus yogurt industry during the projection period.
What is the Outlook for Greek Yogurt Variants?
According to the World Resources Institute, the global average of protein consumption could be calculated to approximately 70 grams per day, since 2009 accounting for around 30% more than the recommended daily adult requirement. This popularity of high protein diets has been a key factor driving the sales of Greek yogurt offerings.
Pioneered by Chobani LLC, flavored Greek yogurt has been extensively promoted as a natural alternative to conventional protein powders and supplements. According to a Chobani LLC representative, Greek yogurt grew from 1% to 44% of the global yogurt market between 2007 and 2013, and has continued to grow at over 6% annually through 2019. Chobani, Green Valley Creamery, Olympic Dairy, and Liberte have been key brands that have launched citrus flavored Greek yogurt offerings in the past two years.
High-Fat Offerings to Gain Ground?
According to FMI, dairy-based citrus yogurts will continue to hold the lion's share of the market. While low-fat and fat-free yogurts sustain steady demand, changes in consumer diet preferences towards high-fat, low carb options are likely to influence developments in the citrus yogurt industry.
According to Dairy Farmers of America, sales of whole fat yogurt has increased by more than 11 percent between 2017 and 2018. Chobani, Iceland Provisions, Siggi, Peak, and Danone have emerged with yogurt products with double figure percentages of fat in 2020. The trend is also likely to improve on texture characteristics of product offerings creating profitable opportunities for manufacturers in the near term.
What are the Major Obstacles Facing Manufacturers?
While the prospects of the citrus yogurt market remain positive for the long-term, the industry will face a number of challenges limiting potential growth in the sector. For instance, competition from plain yogurt and non-citrus flavored yogurts is a key factor holding back sales. Also, flavored yogurts are relatively highly priced hindering adoption as opposed to conventional yogurt products.
Pricing is also expected to remain an issue in terms of organic citrus yogurt products, especially for the duration of the pandemic owing to uncertainties over economy, and limited spending of consumers on premium products. Also, citrus yogurts with natural fruit ingredients are subject to environmental impact on fruit yields, which could potentially hinder growth in the near future.
Country-wise Insights
What are the Prospects of Sales in the United States?
According to the Institute of Food Technologists (IFT), U.S. sales of fortified/functional foods crossed USD 63 billion in 2020. Also, sales of organic foods in the U.S. grew by around 6 percent between 2017 and 2018. These are key trends that are expected to support growth in the long term.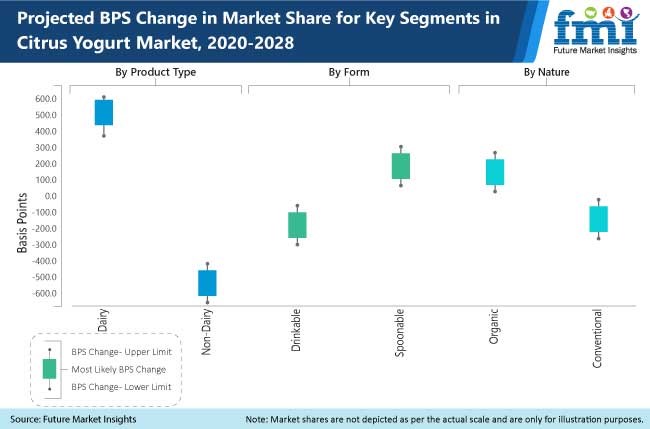 The IFT has also stated that 9% of U.S. households purchase plant-based yogurt. Also, in 2019, sales of non-dairy yogurt sales went up by 39% reaching a valuation of US$ 230 million. This is a major factor that is expected to support the prospects of non-dairy variants of citrus yogurt products around the country in the forecast period.
As per the USDA, flavored yogurt sales in the United States are estimated to grow by more than 6% annually. Also, production of milk in the US has risen by around 4,000 Mil. Lb. between 2017 and 2019. These factors are expected to generate a favorable environment for citrus yogurt producers in the country.
Dairy Supply Demand Imbalances Influencing Growth in U.K.
According to the Agriculture and Horticulture Development Board (AHDB), domestic yogurt volumes in the United Kingdom fell by around 2% between January 2019 and February 2020. During the lockdown period, all categories of dairy products witnessed increased sales.
The AHDB has also stated that yogurt volumes went up by 4% between February and May 2020. Public sector catering businesses have emerged as a key distribution channel, accounting for 8% of sales volumes in 2019 as per AHDB estimates.
Further, milk deliveries in Great Britain are set to reach 12.44bn liters in 2020/21, a slump of 0.7% in comparison to 2019/20, in terms of milk production forecast. As per AHDB estimates, yogurt volumes are likely to stagnate towards the end of 2020, with profits being offset by losses in public sector catering. These will remain key influencers for the UK citrus yogurt industry in the near future.
How is Dairy Output Influencing Growth in France?
According to Business France, France was the largest European market for flavored yogurt in 2019 accounting for over 20% market share. The country also accounts for around 17% of the overall European dairy output.
As per COOP de France, yogurts and fermented milk products account for 7% of the overall dairy products exported from France. Danone, Lactalis, Sodiaal, Savencia, and Le Groupe Bel are leading yogurt manufacturers in the country.
France was also the largest market for plant-based yogurts in terms of retail value in 2019 at a valuation of 180 Mn €, according to a Barry Callebaut report. The country displayed a 15% CAGR for dairy alternatives between 2014 and 2017. These will remain essential factors affecting the French citrus yogurt industry in the near future.
Germany Citrus Yogurt Market Reflects Fast Growth
A report by Agriculture and Agri-Food Canada the consumption of yogurt in Germany rose faster than other dairy products between 2014 and 2017. The German boomer population can be attributed to consumption of close to 35% of overall dairy consumption in the country, which will play an important role in the consumption of citrus yogurt here.
During the same period, Germany was the only Western European country to record positive growth in terms of dairy products, supported by relative economic stability. With more than 1400 products launched in 2017, Germany is a key market for dairy products. Also, according to Germany Trade & Invest, the German dairy industry is the country's second largest food and beverage sector.
In terms of plant-based dairy-alternative beverages, Germany falls behind Italy, U.K., Spain, and France, accounting for around 38% of the Western European market share. Germany is also a leading European market for citrus oils. Consequently, Germany is expected remain a key influencer in the citrus yogurt industry.
Domestic Production in Spain Affects Developments
According to a USDA report, domestic production in the dairy sector of Spain has increased between 2017 and 2019. The stability of dairy supplies in the country has bolstered the production of dairy products for exports. More than 10 percent of Spanish cow milk was used for yogurt production in 2017.
As per the USDA report, Spain's milk production followed its growth trend to rise in 2018 and 2019, which will minimize milk and other dairy imports from other EU member countries. Also, during 2020 and 2021 are projected to witness, sufficient domestic supplies to boost the use of domestic milk supplies in dairy products manufacturing, including yogurt products for export.
In addition, Spain is a leading citrus fruit producer in Europe accounting for over 3 million metric tons in 2019-20. These factors are likely to bode well for the future of the Spanish citrus yogurt market.
What is the Role of Imports in the Italian Market?
Citrus production in Italy fell by more than 7% in 2018-19 owing to environmental factors including flooding and hail, as per USDA data. Further, demand is likely to fall further, during 2020, owing to lower exports from Italy during the COVID-19 pandemic. This could potentially have an adverse effect on citrus yogurt production in the country.
According to data by the European Commission the yogurt market in Italy is worth approximately 1.5 billion euros in 2019, a drop in comparison to the previous year. However, Greek yogurt sales have gone up by 7% during the same period.
The production of acidified milk products including yogurt in Italy has dropped 3.6% between 2019 and 2020. Imports of yogurt in the country fell by more than 2% in 2019, while recovering close to 1% in 2020. These factors will play key roles in developments in the country's citrus yogurt market.
How are Global leaders Influencing Growth in China?
According to Health Products Association (HPA) of China, yogurt sales are projected to rise by 18% in the country and are set to surpass milk sales in the industry. France-based Yoplait and Japan based Meiji are major international brands making inroads here.
Sales of functional yogurt rose 23% between 2016 and 2017, with the figure rising 56% by 2022 as per HPA data. Also, in 2020 the Chinese yogurt sector accounted for more than US$ 35 million, with an estimated annual growth rate surpassing 5% in the next 5 years. The vast population base of the country will remain a major factor favoring the rise of the citrus yogurt industry in this country.
Consumption of Homemade Yogurt Challenges Manufacturers in India
According to a report by biotech player Novozymes, more than 60% of Indians consume fresh or homemade yogurt or yogurt drinks in 2020. However, with regards to packaged yogurt products, issues of flavor and texture profiles hold back sales.
The higher level of health consciousness among Indian consumers has created high potential for growth of yogurt manufacturers. It has offered them the opportunity to promote their offerings as fermented, functional immunity, or digestive products. This is especially likely to be true in the post pandemic period.
The report also states that around 40% of Indian consumers consume yogurt with sugar. This is likely to create opportunities for sweetened yogurt products in the country. Appropriate messaging for consumers is likely to be essential for citrus yogurt market players to leverage long term opportunities in India.
Category-wise Analysis
What is the Future Outlook of Dairy-based Options?
Citrus yogurt products are available in both dairy and non-dairy variants. Of these, dairy-based citrus yogurt offerings account for a larger market share, and are projected to exhibit growth through 2028 at over 3% CAGR.
The demand for dairy-based yogurts can be attributed to strongly established supply chains, the ease of access to raw materials and the relatively low costs of diary-based products. On the other hand, growing numbers of vegan consumers and awareness about lactose intolerance is expected to provide impetus to non-dairy options to grow at a faster rate than conventional products.
What are the Commercial Prospects of Conventional Offerings?
Citrus yogurt manufacturers produce both conventional and organic offerings. Conventional citrus yogurt will remain dominant in the industry for the duration of the assessment period, accounting for more than 90% market share in 2020.
However, conventional citrus yogurt is expected to witness a gradual decline with the growing interest in organic alternatives. This can be attributed to increasingly strict implementation of organic certifications in addition to higher consumer health awareness levels, and the transition away from preservatives and food additives in yogurt products.
How is Drinkable Citrus Yogurt Set to Fare?
With the evolution of consumer preferences, citrus yogurt products are manufactured in both drinkable and spoonable options. As per the FMI report, drinkable citrus yogurt is projected to rise at over 4% CAGR while dominating the industry.
The higher demand for drinkable citrus yogurt can be attributed to consumption as a high-nutrition, meal accompaniment. Also, newer variants are being produced as fortified formulations including protein, potassium, iodine, calcium, zinc, phosphorus, and essential vitamins, as compared to spoonable yogurts. This is key to favorable long-term growth prospects.
What is the Role of Hypermarket/Supermarkets in Distribution?
Food service (HoReCa), online retail, hypermarkets/supermarkets, convenience stores, and food & drink specialty stores, are essential channels of distribution for citrus yogurt manufacturers. Supermarkets are hypermarkets are expected to remain the primary channel of citrus yogurt sales accounting for more than 40% through the assessment period, driven by robust and established supply chains.
However, online retailing is projected to reflect stronger growth, with the rise of e-commerce through online shopping portals for direct sales. This trend has gained further impetus during the covid-19 pandemic owing to lockdown restrictions on the operations of offline sales outlets.
Competitive Landscape
The global citrus yogurt market is fairly fragmented in nature, with the presence of numerous regional players in the industry. Leading manufacturers are largely focused on product launch strategies. Efforts towards geographical expansion is expected to gain importance in emerging markets to consolidate market presence.
In October 2020, Danone S.A. announced its partnership with Full Harvest, a leader in online sales of surplus agricultural produce, to develop and launch Two Good Save Yogurt, which is produced with lemons set to be discarded as a part of the company's sustainability initiative.
Fruitas Holdings Inc. is ending 2020 with the launch of its first all-natural milk based yogurt range including citrus flavors, aimed towards health-conscious Filipino consumers, through approximately 60 kiosks in the country initially.
Canada-based Liberte has announced the launch of preservative, additive, and artificial coloring free, high-protein Greek yogurt offerings in lemon, cherry, peach, and plain flavor options in packaging formats of 750 g and 4x100 g packs.
Future Market Insights has also studied the following citrus yogurt manufacturers in its detailed study*:
General Mills Inc.
The Hain Celestial Group Inc.
Nestle S.A.
Daiya Foods Inc.
Chobani LLC
Forager Project LLC
Kite Hill
*This list is indicative- full details about the citrus yogurt manufacturers are available upon request.
Citrus yogurt Market- Report Scope
| | |
| --- | --- |
| Attribute | Details |
| Forecast Period | 2020-2038 |
| Historical Data Available for | 2014-2019 |
| Market Analysis | USD Million for Value |
| Key Regions Covered | North America, Latin America, Europe, Japan, Middle East & Africa, and Asia Pacific excluding Japan |
| Key Countries Covered | US, Canada, Brazil, Mexico, Argentina, EU-4, U.K., Russia, Benelux, Poland, China, Japan, India, ASEAN, South Korea, Australia, and New Zealand, GCC Countries, South Africa |
| Key Segments Covered | Product Type, Form, Nature, Distribution Channel, and Region |
| Key Companies Profiled | General Mills Inc., Danone S.A., The Hain Celestial Group Inc., Nestle S.A., Daiya Foods Inc., Chobani LLC, Forager Project LLC, Kite Hill and Others |
| Report Coverage | Market Overview, Key Market Trends, COVID-19's Impact, Demand Analysis, Market Background, Segmental Analysis, Regional Profiling, Market Structure Analysis and Competition Analysis |
| Customization & Pricing | |
Key questions answered in the report
How will the citrus yogurt market expand through 2028?

As per the Future Market Insights (FMI) market study, the global citrus yogurt market is likely to derive growth from the demand for functional, probiotic foods, surpassing US$ 1.9 Bn in 2020 and rising at a value CAGR of 4.5%.

Which region exhibits high demand for citrus yogurt?

Asia Pacific excluding Japan is expected to be the leading market for citrus yogurt products, reflecting over 6% CAGR through the end of the forecast period. Growing consumption of citrus yogurts as a dessert option is providing impetus to growth.

How is COVID-19 impacting the citrus yogurt growth projections?

The COVID-19 pandemic has created opportunities for growth in the industry. Lockdown restrictions through 2020 has hurt demand from the food service sector. However, the demand for health foods to boost immunity will create sales opportunities in the short term.

Which are some of the prominent market players?

Prominent citrus yogurt manufacturers include
Key Segments
Product Type
Form
Nature
Distribution Channel
Food Service (HoReCa)
Hypermarket/Supermarket
Convenience Store
Food & Drink Specialty Stores
Online Retail
Others
Region
North America (U.S. & Canada)
Latin America (Mexico, Brazil, Argentina & Rest of LATAM)
Europe (EU-4, U.K., Russia, Benelux, Poland and Rest of Europe)
Japan
Asia Pacific excluding Japan (China, India, ASEAN, South Korea, Australia, and New Zealand,)
Middle East & Africa (GCC countries, South Africa, and Rest of MEA)
Need specific information?
Talk Show:
The Rise of Intelligent Packaging
Personalized, Connected and Sustainable
November 18, 2021
11:00-11:45 AM PST (USA & Canada)
This is a LIVE session