An Incisive, In-depth Analysis on the Ecu Market
This study offers a comprehensive, 360 degree analysis on the Ecu market, bringing to fore insights that can help stakeholders identify the opportunities as well as challenges. It tracks the global Ecu market across key regions, and offers in-depth commentary and accurate quantitative insights. The study also includes incisive competitive landscape analysis, and provides key recommendations to market players on winning imperatives and successful strategies.
ECU are also referred to as engine control units. They are a kind of electronic control units which comes under automotive electronics. ECUs regulate the functions of the car thus enhancing the car performance. Modernised vehicles have about 80- 100 ECUs, whereas luxury cars such as 7- series BMW have about 150 ECUs embedded in their systems. ECU is responsible for the mechanism of spark ignition, fuel injection, controlling idle speed, and variable valve timing. There are various types of ECUs used in automobiles, such as, Powertrain Control Module, Body Control Module, Safety and Security Control Module, Vehicle Control Module, Communication and Navigation Control Module, Engine Control Module, Human Machine Interface and Transmission Control Module.
Future Market Insights has come up with a comprehensive research study on ECU market. It has recently published an enticing research report on global ECU market by including various facets of the market on a global basis. This research has been performed across important geographies in the globe to get a clear picture of the market on a global basis. Several growth influencing aspects such as drivers, trends, macroeconomic factors, restraints, key developments and product innovations have been thoroughly analysed and included in this research report. The qualitative acumen with these insights delivers the much needed value addition to the reader. The ECU market research report also provides future projections of five years down the line, from 2017-2022.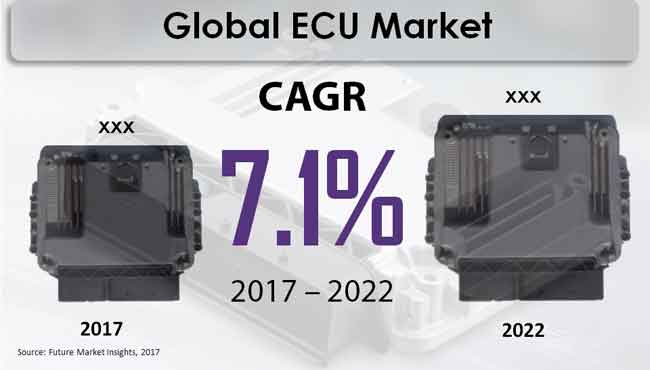 According to Future Market Insights, the global market for ECUs is expected to witness a noteworthy growth rate throughout the period of estimation. As per the market figures, the global ECU market is estimated to reflect a market valuation a little less than US$ 50 Bn by the end of 2022, growing at a healthy CAGR throughout the period of projection, 2017-2022.
Safety and Security Control Module Accounts for Higher Market Share
The safety and security control module segment by product type is witnessing high growth rate during the forecast period. In 2017, this segment holds a 18.3% market share of the ECU market, which is higher than any other product type segment. According to this research, this trend is expected to continue over the period of estimation and the segment is estimated to reflect a market valuation of more than US$ 9.5 Bn by 2022 end. This segment is also anticipated to gain a significant BPS by the forecasted year end.
High Potential Radiated from Communication and Navigation Control Module
Communication and navigation control module segment in the product type category of ECUs is an emerging segment and is projected to register highest CAGR of 9.8% during the period of estiamtion. This segment is poised to gain a higher BPS by the forecast year end and shows high potential in the coming period. This segment has a les yet a noteworthy rise in market valuation since 2016.
Compact Vehicles Have Been Using a Lot of ECUs
ECUs in vehicles can range from 80 to 100. In compact vehicles a higher number of ECUs have been used to ensure high performance of the vehicle. The compact vehicle segment is the largest segment with respect to growth rate and market share and is estimated to reflect a market valuation of about US$ 15.4 Bn by 2022 end, followed by the mid-sized vehicle segment that stands in the second position. Also, the commercial vehicle segment is expected to show significant growth to attain a noteworthy market share in the coming years.
Competitive Assessment
The research report on global ECU market covers a separate section on competitive assessment. This section involves profiling of key players active in the ECU market, and their key developments, product portfolio, SWOT analysis and financials have been discussed. Key companies such as Robert Bosch GMBH, Magneti Marelli S.p.A, Continental AG, Denso Corporation, Autoliv Inc., Takata Corporation, Hitachi Ltd., Mitsubishi Electric Corporation, ZF Friedrichshafen AG and Delphi Automotive Plc have been profiled in this research study.
The global ECU market has been thoroughly analysed by Future Market Insights. In its recent publication titled "ECU Market: Global Industry Analysis (2012-2016) and Opportunity Assessment (2017-2022)", various facets of the global market have been covered that determine the growth of ECUs in various regions. In-depth analysis on factors influencing this growth has been portrayed in a well-structured format explaining each aspect and its impact on the growth of the global ECU market. Several developments, trends, drivers, opportunities, restraints, and challenges have been gleaned to identify revenue pockets around the globe in various regional markets. The reader can slate several strategies and make informed decisions with the help of this ocean of analytical insights.
Including the Global Scenario
The research report on global ECU market focuses on various factors across key regions in the globe. This puts forth a global 3600 perspective thus giving a holistic perspective of the global market for ECUs. Moreover, the global scenario is analysed to identify potential key regions offering high opportunities to various key players in the coming years. This gives an idea to the reader about investing in a particular region in a particular market segment for a specific advantage. Expansion strategies and pricing tactics are few of the many stratagems that the reader can devise and implement basis the intelligence provided by this research report. To add to the holistic view the research offers, it presents all the statistical data with an unbiased approach that gives a realistic shape to the global market for ECUs.
Uniqueness in Research Methodology
A one-of-its kind research methodology is used at Future Market Insights with a view to obtain highly accurate data with reduced deviations. Based on an in-depth market segmentation, the entire market is churned with the help of a secondary research. Primary interviews are conducted with market observers, domain experts and opinion leaders involved in the ECU market and several funnels of validation and examination of data is carried out. The number crunching and data mining with key opinions undergoes a triangulation process with the help of which a single market data point can be obtained which is higher in accuracy representing that particular market segment in a particular region. The entire market is analysed and statistical analysis is carried out in a similar manner to achieve numbers with greater accuracy.
Market Segmentation
The global market for ECUs has been segmented by product type, by vehicle type, by sales channel and by region.
| Region | Product Type | Vehicle Type | Sales Channel |
| --- | --- | --- | --- |
| | Powertrain Control Module | | |
| | Safety and Security Control Module | | |
| | Communication and Navigation Control Module | | |
| | | | |
| | | | |
| | | | |
| | Transmission Control Module | | |
| | | | |
Competitive Assessment is Equally Vital
The research report on global ECU market has included a separate section which describes the analysis of key players involved in the ECU market. This section describes several details of the key players such as company overview, SWOT analysis, key developments and innovations, market share and revenue analysis, product portfolio, mergers and acquisitions and several other key financials. This intelligence dashboard gives a complete picture of the active players in the ECU market worldwide, the data of which can be used to formulate strategies in order to gain competitive advantage in the coming years.
Various Reasons to Invest in the Research Report
The research report on global ECU market puts forth a comprehensive analysis on the entire market scenario with an unbiased view giving a real picture of the market insights to the reader. Moreover, key recommendations and impact analysis of various facets of the market is also included which can be used to identify future moves. This statement is supported by the forecast section, which includes future projections of the global ECU market five years down the line, from 2017-2022, and these projections are estimated based on the present and the past statistical data and trends. Competitive analysis is another value addition that the reader can avail to gain competitive edge in the coming years. This research report can provide analytical insights on various segments of the global market thus assisting the reader to maintain the right track in the ever changing dynamics of the global ECU market.
COVID -19 : Impact Analysis
Request the coronavirus impact analysis across industries and markets
Request Covid -19 Impact
CASE STUDIES
See how our work makes an impact.
At FMI, we design strategies that are adaptive, impactful, and implementable.