Introduction
ECU are also referred to as engine control units. They are a kind of electronic control units which comes under automotive electronics. ECUs regulate the functions of the car thus enhancing the car performance. Modernised vehicles have about 80- 100 ECUs, whereas luxury cars such as 7- series BMW have about 150 ECUs embedded in their systems. ECU is responsible for the mechanism of spark ignition, fuel injection, controlling idle speed, and variable valve timing.
There are various types of ECUs used in automobiles, such as, Powertrain Control Module, Body Control Module, Safety and Security Control Module, Vehicle Control Module, Communication and Navigation Control Module, Engine Control Module, Human Machine Interface and Transmission Control Module.
Future Market Insights has come up with a comprehensive research study on ECU market. It has recently published an enticing research report on global ECU market by including various facets of the market on a global basis. This research has been performed across important geographies in the globe to get a clear picture of the engine control unit market on a global basis.
Several growth influencing aspects such as drivers, trends, macroeconomic factors, restraints, key developments and product innovations have been thoroughly analysed and included in this research report. The qualitative acumen with these insights delivers the much needed value addition to the reader. The ECU market research report also provides future projections of five years down the line, from 2017-2022.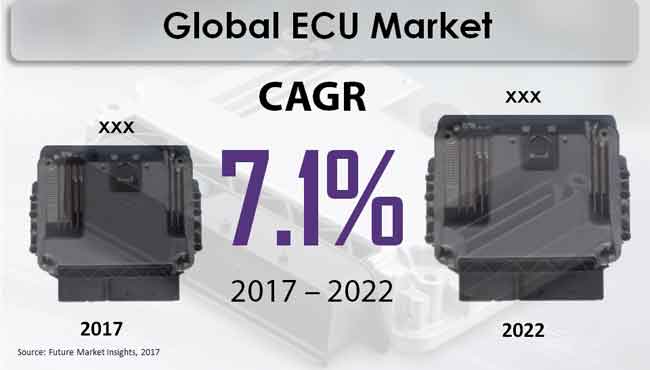 According to Future Market Insights, the global engine control unit market is expected to witness a noteworthy growth rate throughout the period of estimation. As per the market figures, the global ECU market is estimated to reflect a market valuation a little less than US$ 50 Bn by the end of 2022, growing at a healthy CAGR throughout the period of projection, 2017-2022.
Safety and Security Control Module Accounts for Higher Market Share
The safety and security control module segment by product type is witnessing high growth rate during the forecast period. In 2017, this segment holds a 18.3% market share of the ECU market, which is higher than any other product type segment. According to this research, this trend is expected to continue over the period of estimation and the segment is estimated to reflect a market valuation of more than US$ 9.5 Bn by 2022 end. This segment is also anticipated to gain a significant BPS by the forecasted year end.
High Potential Radiated from Communication and Navigation Control Module
Communication and navigation control module segment in the product type category of ECUs is an emerging segment and is projected to register highest CAGR of 9.8% during the period of estiamtion. This segment is poised to gain a higher BPS by the forecast year end and shows high potential in the coming period. This segment has a les yet a noteworthy rise in market valuation since 2016.
Compact Vehicles Have Been Using a Lot of ECUs
ECUs in vehicles can range from 80 to 100. In compact vehicles a higher number of ECUs have been used to ensure high performance of the vehicle. The compact vehicle segment is the largest segment with respect to growth rate and market share and is estimated to reflect a market valuation of about US$ 15.4 Bn by 2022 end, followed by the mid-sized vehicle segment that stands in the second position. Also, the commercial vehicle segment is expected to show significant growth to attain a noteworthy market share in the coming years.
Competitive Assessment
The research report on automotive engine control unit market covers a separate section on competitive assessment. This section involves profiling of key players active in the ECU market, and their key developments, product portfolio, SWOT analysis and financials have been discussed. Key companies such as Robert Bosch GMBH, Magneti Marelli S.p.A, Continental AG, Denso Corporation, Autoliv Inc., Takata Corporation, Hitachi Ltd., Mitsubishi Electric Corporation, ZF Friedrichshafen AG and Delphi Automotive Plc have been profiled in this research study.
Market Segmentation
The global market for ECUs has been segmented by product type, by vehicle type, by sales channel and by region.
Region
North America
Latin America
Europe
Japan
APEJ
MEA
Product Type
Powertrain Control Module
Safety and Security Control Module
Communication and Navigation Control Module
Body Control Module
Vehicle Control Module
Engine Control Module
Transmission Control Module
Human Machine Interface
Vehicle Type
Compact Vehicle
Mid-Sized Vehicle
Premium Vehicle
Luxury Vehicle
Commercial Vehicle
Heavy Commercial Vehicle
Sales Channel
Need specific information?