Foamed Plastics Market By Product Type (Packaging, Wrapping, Cushioning, Insulation), Material Type (Polyurethane (PU) Foams, Expanded Polystyrene (EPS) Foam, Vinyl (Plastisol, PVC) Foams), Sales Channel (Direct Sales, Indirect Sales) & Region - Forecast to 2020-2030
Global Foamed Plastics Market - Analysis, Outlook, Growth, Trends, Forecasts
August 2020

REP-GB-12309

150 pages
Foamed Plastics Market Outlook & Key Findings
The market for foamed plastics witnessed a massive slowdown in its progress as a result of the spread of Covid-19 pandemic across the globe. But in the post covid world, the rising demand for packaging solutions that are capable of keeping the product safe, while keeping the overall cost of packaging and transportation reasonable in driving the market growth. As recovery commences in 2021, major players are recuperating their positions through production expansion, capacity utilizations and online selling in 2021 keeping in view the covid-19 norms.
Leading companies such as Berry Global Inc., Dart Container Corporation, Sealed Air Corporation, Pactiv LLC, Tekni-Plex, Inc., Groupe Guillin SA, D & W Fine Pack LLC, Genpak, LLC, UFP Technologies, Inc., Sirap Gema S.p.a and others are actively indulged in the adoption of several market strategies like joint ventures, collaborations, partnership agreements, technological advancements, sales agreements, capacity utilizations, innovations, diversifications, geographical expansions etc to ensure improvements in their operations globally.
For instance, Dart Container Corporation, one of the world's largest food & beverage packaging manufacturers, announced its partnership with UltraTech to support the new grant program to protect Marine and Inland Waterways. Dart corporation will provide up to $100,000 in grants for the purchase and installation of UltraTech's patented Ultra-Drain Guard stormwater management products. These products have the ability to prevent litter, oil and sediment from entering the waterways. Ultratech's Drain Guards have witnessed impressive success rate and that is the main reason why Dart joined forces with Ultratech to serve the communities by installation of devices.
In terms of growth, the market in Asia Pacific is anticipated to stay ahead at a promising revenue rate during the forecast owing to the mass production of foamed plastics production in China. Increasing rate of developments in the automotive, building and construction industries is also driving the growth of the market in the region. The other key regions augmenting the growth of the foamed plastics market are North America, Latin America, Europe and MEA.
Foamed plastics market is projected to reach over US$ 85 Bn by 2030
Consistent demand for foamed plastics for contamination-free storage of both industrial and non-industrial goods uplifts market growth
Foamed plastics market is projected to expand at CAGR of over 6.0 % during the forecast period between 2020 and 2030
Asia Pacific anticipated to dominate with market value share of 48% in the global foamed plastics market by 2020
Rising prominence of e-commerce platforms coupled with the need of protective packaging to offer lucrative opportunities
Strengthening Logistics & Transport Industry to Boost the Sales of Foamed Plastics
Manufacturers and retailers look for packaging solutions that are capable of keeping the product safe, while keeping the overall cost of packaging and transportation reasonable. This has pushed the demand for foamed plastics in recent years.
Several manufacturers outsource logistics activities to the third party that have the capability of meeting these challenges and needs. The light weight property of foam, while providing extra cushioning to the product has always made it the ideal choice amongst packers.
An increasing number of e-commerce and Omni channels platforms have unleashed opportunities for foamed plastics market as shopping for various goods has newer venues.
This has generated a high demand for foamed plastics protective packaging material for ensuring damage-free transportation. Thus, emergence of e-commerce and logistics services are considered as a significant factors for growing foamed plastics market.
Easy and Cost-effective Reuse of Foamed Plastics Fuels Adoption
The cost of sorting of foamed plastic constitutes a major portion of its recycling and treatment process. To circumvent this problem, manufacturers and converters are reusing foamed plastic to produce new products.
The trend of reusing is expected to be welcomed with open arms are concerns about packaging waste piling up in landfills and ocean surfaces continues to mount.
Recycling allows foamed plastics to be turned into compact and manageable size by compressing it. Solutions such as limonene can be used to dissolve foamed plastic and make them reusable.
In addition, foamed plastics can be disposed of by incineration. In municipal incinerators, foam plastic yields water and carbon dioxide, which can be used as a fuel source for waste-to-energy programs that capture heat and turn it to useful purposes.
Thus, thermal recycling enhances sustainability and helps to tackle challenges associated with foamed plastic pollution.
The renewed outlook at foamed plastic recycling and reusing is thus expected to reduce the burden of this material on landfills.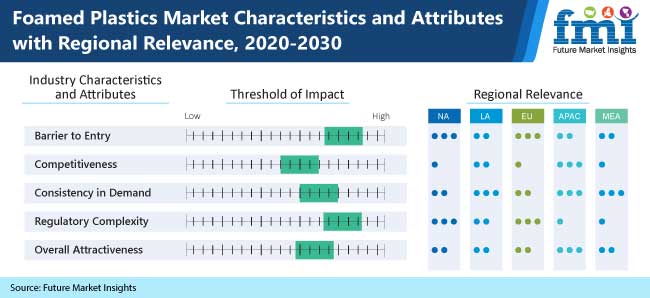 Despite the positive outlook for foamed plastics, few regions such as North America and Europe have restriction on the use of expanded polystyrene (EPS) foam as a food packaging material. As a result, the entry of foamed plastic manufacturers serving food industries is a bit challenging in these regions.
Regulatory authorities have banned the use of EPS in the form of bowls, cups, trays, plates, and clamshell for food products. Therefore, several foodservice outlets, restaurants, and food packaging industries are gradually shifting to alternative packaging solutions.
However, the demand for foamed plastics in food packaging industries of Asia Pacific is increasing at a prominent CAGR. During initial phases, China also banned on EPS food packaging material but later on it was withdrawn.
In terms of competition, Asia Pacific, North America, and Europe foamed plastics market are highly competitive owing to the presence of many regional and organized players. On the other hand, less competition is witnessed in Latin America and MEA market.
Future Market Insights analysts indicate that despite being a matured market, Asia Pacific region will generate notable demand for a wide range of foamed plastics. This is further expected to attract manufacturers to reinforce their market position in this region.
Latin America region has a low market share in foamed plastics market but is expected to create remarkable demand for foamed plastics in the upcoming years on the back of increasing building and construction activities.
Construction Industry Leads to Gains for Foamed Plastic Market
Foamed plastics are highly used in the construction industry. Flexibility, versatility strength, cost-effectiveness, durability, and low maintenance makes them an attractive choice for the construction sector.
Foamed plastic find application in sealing windows and door profiles, pipes, floor covering, and insulation. With rising investments in the construction industry through public and private routes, the industry is expected to grow in the years to come.
The growth is anticipated to be driven by countries such as China, India, and the Unites States. Investments in healthcare, education, and social infrastructure have directly influenced the demand for foamed plastics in recent years.
Increasing Manufacturing Activities and Industrial Output Demands Better Packaging
Increasing manufacturing capabilities and industrial output has a major impact on demand for foamed plastics in packaging. Rise in export of the products across the borders has created new revenue generating opportunity for the manufacturers of foamed plastics as packaging for long transits need to be exceptionally safe.
The expanding automotive industry demands use foamed plastics for manufacturing purposes. Expandable polystyrene (EPS) is highly preferred material in manufacturing of exterior and interior parts of vehicles for making perfect seating arrangements.
The foamed plastics makes a notable contribution towards passenger safety in the automotive sector, which is projected to bode well for the market. For Instance, according to Sealed Air Corporation, the company works in partnership with automotive manufacturers to determine the most effective foamed plastic packaging solution to meet their requirement.
Furthermore, the anti-static property of foamed plastics is increasing its application in the electrical and electronics industry. Consistently increasing demand for foamed plastics to keep electronics devices shockproof during transit is also expected to add to the revenue of the market.
Unstoppable Spread of COVID-19 Slows Uptake of Foamed Plastics
Foamed plastics market is highly depended on the expansion of logistics, construction, and other manufacturing industries. Challenges to export due to COVID-19 has proved as a serious impediment to the market.
The problem is compounded by retardation in manufacturing activities, which are facing problems due to scarcity of raw material and labor.
The negative impact of COVID-19 is also being experienced by the construction industry across North America, Europe, and Asia Pacific, further slowing down usage and demand of foamed plastics.
The demand for foamed plastics is expected to remain sluggish until the end of the year 2020. However, in a few countries such as China, Canada, and India, manufacturers are resuming work with strategically planning for quick recovery from the losses. Analysts project that the foamed plastics market is expected to gain significant momentum by 2021.
Innovation and Advancement in Products to Augment Demand for Foamed Plastics
The demand for polyurethanes made from renewable resources has gained attention as the demand for sustainable products continues to rise. Natural oil polyols (NOPs) and sugars are used to make polyurethane foams for the automotive industry that offer high performance.
Cost-efficient and bio-based polyols are capturing the attention of foamed plastic manufacturers and are likely to make a strong pitch to environment-conscious buyers.
Bio-based polyols are replacements for existing polyols that have similar structure and attributes. Along with functionality, they are derived from renewable raw materials rather than petrochemicals. Furthermore, consumer concerns regarding the environment have led to a preference for bio-based foamed plastics.
Foamed Plastics Market: Regional Analysis
Asia Pacific region is expected to remain in the leading position in the global foamed plastics market, attributable to the maximum foamed plastics production in China, which holds nearly 58% of the regional market share.
Study predicts that increasing developments in automotive, building and construction, and food serving industries in the region are contributing to foamed plastics market.
Following to this, North America and Europe markets are expected to experience a decline phase amid COVID-19 crisis. However, a gradual increase in the production of foamed plastics is anticipated as demand for protective packaging solutions are felt across industries.
With the increasing infrastructural development projects, Latin America and the Middle East and Africa foamed plastics market is anticipated to grow at prominent CAGR of nearly 6% and 7% respectively during the forecast period.
Foamed Plastics: Competition Landscape
The foamed plastics market seems to be highly fragmented, as many regional and local players are expected to make their way in the market. This is also expected to result in a highly competitive market. Key players are focusing on providing tailored solutions as per the need of consumers.
Manufacturers are also emphasizing on optimizing production of foamed plastics volume, diversifying their product portfolio, and increasing their customer reach through acquisitions.
Some of the strategic moves made companies in the foamed plastics market are:
In 9 July 2020, Anchor Packaging LLC, acquired Panoramic Inc., one of the leading manufacturer of thermoformed products used in fresh food applications.
In July 2019, Berry Global, Inc. completed the acquisition of RPC Group Plc, one of the leading plastic manufacturing organizations, thus expanding the Berry Global Group's foothold in the packaging market.
Some of the key players in the foamed plastics market are
Berry Global Inc.
Dart Container Corporation
Sealed Air Corporation
Pactiv LLC
Tekni-Plex, Inc.
Groupe Guillin SA
D & W Fine Pack LLC
Genpak, LLC
UFP Technologies, Inc.
Sirap Gema S.p.a
World's Most Profilic Intelligence Engine
Get Access To The World's Largest Market Research Database.
Sign Up Now
Key Segment
By Product Type
Packaging

Food Packaging

Trays
Clamshells
Plates
Bowls
Cups

Transport Packaging

Wrapping
Cushioning
Insulation
Others
Construction
Others
By Material
Polyurethane (PU) Foams
Expanded Polystyrene (EPS) Foam
Vinyl (Plastisol, PVC) Foams
Others (PE Foam, PP Foam)
By Sales Channel
Direct Sales
Indirect Sales

Supermarkets/ Hypermarkets
Convenience Stores
Online Retailing
By Region
North America
Latin America
Europe
Asia Pacific
MEA
Need specific information?
Our Clients