Industrial Oxygen Market - Key Research Findings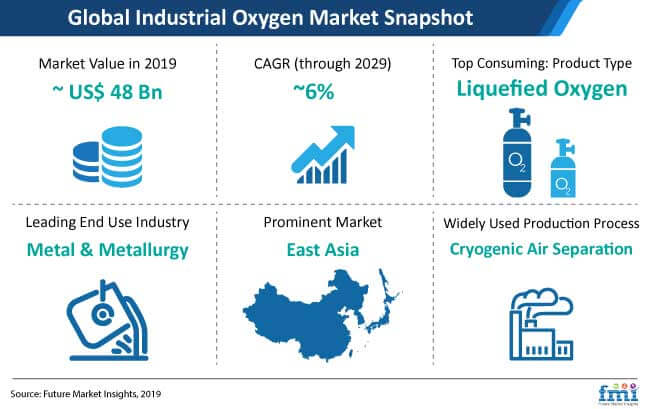 The global Industrial Oxygen Market size in 2018 was valued at ~US$ 45 Bn.
The Industrial Oxygen Market is expected to grow at a CAGR of ~6% during the forecast period of 2019-2029.
Collectively, North America and East Asia are expected to account for half of the revenue shares in the oxygen industry by the end of 2029.

The East Asia market continue to be a prominent regional market for industrial oxygen manufacturers, attributing to the predominance in steel production activities.

The medical & healthcare industry is expected to show lucrative growth and is one of the promising end-use sector to invest in for Industrial Oxygen Market players.

The chemical industry has witnessed significant growth over the recent past and the boom of the specialty chemical & petrochemical sector has been particularly significant.
Important application potential of oxygen has been identified in pharmaceuticals, biotechnology, and food & beverage industry.
Key Factors Shaping the Industrial Oxygen Market
Mergers & Expansions: A Step towards Market Consolidation
Major market players are strategically expanding their production units in different regions to target regional customers and reduce the transportation expense. Major consumers of oxygen are preferring to install production units to fulfil their demands and reducing supply loads. The leading market participants are emphasized on mergers and acquisitions to extend their global footprint.
For instance, in October 2018, Linde A.G. and Praxair Inc., two prominent players in the oxygen gas market completed the ~US$ 90 Bn merger of their global industrial gas business to become a market leader in the global gas market and formed a new entity under the name of Linde Plc.
Rising Demand for Oxygen for High-technical and Healthcare Applications
Increasing applications of oxygen in healthcare and medical industries are expected to drive the market growth over the forecast period. The aging population has been growing considerably at a high rate on a global level. To balance the conditions of healthcare system, governments worldwide have been planning to invest a significant amount for the improvement of healthcare services, allowing 100% FDI in the medical device sector. Increased cardiac disorders, paediatrics, and requirement in critical life-saving procedures is propelling the demand for medical grade oxygen.
Due to this, the healthcare industry is going through vast infrastructural changes. Oxygen is required for respiratory purposes and various other applications in the healthcare industry. The rapid growth of the healthcare industry across the globe is anticipated to create significant demand for industrial gases over the forecast period.
Increasing Product Innovation for Medical Use Propelling Market Growth
In the recent years, several players are coming up with innovative products for targeting customers from the medical industry. Small oxygen concentrators that are portable, can be used for patients with chronic respiratory disorders, and in emergency medical kits are gaining high attraction in the market. Manufacturers and governments of several countries have also been actively planning to install small and medium size oxygen generation plants for hospitals in remote and rural areas.
Increasing Consumption from Steel Industry in Developing Regions
The steel industry is one of the prime consumer of the oxygen, it approximately consumes 580 kilo tons of oxygen per day. Oxygen manufacturers provide oxygen to the steel industry through long-term supply agreements (10-15 years). The growth in the steel industry acts as a primary driving factor for the global Industrial Oxygen Market.
Rising building and construction industry, coupled with the rapid industrialization is expected to propel the demand for steel across the globe. The global steel demand witness 2.1% year on year growth in 2018 and is estimated to grow steadily in the forecast period. The rising demand for steel including carbon steel, electrical steel and mild steel for various applications will fuel the demand for oxygen in the forthcoming period.
Industrial Oxygen Market Structure Analysis
The global Industrial Oxygen Market represents a highly consolidated competition landscape, where a majority of key players maintain their strategic focus on the development of long-term supply contracts, acquisitions of local players, and joint ventures with regional players targeting a firmer global footprint.
The Industrial Oxygen Market has been comparatively vast in size, which remains a key factor for its dynamic competitive nature.
Prominent manufacturers of oxygen are currently prioritizing on the medical & healthcare sector to resonate with the growing demand for medical oxygen in Europe, North America, and East as well as South Asia markets.
Production capacity expansion is also identified to remain as one of the key developmental strategies adopted by manufacturers of oxygen.
For a stronger foothold in target markets, oxygen manufacturers continue to rely on inorganic strategies such as mergers and acquisitions.
Deeper understanding of the market trends and preferential shifts of end-use segments across several regions are likely to create a bottleneck for prominent players, looking forward to untapped opportunities in the Industrial Oxygen Market.
Industrial Oxygen: Aligning with Manufacturing and Operational Changes
Several countries have been on a far-reaching journey of energy transition that targets de-carbonization of all aspects of daily lives in a relatively shorter period of time. With rapid depletion of energy resources and fossil fuels, the role of industrial gases is constantly being revised, in an effort to increase the sustainability and economic worth of several manufacturing processes.
Inescapable trends of operational change, along with growing demand for alternate energy sources, which are likely to be met by large-scale gasification plants, have provided the much-needed impetus for exploring the potential of industrial gases, especially oxygen, beyond their typical, tried and tested grounds. In addition to the intensification of combustion process that enables the capacity upgrades of existing facilities, the role of industrial oxygen has been prominent in the optimal design of Greenfield refineries.
Technological Advancements to Push On-site Production
An incessant increase in energy demands, along with a number of initiatives taken for climatic change mitigation, has ensured that the industrial oxygen market has seen manifold growth in revenues. As the usage of industrial oxygen meandered through non-traditional areas, such as space research, agro-processing, and food preservation, a number of market players have been adopting advanced technologies such as pressure swing absorption (PSA) as a highly efficient yet cost effective method to produce industrial oxygen.
A boom in healthcare industry in both developed and developing countries has also been contributing to the demand for high-grade industrial oxygen. Moreover, mobile PSA systems that allow on-site production of oxygen are gradually replacing high-pressure cylinders in the medical & healthcare space, thereby offsetting challenges associated with delivery and storage of oxygen.
Industrial Oxygen - en route to Mass Markets
In today's technology-ready culture, industrial oxygen is becoming increasingly essential in a multitude of industries, most significantly in steel manufacturing, chemical processing, and healthcare. The growth of industrial oxygen market is currently concentrated in Asia Pacific, owing to rapid infrastructure expansion and several government policies favoring manufacturing industry.
Numerous upcoming industrial projects in the region along with recent trends of industrial gas companies establishing ASU (air separation unit) production facilities in countries such as China and India, where cost of operations are relatively low, are likely to prepare the ground for further expansion of industrial oxygen market.
The Broader Perspective
With growing urgency of energy conservation and efficiency in terms of using the existing fuel, the use of industrial oxygen is likely to grow significantly in various industries, making the processes effective and ecofriendly. A notable rise in steel demand, driven by construction and infrastructure projects along with enormous requirement of oxygen in gas-to-liquids sector, will continue to provide potential growth prospects to the market.
However, a majority of governments have implemented stringent laws on industrial gas manufacturing, storage, and distribution to prevent contamination and accidents. While this continues to remain a challenge for the market in the short term, the standardization will be critical for the overall market in the long run. Further, industrial oxygen manufacturing process is regarded as extremely capital-intensive, and thus the global market is concentrated among a handful of large companies.
How Growth Will Unfold
Apart from manufacturing, the distribution of industrial oxygen contributes significantly to the companies' economic footprint. A number of market players are thus focusing on offering storage and distribution of industrial oxygen as a part of their business.
As distribution strategies of industrial oxygen suppliers generally maintain a region-wise focus, manufacturers are establishing ASUs in close proximity to the site of consumption, to fulfill the demand for large volumes of industrial oxygen, especially from metallurgical and healthcare sectors. Further, investments in capacity expansion, continued M&A activities, and establishment of long-term supply agreements are emerging as profitable strategies for the industrial oxygen market players.
Key Segment
By Type
Low Purity (90%-99%)
High Purity (>99.5%)
By Product Type
Compressed Oxygen Gas
Liquefied Oxygen
Oxygen Gas Mixtures
By Production Process
Cryogenic Air Separation
Non-Cryogenic Air Separation

Pressure Swing Adsorption (PSA)
Vacuum-Pressure Swing Adsorption (VPSA/VSA)
Others
By End-Use Industry
Automotive & Aerospace
Chemical Processing

Fine/ Specialty Chemicals
Petrochemicals
Refining

Metallurgy
Energy

Bio Energy
Oil & Gas
Co-generative Power Plant

Construction Material
Food & Beverages
Water & Wastewater Treatment
Medical & Healthcare
Welding & Metal Fabrication
Pharmaceutical & Biotechnology
Others (Pulp & Paper, Electronics, and Diving)
By Region
North America
Latin America
Europe
South Asia
East Asia
Oceania
Middle East and Africa
Need specific information?