Industrial Robotic Motors Market - Key Research Findings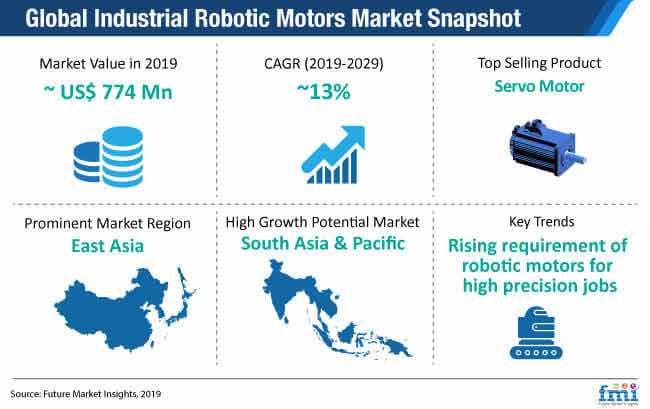 The global industrial robotic motors market size in 2019 is estimated to reach ~US 774
The industrial robotic motors market is anticipated to grow at a CAGR of ~13% during the forecast period of 2019-2029.
The articulated robot segment is expected to remain prominent and most preferred robot type segment in the industrial robotic motors market, owing to its high efficiency and improved productivity.

The growth of this particular segment plays a significant role in the growth of the global industrial robotic motors market.

East Asia is likely to account for more than half of the market shares in the industrial robotic motors industry by the end of 2029.

The East Asia market will continue to be a prominent market for industrial robotic motors manufacturers and distributors, owing to the growing number of end-use industries and increasing preference for automation in these industries.

The servo motor segment is likely to continue as the prominent motor type, which creates significant growth opportunities for industrial robotic motors market players.

Servo motors are the most sophisticated motion control devices and it has witnessed significant growth over the recent past. The increased demand for precise dimensional tolerance, advance design methods, and high-force magnet material offered by of servo motors, is expected to propel the demand for servo motors in the industrial robotic motors market.
Noteworthy application potential of servo motors such as quick reversing, exceptional performance, and high accuracy positioning are creating an upswing in the industrial robotic motors market.
Key Factors Shaping the Industrial Robotic Motors Market
Increasing Robotic Automation in Various Industries Propelling the Demand for Industrial Robotic Motors

Robotic automation is driving the productivity and cost competitiveness in several industries, especially those industries that manufactures machinery, electrical equipment, computers, and electronics products. Robotic automation boosting the pace of production and reduction in labor costs, along with the minimum floor space requirement, are the prominent factors driving the adoption of the robotic automation technology. As a result, the demand for robotic motors is increasing across all end-use industries.

Design of a Brushless Servomotor for a Low-cost Compliant Robotic Manipulator

The recent popularity of consumer drones have led to a prominent reduction in the cost of high-torque brushless servo motors, which offers a unique set of advantages for robotic manipulation. The concept of using brushless servomotor with minimal gearing to reduce cost and increase compliance, has significant precedent.

Wide Range of Applications of Industrial Robotic Motors Driving the Market Growth

Robotic motors have a wide range of applications in robots, such as it gives the robot arm its precise angle, a servo motor at every joint of the robot is used to actuate movements and others application, creating more opportunistic market for robotic motors.

Countries with Prominence of Robotic Automation Facing a Paradigm Shift towards Industrial Robotic Motors

China, Japan, and South Korea are the significant countries contributing to the growth of the industrial robotic motors market in the East Asia region. India, Australia, and Thailand are prominent countries for the market in the South Asia and Pacific region. Germany, Sweden, France, and Italy, are driving the front wheel of the industrial robotic motors market. The U.S and Canada are witnessing an upsurge in the industrial robotic motors market in the Americas region.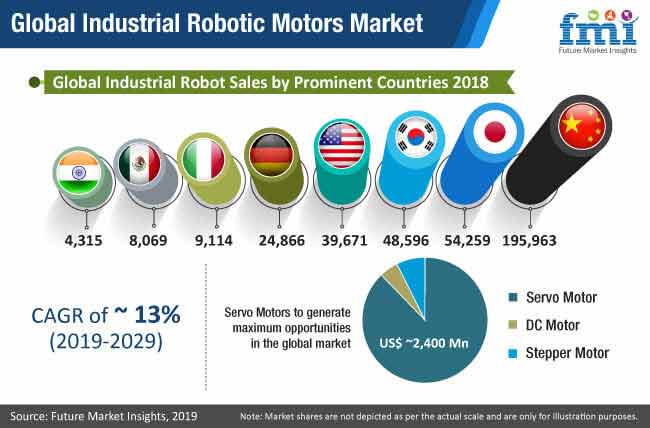 Industrial Robotic Motors Market Structure Analysis
The global industrial robotic motors market is a moderately competitive market, and estimated to be fairly fragmented owing to the notable number of market players.
Key market players laying emphasis on strategies such as adoption of new technologies to develop innovative products and further enlargement of sales and distribution channels. Expansion of the business through collaborations, mergers, acquisitions, and alliances are the strategies followed by key players in the industrial robotic motors market.
Noteworthy investments in research and development activities by companies for novel and sturdy products is projected to boost the growth prospects of the industrial robotic motors market.

Major players in the industrial robotic motors market are Nidec Corporation, FAULHABER Group, PMDM Group, HDD, Aurotek Corporation, Kollmorgen, Fanuc Corporation, ABB Group, and Kawasaki Heavy Industries, among others.

Global and local market players are benefiting from a significant marketing network of distributors. Local and international offices deliver sales and aftersales services to their customers to retain their customers' base across tier 1 and tier 2 cities.
Enabling High Accuracy and Controlled Automation for Intended Operations
Manufacturing establishments are banking on synchronous motors specifically AC type servo motors for the operation of collaborative robots or cobots owing to high accuracy and control. Utilizing the PWM (Pulse Width Modulation) of the DC source via fast switching transistors, the optimum voltage and current waveforms for the AC motors are created. The angle detector attached on the other side of the shaft provides high-accuracy information of angle in order to control rotation speed and rotation angle of the rotor.
Further coupling with a feedback system – an encoder - allows operators to control robots as intended, making them a great fit for automation purposes. However, the application of servo motors is restricted to large-scale enterprises due to high initial costs
Leveraging 'Integrated' and 'Ethernet' for Compact Size and Non-Delay Operation
Direct drive industrial robotic motors are carving space in industrial robotics on account of their greater torque. The torque of direct drive motors is controlled more precisely by adjusting the winding current, eliminating the need for cost prohibitive sensors. Low inertial property of direct drive motors enable acceleration and direction reversal at a sweeping rate. Absence of slack in teeth couplings allow accurate automation, unlike gear motors.
Integrating industrial robotic motors with an on-board drive, reduces size, wirework, and expenses. The control electronics are attached at the rear, beside the feedback system, dismissing external electronics packages required to drive or control the motor. In addition, the rear of the integrated industrial robotic motors encompass connections for power, communications, and I/O.
Manufacturers are shifting to deterministic network - industrial ethernet (IE) – on the grounds of high-speed, cost-efficient, and mutual physical layer across the network. The system permits for a pliable network hub and a flexible number of nodes. Further, time-sensitive networking (TSN) complements the protocol by adding latency to deterministic operation for delay prevention.
China - The Most Promising Country for Industrial Robotic Motors Market
Surging production of industrial robots in countries, including China, has been driving the progress of the market, with South Asia & Pacific showing promising growth. China is estimated to encompass the largest number of industrial robots in the world - more than 400,000 – by 2019, with a fifth of the global robot stock located in the country at present.
The 'Made in China 2025' tactic directs domestic manufacturers to boost the production of industrial robots from about 150,000 in 2020 to 400,000 by the next decade. In addition, South Korea has the highest density of robot workers, and is currently witnessing rising demands from electronics and manufacturing verticals.
State-of-the-art Technologies in Line with Bespoke Experience to Define Stakeholders' Tactics
The global industrial robotics motor market is fairly consolidated with market leaders and followers accounting for more than 50% of the total market revenue. Organized players are integrating brushless DC motors and high performance gears into service robots. For improved efficacy of integrated servomotors, manufacturers are introducing dual-port ethernet and closed-loop linear actuators. In addition, motor makers are providing drives that assist motors in optimizing battery life, reducing energy consumption, and offering compact solutions.
New entrants in the market are showing support to 5 programming languages of the IEC61131-3 standard, and offering delta robot languages (DRL) for robot application program development for tailored experience. In addition, the servo motors are expandable to up to 6 axes of servo motion control for I/O expansion with the help of high-speed communication network – ideal for small applications with high flexibility and reliability.
Market followers are focusing on launching stainless steel servo motors that offer high drive efficiency interior, easy cleaning, and high accessibility. Leading players are coming up with low voltage (LV) flameproof motor – available in smaller frame sizes; providing safety, reliability, and efficacy for application in hazardous and explosive settings. Further, manufacturers are leveraging patented technology to cut down carbon footprint from transport refrigeration units to zero.
How Growth Will Unfold
Uptick in demands for industrial robots across numerous industries, is set to guide the industrial robotic motors market to an impressive growth over the predefined timeframe. As the quest for 'compact' system intensifies, direct drive industrial robotic motors are set to gain immense application in industrial robots. Escalating prominence of Industry 4.0 is motivating manufacturers to staunchly shift towards ethernet communication in fieldbus level factory networking.
Rising labor costs across European countries, including the UK, Norway, and others, are influencing industrial operators to turn to collaborative robots or cobots, thereby potentially raising the demand for industrial robotic motors. Furthermore, government bodies are offering incentives to establishments adopting automation in the form of customs duty reduction, which is likely to work to the advantage of the market players.
World's Most Profilic Intelligence Engine
Get Access To The World's Largest Market Research Database. Ngage with a revolutionary intelligence engine that scale and pricing that flexes as per your needs
Sign Up Now
Key Segments
By Motor Type
Servo Motor
DC Motor
Stepper Motor
By Robot Type
SCARA Robot
Delta Robot
Cartesian/Gantry Robot
Articulated Robot
Collaborative Robot
Dual Arm Robot
By Fit Type
By Region
Americas
EMEA
South Asia & Pacific
East Asia
Need specific information?