Industrial Packaging Market Outlook
The MENA industrial packaging market is expanding at a promising growth pace over the forecast period. However, in the face of a global pandemic, the packaging industry has stayed strong. Several packaging businesses were considered essential and stayed open. Many mid and small-sized businesses focused on e-commerce, pharmaceutical, and food and beverage applications fared predominantly well.
Food & beverage has been the largest sector sought for industrial packaging and continues to remain dominant both in terms of volume and value. On the onset of the COVID-19 pandemic, people resorted to bulk stocking and panic-buying owing to the fear of lockdowns. Following strict stay-at-home orders, more people are ordering fresh food or daily staples through online platforms, which prompts an increase in the demand for the volume of industrial packaging solutions.
Manufacturers have resorted to business strategies such as mergers and acquisitions to remain afloat amid the crisis. For instance,
B2B Industrial Packaging declared the acquisition of Kansas-based All Packaging Company, Inc. a leading industrial packaging distributor. The acquisition will have the company increase their clients and serve them with similar incredible support and service that B2B Industrial Packaging is known for. Along with client service, All Packaging's clients will also be able to seek additional support resources, extensive expertise, and a wide-ranging selection of traditional packaging supplies and equipment. The All Packaging workforce will be repositioned to the 76,000-sq-ft KS, Lenexa-based B2B Industrial Packaging facility.
Mauser Packaging Solutions took over EuroVeneta Fusti. Through this acquisition, Mauser is likely to broaden its offering of steel drum packaging as well as plastic industrial packaging and reconditioning IBC services in the Italian region. The production of plastic and IBC packaging will continue from Mauser Packaging Solutions sites in Fonzaso and Grezzago. The acquisition further stands to assimilate Mauser Packaging Solutions' reconditioning activities with the company's contribution to industrial packaging.
Introduction
Sales of industrial packaging in MENA region was valued in excess of US$ 3,300 Mn in 2016 and is projected to be valued at more than US$ 5,000 Mn by 2024. Sales revenue is expected to increase at a CAGR of 5.2% during the forecast period (2016–2024). GCC is anticipated to be a rapidly expanding market for industrial packaging in the MENA region, registering a CAGR of 5.7% during the forecast period.
Extended use of larger size, higher value containers aiding the growth of the MENA industrial packaging market
There has been a continuous improvement in industrial packaging products due to the evolution in product design over the years, and this has increased the value being offered to the end user. As a result, adoption of packaging solutions has increased among industrial users, due to which market demand has risen. From the vintage designed MS barrels to improved MS barrels and improved time designed drums, the industrial bulk packaging sector is again witnessing transition where buyers are posting demands for bulk containers.
In addition, global trade in industrial products has increased three-fold over the past decade, necessitating non-traditional industry players such as bio-chemical manufacturers and food-grade ingredient manufacturers to use these containers. Furthermore, international trade is projected to remain positive for the next five years. It is evident that there will be a significant demand for industrial packaging products across the Middle East & Africa region.
The focus on non-oil economy by Middle Eastern governments is expected to benefit the MENA industrial packaging market
The economics in the MENA region have been traditionally focussed around the oil and gas exploration sector. However, over the years, there has been a gradual shift in the economic focus of the countries in this region towards non-oil based industrial activities. Crude oil is rated dynamic in nature and economic over dependency on this sector can affect the stability of this region. Moreover, oil is an exhaustible resource; thus new business verticals need to be developed as the oil and gas industry dwindles.
As compared to other regions, non-oil goods and services play a much smaller role in the MENA region. Yet, exports and especially non-oil exports are estimated to play a key role in developing the robust and inclusive growth model to secure the economic future of the MENA region. End-use industries such as plastics and rubber, automotive, electronics and agriculture are anticipated to show an incremental growth in this region during the forecast period. Therefore, the demand for industrial packaging is predicted to witness a sharp increase leading to the growth of the industrial packaging market in the MENA region.
Stringent environmental rules and regulations may restrict the growth of the MENA industrial packaging market
Governments across the world are imposing stringent rules and regulations on the use of plastic that has an adverse impact on the environment. Plastics are derived from natural gas, chemicals and petroleum products, which are all non-renewable resources, and are further processed using techniques that ultimately harm the environment. Producers of plastics often dump toxic wastes in the land, air and water and such harmful toxic wastes get embedded in the food chain, leading to harmful effects on the entire ecosystem.
Moreover, rising demand for synthetic plastics is harmful for the environment as it is non-biodegradable, which is a matter of concern for local and international governments. Plastic producers are working on modifying their manufacturing processes taking all such factors into consideration so as to minimise their environmental impact. These factors may restrict the growth of the MENA industrial packaging market over the assessment period.
MENA Industrial Packaging Market Analysis, by Material Type
More than 50% of the industrial packaging market in MENA region is composed of plastics. This segment is expected to gain 180 basis points during the forecast period due to growing industrialisation and manufacturers' inclination toward this material
The metal packaging segment is likely to lose 190 basis points by the end of the forecast period
The plastic segment and paper & paperboard segment is expected to witness an above average Y-o-Y growth rate with a CAGR of 5.2% each during the forecast period
The fibre & wood segment is likely to demonstrate a below average Y-o-Y growth rate from 4.8% in 2015 to 3.3% in 2024, and the metal segment from 4.4% in 2015 to 4.5% in 2024
The plastic segment is anticipated to account for 52.9% share of the global industrial packaging market in 2016, and is expected to emerge as the most attractive segment in terms of CAGR and market share in the industrial packaging market by the end of 2024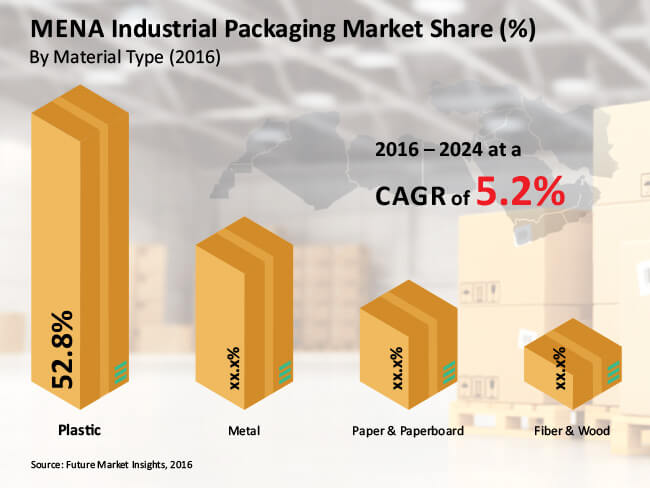 The GCC market for industrial packaging will witness healthy growth of 1.6X by the end of the forecast period
The global industrial packaging market that earlier saw evolution and growth in the North America & European markets, is now gaining substantial footprint into the MENA market. With a boom in the manufacturing sector, the demand for cost-effective, lightweight and convenient industrial packaging solutions comprising plastic is on the high; consequently, the plastic segment is expected to emerge as the most attractive market segment over the forecast period across the MENA region. Oil & gas exploration is rampant in the GCC region.
Also, chemical companies that significantly contribute to the GDP of the MENA region are willing to invest in the manufacturing of industrial packaging products such as Drums & IBCs for storage of oil & lubricant as well as petrochemical products. The GCC market for industrial packaging will witness healthy growth of 1.6X by the end of the forecast period, at the backdrop of a growing industrial sector. The market will also witness additional growth prospects due to affordable flexible packaging solutions being available to product manufacturers in large quantities.
Industrial Packaging Market Report Scope
Attribute

Details

Forecast Period

2015-2019

Historical Data Available for

2016-2024

Market Analysis

US$ Mn for Value and Units for Volume

Key Regions Covered

GCC, North Africa, South Africa, Rest of MEA

Key Countries Covered

Saudi Arabia, Kuwait, UAE, Qatar, Bahrain, Oman, North Africa, South Africa and Rest of MEA

Key Segments Covered

Material Type, Product Type, Packaging Type, End use and Region

Key Companies Profiled

Balmer Lawrie & Co. Ltd.
Time Technoplast Ltd.
Greif, Inc.
Mauser Group B.V.
Gulf Plastic Industries Company SAOG
Clouds Drums L.L.C.
International Paper

Report Coverage

Market Overview, Key Market Trends, Key Success Factors, Demand Analysis, Market Background, COVID-19 Analysis, Segmental Analysis, Regional Profiling, Market Structure & Competition Analysis

Customization & Pricing
Market Taxonomy
By Material Type
Metal
Plastic
Paper & Wood
Fibre
By Product Type
Sacks
Drums
IBCs
Crates
Pails
Bulk Boxes
Others
By Packaging Type
By End Use
Chemicals & Pharmaceuticals
Food and Beverage
Building & Construction
Automotive
Plastics & Rubber
Agriculture & Horticulture
Oil & Lubricants
Electronics
Engineering
Metal Products
Tobacco
Others
By Region
GCC
North Africa
South Africa
Rest of MEA
Need specific information?
Talk Show:
The Rise of Intelligent Packaging
Personalized, Connected and Sustainable
November 18, 2021
11:00-11:45 AM PST (USA & Canada)
This is a LIVE session