Revivable Yeast Market Analysis by Nature (Organic, Conventional); Form (Powder, Tablet & Capsule); Sales Channel (B2B, B2C) and Region for 2022 – 2032
Revivable Yeast Market - Analysis, Outlook, Growth, Trends, Forecasts
December 2021

REP-GB-11164

350 pages
Revivable Yeast Market Snapshot
[350 Pages Report] Newly released data from revivable yeast market analysis by Future Market Insights shows that global consumption of revivable yeast enjoyed a year-on-year (YOY) growth of 9% in 2022 to total sales of US$ 36.3 Mn. During the forecast period, the global revivable yeast market would observe a CAGR of ~10% accounting for projected sales of US$ ~100 Mn in 2032.
| | |
| --- | --- |
| Bio Vanillin Market Size Value in 2022 | USD ~36.3 Mn |
| Bio Vanillin Market Forecast Value in 2032 | USD ~100 Mn |
| Global Growth Rate (2022 to 2032) | ~10% CAGR |
| Forecast Period | 2022-2032 |
The use of revivable yeast is increasing rapidly in food and beverage industry. Revivable yeast is used as a flavor enhancer, salt replacer, and meat-substitute in confectionery, bakery, dairy products, loaves of bread, and other food products. The number of vegan and vegetarian consumers is increasing due to which the demand for vegan food products is increasing which helps to boost the revivable yeast market. Due to social media sites, the awareness of the unique revivable yeast-based products is increasing among consumers.
The availability of revivable yeast-based products is increasing in modern trade, convenience stores, and online retail. Due to the increasing availability of revivable yeast, the usage of revivable yeast as an ingredient is rising globally. Due to high nutritional properties, consumption of revivable yeast is increasing by health-conscious consumers.
Rising Demand For Brewer's Yeast
Brewer's yeast (Saccharomyces cerevisiae), a by-product of beer brewing and a popular kind of revivable yeast is a good source of B-vitamins and protein. Brewer's yeast also seems to increase enzymes in the stomach that could relieve diarrhea and improve the body's defense against viral infections like the flu.
Hence, it is widely utilized in drugs medicines like Organic Revivable Brewer's Yeast capsules from Nat & Form, Phytonorm capsules with brewer's yeast as ingredients that help relieve fatigue.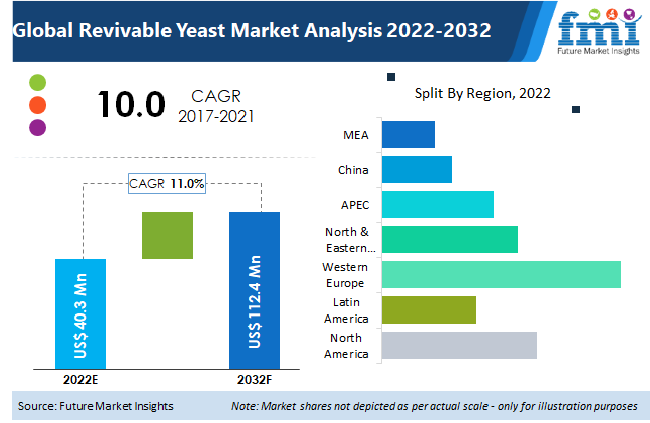 Revivable Yeast Powder To Remain The Dominant Form
Revivable yeast is most utilized in the food and beverage industry. Revivable yeast powder form is used in food and beverage industry much more than its other forms.
Tablet form of revivable yeast has larger demand compared to the capsule form of revivable yeast. , brewer's yeast, Koji yeast, wine's yeast can be found in form of revivable yeast powder. Major brands like the aforementioned Nat & Form – Organic revivable brewer's yeast produce revivable yeast in all three forms.
Application In Pet Food And Cosmetics To Propel The Growth For Revivable Yeast
Apart from food industry, yeast derivatives are used in personal care and cosmetics, and pet food industries. Along with natural and organic food products, the demand for natural and organic skin products is rising rapidly.
Revivable yeast is a natural and plant-based ingredient due to which it is preferred in the production of skincare and hair care products. Revivable yeast is used widely in nail paints and other cosmetic products. Naturland Organic's Revivable yeast is a supplement widely used for skin and nails.
Spreading Range Of Pharmaceuticals And Supplements With Yeast Derivatives
Yeast is a natural nutritional supplement and may enhance energy levels and strengthen the immune system. It's a rich source of chromium, selenium, protein, iron, zinc, and vitamins.
Hence, it is widely used in medicines and supplements. For example, Phytonorm capsules contribute to skin, hair, nails, and energy. Naturland Organic's Revivable yeast is a supplement widely preferred in Europe for beauty and overall well-being.
Developing Regions Offer Lucrative Growth Opportunities
Some of the most renowned manufacturers of revivable yeast in the market are located in developed countries from North America and Europe. Leading brands are sold via traditional store-based retailing in these countries, and are easily available to consumers.
However, in developing countries, the yeast derivatives are mainly sold via online retail channels or are exported, which increases the cost of the product for consumers in developing regions.
Although now major manufacturers are focusing on starting their production units in developing countries which is increasing the availability of yeast derivatives in developing countries. Due to the increasing production, revivable yeast products are available at reasonable prices in developing countries.
Consumers buy revivable yeast mainly for its nutritional and gastrointestinal benefits. The number of nutritional deficient patients is more in developing countries due to which the manufacturers of yeast derivatives are focusing on launching products in revivable yeast.
Rising Demand For Organic, Additive-Free, Chemical-Free & Non-GMO Products To Aid Growth
Due to the addition of chemicals in food products, consumers may suffer from food allergies, food intolerance, cancer, multiple sclerosis (MS), attention deficit hyperactivity disorder (ADHD), brain damage, nausea, and cardiac disease.
Consumers are also becoming cautious about the raw materials used in the food products to avoid any of the side effects. Increasing health-conscious consumers has, in turn, fuelled the demand for organic, additive-free, chemical-free, and non-GMO food ingredients.
Revivable yeast is non-GMO, natural, and gluten-free due to which the demand for revivable yeast is increasing rapidly. Consumers are also becoming more cautious about the health of their pets and prefer organic, chemical-free, additive-free, non-GMO pet food products.
All these factors will ultimately help in the consumption boost of revivable yeast among pharmaceutical firms, food and beverage industry, and personal health care companies.
Competitive Landscape
Revivable yeast market is closer to consolidated than to fragmented. Multiple leading producers of revivable yeast are focusing on mergers and acquisitions to expand their geographical presence. Leading players are acquiring smaller sized companies of revivable yeast to strengthen their product portfolio:
In 2018, Alltech's yeast extract facility in Serbia was acquired by Lesaffre to increase its production capacity of nutritional and health products.
In 2017, Lage y Cía was acquired by Lallemand Inc. to improve the geographical reach and strengthen its research and development activities related to yeast products.
Scope Of Report
Attribute

Details

Market Size Value in 2022

US$ ~36.3 Million

Market Forecast Value in 2032

US$ ~100 Million

Global Growth Rate

~10%

Forecast Period

2022-2032

Historical Data Available for

2017-2021

Market Analysis

US$ Mn for Value, % for rate

Key Regions Covered

North America, Latin America, Western Europe, North and Eastern Europe, China, APEC, and MEA.

Key Countries Covered

United States, Canada, Brazil, Mexico, Argentina, EU5, Russia, China, India, APAC, Japan, UAE, Turkey, MEA, others.

Key Market Segments Covered

Nature, Form, Application, Sales-Channel, and Regions

Key Companies Profiled

Alltech
Lallemand
Lesaffre
Cypress Ingredients
Bioforce Canada
Bob's Red Mill Natural Foods
Quantum Nutrition Lab
Others

Pricing

Available upon Request
World's Most Profilic Intelligence Engine
Get Access To The World's Largest Market Research Database.
Sign Up Now
Revivable Yeast Market Taxonomy
The global revivable yeast market is segmented in detail to cover every aspect of the market and present complete market intelligence to readers.
Nature :
Form :
Sales Channel :
B2B
B2C

Modern Trade
Specialty Store
Convenience Store
Online Retail
Other Sales Channel
Region :
North America
Latin America
Western Europe
North & Eastern Europe
APEC
China
Middle East & Africa
Key Questions Answered in the Report
How much is the revivable yeast market current worth?
Currently, revivable yeast market is worth more than US$ ~36 Mn.
At what CAGR is the market expected to grow?
Revivable yeast consumption is expected to grow at a CAGR of around 10% during the period 2022-2032.
How was the performance in the last five years?
In terms of revenue, revivable yeast grew at a CAGR of around 9% during 2017-2021
What are the key trends boosting Revivable yeast sales?
Natural and GMO-free characteristics of revivable yeast, increasing demand for revivable yeast-based food and beverages, and organic foods becoming renowned are the latest trends of revivable yeast being observed in the market.
How are market players reacting to the new developments in the market?
Market players are opting for technological advancement, new product developments, and production capacity expansion.
Which are the major countries driving demand for revivable yeast?
The US, Canada, France, Germany, UK, and China are the major countries driving demand for revivable yeast.
Who are the major players in the Revivable yeast Market?
The major players involved in the revivable yeast market are Kadac, NOW Foods, Lesaffre Group, Bioforce Canada, Alltech, and Angel Yeast Company.
At what rate will the U.S. revivable yeast market grow?
US revivable yeast market is projected to grow at a CAGR of around m.n% over the next ten years.
At what level does the report reflect pricing analysis?
The report presents a detailed cost analysis of revivable yeast based on nature i.e. organic and conventional.
Need specific information?
Our Clients