Commercial RAC PD Compressor Market - Key Research Findings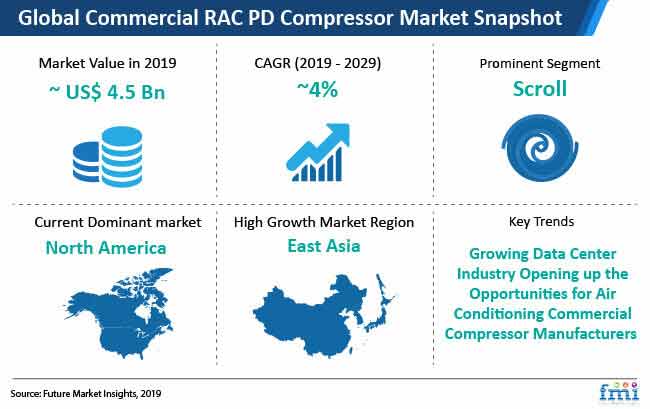 The global commercial RAC PD compressor market size in 2019 is expected to reach ~US$ 4.5 Bn.
The commercial RAC PD compressor market is expected to grow at a CAGR of ~4% during the forecast period of 2019-2029.
Collectively, East Asia, South Asia, and North America, are likely to account for more than half of the revenue share in the commercial RAC PD compressor industry by the end of 2029.

China, India, and the U.S. are expected to be prominent markets for commercial RAC PD compressor manufacturers attributing to the increasing commercial space.

The reciprocating segment is expected to remain a prominent segment to invest in, for commercial RAC PD compressor market players.

Establishment of new super markets and convenience stores escalating the demand for commercial RAC PD compressors.

The up to less than 6 kW commercial RAC PD compressor segment is expected to remain prominent cooling capacity for commercial RAC PD compressor manufacturers.
Key Factors Shaping the Commercial RAC PD Compressor Market
Commercial RAC PD Compressor Market: Increasing number of Retail Stores
Over the last decade, there has been a rapid increase in retail stores across the globe. Expansion of existing facilities and setting up of new stores are expected to increase the demand for commercial refrigeration systems, which in turn, increased the demand for commercial RAC PD compressors.
A substantial change in living standards, coupled with the enhancing macro-economic scenario, has led to a significant surge in the number of organized retail stores worldwide. The rapid growth of the organized retail sector characterized by the rising number of super-markets, hyper-markets, etc. is expected to increase the growth of retail shops that in turn, is estimated to propel the sales of the commercial RAC PD compressor market.
Commercial RAC PD Compressor Market: Governmental Initiatives to Support Utilization of Eco-friendly Refrigerants
Several government agencies and organizations are focusing on the reduction of HCFC emissions from refrigerants, which is expected to be the prime factor for growth of the global commercial RAC PD compressor market. For Instance: Under the Title VI of the Clean Air Act, implemented by the Environment Protection Agency (EPA), the U.S. was mandated to reduce the consumption of HCFCs (R-22) by 90% below the baseline by January 1, 2015.
According to the EPA guidelines, the consumption of HCFCs is required to drop ~99.5% by 2020 and replaced by alternative natural refrigerants. Prominent players in the market have already launched upgraded products to meet these standards while some tier-III category players are striving to achieve compatible technologies through various activities such as R&D and partnerships.
Commercial RAC PD Compressor Market: Rising Number of Cold Supply Chain Facilities and Warehouses
Globally, countries are strengthening their cold supply chain infrastructure to reduce the wastage of food & beverages. According to the Global Cold Chain Alliance (GCCA), refrigerated warehouse capacity in the U.S. increased at a CAGR of ~9% during 2008-2014. The rapid expansion of cold warehouse capacities across the globe is expected to drive the demand for refrigeration compressors.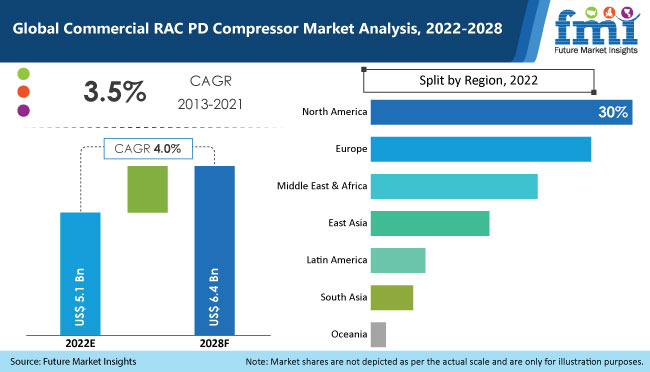 Commercial RAC PD Compressor Market Structure Analysis
The global commercial RAC PD compressor market represents a fairly consolidated competition landscape, where a majority of key players maintain their strategic focus on the development of solid distribution partnerships and joint ventures, targeting a firmer global footprint.
The commercial RAC PD compressor market has been relatively moderate in size, which remains a key factor for its dynamic competitive nature.
Prominent manufacturers of commercial RAC PD compressor are currently prioritizing R&D and new product launches to resonate with the growing consumption of energy efficient commercial RAC PD compressors.
Portfolio extension is also identified to remain as one of the key developmental strategies adopted by manufacturers of commercial RAC PD compressors.
For a strong foothold in target markets, manufacturers of commercial RAC PD compressors are expected to rely on inorganic strategies, such as mergers and acquisitions.
Profound understanding of market trends and preferential shifts of end-use segments across several regions are likely to create a bottleneck for prominent players, looking forward to untapped opportunities in the commercial RAC PD compressor market.
Expelling Heat with 'Dual' Rotary Motor
Manufacturers are revamping commercial RAC PD (Refrigeration and Air Conditioning Positive Displacement) compressors according to tropical settings - tropicalized rotary technology - for enhanced efficiency against conventional rotary compressors or refrigeration compressors. The tropicalized rotary compressors provide stable operation at conditions exceeding 52 degrees Celsius, and chill the environment about 20% faster as compared to their traditional counterparts.
Commercial RAC PD compressors with brushless DC motor (BLDC) offer broader rotational frequency, ensuring rapid cooling, better efficacy, and drastic reduction in vibrational levels. An additional acoustic jacket is provided with the compressor to negotiate noise levels. The dual rotary motor regulates the speed of the compressors to maintain the desired levels of temperature, conserving energy and reducing electricity expenses.
The commercial RAC PD compressors ensure stable operation following phase difference of 180 degree in mutual compression of the twin rotary motors. Further, multiple-blade shaft in rotary commercial RAC PD compressors rotates inside the cylinder housing, forcing the refrigerant via the cylinder and compressing it accordingly.
Leveraging Eco-Friendly Refrigerants and Coolants
Concerns regarding escalating global warning are compelling manufacturers to go back to the drawing board and look for environment-friendly refrigerants - R600a (Iso-butane), and R290 (Propane). While the former is utilized for medium to large commercial applications, the latter is recommended as a replacement for household applications, and small commercial applications.
Propane and isobutane evaporate at lower temperatures and require lower compression pressure, making it significantly energy-efficient. The global warming potential (GWP) of iso-butane and propane is 3, noticeably low as compared to R22 - 1810, as well as have zero impact on ozone depletion. However, high flammability of isobutane and propane are restricting their applicability to domestic, and small-scale purposes, yet the advantages they offer outweigh the drawbacks if the R600a and R290 refrigerants are transported carefully.
Manufacturers are banking on solid refrigerants and coolants such as, neopentylglycol (NPG) in lieu of the existing liquid counterparts. The application of magnetic field, electric field, or mechanic force alters the microscopic structure of the solid refrigerants for imparting cooling and refrigeration.
The molecules of NPG are comprised of carbon, hydrogen and oxygen, which are nearly spherical and display weak interactions with each other. The weak chemical bonds allow the molecules to rotate relatively freely, resulting in significant thermal changes upon compression.
North America and East Asia to Offer a Platter of Opportunities
The intensifying quest for minimum food wastage is set to push North America to the driver's seat of the commercial RAC PD compressor market, with East Asia showcasing promising growth. As per the US Environmental Protection Agency (EPA), the consumption of HCFCs (R-22) is required to completely phase out by the next year, thereby compelling manufacturers to increase their R&D investments and activities.
Moreover, Energy Star, the US EPA voluntary scheme, is providing business and individual rebates to establishments complying with environmental amendments. In addition, China will continue to offer greater opportunities for the regional players, as about 80% of the compressors manufactured in the country are utilized in air conditioning systems application for local end users.
Innovations Complying with Legal Policies - Key Factors to Define Stakeholders' Tactics
The global commercial RAC PD compressor market is majorly anchored by 10 players, whereby the market leaders - The Danfoss Group, United Technologies Corporation, and Huayi Compressor CO. Ltd. – collectively account for one-fifth of the total market revenue.
Government policies to support environment-friendly refrigerants are compelling manufacturers to embrace hydrocarbons such as, R600a, and R290, which offer potential benefits - cost-efficiency, high abundance, zero ozone depletion, and reduced global warming risks. Leading market participants are launching inverter (variable) speed compressors across ACs, while some are incorporating IDV (Intermediate Discharge Valve) in these products for better part-load efficacy.
While organized players are focusing on introducing twin rotary compressors to fill the gap between rotary and scroll compressors, new entrants are designing electronic control microchips to reduce dependence on imports. Further, market players are pioneering ultra-compact BLDC variable speed reciprocating compressors.
Dominant and emerging market actors are looking forward to manufacture region-specific commercial RAC PD compressors. Government and non-government organizations are granting rebates to refrigeration systems, equipment manufacturers, and food service providers for leveraging energy-efficient products services. Furthermore, manufacturers and distributors are offering packaged systems, which envelope all the components of the heating and cooling systems in a single cabinet, for miniaturized spaces.
How Growth Will Unfold
The demand for efficient storage and minimal wastage of food are set to guide the global commercial RAC PD compressor market to a moderate growth trail over the forecast timeframe. Citing energy saving, water-cooled heat exchanger and fans are being attached to compressors to eliminate the heat produced during compressor operation, retaining about 90% of the used electric energy.
Eliminating R-22 compressor on the external unit is an efficient solution for refrigeration and air conditioning, without disturbing the internal system which houses the blower, and cooling coil.
With legacy refrigerants and coolants exhibiting adverse environmental impacts, commercial RAC PD compressor manufacturers are completely zeroing in on shifting towards producing compressors with eco-friendly refrigerants - R600a and R290. In addition, material scientists are introducing barocaloric materials, including NPG, on grounds of entropy changes from phase transition and volume changes - about 500 J/Kg/K - which equates the commercial hydroflurocarbon (HFC) refrigerants.
World's Most Profilic Intelligence Engine
Get Access To The World's Largest Market Research Database. Ngage with a revolutionary intelligence engine that scale and pricing that flexes as per your needs
Sign Up Now
Key Segment
By Product type
By Cooling Capacity
Less than 6 Kw
7-10 kw
11-15 kw
16-20 kw
21-30 kw
30-50 kw
50-100 kw
100-200 kw
By Refrigerant
R290
R404A
R410A
R744
R134A
R407C
By Application
Refrigeration
Air Conditioning
By End-use Sector
Super markets and Convenience
Hotels & Restaurants
Office and Institutions
Food & Beverages Transport
Others
By Regions
North America
Latin America
Europe
East Asia
South Asia
MEA
Oceania
Need specific information?