Injection Molding Containers Market Outlook
Injection Molding Containers Market to Flourish Owing to Huge Consumption from Packaging Industry
The realm of the injection molding process continues to broaden with technological advancements as plastic material facilitates new designs and breakthroughs in packaging. Cost-effectiveness, sturdiness, ease of handling and transportation, excess supply for food and beverage products, resilience, durability, and lightweight are the variables that influence the Injection Molded Plastic Container industry.
According to our research, the demand for residential and household commodities, as well as the growing worldwide packaging industry, will stimulate the market over the upcoming decade. Injection molding is a versatile technique for manufacturing plastic items and components.
Because of its obvious benefits over other fabrication techniques, this method is widely preferred. Injection molding is not only simple and credible, but it is also incredibly efficient.
The factors which restrain the Injection Molded Plastic Container market are sustainability because the globe is shifting toward the pattern of using biodegradable polymers and ignoring plastic usage to decrease the carbon footprint produced by both suppliers and consumers, as well as the accessibility of alternatives including such paper and bioplastics that are disposable and recyclable.
Due to the emergence of e-commerce and retail business in recent years, North America makes a significant contribution to the lion's share of the Injection Molded Plastic Container market and is estimated to grow at a significant rate through the forecast period. Europe is also a significant contributor to the Injection Molded Plastic industry.
Moreover, expansion in the number of customers, and food and beverage product demand, the Asia-Pacific region is predicted to expand at the fastest rate and contribute its most quantity to the Injection Molded Plastic Container market.
The regions anticipated to have steady growth in the Injection Molded Plastic Container market and increase their market dominance participation during the projected timeframe are Latin America, the Middle East and Africa, and Oceania.
FMI recently completed an in-depth evaluation of the market's key vendors. Organizations are investing in the injection molding containers business to achieve the desired results. Manufacturers use a variety of tactics, such as new product launches, geographic expansion, mergers, and acquisitions, to identify potential buyers' interests and build a larger base of clients.
Some of the prominent stakeholders in the injection molding containers market include Singa Plastics Limited, HTI Plastics, WERIT Kunststoffwerke W. Schneider GmbH & Co.KG, Placon Corporation Inc., Mold Tek Packaging Ltd, Duplas Al Sharq LLC, Arabian Plastics Industrial Company Limited, Pampa Industries (International) Corp., Arabian Gulf Manufacturers Ltd, National Plastic Factory, Plastic Container Packaging Corporation, and H&O Plastics.
Injection molding process in the plastic industry has evolved itself as one of the most dynamic technology in the recent decade.
Injection molding is one of the most commonly used method which can fabricate almost any plastic type. Processes, technologies and materials used in the injection molding method continue to advance, allowing producers better insights to designs and help in development and production of efficient and cost effective plastic products.
The products manufactured using injection molding technique may vary in dimensions, complexity and applications. Various kinds of plastic products are produced using injection molding such as jars, containers, body panels for cars, domed caps, lids, and closures among others.
Injection molding containers includes products such as plastic bottles, food containers, and cosmetic containers. The packaging industry heavily depends on injection molded plastic containers.
For instance, food storage and packaging is highly dependent on injection molded plastic containers. Plastic containers find useful applications in various industries such as food & beverages, cosmetics, healthcare and pharmaceuticals.
Due to multiple applications of injection molding containers, the type of plastic used is different. These containers are made up of different plastic types such as polypropylene, polyethylene and others.
The advantage of containers made up of injection molding method is that it is repeatable, which means the second part produced is going to be practically identical to the first one.
Don't pay for what you don't need
Customize your report by selecting specific countries or regions and save 30%!
Uses of plastic containers
Plastic injection molding containers are used on daily basis, from household to industries. Containers manufactured using injection molding extrusion method are highly used.
This containers are employed to pack containers, dairy products, personal care products and other household products.
Also, the material which is being used in the manufacturing of injection molding containers have high acceptance in recycling centers and the growing demand for recycling packaging solutions which fuels the global demand for these containers.
Injection molding containers are very useful for storage purposes. Plastic is durable, as breaking of plastic containers is not an issue. Also, injection molding containers are cheaper than its counterparts such as glass, and metal. It provides cost effective solutions.
With injection molding method, containers can be manufactured in bulk. The growth in global trade is increasing and it is also increasing the capacity of goods being transported, which creates an absolute need for packaging solutions in order to reduce chances of quality deterioration and ensure product integrity during transportation.
Injection molding containers are known for its impact resistant properties. Injection molding containers such as drums, pails, and crates, among others are used widely across the globe.
Market Outlook
The demand for cheaper packaging products, which can be possible by process such as injection molding is expected to fuels the growth of global injection molding containers market.
Also, the demand of products for domestic and household purposes and growing global packaging industry is expected to drive the market over the next decade.
The pricing can be taken on the basis of container type. It is feasible to consider pricing as per container type because size and type of container vary according to applications.
Research Methodology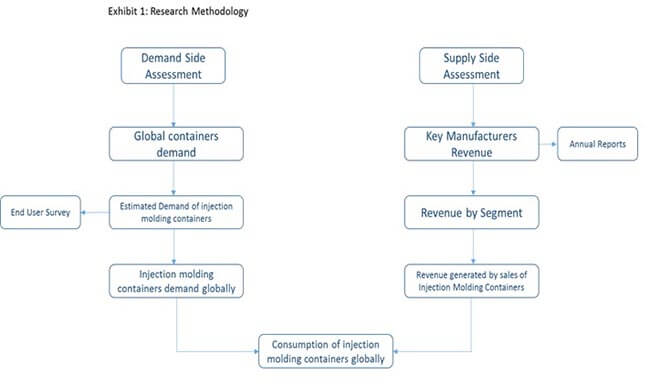 The above methodology indicates how market is estimated for the injection molding containers. The sources which have been used to validate the estimated market size include annual reports of key market players, industry journals & magazines, research papers, and other relevant data available in the public domain.
Primary sources referred include focused discussions with C level executives, distributors, independent consultants, and key industry experts, among others.
Advantages of using injection molding for container manufacturing
Injection molding is highly versatile method for producing plastic products and parts. This method is highly preferred over other methods for manufacturing due to its advantages over other methods. Injection molding method is not just simple and reliable, but it is extremely efficient.
Some advantages of using injection molding method for container manufacturing are: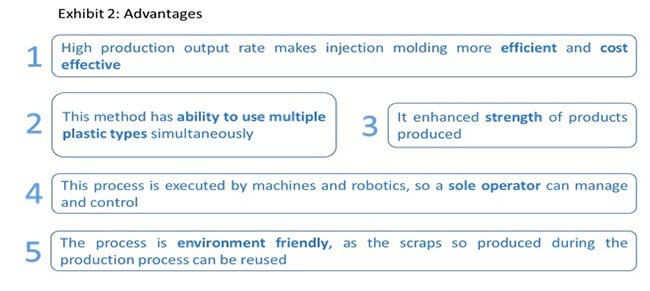 Get the data you need at a Fraction of the cost
Personalize your report by choosing insights you need
and save 40%!
Market Players operating in the global market
Tier 1 Companies, revenue above US$ 100 Mn:
Greif, Inc.
Mauser Group B.V.
Time Technoplast Ltd.
Takween Advanced Industries
Graham Packaging Company
Greiner Packaging GmbH
Tier 2 Companies, revenue between US$ 50 Mn to US$ 100 Mn
Singa Plastics limited
HTI Plastics
WERIT Kunststoffwerke W. Schneider GmbH & Co.KG
Placon Corporation Inc.
Mold Tek Packaging Ltd
Tier 3 Companies, revenue below US$ 50 Mn
Duplas Al Sharq LLC
Arabian Plastics Industrial Company Limited
Pampa Industries (International) Corp.
Arabian Gulf Manufacturers Ltd
National Plastic Factory
Plastic Container Packaging Corporation
H&O Plastics
Inpress Plastics Ltd.
The road ahead
The injection molding containers market has seen remarkable growth due to advancements in the area of injection molding.
The companies make large investments in molding equipment, tooling and automation to gain competitive edge.
Injection molding technique continually develops, with major milestones including introduction of thermoplastic materials, the introduction of microprocessors to control machines and other technological developments.
The research report presents a comprehensive assessment of the market and contains thoughtful insights, facts, historical data, and statistically supported and industry-validated market data.
It also contains projections using a suitable set of assumptions and methodologies. The research report provides analysis and information according to market segments such as geographies, application, and industry.
The report covers exhaust analysis on
Market Segments
Market Dynamics
Market Size
Supply & Demand
Current Trends/Issues/Challenges
Competition & Companies involved
Technology
Value Chain
Regional analysis includes
North America (U.S., Canada)
Latin America (Mexico. Brazil)
Western Europe (Germany, Italy, France, U.K, Spain)
Eastern Europe (Poland, Russia)
Asia Pacific (China, India, ASEAN, Australia & New Zealand)
Japan
Middle East and Africa (GCC Countries, S. Africa, Northern Africa)
The report is a compilation of first-hand information, qualitative and quantitative assessment by industry analysts, inputs from industry experts and industry participants across the value chain.
The report provides in-depth analysis of parent market trends, macro-economic indicators and governing factors along with market attractiveness as per segments.
The report also maps the qualitative impact of various market factors on market segments and geographies.
Segmentation
The injection molding containers market has been segmented as follows:
On the basis of container type, the injection molding container market has been segmented as:
Glass
Cans & Bottles
Trays
IBCs
Drums
Others
On the basis of material type, the injection molding container market has been segmented as:
On the basis of end use industry, the injection molding container market has been segmented as:
Food
Beverages
Pharmaceuticals
Personal care & Cosmetics
Chemical & Petrochemicals
Other Industrial Packaging