Industrial Access Control Market Snapshot
Future Market Insights (FMI) projects the industrial access control product demand outlook to remain positive, with sales predicted to surpass US$ 3,653.5 Mn by 2021. Continued use of access control systems across various industrial sectors such as automotive, paper and pulp, chemicals is expected to propel the year over year growth at 9.0% in the market in 2021.
Increasing applications of contactless biometrics like facial and iris recognition will drive the demand for access control solutions at 10.6% in the automotive sector. The market for Iris biometrics is expected to gain momentum in the coming years with an impressive growth in healthcare and BFSI sector.
2016-2020 Industrial Access Control Demand Outlook Compared to 2021-2031 Forecast
Evolving security threats and concerns related to data security and privacy are likely to drive the market over the coming years. The industrial access control demand will rise at 9.0% CAGR between 2021 and 2031 in comparison above 8.0% CAGR registered during 2016-2020.
Cyber threats on cyberspace evolve through time capitalizing on new approaches. Concerns regarding cyber threats are rapidly growing on critical infrastructure such as electricity grids, manufacturing sectors, automotive industries and healthcare systems to use in terrorism, sabotage and information warfare.
As the range of potential threats continues to expand, organizations are increasingly find themselves in a position having to make security decisions, by configuring their security-related settings, responding to security-related events and messages, or enforced to specify security policy and access rights.
Examples of threats that access control system protects against are unauthorized access into areas and theft of mobile devices. Attackers can gain entry into secured areas through tailgating, hacking into access control smart cards or breaking in through doors. Defenses for these threats include physical intrusion detection systems, biometrics, and alarm systems.
Access control is an effective method to ensure the safety and security of humans, industrial assets and data. These systems are based on authentication and authorization and is the most widely used strategy for data security prevention and protection in data systems. It can restrict access to key resources and prevent intrusion of illegal users or inadvertent operation of legitimate users.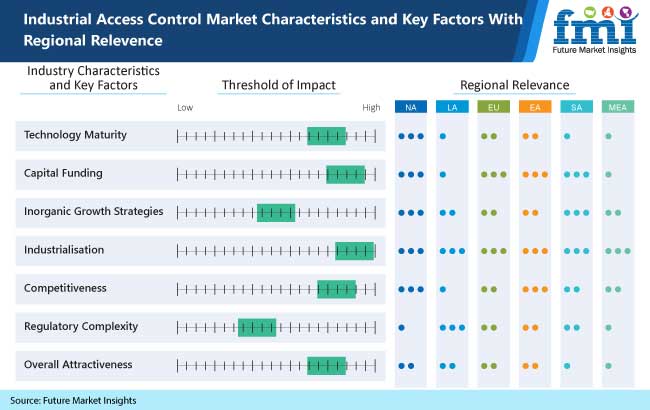 How is Increasing Awareness Regarding Cybercrime and IT Security Threats Driving Growth?
Owing to the various initiatives undertaken by companies across various countries, awareness about cybercrime and security data is increasing significantly. Companies are taking steps to secure their data and enterprise information from various internal and external digital attacks on the cloud as well as on-premise.
Increasing awareness about cybercrimes and data security is expected to drive the industrial access control systems during the forecast period. Furthermore, the digitization of workloads is growing steadily in various countries, such as India, China, the U.S., France, Germany, and Japan, and enterprises are adopting advance access control technologies such as biometrics and access control solutions.
While this exposes new endpoints to cyber-attacks and digital frauds, it also provides significant opportunities for the adoption of access control solutions.
A survey conducted on SMEs by Zurich, a cyber-attack insurance provider, revealed that in Asia Pacific, SMEs consider cybercrime as one of their top concerns.
What Is the Impact of COVID-19 Crisis on Industrial Access Control Sales?
The spread of COVID-19 pandemic gripped the globe in the start of 2020. Governments around world ramped up their measures to quickly respond to the COVID-19 pandemic. Among various biometric technologies facial recognition, geolocation recording and facial biometric technologies is gaining traction to detect and identify infected peoples.
However, fingerprint verification systems are growing fears that fingerprint or hand scanners used to control facility access are potential vectors for the spread of coronavirus. The global biometric systems has shown tremendous growth in the past few years, the widespread of fingerprint biometric recognition systems was the main reason behind the huge growth.
Historically, the market for fingerprint biometric systems has grown around 8% to 9% globally in the past 5 years. But due to the COVID-19 outbreak, the production of fingerprint biometric systems has slowed down, with the projected decline of nearly 6%-5% in Q1-Q2 2020.
The U.S. Russia, Spain, France, the U.K., Italy, and Germany are some of the worst-affected countries due to the COVID-19 outbreak. These are major manufacturing hubs for sectors such as automobiles, transportation, aviation, construction, energy, and power.
Governments have issued various protocols to possibly replace fingerprint employee-tracking systems with a card-based system or facial recognition, hence opening doors for facial recognition systems. However, as per research, the industrial access control manufacturers have started recovering from the first quarter of 2021, also the global market would possibly recover soon in the coming quarters of 2021.
Country-wise Insights
How big is the Opportunity for Industrial Access Control Adoption in the U.S.?
The U.S. is a leading market for industrial access control system in North America according to Future Market Insights. Government of the U.S. has adopted various initiatives to ascertain advanced security of U.S residents.
It also has adopted access control systems to securely enroll, issue, and verify physical and digital identity credentials for millions of U.S. residents. According to the study, the U.S. is expected to account for over 70.0% of the North America market through 2031.
The industrial sector is one of the largest and most influential sectors of the U.S. economy. According to ACS estimates, the number of people employed in the U.S. manufacturing industry and sub-sectors has been growing at a rate of 0.41%, from 15.4M people in 2017 to 15.5M people in 2018.
The country also exhibits the presence of several key vendors such as Honeywell International Inc., NEC Corporation, Identiv, Inc., and 3M Company who develops advanced access control technology for industrial sectors. Over the years, the country's spending on access control has greatly increased, which is ultimately propelling the demand of access control systems.
Why is Demand for Industrial Access Control Increasing in the U.K.?
Demand in the U.K. market is expected to rise at nearly 13.1% CAGR over the forecast period. In U.K. critical infrastructures such as manufacturing plants, power & energy plants, and oil & gas sectors have become increasingly dependent on digital technologies to run their core business. Cybercrime and internal threats are increasing in number and sophistication across U.K. and other major countries in Europe.
The ransomware attack on Colonial Pipeline Co. in the month of May 2020, ignited concerns about cybersecurity in Europe, where lawmakers are drafting laws that will apply to energy firms and other critical infrastructure. Such attacks on critical infrastructure demonstrate why cyber security is increasingly on the national agenda for governments and firms in the UK and Europe.
Thus, due to the rise in digital transformation, coupled with increasing cyber threats and attacks on critical infrastructures in U.K. and other countries of Europe propels the demand for access control solutions in UK.
How is India Contributing towards the Industrial Access Control Sales?
India will account for over 43.8% of share in South Africa and Pacific and expected to rise at nearly 12.4% CAGR over the forecast period. IoT, is among the most important aspects of cyber security Industry 4.0 for India, and is expected to capture around 22 per cent share in the global IoT market in the coming few years.
Industrial facilities in India, particularly the power sector, are showing early signs of higher demand for cyber security systems as operations increasingly turn digital. Digitally connected industries across India have become more vulnerable to attackers who are looking to exploit resources and data.
Also, most of the industrial organizations have lack of effective cyber security measures within their IoT-enabled production environments which is posing a serious threat to the future of cyber security in the world and India.
The major factor contributing to the high growth rate for access control solutions in India, is increasing industrialization in India. The country has many established small as well as large industrial organizations, which are growing at an exponential rate to cater to large customer bases.
Category-wise Insights
Which Systems is More Preferred for Industrial Access Controls?
Revenue from face recognition access control systems segment will grow at a robust 11.5% year over year in 2021. Demand for face recognition access control systems increased at a steady rate between 2020 and 2021, enabling the combined system type market register year-over-year growth of 9.0% in 2021, according to the Future Market Insights.
Based on system type, face recognition access control systems segment is expected to grow at a high pace, accounting market share nearly 31.7% of the market in 2031. As the Face recognition is being used for touchless access control, replacing fingerprint access.
Acceptance and awareness about face recognition access control technology have increased among industrial users in the past few years. This increasing ubiquity of biometric authentication using a range of different identification methods makes mobile biometrics more accessible in the industrial workplace.
Many industrial sectors have started adopting contactless biometrics technology to make their customers are going through the mandatory process of verifying or identifying before entering into the industrial premises. Moreover, the facial recognition technology is also been used by companies to identify their employees as soon as they enter into the organization.
Which are industries exhibiting high adoption of access control solutions?
In the industrial access control research study, automotive, electronics & electrical, and energy & utilities industries revenue totaled US$ 1,907.4 Mn for 2021.
By industry segment, electronics & electrical segment is dominating the global industrial access control system market. The segment is estimated to account for a market share of 23.5% by the end of 2021.
However, the automotive segment is estimated to grow the fastest during the forecast period. The segment is projected to witness a CAGR of 10.6% during the forecast period 2021-31.
Information and data security is becoming the top priority for industrial organizations to secure their information and other digital assets from insider as well as outside threats. The latter goal largely depends on guaranteeing a safe and secure place for workers, visitors, plant managers, and other leaders.
n order to create the most secure environment across the industrial plant, it has become highly necessary for organizations to implement integrated access control solutions that layer several different technologies and work in conjunction with a comprehensive contingency plan to help increase overall human and asset protection.
Access Control is, therefore, a best way to seamlessly fuse these solutions and assist the industrial organizations by providing highest level of safety, security and productivity with greater efficiency. Several industrial organizations such as automotive, healthcare, energy & utilities, manufacturing, are continuously adopting access management solutions to ensure that only authorized individuals have access to their resources at the right time and for the right reasons.
Why Does Fingerprint Biometrics Hardware Device Segment Hold Leading Share?
The fingerprint biometrics systems is expected to contribute maximum revenue share of 36.1% in the global market of industrial access control in the year 2021.
Biometrics systems are automated methods of recognizing an individual based on their physiological or behavioral characteristic. Fingerprint biometrics is a major segment of biometrics systems. Fingerprint biometric technology is used to match the fingerprint patterns of an individual with the internal database to verify individual's identity.
The technology is used in numerous applications including physical access control, time and attendance, smart devices, law enforcement, and among other. The rise in document and identity theft, along with increasing threats such as terrorism or cybercrime, and the changes in international regulations are some of the major factors that would drive the demand of fingerprint biometric solution in industrial access control market.
Competitive Landscape
According to the FMI analysis, Honeywell International, Bosch Security and Safety Systems, Matrix Comsec, HID Global, Echelon Corporation, Assa Abloy AB, and NEC Corporation are identified as key players in the industrial access control landscape. Companies manufacturing industrial access control are aiming at product innovation, new product launches, and strategic partnerships with other manufacturers to expand their product manufacturing and address the demand of an expanding customer pool.
In April 2020, Genetec unveiled new access control feature to help organizations to identify people who are at increased risk of being in contact with contaminants or contagious individuals.
In February 2021, Honeywell announced the expansion of its capabilities of MAXPRO Cloud portfolio with the launch of MPA1 and MPA2, access control panels that offer cloud, web-based or on-premise hosting options.
In December 2020, Ava, a unified security company, and Openpath, a security company specializing in touchless mobile access control for the connected world, entered into partnership to integrate cloud-based open systems: Openpath access control and Ava Aware video management solutions, to provide comprehensive, modern, future proofed security to enterprise organizations of any size.
Scope of Report
Attribute

Details

Forecast Period

2021-2031

Historical Data Available for

2016-2020

Market Analysis

USD Million for Value

Key Countries Covered

US, Canada, Germany, U.K., France, Italy, Spain, Russia, China, Japan, South Korea, India, ASEAN, Australia & New Zealand, GCC Countries, Turkey, and South Africa

Key Segments Covered

System Type, Component, Industry and Region

Key Companies Profiled

Honeywell International Inc.
Bosch Security and Safety Systems
Matrix Comsec Pvt. Ltd.
BioEnable Technologies Pvt Ltd.
Assa Abloy AB
NEC Corporation
3M
Johnson Controls
Thales Group
Dormakaba Holding AG
Identiv
STANLEY Convergent Security Solutions, Inc.
Secom Co., Ltd.

Report Coverage

Market Forecast, Company Share Analysis, Competition Intelligence, DROT Analysis, Market Dynamics and Challenges, and Strategic Growth Initiatives

Customization & Pricing

Available upon Request
Key Questions Answered in Industrial Access Control Industry Analysis
Which region is expected to showcase high growth in industrial access control industry?

South Asia & Pacific is projected to show highest CAGR of 12.5% during the forecast period, owing to emergence of niche countries across Asia are developing as dynamic industrialization hubs.

Which system type is highly adopted by industrial organizations for access control?

Fingerprint access control systems is the most attractive segment, with estimated market share of 36.1% in 2021. However, face recognition segment is estimated to grow CAGR of 11.5% during the forecast period.

Who are some of the leading companies offering Industrial Access Control Systems?

The leading companies in this landscape are Honeywell, HID Global, Bosch Security, and Assa Abloy. As per Future Market Insights analysis, 40% of the market share is currently covered by the top 3-5 players.

In which industries, industrial access control are highly used?

Electronics & Electricals segments dominates the market, generating revenue of US$ 2,049.3 Mn by 2031, owing to increasing adoption of access control systems in discrete manufacturing and electronics & semiconductor industries.

How much is the global market size of industrial access control systems?

The industrial access control market was valued at US$ 3,653.5 Mn in 2020, and is estimated to grow at 9.0% CAGR between 2021 and 2031.

What will be the demand outlook/ sales forecast for Industrial Access Control?

The market size of industrial access control is expected to be valued at US$$ 3,926.3 Mn by the end of 2021, and is likely to reach US$ 9,265.9 Mn by 2031.

What was the last 5 year market CAGR?

The market in last 5 years (2016 – 2020) grew by a CAGR of 9.0%.

What are the key trends impacting the growth of Access Control Systems market?

Key trends impacting the market include rise in adoption of industrial access control in automotive sector and emergence of contactless biometrics solutions.

What is driving demand of Industrial Access Control Systems?

Rising adoption in several industries verticals and evolving security threats and concerns related to data security and privacy are propelling market growth of industrial access control systems.

What are the top 5 countries driving demand?

Top 5 countries driving demand for industrial access control include the Indonesia, India, U.S., China, and Malaysia.

What is the North America market Outlook?

North America is the most attractive markets during the forecast period. According to the study, U.S. is expected to account for nearly 70.0% of the North America market through 2031.

What is the key market statistics in South Korea and Japan?

Japan and South Korea was valued at US$ 321.9 Mn and US$ 141.2 Mn in 2020, and is projected to register CAGR of 6.2% and 4.5% respectively between 2021 and 2031.
Industrial Access Control Market by Category
By System Type:
Fingerprint Access Control Systems
Face Recognition Access Control Systems
Iris Recognition Access Control Systems
Card-Based Access Control Systems
Others
By Component:
Hardware

Fingerprint Scanners
Facial Recognition Devices
Iris Scanners
Smart Cards
Others

Software

Integrated Access Control Software
Standalone Software/Middleware

Facial Recognition Software
Iris Recognition Software
Others

Service

Professional Services

System Integration & Installation
Security Consulting
Support & Maintenance

Managed Services
By Industry:
Energy & Utilities
Automotive
Aerospace
Chemicals
Pharmaceuticals
Food & Beverages
Electronics & Electricals
Others
By Region:
North America
Latin America
Europe
East Asia
South Asia & Pacific
Middle East and Africa (MEA)
Need specific information?