Introduction
In 2020, the overall sales for industrial magnetrons witnessed a massive decline due to the Covid-19 crisis as lockdown was implemented and all the factorial units were closed which led the manufacturing companies to face immense losses. Now in 2021, the global manufacturers are giving entire focus on improving their sales and profitability through product innovations and upgrades.
Leading corporations including Panasonic Corporation, Toshiba International Corporation, Hitachi Ltd., L3 Technologies, Inc., MUEGGE GmbH, Teledyne E2V Limited, CPI International Inc., Richardson Electronics, Ltd., MDP Components, and STT International Limited are making high investments in the establishment of research institutes in different regions to come up with improvements in their offerings. They are adopting business strategies such as sales contracts, strategic alliances, acquiring technical expertise, product approvals, patents and events, joint ventures, partnership agreements, collaborations, digital marketing, mergers and acquisitions, capacity utilisations, technological advancements etc to lead the global market for industrial magnetrons with largest market share.
For instance, Hitachi announced the launch of its high evaluated and superior quality industrial magnetrons. The magnetrons by Hitachi can be used in various industrial fields such as microwave light emission, dry processing, etc. The magnetrons gained wide popularity for their high quality, performance, efficiency and much more. In addition to this, LG expanded itself by introducing more efficient and sustainable solutions like LG NeON H solar panel which is ideal for both residential and commercial applications. It offers carbon-free energy and long-lasting reliability along with enhanced performance.
In terms of growth, the market in North America is anticipated to stay ahead at a promising revenue rate during the forecast period. Increased foreign investments in countries like India and China are projected to boost growth of the industrial magnetrons market. Other key regions are North America, Latin America, Europe, Japan and Middle East & Africa.
The magnetron technology finds widespread application in various end-use industries for wide range of plasma generation, drying, and heating processes. Although, demand for magnetron in the industrial sector has remained steady, efforts for minimizing operational costs have influenced manufacturers in introducing advanced equipment. The overall outlook for the global industrial magnetron seems positive, with a steady stream of opportunities likely to emerge for stakeholders to capitalize on.
Adoption of Industrial Magnetrons for Plasma Generation to Witness a Steady Rise
In industrial settings, processing continuous flow of materials creates demand for continuous-wave magnetrons. The EM-shielded chamber is basically cooled using water or air, in order to prevent overheating of the equipment. Although both water- and air-cooled magnetrons are widely employed in industrial settings, demand for air-cooled magnetrons are expected to remain relatively higher on the back of their cost effectiveness.
Heating and drying processes underpin majority of demand for magnetrons in the industrial sector. Adoption of industrial magnetrons for plasma generation has therefore been gaining a steady rise over the past few years. Solid-state power oscillators are emerging as a viable alternative to industrial magnetrons.
Although adoption of solid-state power oscillators in currently low, their purported benefits such as requirement for relatively lower power supply bias voltages and longer lifespan are making them an enabling technology for industrial settings when it comes to heating and drying applications.
Demand for solid-state power oscillators is anticipated to witness a surge in the near future, thereby restraining adoption of industrial magnetrons to a certain extent.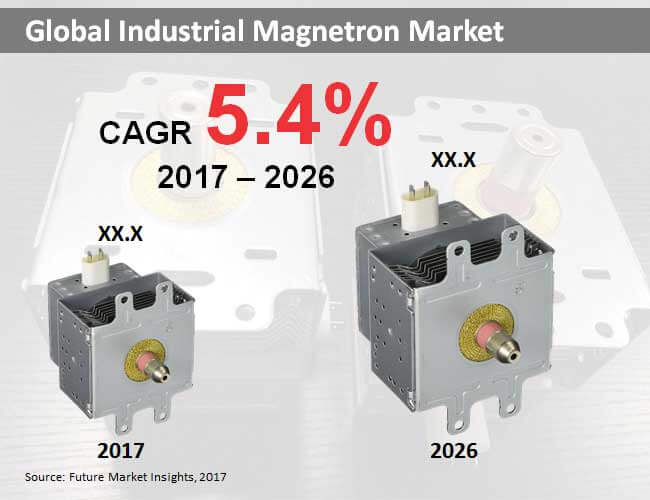 A steady growth has been projected for the global industrial magnetron market by Future Market Insights' newly developed report. Worldwide sales of industrial magnetrons will bring in roughly US$ 6,000 Mn revenues by 2026-end.
APEJ to Remain Fast-Expanding Market for Industrial Magnetron
Asia-Pacific excluding Japan (APEJ) is slated to remain the fast-expanding market for industrial magnetron. Developments in China and India are expected to be the keystone for the overall market growth in the region. Although concerns regarding deleveraging exist in China, the broader outlook on the country's industrial growth is likely to remain positive.
India will also embark on drastic reforms, aiming to boost investments in the country's industrial sectors. These macroeconomic factors will together influence demand for industrial magnetrons in APEJ.
North America will remain the most remunerative market for industrial magnetron. Revenues from industrial magnetron sales in this region will account for nearly two-fifth market share by 2026-end. American industries account for the bulk of demand for magnetrons, with Canada accounting for a minority share. The macroeconomic outlook on the US remains positive, with a period of Goldilocks in the offing.
Key Research Findings from FMI's Report
Continuous wave industrial magnetrons will continue to be dominant among products in the market, with revenues poised to hold over two-third market share by 2026-end
Although industrial magnetrons with X band will remain leading revenue contributor to the market based on operating frequency, industrial magnetrons with Ku & Ka band will exhibit the highest CAGR in the market through 2026
Sales of industrial magnetrons will register the fastest expansion in medical applications through 2026, followed by radar systems
Air-cooled industrial magnetrons will remain sought-after in the market, with revenues forecast to exceed US$ 3,000 Mn by 2026-end
Competition Tracking
Leading players in the global industrial magnetron market are directing their focus toward the development of customized and energy-efficient industrial magnetrons. FMI's report has identified key players guiding the market expansion significantly, which include Panasonic Corporation, Toshiba International Corporation, Hitachi Ltd., L3 Technologies, Inc., MUEGGE GmbH, Teledyne E2V Limited, CPI International Inc., Richardson Electronics, Ltd., MDP Components, and STT International Limited.
World's Most Profilic Intelligence Engine
Get Access To The World's Largest Market Research Database. Ngage with a revolutionary intelligence engine that scale and pricing that flexes as per your needs
Sign Up Now
Market Taxonomy
Moving further, the report imparts forecast on global market for industrial magnetron based on a segmentation-wise analysis. Classifying the global market for industrial magnetron into five key segments viz. applications, cooling type, operating frequency, product type, and region, the report provides associated market numbers on the basis of Y-o-Y growth comparison, the market share comparison, and revenue comparison.
Geographically, the global industrial magnetron market has been characterized into Middle East & Africa (MEA), North America, Latin America, Asia-Pacific excluding Japan (APEJ), Europe, and Japan.
Region
North America
Latin America
Europe
Japan
APEJ
MEA
Product Type
Operating Frequency
L Band
S Band
C Band
X Band
Ku & Ka Band
Cooling Type
Applications
Industrial Heating Equipment
Radar Systems
Medical Applications
Others
Need specific information?