Spirulina Powder Market Forecast to Rise at 6% CAGR
The global spirulina powder market size in 2019 stood at ~US$ 358. It is anticipated to rise at a CAGR of ~6% during the forecast period for 2019-2029. In terms of form, the organic spirulina powder is expected to grow rapidly in demand during the forecasted period. Significant growth in the sales of organic spirulina powder can be primarily attributed to increasing awareness of natural ingredients. Consumers prefer natural and organic products without any additives and chemicals.
Rising Application in Food and Beverages Industry Stokes Growth Opportunities
Growing application of spirulina powder in the food & beverage industry is likely to result in increased market share during the forecasted period. High potential application of spirulina powder has also been identified in dietary supplements & pharmaceuticals. The consumption and production of dietary supplements is increasing rapidly. Manufacturers are launching innovative and unique products in dietary supplements, which attracts customers, which in turn, is likely to remain instrumental to the spirulina powder market growth.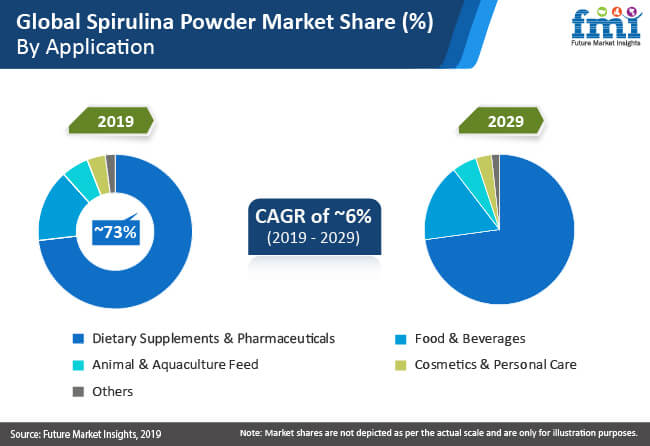 North America Forecast to Hold Leading Market Share
North America is stipulated to account for maximum revenue share in the spirulina powder market by the end of 2029. North America is estimated to continue to be an opportunistic market for spirulina powder manufacturers and distributors, owing to increasing production and demand for organic spirulina powder
Government Initiatives towards the Production of Spirulina Powder
Governments of various countries have started promoting the production of spirulina powder to strengthen the market and create a decent income source for rural population. The government of many countries such as India, Angola and Ghana are actively supporting the local Spirulina powder market and building a strong gateway for the development of this superfood, which can change the course of food for the entire race.
Due to high nutritional contents, many countries have identified it as an economical response to malnutrition and various deficiencies, which the populace is suffering from. Almost one in every three malnutrition children's live in India, which crafts a severe need for an action against the hunger.
How Growth will Unfold
Globally, the oil prices are subject to volatility and are affected by political disputes and controversies. Considering the above mentioned factors along with increasing amount of pollution generated by burning petroleum products for fuel, governments and companies are exploring alternative forms of energy. Spirulina is one of the newest and most viable forms of clean energy, which is expected to even outperform solar energy. Algae based bio-fuels are gaining traction in the market and are expected to surge during the forecast period.
According to the U.S. Department of Energy, algae yield are between 10 and 100 times as high as those of traditional biofuels. Further, the U.S. Department of Energy is spending money to promote the viability and efficiency of using algae as a fuel. In, august 2015, they announced US$18 million in funding towards algae bio-fuel production. Even, Just Energy in Ohio, has pushed for more state level funding for research into these methods and extract oil from micro-algae.
FREQUENTLY ASKED QUESTIONS ABOUT SPIRULINA POWDER MARKET
What drives the Spirulina powder market?
The Spirulina powder market is expected to gain pace on account of government support encouraging its production. For instance, governments of many countries such as India, Angola, and Ghana have extended their support to the local Spirulina powder market. This will also create growth opportunities for the market in the near future.
Which region will lead the global sales of Spirulina powder?
North America is expected to lead the global Spirulina powder market. The increasing production and distribution of Spirulina powder will support the expansion of the market in North America.
Which application segment exhibits highest demand for Spirulina powder?
Food and beverages industry is expected to exhibit considerably high demand for Spirulina powder.
Which are other application-based segments offering lucrative opportunities in Spirulina powder market?
Besides food and beverages industry, key players in Spirulina powder market consider pharmaceuticals and dietary supplements industries as lucrative segments.
What are the key growth strategies adopted by market players in Spirulina powder market?
Tier-1 companies hold majority share in the Spirulina powder market. In order to gain competitive advantage most players focus on strategic collaborations and alliances. Besides this, a couple of them are adopting innovative technologies to become a top player in the market.
Market Segmentation
The global spirulina powder market is segmented in detail to cover every aspect of the market and present complete market intelligence to the reader.
By Nature
By Application
Food & Beverage
Dietary Supplements & Pharmaceuticals
Animal & Aquaculture Feed
Cosmetics & Personal Care
Others
By Sales Channel
Direct Sales
Retail Sales

Modern Trade
Specialty Stores
Pharma & Drug Stores
Online Retail
Other Retailing Formats
By Region
North America
Western Europe
Eastern Europe
Latin America
APEJ
Japan
MEA
Need specific information?
Talk Show:
The Rise of Intelligent Packaging
Personalized, Connected and Sustainable
November 18, 2021
11:00-11:45 AM PST (USA & Canada)
This is a LIVE session