KEY FACTORS SHAPING WHEAT PROTEIN MARKET
Applications of Wheat Protein in Baking to Fuel Demand
Wheat gluten proteins are primarily used as an ingredient in bread. Gluten forms as soon as water is included in the flour. During the mixing process, a constant network of protein formulas provides dough with strength and elasticity, and maintains the shape of the dough.
By holding the gas that is produced during the fermentation process, this protein network helps the bread in rising. This gives bread a chewy texture. Muffins, cakes, bagels, crackers, pasta, and bread are some examples of food products that use wheat protein as a key ingredient. Additionally, wheat is considered as a wholesome food item which ensures a nutrient-rich diet.
HRSW Remains in Demand
On account of fluctuations in commodity pricing, wheat may become attractive in ruminant diets, replacing a portion of corn and barley in rations. In wheat, high protein lines with good yielding ability are available. Wheat offers higher protein content than other common feed grains such as corn, barley or oats. Within wheat classes, hard red spring wheat (HRSW) has the highest protein content, with hard red winter wheat and durum being slightly lower.
Increasing Use in Cosmetics & Personal Care Industry to Propel Market Growth
Wheat proteins are considered as the building blocks of nature. These proteins are among the basic ingredients essential in several cosmetic formulations. Various hair-care and skin care formulations are created using wheat proteins. Wheat proteins in cosmetic formulations are highly valued for their film forming and strong moisturizing properties. They are frequently utilized in formulations to improve the quality of hair by offering moisture and binding protection.
Hydrolyzed wheat proteins help in thickening and adding volume to thinning hair, adding shine and making frizzy hair manageable as well as repairing damaged hair. Hydrolyzed wheat proteins hold low molecular weight which easily penetrates inside the hair shaft and grips onto hair roots.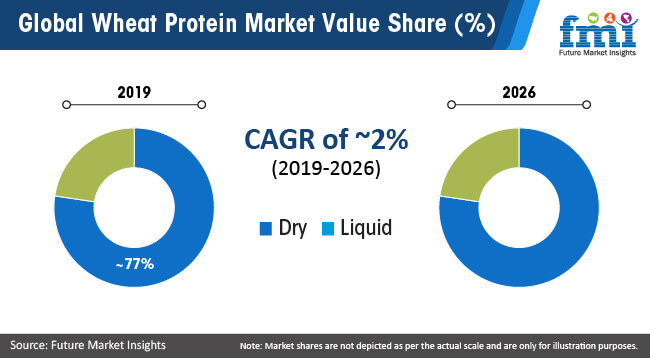 Popularity among Bodybuilding and Athletic Population Growing
One of the main benefits of wheat protein is that it facilitates strong muscle building. Wheat protein isolate is an ideal supplement for the purpose of bodybuilding. Wheat protein isolate helps in increasing muscle size, prevents muscle breakdown, allows protein synthesis in the muscles, facilitates with strength for workouts and mainly manages hunger cravings.
The bodybuilding populace that are lactose intolerant or are suffering from gastric or bloating problems are advised to use wheat protein isolate as it inhibits the micro-filtration process which reduces the lactose absorption heavily. Wheat protein isolate helps in simulating higher insulin levels, which is directly concerned with athlete performance during training for sports.
WHEAT PROTEIN MARKET STRUCTURE ANALYSIS
France is likely to prove as a lucrative market in the European region due to the increasing demand for high-quality French bakery products. Bakery product manufacturers show preference for wheat protein as an alternative to dairy and meat proteins to develop innovative offerings. This, along with heavy investments by dominant market players in the region will contribute towards the expansion of Europe wheat protein market. For example, Nabisco, an American manufacturer of cookies and snacks offers wheat protein crackers.
Major companies such as Archer Daniels Midland Company and Cargill are focusing on meeting consumer requirements for cholesterol-free and less saturated fat products with the help of acquisitions and new product innovations.

In March 2017, Archer Daniels Midland Company announced plans to acquire Chamtor, a producer of wheat-based sweeteners and starches.

Few key players operating their business in the global wheat protein market are Archer Daniels Midland Company, Cargill, Inc., Agridient B.V., MGP Ingredients, Inc., Manildra Group, Roquette Frères SA, Glico Nutrition Co. Ltd., Kröner-Stärke GmbH, Tereos SA, Crespel & Deiters GmbH & Co. KG, and others.
Consumption of Wheat Protein Isolates and Hydrolyzed Wheat Proteins Notably Rising
Owing to rich nutritional profile and umpteen health benefits, consumption of wheat gluten remains maximal through 2026. While developed countries remain the prime consumers of wheat gluten, manufacturers of wheat gluten will reap over US$ 1 Bn by 2020 end. However, as consumers are accelerating their shift towards gluten-free products, the demand growth of wheat gluten is set to fluctuate in the following years.
This, in turn, is resulting in a preferential shift towards other products, including wheat protein isolates, and hydrolyzed wheat proteins. As they contain relatively lesser protein content, market players should look forward to producing wheat protein powders with added leucine.
Market in Europe and APAC Stays Predominant
Europe, accounting for about 2/5th of total sales, continues to capture significant investments of stakeholders. Research indicates that around 30% of wheat is produced in European countries, particularly Russia, France, Ukraine, and Germany. This is again a driving factor for the wheat protein market in Europe.
A similar scenario can be observed in China and India, and thus, the market for wheat protein in Asia Pacific (APAC) also reflects opportunistic growth potential. The growth of this regional market is further complemented by rapid expansion of bakery & confectionery industry, in addition to the dietary supplements market.
Opportunities Hover Around Cosmetics & Personal Care Industry
Hydrolyzed wheat proteins are helpful in retaining skin moisture as well as in reducing wrinkles, and fine lines. They are also beneficial in repairing damaged hair follicles. Owing to such benefits, wheat proteins have become a vital ingredient in various anti-aging and hair care formulations. Consistent regulatory approvals for the usage of wheat proteins in cosmetics in tandem with growing preference for organic cosmetics products are further fueling the sales of wheat protein powder in the cosmetics & personal care industry.
How Growth will Unfold
The application of wheat protein in various industries is currently based on the rising consumption of wheat as a wholesome food item. Wheat proteins in the form of nutrition supplements continue to sell higher in the market, with a demand upsurge from the lactose-intolerant athletes, and bodybuilders. Manufacturers should rope in various channels, including magazines, and online portals, as a part of their promotional strategies. Further, sales will also ramp up in the bakery & confectionery industry, and currently represent around 23% share in the market.
WHEAT PROTEIN MARKET TAXONOMY
The global wheat protein market is segmented in detail to cover every aspect of the market and present complete market intelligence to the reader.
Product
Wheat Gluten
Wheat Protein Isolate
Hydrolyzed Wheat Protein
Textured Wheat Protein
Form
Application
Animal Feed
Bakery & Confectionary
Nutrition Supplements
Dairy Products
Cosmetics and Personal Care
Other Applications
Region
North America
Latin America
Europe
APEJ
Japan
MEA
Need specific information?
Talk Show:
The Rise of Intelligent Packaging
Personalized, Connected and Sustainable
November 18, 2021
11:00-11:45 AM PST (USA & Canada)
This is a LIVE session