KEY RESEARCH FINDINGS
The global rugged thermal cameras will exceed its US$ 2 Bn in 2024.
Cooled thermal cameras remain highly preferable; uncooled thermal cameras to falter markedly.
Market players eye security and surveillance for meaningful business returns.
Government sector continue to be primary end user of rugged thermal cameras.
North America remains in the vanguard; Asia Pacific (APAC) to offer potential growth avenues.
KEY FACTORS SHAPING RUGGED THERMAL CAMERA MARKET
Increasing Demand for Perimeter Monitoring Systems to Spur Market Growth
Rugged thermal cameras have become an integral part of automatic target recognition (ATR) and perimeter monitoring systems, given their ability to operate in extreme conditions. Generally, for long range surveillance applications, the images containing the moving target are transmitted to the base station for manual interpretation.
In short range surveillance, moving target identification (MTI) systems efficiently recognize if the moving target is a potential enemy target and transmits this information to a firing system. With the help of rugged thermal cameras, the military can assess the potential threat and act in a timely and effective manner.
Rising Adoption for Rugged Thermal Camera in Military Vehicles to Expand Value Pool
Market players are developing long-range, mounted and rugged thermal imagers on vehicles, and multi-sensor thermal-imaging technology for combat vehicles in military sector. These thermal sights aid in rapid identification and threat location for forces and help in their elimination.
Moreover, rugged thermal cameras are highly suitable for applications such as thermal scopes, weapon sights and stations, gimbals, UAVs, naval observation, IR sensors, and driver vehicle enhancers (DVEs), for tanks and military vehicles. This rising demand for rugged thermal cameras in military vehicles across the globe is expected to create growth opportunity for manufacturer.
The Rugged Thermal Camera Market in North America to Remain Predominant through 2030
In terms of value, the rugged thermal camera market in North America majorly represented the global market in 2019. The US market is projected to offer the most lucrative opportunity for revenue generation over the forecast period.
The market in South Asia & Pacific is expected to register highest annual growth rate, owing to increasing investments for military & defence sector, and growing demand for monitoring and detection applications. Organizations in the region are embracing cooled detection technique that is beneficial in the operation of semiconductor materials used.
The rapid spread of coronavirus (COVID-19) pandemic has adversely strained the supply chain and manufacturing operations of several rugged thermal camera manufacturers. In the past few years, the rugged thermal cameras market has been growing at a stellar pace worldwide.
In addition, nationwide lockdowns and restrictions on transportation & logistics due to the pandemic are leading to production standstill and shortage of staff.
RUGGED THERMAL CAMERA MARKET STRUCTURE ANALYSIS
Acquisition and product expansion of market players is one of the key strategies followed by the leading rugged thermal camera providers in the market
BAE System Inc., Flir Systems, Inc., and Raytheon Technologies Corp are the largest and most experienced in the global rugged thermal camera market.
The global rugged thermal camera market is moderately concentrated in size, which remains a key factor for its dynamic competitive nature.
Base Year - 2019
Historical Period - 2015-2019
Forecast Period - 2020-2030
Market Value in 2019 - US$ 1.26 Bn
Segments Covered - Technology, Application, End User
Regions Covered - North America, Latin America, Europe, South Asia & Pacific, East Asia, and Middle East and Africa
Key Companies - Flir Systems Inc., L3 Technologies Inc., Raytheon Technologies Corp, BAE System Inc., Leonardo S.p.A., SKF, Axis Communications AB, Bosch Security Systems Inc., Fluke Corporation, Xenics, Thermoteknix Systems Ltd., and Opgal.
Growth Drivers

Rising demand for perimeter monitoring systems
Surging adoption in aviation industry
Low prices of infrared imaging (IR) technology
Manufacturers Continue to Profit from Cooled Thermal Cameras
Compared to uncooled thermal cameras, the cooled variants offer images with better quality, as such, are a perfect fit for applications in extreme conditions. Although cooled thermal cameras are relatively cost-prohibitive, their benefits outweigh the drawbacks. While these rugged thermal cameras maintain their positive trend, their uncooled counterparts will fade over the decade ahead. Further, this study outlines that, by 2030, cooled thermal cameras will register revenue over twice that of uncooled thermal imaging cameras.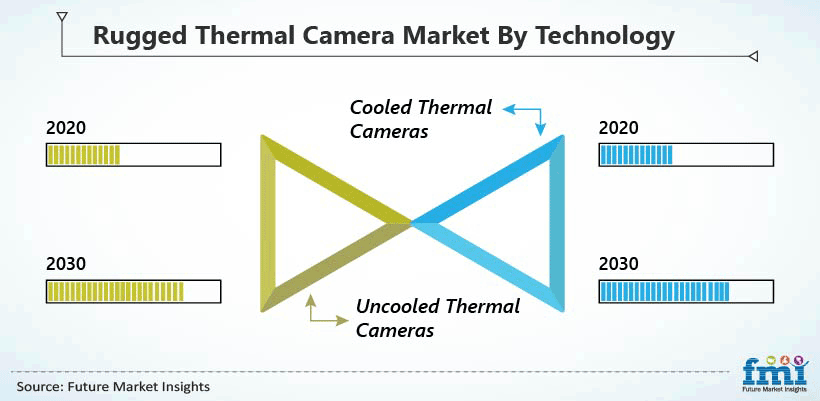 APAC's Market to Lead the Pack
Asian countries such as China, and India have been increasingly spending in their defense sectors, owing to potential rise in territorial disputes. Consequently, this activity has resulted in an imminent domino effect wherein all the other countries in the region are influenced to react and respond. These countries would accent the need for rugged thermal cameras for surveillance & security purposes. Furthermore, the rugged thermal camera market in Asia will represent multibillion-dollar prospect during the latter half of the forecast period.
Unlocking Potential Applications in Maritime Industry
Maritime industry is unleashing the potential of rugged thermal cameras for detecting objects that can damage vessels, and shipping lane traffic buoys. Supported by a combination of thermal and high-definition visible imaging, rugged thermal cameras deliver first responders, professional mariners, and recreational boats safer navigation and enhanced situational awareness.
These future-proof rugged thermal cameras detect targets and obstacles in total darkness and heavy seas, enabling safe navigation in demanding conditions. Market players must tap this opportunity to increase their odds of better returns.
How Growth will Unfold
Manufacturers continue to channelize significant portion of their capital investments toward the government sector. Over the coming years, the government sector would be the sole end user to enter the billion-dollar club.
Decreased costs of infrared (IR) imaging technology have extended the application radar of rugged thermal cameras to industrial, and commercial sectors, which collectively capture about half of overall market value. Nevertheless, stakeholders would glean substantial returns from the government sector.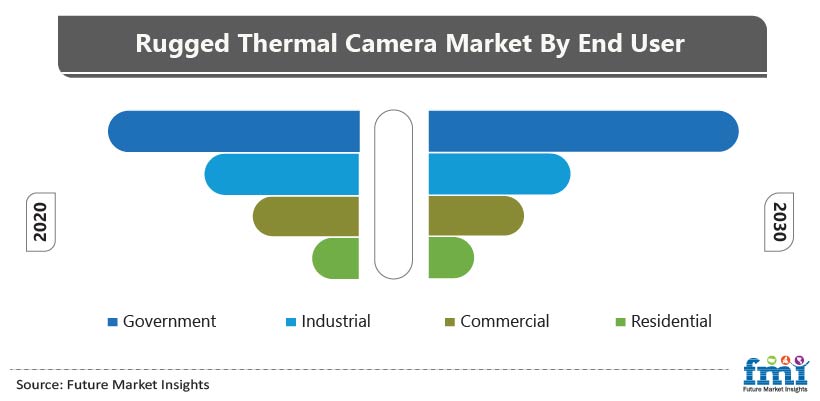 RUGGED THERMAL CAMERAS MARKET TAXONOMY
The global rugged thermal camera market is segmented in detail to cover every aspect of the market, and present a complete market intelligence approach to readers.
Technology
Cooled Thermal Cameras
Uncooled Thermal Cameras
Application
Security & Surveillance
Monitoring & Inspection
Detection & Measurement
Others
End User
Government
Industrial
Commercial
Residential
Region
North America
Latin America
Europe
East Asia
South Asia Pacific
Middle East & Africa
Need specific information?